By Japan specialist Phil
After finishing my studies, I dragged my suitcase halfway across the world to visit the city of Kanazawa on Japan's central Honshu Island. Kanazawa lies on the shinkansen (bullet train) route. I quickly learned that these sleek trains were different from those I'd grown up with back home.
Spacious, clean and comfortable, Japan's bullet trains are an extension of the continuing Japanese quest for innovation and efficiency. As the doors close — right on time — the noise of the station is left behind. I always relish how peaceful these trains are, and how softly your fellow passengers speak. With bullet train speeds reaching almost 200 mph (321 km/h), there's a real thrill in watching the scenery whip past.
Planning a Japan tour around the bullet train routes

The bullet train network snakes across Honshu, Japan's largest island, linking many of the key cities and regions.
I'd suggest starting your trip in Tokyo, spending a few days exploring. After Tokyo, I recommend visiting somewhere less chaotic. The port city of Kanazawa is two and a half hours away by bullet train, and a clean-aired, relaxed contrast to Tokyo. As a former resident I'm a little biased, but its walkable size, attractive temples and food markets make it easy to while away a few days here. It's best known for the Kenroku-en gardens, one of the Three Great Gardens of Japan.
Hiroshima is a sobering, but fascinating stop on the bullet train route. It's a journey of about five hours from Kanazawa — I've always spent the journey with my nose against the window, watching the countryside speed by. Hiroshima's Peace Memorial Park and Museum are a poignant reminder of the atrocities of war, accompanied by an uplifting display of posters and artwork detailing ongoing efforts to maintain peace.
Next, take the bullet train east to Kyoto, a journey of about two hours, and you'll find Japan's cultural heart. On a walk around Gion, Kyoto's geisha quarter, with a local guide you'll gain an insight into Japan's most mysterious tradition. For an immersive experience, I'd suggest staying in a ryokan, a traditional inn once frequented by traders and samurai.
Kyoto links back to Tokyo on a scenic two hour, twenty minute bullet train ride. I always make sure to sit on the left side of the train as, on a clear day, you can see Mount Fuji's snowy cone. When it comes into view, everyone rushes to the window to take photographs in a celebratory atmosphere.
Best way to buy bullet train tickets: Japan Rail Pass

Buying a ticket for individual bullet train journeys can be quite expensive. I tend to find that the Japan Rail Pass works out the best value, even if you're just taking a couple of journeys. The pass covers the majority of routes and can be bought for travel over 7, 14 or 21 days. Foreign visitors must purchase the pass before arriving into Japan.
We can arrange for a guide to accompany you to the local rail pass office to collect your pass — your guide can also book seats for you. Seat reservations aren't compulsory but it's a nice benefit of the pass. The standard cabins are spacious and comfortable, but if you'd like a little more elbow room you can upgrade to the roomier green cars for an additional fee.
How luggage is handled on bullet trains

The cabins are spacious, with room for a small overnight bag in the compartment above or under your seat. The efficient solution for dealing with larger suitcases and luggage is typically Japanese. The day before you're due to travel, you'll need to pack a small overnight bag to take on the train. Your main luggage will be taken down to your hotel reception, where it will be weighed and measured before being sent on ahead to your hotel in your new destination.
On arrival, you'll find your luggage waiting for you. I was initially a little concerned about parting with my luggage, but it's an incredibly reliable system. Delays or lost luggage are unheard of.
Train stations in Japan

I was completely overwhelmed when I walked into Shinjuku Station, located in west Tokyo, for the first time. It's the busiest station in the world with 36 platforms and 200 exits.
Millions of people transit through the station — it's like Grand Central in the vacation season — every day of the year. My advice is to leave plenty of time to pause, grab a coffee and simply observe. You'll begin to notice that, despite the continuous activity, everything is clearly signposted (in Japanese and English) and it's actually easy to orient yourself.
Before boarding a train, explore the station itself. The larger terminals such as Tokyo and Kyoto are full of shops and food stalls. The food tends to be so good that many locals visit just to lunch. In Kyoto Station I always head up to the tenth-floor food hall, home to a corridor of ramen noodle stalls called Ramen Street. Smaller stations offer local specialities, one of the best being the fresh snow crab at Kanazawa Station.
Finding your platform is relatively simple. We can tell you your platform number for all your embarkations before your trip starts, and give directions and maps. Numbers are shown in Japanese and English, following a logical order through the station. The key is never to be late — the average delay over the entire network last year was eight seconds.
On board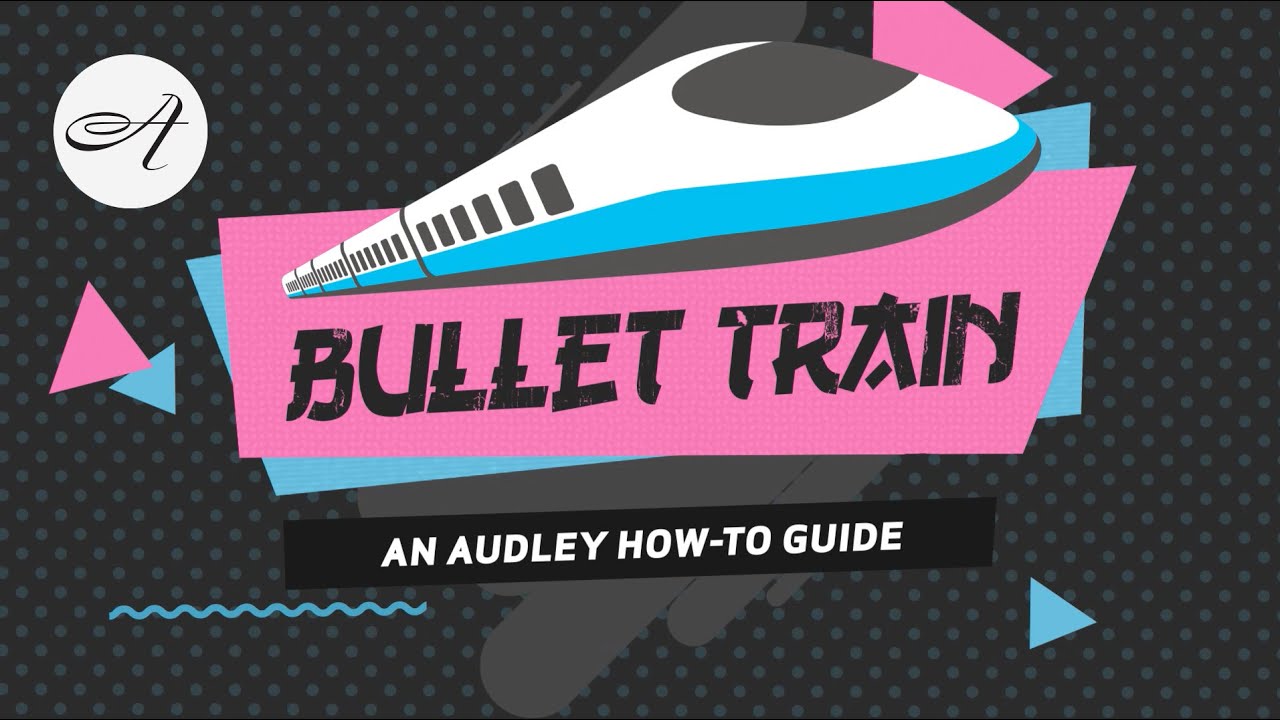 Japan bullet train guide
Japan bullet train: an Audley how-to guide.
Once you have boarded your train, it's time to settle down and relax. Refreshment carts are pushed through the cabins at regular intervals, selling snacks, beer, hot drinks and ice cream. If you're looking for something more substantial, it's best to eat before you board the train.
The toilets on board have a just-cleaned appearance (although not with the array of fancy buttons you might get in a Japanese five-star hotel).
You'll find your fellow passengers very respectful — loud talking and phone noise is considered a faux-pas. Despite the quietness, it's a social atmosphere on board and Japanese families often share food and drinks together. The seats swivel round to allow passengers to create their own little booths.
Stops are announced in Japanese and English, which makes them difficult to miss. Such is the accuracy of the train timetable, I often check my watch. If my train is due to arrive at 11:56am, that's when I'll be standing ready to leave the train. I'd suggest choosing a hotel within walking distance of the station, so it's easy to get around.
Further train experiences in Japan

Including a few local Japanese train journeys into your trip will give you the flexibility to discover more rural locations. Narrow-gauge trains reach almost every Japanese town and city, and most routes are included in the Japan Rail Pass. The trains are simpler and older than their faster cousins, but still as clean and efficient.
The Hakone Tozan Train is a scenic mountain railway. It weaves through Hakone National Park from Hakone-Yumoto Station (one and a half hours' train ride from Tokyo) to Gora, a scenic hill station. It's a 40-minute journey passing many tunnels and bridges, changing direction three times at switchbacks. From Gora you can take a cable car further into the park.
If you're particularly keen to learn more about the history of rail travel in Japan, the Kyoto Railway Museum has a collection of 53 carefully conserved Japanese trains from working steam locomotives to bullet trains. The museum is built around an original 1904 wooden station house, one of the oldest still standing in Japan.
Advice for touring Japan by train
Take an extra layer to keep warm on the train. The air conditioning makes the cabins much cooler than the outside temperature.
Take snacks on board can be a little limited, I'd suggest buying some in the station beforehand.
Relax. Japan's cities can be chaotic and overwhelming, but this melts away as soon as you step into the peaceful interior of a bullet train.
Start planning your trip to Japan

Start thinking about your experience. These itineraries are simply suggestions for how you could enjoy some of the same experiences as our specialists. They're just for inspiration, because your trip will be created around your particular tastes.
View All Tours in Japan