The dramatic contrasts of Japan's seasons mean that travel at any time of the year is a rewarding experience.
Each season has its highlights. In spring it's the cherry blossom, while autumn offers the chance to see the red acer leaves. In winter you can enjoy world-class skiing, while summer, with its warm sunny days, is the perfect time to visit some of Japan's coastline.
Start planning your trip to Japan
---
Start thinking about your experience. These itineraries are simply suggestions for how you could enjoy some of the same experiences as our specialists. They're just for inspiration, because your trip will be created around your particular tastes.
Choose a season to visit Japan
Spring
There is a word in Japanese, sakura zensen, meaning cherry blossom front, which describes the blossom's movement from the tip of the southern Japanese islands of Okinawa in early February all the way to the most northerly cape of Hokkaido by the end of May.
The peak viewing time in Kyoto and Tokyo is from the end of March through to the middle of April. To spend a lazy afternoon wandering through Tokyo's Ueno Park or Kyoto's Maruyama Park will give you an understanding of how much the Japanese love this delicate and transient flower.
Summer
In June, July and August things begin to change, the air becomes stickier and heavy and the temperatures move steadily higher. Japan's rainy season typically occurs in late June and July on the mainland and with it comes humidity of more than 80% and temperatures nudging 104F on some days. It's possible, however, to escape the heat and humidity by heading for Japan's mountains or coast
Summer also brings with it a variety of colorful local festivals, particularly in the cooler north of the Tohoku region. The Nebuta Festival is held in August in Aomori and attracts more than three million visitors each year. Legend has it that in the ninth century AD General Tamuramaro subjugated his enemies' armies by frightening them with huge lanterns, replicas of which are now carried through the streets on festival evenings.
The parades are sociable, community events with dancing, music and traditional costumes. Further south in Kyoto, the Gion festival takes place throughout June culminating in the Yoiyama parade through its streets on July 17.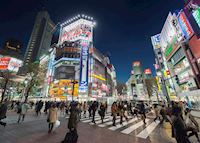 Take an evening stroll through the Shinjuku district of Tokyo and every preconceived image of modern Japan will be there to greet you: crowds decked out in the wildest fashions, towering skyscrapers and flashing neon.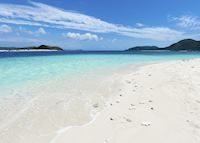 With a thriving local culture and strong Chinese influences, arriving in Okinawa can feel like reaching an altogether different country.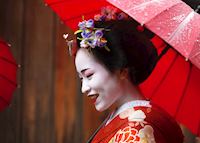 A city that reveres Japan's traditional culture, Kyoto is crammed with temples, shrines and machiya (townhouses). Even as modern life pulses around, the old ways hold firm, with tea ceremonies, Shinto prayers and artisanal crafts still part of everyday life here.
Fall
By September temperatures start to cool but the sun continues to shine, making this a good time of year to visit.
The fall colors, with their subtle red and gold hues start to appear in Hokkaido in late September and then travel south to Kyoto and Tokyo by mid-November. Fall is a glorious time to be in Japan as the countryside blazes with the fiery reds and oranges of the turning leaves of the indigenous momiji maple tree.
The climate is temperate and dry and since the colors cover vast areas of the mainland there are plenty of opportunities to take in the beauty, either by hiking through the Japanese Alps or strolling through the quiet back streets of Kyoto or on Miyajima Island.
Winter
Winter in Hokkaido stretches from late October through March and the Siberian fronts bring icy cold winds and heavy snowfall.
Winter on the mainland lasts throughout December, January and February with more snowfall in Tohoku and the Alps region but staying relatively mild in Kyoto, Hiroshima, Shikoku and Kyushu islands.
Crisp air, clear blue skies and dry weather mean that winter shouldn't stop you from traveling in Japan. Even in Hokkaido there is plenty to do through the coldest months, from bird watching in Kushiro and Sapporo's Snow Festival in February to world-class skiing in Niseko and Furano until April or May.
January sees the coming of the New Year, the biggest holiday in the Japanese calendar and celebrating o-shogatsu with thousands of people at Tokyo's Meiji Jingu shrine is a remarkable experience.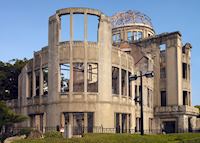 Hiroshima is a city which has risen from the ashes since the horrific events of August 1945 and although these events are justifiably and sensitively commemorated, the city is now one with an energetic and cosmopolitan feel.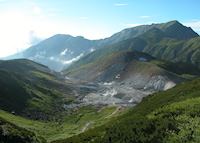 Much of Japan's most glorious mountain scenery is to be found in the Japanese Alps of Nagano Prefecture, home to the 1998 Winter Olympics, and linked to Tokyo by a convenient new bullet train route.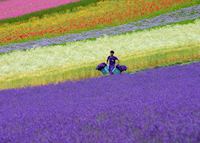 The high mountains, crystal lakes and wide open spaces of Hokkaido Island set it far apart from the hustle and bustle of southern Japan. This is Japan's last wilderness region.
History of Japan's cherry blossom season
The cherry blossom season is a national institution and has played a role in Japanese society for thousands of years.
Hanami through the ages
The practice of hanami (hana meaning flower and mi meaning to see or view) was first instigated in the Heian period, which stretched from 794 until 1191. This was Japan's great court era, when the emperor lived in palatial grandeur with hundreds of concubines, when haiku poetry was at its most elegant and when one of Japan's great literary classics, The Tale of the Genji, was penned.
The poets, artists, courtesans and nobility of Kyoto would gather under the blossoming trees to celebrate the coming of spring and the beauty of the delicate pink and white petals as they fell gently to the Earth.
Hanami today
Today hanami are more raucous affairs, with plenty of sake, beer and picnic food to keep spirits suitably high. Families, friends, work colleagues and sporting teams gather to sit on blue tarpaulin on avenues lined with cherry blossom trees and sing, chat and generally make merry until darkness falls.
Many places even have "lightups" of the cherry blossom parks so that the revelry can continue late into the night.