By Japan specialist Henry
Japan's location between mainland Asia and the Pacific brings it dramatic contrasts in weather and distinct seasons. The Japanese are rightly proud of their seasons (as I discovered when I lived and worked in Japan for five years). They make the most of each seasonal event, from picnicking under spring's cherry blossom to soaking in snow-surrounded onsen in winter.
With balmy, sunny summers and snow-clad winters, each season can give you a very different experience. It can also make it tricky to pick when to visit, but my highlights of each season below will help you decide.
Spring in Japan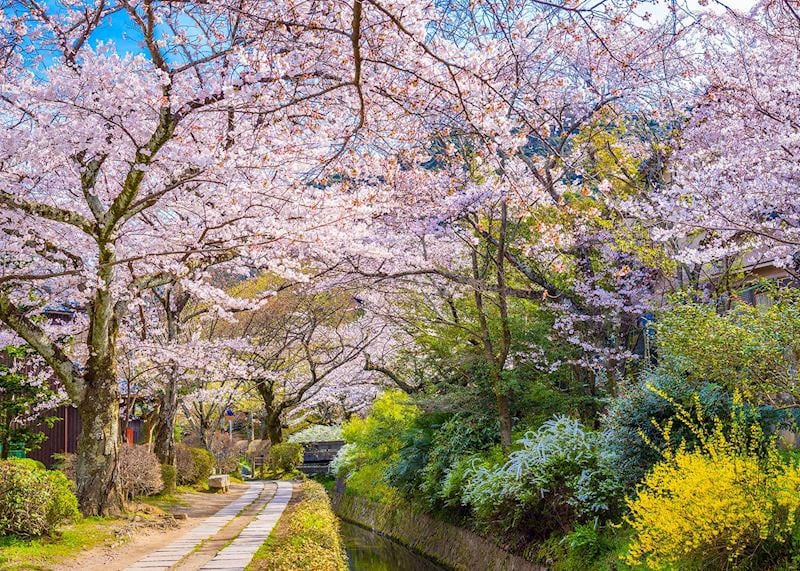 The arrival of cherry blossom has been important to Japanese society for thousands of years, inspiring haiku poetry as early as 794 AD. Nobility, poets, artists and courtesans would gather to welcome spring under the blossoming trees.
This practice of hanami ('hana' meaning flower and 'mi' to view) has become a national institution, with people taking every opportunity to picnic under the blossom.
Much of the excitement around the blooms is in their transience, lasting anything from two weeks to two days (a brief shower can ruin the delicate petals). The blossom flowers first in the southern island of Okinawa in early February and moves northward, usually erupting in northern Hokkaido by the end of May.
It can be difficult to predict, but peak viewing tends to be from late March to mid-April, when Tokyo, Kyoto and the rest of the main island are in flower. In Kyoto's Higashiyama district, you can stroll the Philosopher's Path, a 2 km (1.2 mile) stone track lined with hundreds of cherry trees. In Tokyo, Ueno Park sees almost 1,200 trees burst with clouds of pink, acting as frothy parasols for the droves of people picnicking under them.
Many visitors to Japan choose to travel in cherry blossom season, so it can get very busy with hotels booking up 12–18 months in advance. To avoid (some of) the crowds, consider Hirosaki, a small castle-town two hours north of Tokyo. Planted around Hirosaki Castle (imagine three buildings stacked up), the cherry trees (all 2,600 of them) typically blossom from late April into early May.
And, if I miss the cherry blossom?
Cherry blossom isn't spring's only asset. Arrive between mid-February and mid-March and you'll catch the plum blossom, whose small, bright-pink flowers are mistakable for cherry. In Hokkaido, you can see fields of tulips and phlox in a rainbow of shades.
By the end of April and early May, tendrils of mauve wisteria have begun to flourish and you can wander under tunnels of them at Kameido Tenjin Shrine in east Tokyo.
Spring also strips many of Japan's gardens of their protective winter covering, and they begin to sprout brilliant-green foliage and break into blossom.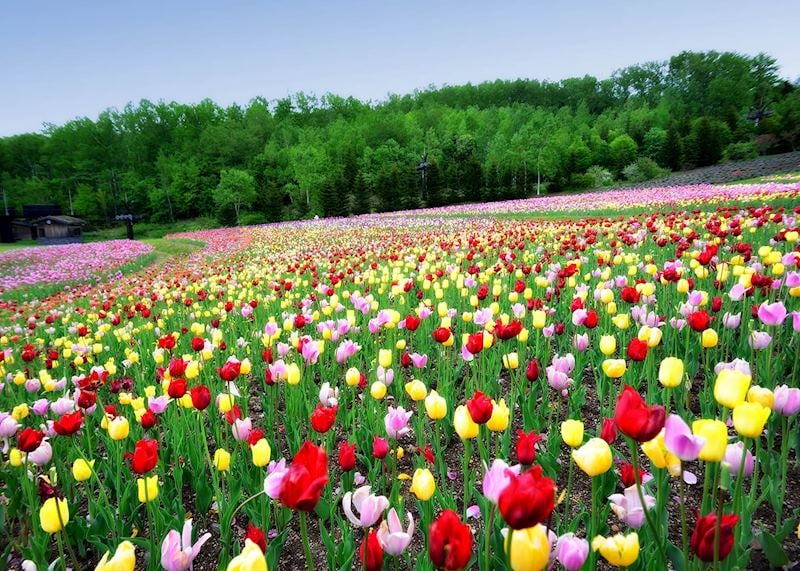 Seasonal spring food in Japan
The range of cherry-blossom-themed food is almost ridiculous, from blossom-scented mochi (sweet rice balls), taiyaki (filled fish-shaped cakes) to beer brewed from the petals. Spring's fresh bamboo shoots and lotus roots supplement bento boxes, which you see being eaten picnic-style in parks everywhere. You can pick up these delicate packed lunches, which usually contain sushi, prawn tempura and grilled fish, in local convenience stores.
Clams are at their best at this time of year, usually served with rice that's been cooked in their juices and topped with fresh mitsuba (Japanese parsley). For a really weighty dish, choose clams steamed in sake.
Spring festivals and events
One of Japan's six annual Grand Sumo Tournaments kicks off in Osaka, a commercial city 20 minutes by train from Kyoto. I like the simplicity of watching sumo — there are no complex rules to grasp, and it's easy to follow. During each bout, the loser is the first to be pushed out of the ring or touch the floor with anything but his bare foot. Although each round is usually over quickly, it's preceded by as much ritual stamping, as the wrestlers attempt to out-psyche each other.
During late March you can also visit AnimeJapan, one of the largest animation fairs in the world. Held in Tokyo's Big Sight convention center, it draws together hundreds of shops, seminars and anime-related workshops. Perhaps the best part is the cosplay area, where visitors show off their (often incredibly elaborate) homemade costumes.
Seasonal tips
The Japanese are so bad at booking time off work that the government has enacted Golden Week at the end of April each year, when everyone gets some work leave. I wouldn't travel during this time, as many attractions become crowded and hotels tend to book up well in advance.
Summer in Japan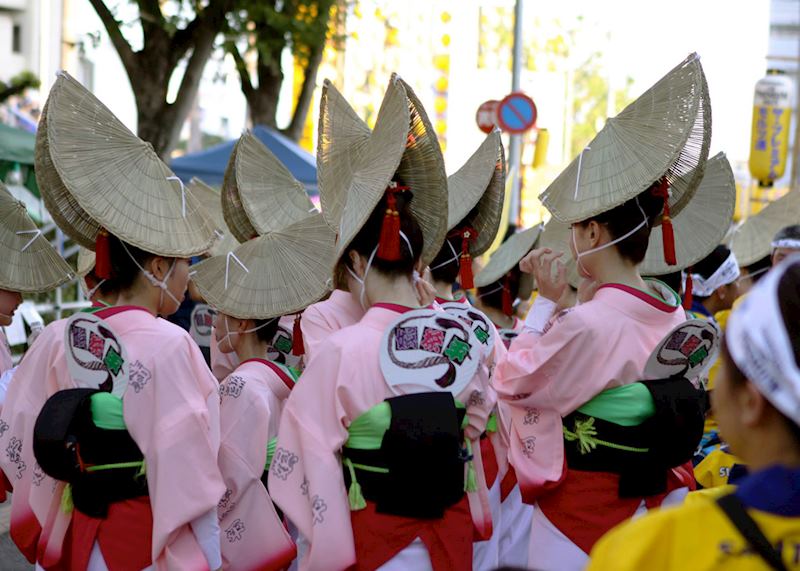 Japan's summer doesn't have its own showstopping answer to spring's blossom, but it does signal festival season, when barely an evening goes by without the fizzle of fireworks in the night sky. Added to this are fewer crowds of visitors and advantageous hotel prices as a consequence.
In June, July and August the climate begins to change, the air becomes stickier and the temperatures move steadily higher. Almost every building is air conditioned, so it's easy to cool off, but I suggest taking your first few days slowly to get used to the heat, which averages around 32°C (90°F).
Seasonal summer food in Japan
Summer's dishes are all about refreshment. Everyone eats hiyashi chuka (cold ramen), a simple dish of cold noodles and seasonal vegetables tossed in a vinegary dressing. You can judge a good hiyashi chuka on its variety of ingredients and textures, from crisp cucumber to soft, sweet peach.
The traditional Japanese summer treat is kakigori, shaved ice covered in syrup. You can go simple and grab a cup at one of the street stalls that offer a variety of neonlike fruit syrup toppings. In one of the larger cities, you can visit a specialist shop for an artisanal version that might include toppings of soybean paste, matcha tea or pumpkin cream.

Summer festivals and events
During summer, there's unlikely to be an evening without fireworks somewhere in Japan: this is the season of festivals and celebrations. And, I'm not talking about a few sporadic bursts and noisy rockets. Japan leads the way in firework design (many Olympic displays were made in Japan), creating brighter, more complex flashes than I've seen elsewhere.
The big festival is Obon, a week in August when Buddhists celebrate the lives of their ancestors with fireworks and dancing. All Japan revels, but a focal point is Awa Odori, a dance festival in Tokushima on Shikoku Island.
Some 450 years ago, Tokushima's daimyō (feudal lord) rewarded its people for an excellent rice harvest, appropriately enough, with sake. Dancing broke out in the streets, which has continued yearly ever since.
I danced in the festival when I lived in a nearby town. It has morphed into a massive three-to-four-day street parade. With my local dance group, I marched in procession through the city to synchronized steps, the women wearing geta (uncomfortable-looking wooden shoes) and amigasa (traditional hats akin to two fans stuck together).
In the evenings, everyone wanders to the riverside to watch the fireworks, dressed in a cool yukata (light cotton kimono) and eating kakigori.
Seasonal tips
Your guidebook might wax lyrical about climbing Mount Fuji, which is only open for climbing in July and August. From experience, I'd say your time could be better spent. The mountain becomes so busy that you'll spend your entire time in one long queue to the top. Frankly, it looks much better from afar, particularly from the shore of one of the five surrounding lakes.
Japan's rainy season typically hits the mainland in June. With it comes more than 80% humidity and temperatures averaging around 25°C (77°F) in most regions.
Fall in Japan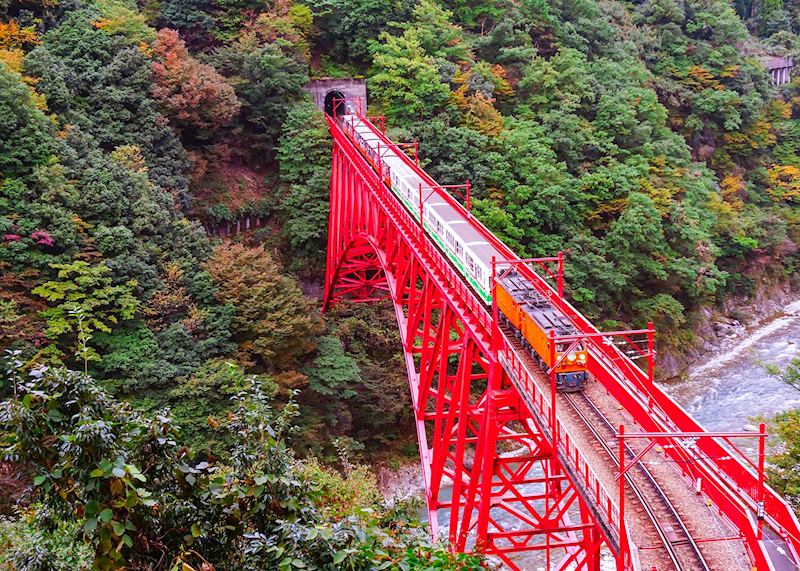 The countryside blazes red and orange with the turning leaves of the indigenous momiji maple tree, an autumnal cloak (known as koyo) that starts in Hokkaido in late September, reaching Kyoto and Tokyo by mid-November.
Chlorophyll is a little more predictable than blossom, and the transition lasts around a month. If you time it right, you can catch a train from a place still in its summer greenery and watch the leaves change out of the window as you wind your way across Japan.
The Nakasendo Highway puts on quite a show, rendering it an even more beautiful walking trail. One of the five original routes from Tokyo to Kyoto (three are now roads, the other a railway line), the highway is 533 km (330 miles) long. It's tricky to tackle it all and some parts get quite busy, so I'd focus on one of the longer stretches. The 20 km (12 mile) route between Kiso-Fukushima and Nagakubo tends to remain relatively quiet and, like everywhere in this area, is at its best in the fall.
The national parks, including the Japanese Alps, are alight with autumnal shades. You can walk, hike, cycle or make your way by cable-car around them. But, for me, the most rewarding mode of travel is by train. Kurobe Gorge is one of Japan's steepest ravines, its tree-covered cliffs almost vertical. You can ride the Kurobe Gorge Railway to cross the gorge, via 40 tunnels and 20 bridges, and with panoramic views along the way.
Fall isn't as busy as cherry blossom season, but you'll still need to book well in advance.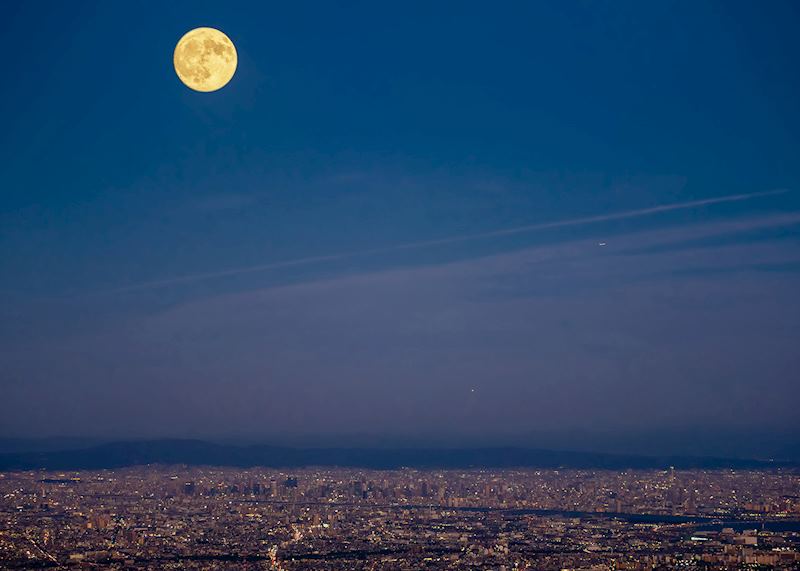 Seasonal autumnal food in Japan
A Japanese saying, shokuyoku no aki, calls fall 'the season of hearty appetites', as light summer fare is left behind. With fish fattening up for winter, seafood is at its best, and none more so than sanma (so synonymous with the season, it translates as autumn fish). A sweet, fatty fish, sanma is often dipped in salt and smoked over a barbecue.
Many vegetables are in season, including daikon. A long, white vegetable related to radish, you'll find it in salads or pickled as a condiment.
Arguably, the most traditional autumnal food is kuri (fresh chestnuts). A Japanese titbit since prehistoric times, they're popular roasted or pureed as a sweet filling. Candied chestnut compote is mixed into savory dishes.
Fall festivals and events
The Japanese consider the harvest moon the most beautiful lunar appearance of the year and mark it with Tsukimi, the moon-viewing festival. Folk congregate in parks, temples and tea rooms, or at the riverside to admire the brightest moon of the year. Small white dumplings of rice flour, called tsukimi dango, serve as offerings (to be eaten afterwards).
Seasonal tips
As the leaves don't redden until October, September attracts fewer visitors, making it one of the best-value times to visit Japan. Temperatures hover at around 25°C (72°F), and it stays relatively dry.
Winter in Japan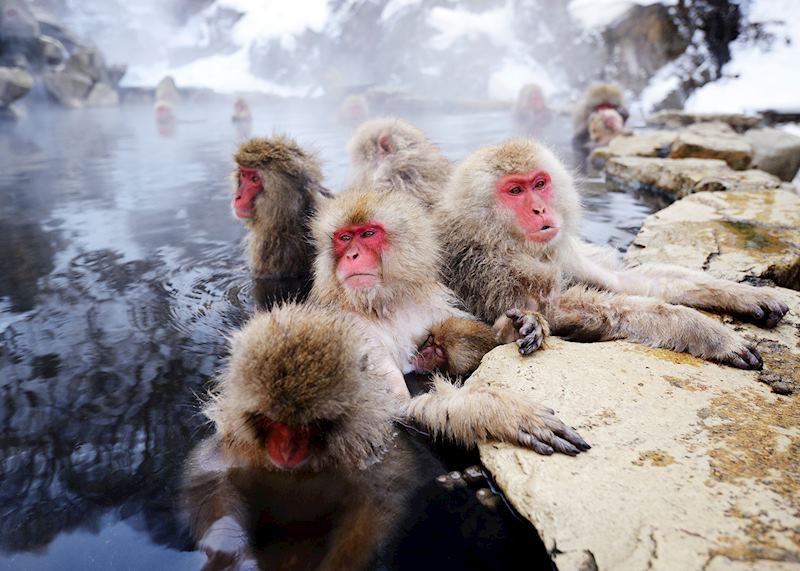 Siberian fronts carry icy winds and heavy snowfall to Japan, although Kyoto, Hiroshima and the southern islands stay relatively mild. Opportunities to ski follow the snow, from central Honshu northward, and facilities are excellent in the wake of the Nagano 1998 Winter Olympics. It's also the driest time to visit, with crisp, sunny days in Tokyo, Kyoto and Kanazawa.
I think winter is best appreciated from the hot waters of an onsen (hot-spring bath). Secluded among the spruce and fir trees in western Hokkaido, Zaborin Ryokan is surrounded by snow in midwinter. You can slip into the mineral-rich waters of a private rotenburo (outdoor onsen) amid the snow-dusted trees.
It's not just humans who like to bathe. In Yudanaka, a hot-spring resort northeast of Tokyo, it's the Japanese macaques (commonly called snow monkeys) that like a soak. You can watch the monkeys luxuriate (with tiny, satisfied faces), with a choice of people-friendly onsen to warm up in afterwards.
Seasonal winter food in Japan
Fishermen along Japan's northern coast are busy catching snow crabs. An incredibly popular foodstuff, overfishing nearly decimated the population. But, thanks to a ban on fishing from March to October and sustainable techniques now in place, the crabs are back on the menu.
You can try the crabs in almost every town and city, but Kanazawa on the north coast gets some of the freshest catches. At Omicho Market, you'll see them ready for sale, before stopping in one of the surrounding restaurants. I often opt for shabu shabu, a steaming broth that's heated at your table so you can cook the raw crab swimming in it to your liking.

Winter festivals and events
Christmas Day in Japan is a normal working day, but the Japanese still embrace the festivities. German-style Christmas markets pop up everywhere, and cities that are usually brightly lit turn it up a notch in their festive illuminations. The city of Kobe alone has a display of more than 200,000 hand-painted lights.
New Year is the biggest event in the calendar, when families get together to eat mochi, rice cakes and toshikoshi soba, a buckwheat noodle dish (the long-strand noodles signify long life). Many people head to their local temple around midnight, when the bell is rung 108 times to remove the sins of the outgoing year and start the New Year afresh. You're invited to ring the bell in some temples, once the ritual is complete, to bring you fortune for the year ahead.
Seasonal tips
If you're in Hokkaido in February, add in a visit to the Sapporo Snow Festival, a display of ice sculptures the size of multi-story buildings.
Read more about trips to Japan

Start thinking about your experience. These itineraries are simply suggestions for how you could enjoy some of the same experiences as our specialists. They're just for inspiration, because your trip will be created around your particular tastes.
View All Tours in Japan