Whether you're visiting Malaysia for its vibrant, modern cities, remote villages in pristine rainforest or long white sandy beaches, we have a good choice of luxury hotels and resorts to make your Malaysia vacation memorable.
The Datai is one of Asia's most beautiful spa resorts. Set in ancient tropical rainforest in a secluded corner of Langkawi, there is 24 hour dining with award-winning cuisine, two swimming pools, a health club, tennis courts and a golf course. Pool villas feature a plunge pool with built in Jacuzzi.
The Eastern and Oriental Hotel in the heart of Penang is a beautiful hotel restored to its former glory. Founded in 1885 by the Sarkies brothers who later built Raffles Hotel in Singapore, the suites are fitted with colonial furnishings over polished wooden floors and have full butler service.
Explore Penang's virgin rainforest with your own naturalist

Home to extravagant Chinese temples, shophouses, and guildhalls (built by merchants to display their wealth), as well as botanical gardens and crumbling remnants of British rule, Penang is somewhere I include in almost every trip I plan. But, I'm not the only advocate of this tiny island off Malaysia's west coast, and it can get busy.
To escape the crowds, we can arrange a private tour of Penang Hill, the jungle-topped ridge that overlooks the capital, Georgetown. You'll skip the queues to ride the funicular railway to the top, where your naturalist guide will take you on a tour of The Habitat, a nature trail that borders one of Penang's two virgin rainforests.
You'll see the forest from every angle, following the tail through tropical gardens and tangled root networks, before stepping up into the walkways that take you high up into the tree canopy. Along the way, your guide will introduce you to the plants and wildlife that live here, from prehistoric ferns to clouds of butterflies.
To finish, you can watch the sunset across the Andaman Sea while enjoying fresh fruit juice and a slice of mail ai go, a traditional Malay steamed sponge cake with a soft, fluffy texture that melts in your mouth.
Kristang cooking with chefs at the Majestic Hotel
The Majestic Hotel is the grande dame of Malacca, overlooking a busy waterway which once teemed with Chinese junks and spice-laden boats from across Asia. Set in a restored 1920s mansion, it has hosted dignitaries and celebrities over the years, including Tunku Abdul Rahman, Malaysia's first prime minister, when he announced the country's independence from the British in 1957.
It's a prime example of a luxury boutique stay, but I find that an often overlooked highlight is the cuisine. While other cities across Malaysia have Indian and Chinese influences, Malacca is the home of the country's Kristang community, who have a Malay-Portuguese heritage. The chefs at the Majestic Hotel work hard to record and share Kristang cuisine, a specialty hard to find anywhere else in the world.
Your day will start by joining the chefs on their morning market visit, where they pick up fresh produce for the hotel's restaurants. You'll help select the best ingredients, as well as learn about the dried fruits, nuts, dried fish, and herbs that are key to Kristang cuisine.
After a tea and kuih (bite-sized rice sweets) break, you'll help to prepare your own lunch. It can be tailored to your preferences, but is likely to include ulam, a popular salad of seasonal vegetables and herbs, often topped with dried fish or toasted coconut.
Luxury hotels in Malaysia

It's easy to treat yourself to some added luxury across Malaysia, from beach retreats to heritage city stays. I've picked out my top choice in some of the most popular destinations, inspired by our Classic Malaysia trip idea.
The RuMa Hotel and Residences, Kuala Lumpur
As you walk into the lobby of The RuMa from the crowded streets of Kuala Lumpur, you're greeted by a gold-plated wedding dress. The hotel has been designed to celebrate Malaysia's mining heritage, with gold and copper touches throughout. Every detail has been carefully thought out — I've never seen such a beautiful hallway leading to my room.
The hotel may feel refined, but 'ruma' means 'home' in Malaysia, and there's a welcoming feel to the hotel, from the attentive lobby staff to the rooms furnished with Malay textiles and traditional rattan furniture. It boasts one of Malaysia's most high-tech spas, with a list of services that sound like you need a medical degree to understand and a gender-neutral take on treatments.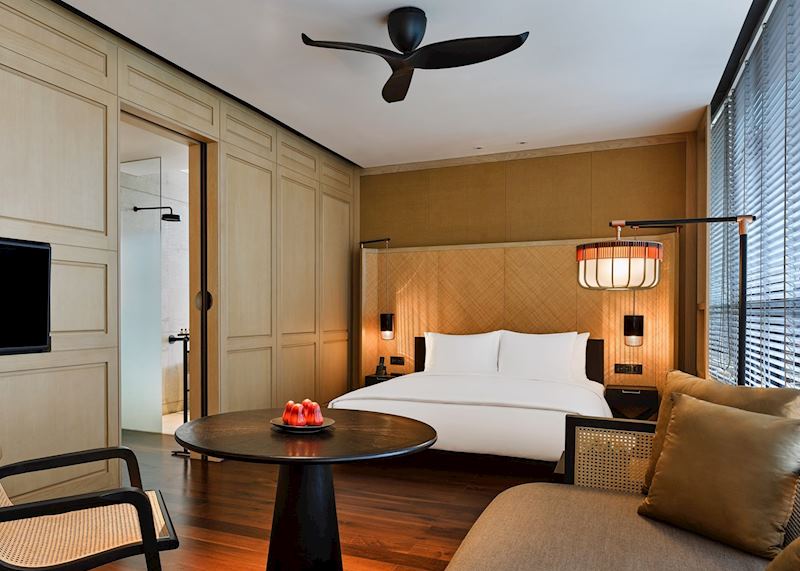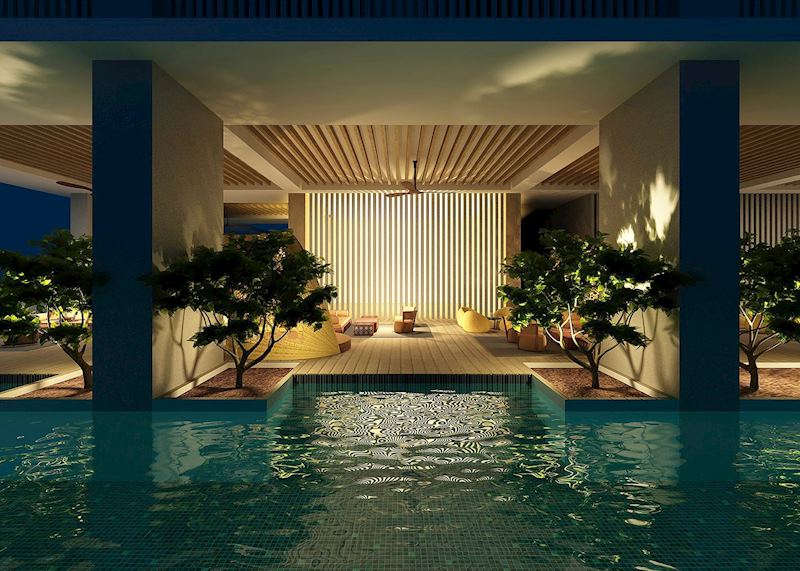 The Banjaran Hotsprings Retreat, Ipoh
Some hotels are destinations unto themselves, and this is one of them. The Banjaran Hotsprings Retreat is built into a jungle-covered valley just outside the former mining town of Ipoh, just a two-hour drive north of Kuala Lumpur. Despite its accessibility, once you've arrived, it feels worlds away from any metropolis.
Although, it's not immediately obvious when you've actually arrived — the low-level villas, communal areas, and pools are designed to blend into the surrounding forest, with plenty of clever planting and locally sourced materials. Almost everything is open to the elements, making the most of the views over the steep limestone cliffs and jungle-covered valley walls that rise up around the hotel.
The key activity here is immersing yourself in water, in almost any way you please. There's a naturally heated swimming pool, a series of geothermal hot springs, an ice-bath dipping pool, hydrobaths, as well as the spa's specialty, a Malay flower-petal bath. Your private villa will have its own plunge pool or geothermal hot-spring whirlpool, too.
Once you're thoroughly bathed, it's time to make the most of the hotel's other natural wonder — the cave network that runs under it. There are meditation and thermal steam caves, but the showstopper is the perhaps underwhelmingly named Jeff's Cellar restaurant, a cathedral-like cavern lit to make the most of the stalactites that decorate the walls like frozen waterfalls. Here, you can dine on a carefully prepared degustation menu of contemporary Malay dishes.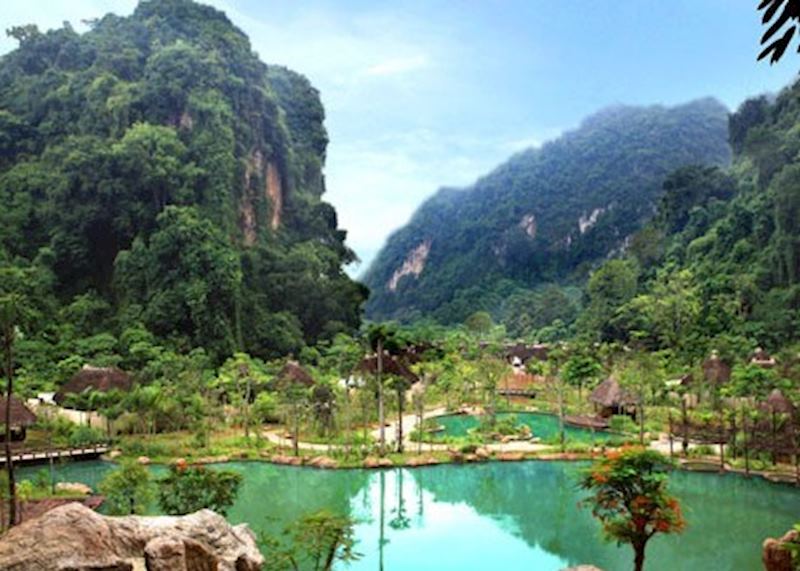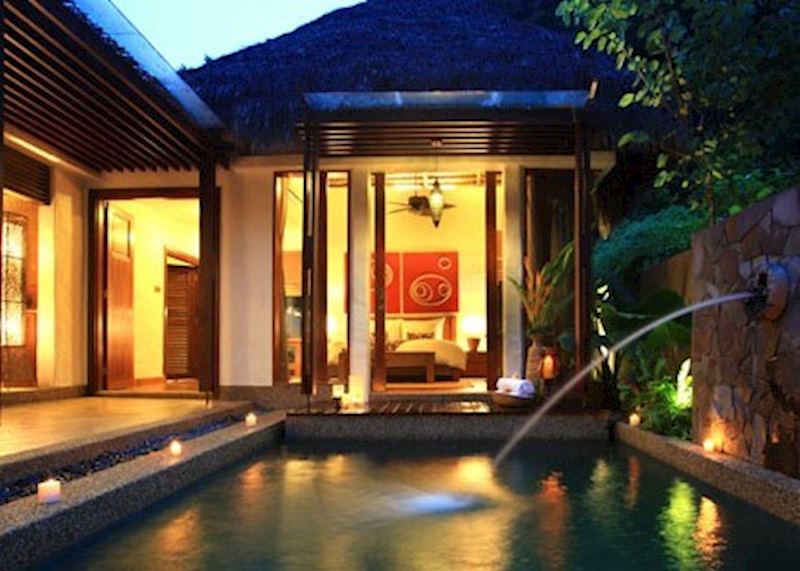 Seven Terraces, Penang
For me, luxury isn't always about the grandest stay — if you want that, the Eastern & Oriental Hotel is a colonial-era landmark in Penang with butler service and a riverside pool. In contrast, Seven Terraces has just 18 suites, each celebrating Penang's history. Its name comes from the elegant row of seven Chinese shophouses that have been converted into this heritage retreat.
The original feel of these wealthy merchant houses has been restored, with gilded shutters, teak antique furniture, and trinkets from the 19th-century Anglo-Chinese trading boom lining the walls. It's a welcoming, intimate stay, with a small pool, dining area, and an atmospheric bar with a resident mixologist.
Merchants built their shophouses in the best location they could, and these are no different. You're right in the heart of this UNESCO World Heritage town, just steps from the street-stalls of Chulia Street and Guan Yin Temple, with some suites looking out across St. George's Church.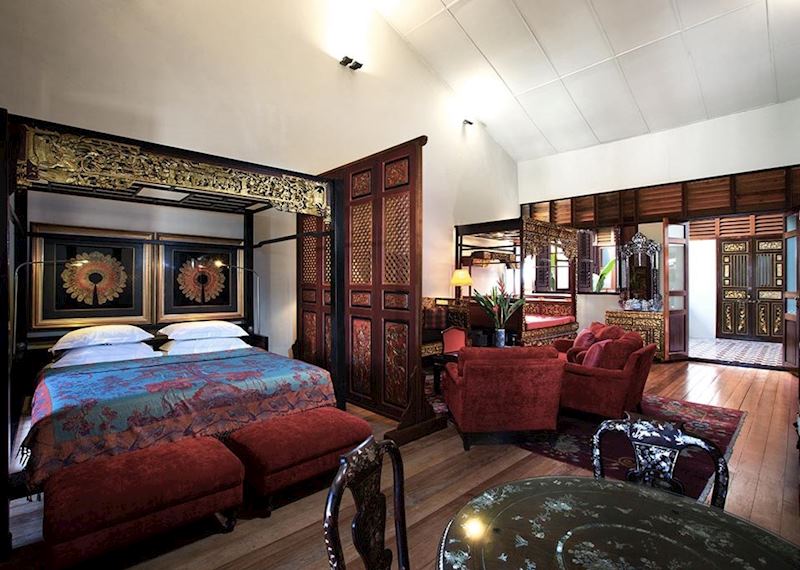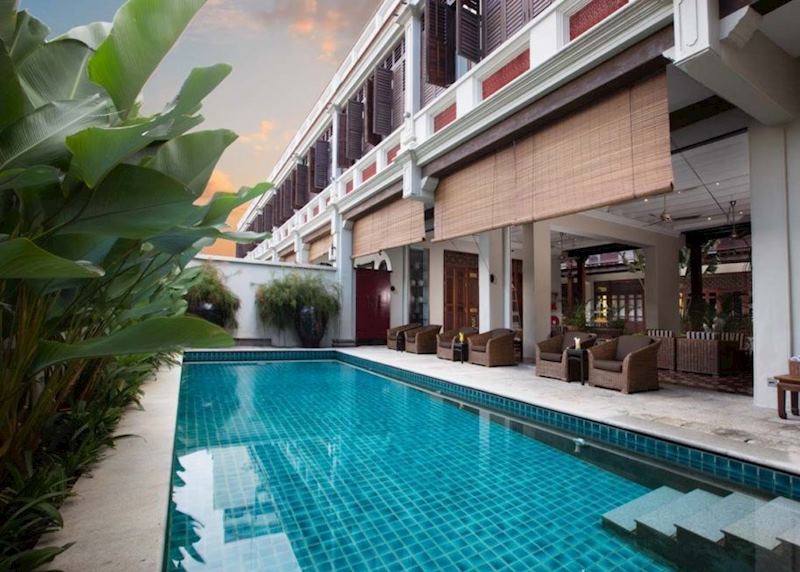 The Datai Langkawi
This might be a bold statement, but for me, The Datai Langkawi is one of the best hotels in Southeast Asia. It's luxurious in the traditional sense — private-pool beach villas on a bay of postcard-perfect sand, a spa offering world-renowned experiences, and a golf course designed by Ernie Els that's so scenic you might be persuaded to give it a try even if you've never picked up a club.
The luxury here extends beyond the facilities, though. Service is a real focus, with a high ratio of staff to guests, and you'll find that everyone knows your name and personal preferences before your first day is over.
There's also real luxury here for nature lovers. The dedicated Nature Centre hosts talks and workshops led by the resort's team of resident naturalists and marine biologists. They also run a series of experiences to get you out into the surrounding environment, including kayak tours through mangroves, birdwatching and butterfly walks, and hikes into the surrounding jungle.
And, if you're here to celebrate or just want to finish your Malaysian experience with flair, the hotel can arrange for a private candlelit dinner on the beach, with views out across the Strait of Malacca to Thailand.