On New Zealand's south island is Queenstown, self-proclaimed 'adventure capital of the world'. It's hard to argue with this due to the sheer number of high adrenaline adventures available among the surrounding Southern Alps.
From white-water rafting, heli-hiking and bungee jumping, to the slightly more subdued trekking, jet boating and horseback riding, there is much to offer those looking for an adventure vacation, not just in Queenstown but all over New Zealand.
Our favorite activities available in New Zealand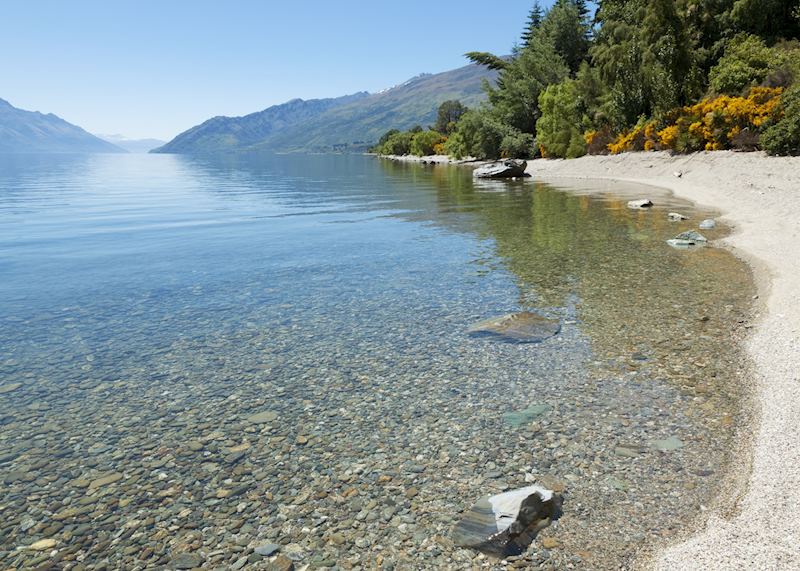 By Brent
Blanket Bay sits on its own headland in the farthest reaches of the S-shaped Lake Wakatipu. Overlooked by the snowy bulk of Mount Earnslaw, it's flanked by native beech forests and grasslands. While the retreat would suit anyone looking to experience these alpine landscapes, I think it particularly suits anglers.
Why? Well, two rivers, the Greenstone and Caples, are within easy reach of the property, and both are bastions of trout fishing, with good varieties of rainbow and brown trout. The lodge is surrounded by lakes and streams where you can go fly-fishing with a private guide. And, there are the banks of Lake Wakatipu itself, where you could catch quinnat salmon. We can even arrange for you to go heli-fishing, which sees you transported by helicopter to reach remote, wilderness rivers.
Golf…with a view
Where to go? Cape Kidnappers Golf Club, Hawke's Bay, North Island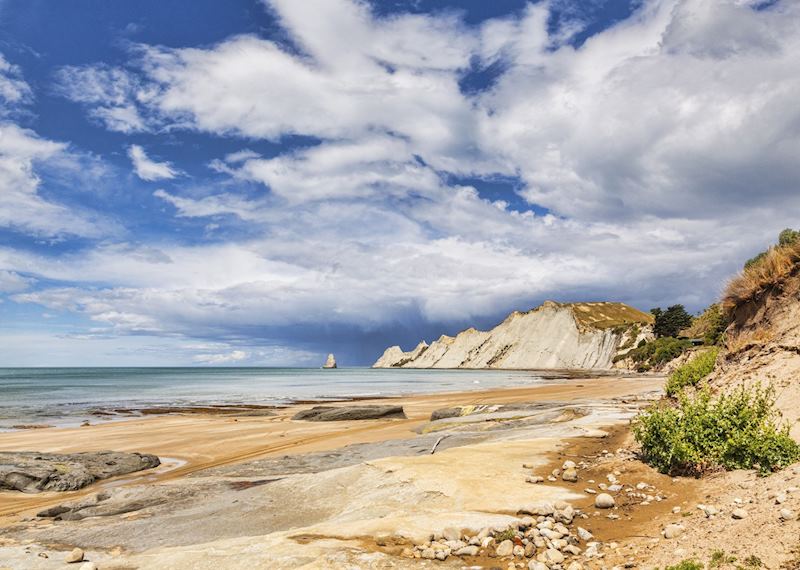 By Charlie from our New Zealand team
I think Cape Kidnappers is the most spectacular course in the world: it sits on very high white cliffs, which are more like gnarled spines of land stretching out into the Pacific Ocean. Playing every hole feels like you're about to walk on water ― especially when it comes to the 15th, which is cheekily nicknamed Pirates' Plank. So, you do need a head for heights, but once you get accustomed to the slight hairiness of playing here, you're quickly seduced by the vistas.
The course sits on a huge estate with a five-star lodge. It's actually part of a working farm, so, in-between rounds, you can take part in a spot of quad biking or even sheep herding. The wineries of Hawke's Bay are also just down the road.
The other headline golf course in New Zealand is Kauri Cliffs Golf Course, located in a subtropical, beachy corner of Northland. But, for me, it doesn't compete with Cape Kidnappers' drama.
Sea kayaking…with seals
Where to go? Abel Tasman National Park, South Island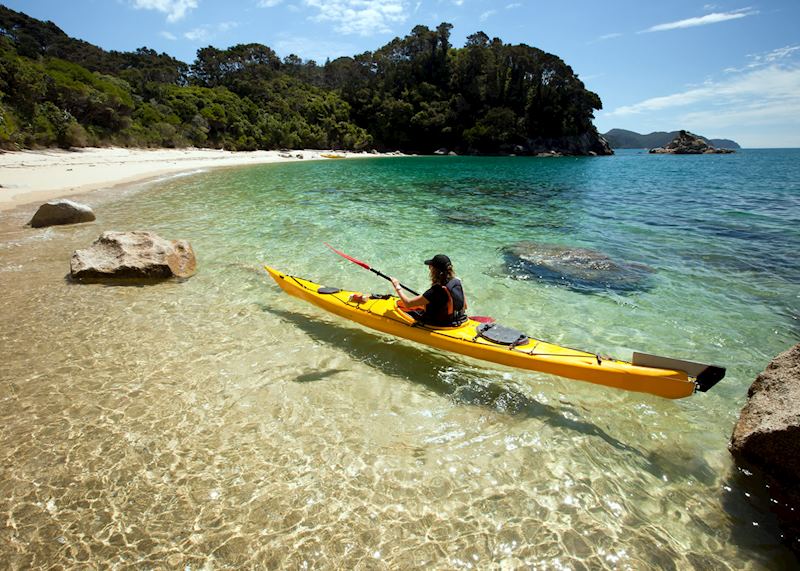 By Esther
I love the Abel Tasman because, located as it is in the western tip of the South Island, it doesn't get a lot of through traffic, so is always peaceful. Inland, it's a mass of barely tamed natural forest, while its coastline is riddled with wide estuaries and yellowy-sand beaches. In summer, the water is a tropical shade of turquoise.
When I kayaked here, the water wasn't looking quite so photogenic, but it's still a fulfilling place to paddle. In a group of six accompanied by a local guide, you'll thread your way along a stretch of coastline, nosing into sandy coves before stopping in one for a bush walk up to a small, lonely waterfall.
The best part of kayaking here is encountering seals, which congregate on offshore rocky outcrops. Their pelts camouflage them against the rock, so you might have to peer quite hard to see them. When I visited, they were mostly all snoozing.
Mountain biking and heli-biking
Where to go: various spots for mountain biking. Wanaka, South Island, for heli-biking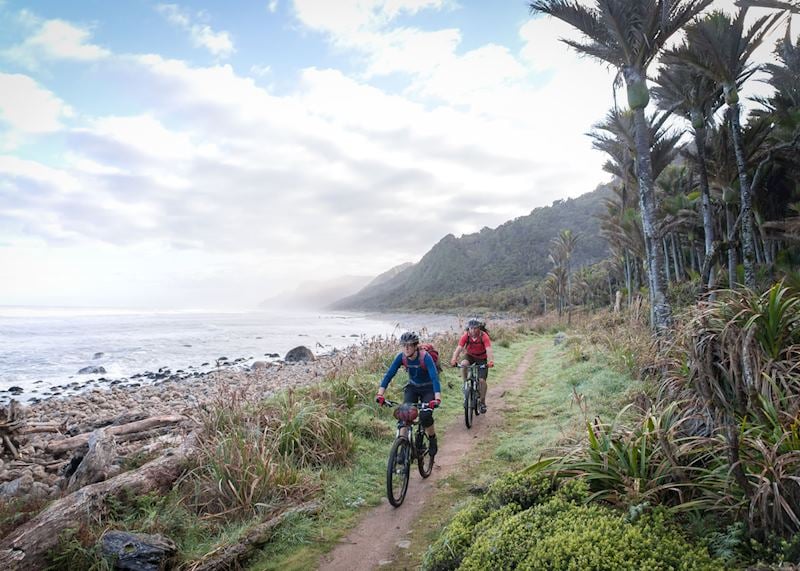 By Chris
This country lends itself just as well to cyclists as it does to hikers, and I share some of my go-to trails in my love letter to cycling in New Zealand.
Heli-biking is like mountain biking, but better. You're helicoptered to the top of a peak ― the best ones are near Wanaka. The ride's so smooth, it's like going up in a lift. Dropped off at the top of the Mount Isa ranges, you then ride down. You're breezing through windswept tussock grassland on an utterly deserted stretch of mountainside, and on a clear day, you can see all the way across the foothills to Lake Wanaka, Lake Hawea and Mount Aspiring.
When I tried this, there was a surprise in store: the mountain was engulfed in snow. But, the trip still went ahead. It was thrilling to whirr through the whiteness, moving through the snowline into the grassland and then splashing through a ford at the end, before ending with lunch at a pub (always welcome).
You're accompanied by a guide the whole time, and group sizes are limited to five. While you need to be comfortable on a mountain bike, you don't need to be a highly technical rider.
White-water rafting and day cruises
Where to go? The Kaituna River, just east of Rotorua, North Island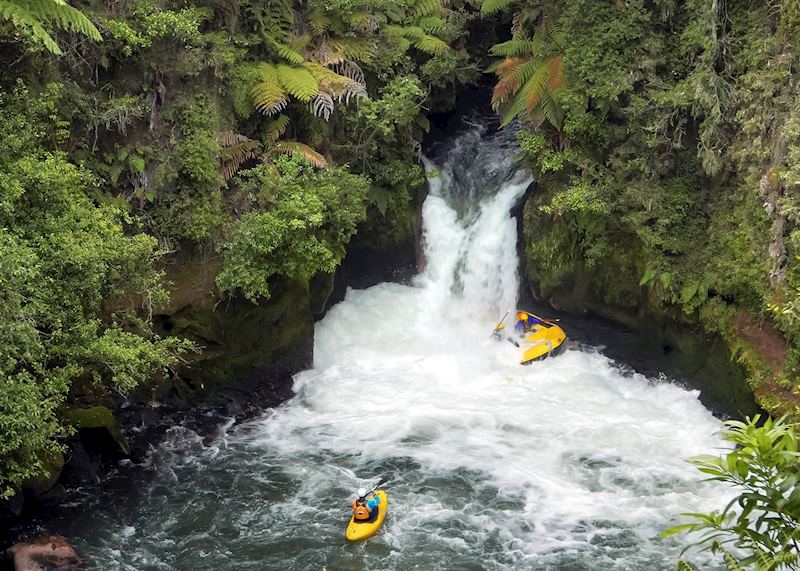 By Alison from our New Zealand team
There are a few spots in New Zealand that are good for rafting, but the Kaituna River gets my vote, for a number of reasons. One: you're careering through lusciously green rainforested canyons. Two: the water isn't that chilly (as long as you go during New Zealand's summertime, December to February). And, thirdly, you'll get to plunge down the 7 m (23 ft) Tutea Falls ― and you don't even need prior experience.
The river has grade 5 rapids, but there are also sections with grades 4 and 3, too, so you can have a slightly gentler rafting experience if you prefer. I recommend complementing this activity with a much more sedate, kick-your-heels-back day cruise of Lake Rotoiti, during which you'll be plied with a food platter and fizz and stop off at some secluded hot springs.
Hiking and heli-hiking
Where to go? Virtually everywhere ― but we especially love the Hollyford Track, Fiordland, South Island. For heli-hiking, the west coast or Aoraki-Mount Cook National Park, South Island.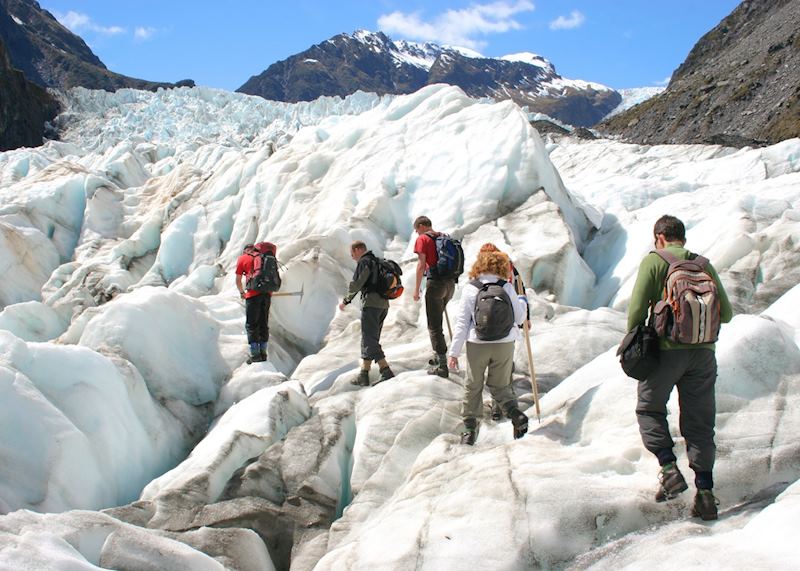 By Emily
Hikers are spoiled for choice here: there are so many options, it can be tricky to know where exactly to go walking and trekking in New Zealand. The Department of Conversation has erected their distinctive green-and-yellow signs in almost every area of the country, marking out tracks (trails) plus their duration and distance. But, if you're looking for a multi-day walk, we have a soft spot for the Hollyford.
A steady, three-day-and-two-night trek through Fiordland National Park, it takes you through valleys overlooked by mountains, deep into silver beech forest and podocarp rainforest, and across a sandy spit and dunes. You stay en route in basic but comfortable lodges, with all meals provided.
The track kicks off with a jet-boat trip across a lake, and finishes with a helicopter tour of Milford Sound. It's much quieter than its more famous cousin, the Milford Track. And, the track has a thriving songbird population. Even if it's raining (which is likely: there's a reason this part of New Zealand is so green), there's a good chance you'll hear gray warblers, fantails, bellbirds, tuis and kakas (the latter is a native rainforest-dwelling parrot).
Heli-hiking takes you up onto New Zealand's glaciers. The prospect of trekking on the surface of these mammoth rivers of ice holds an ineffable allure for some ― after all, it's a chance to slither through ice caves, observe swirling moulins (well-like shafts in the glacier), and peer into deep crevasses. Plus, you top and tail it with a short ride in a helicopter.
The west coast glaciers of Franz Josef and Fox are the most popular, but in our guide to New Zealand's glaciers, I explain why I love the Tasman Glacier near Aoraki/Mount Cook.
Caving…with added bonuses
Where to go: Waitomo Caves, near Hamilton, North Island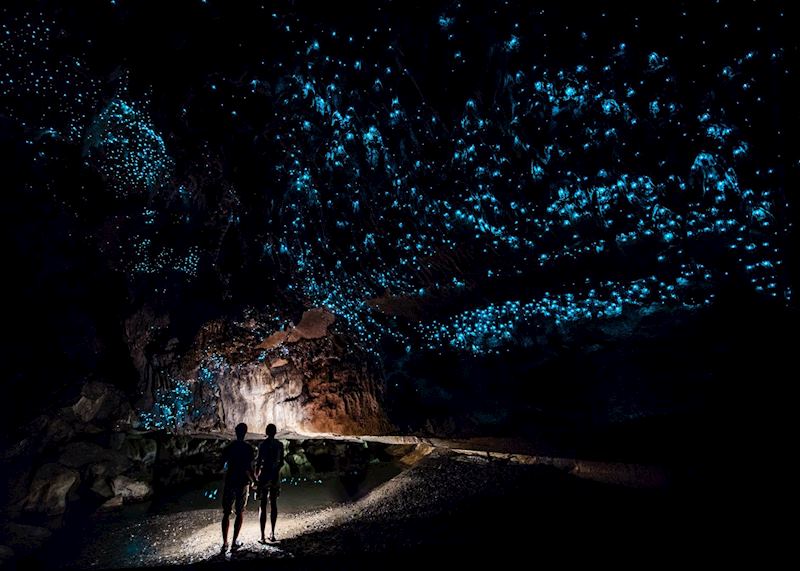 By Alison from our New Zealand team
The Waitomo Caves might appear a little commercial for your liking (you'll see them being touted to a young backpacker crowd). But in truth, these watery limestone caverns are a lot of fun if you'd like an adrenaline experience that ends in viewing glowworms.
Millions of the creatures dot the cavern walls and ceilings, and your guide will turn off all flashlights, enabling you to see them in all their glory. You easily forget you're underground, and feel like you're looking up into a starry night sky.
Before the glowworms, however, you abseil into the caves and then explore them in a variety of ways. Different tours might see you zip-lining, jumping from rock to rock, and descending waterfalls.
New Zealand activity vacation ideas

Start thinking about your experience. These itineraries are simply suggestions for how you could enjoy some of the same experiences as our specialists. They're just for inspiration, because your trip will be created around your particular tastes.
View All Tours in New Zealand