By New Zealand specialist Emily
Stepping onto a glacier throws you into an otherworldly landscape — one of crevasses, ice caves glowing teal blue and cyan, and moulins (chutes) that spiral water deep into the glacier's depths. But, why are New Zealand's rivers of ice so special, and where should you go to explore them — the West Coast glaciers of Franz Josef and Fox, or the Tasman Glacier at Mount Cook? And, how can you experience these immense bodies of ice at their finest?
Confession: I'm a glacier devotee. No matter where I go in the world, if there's a glacier to be seen, I'm there in a flash. I've visited quite a few: Canada's Athabasca Glacier, for one, and the many-tongued glaciers of Iceland. But, I think there's something particularly rewarding about New Zealand's offerings: their setting, and (in the case of Tasman) their utter remoteness and quiet.
Tasman contains some of the most impressive caves I've seen, while Franz Josef and Fox offer slightly more challenging routes.
The West Coast glaciers: Franz Josef and Fox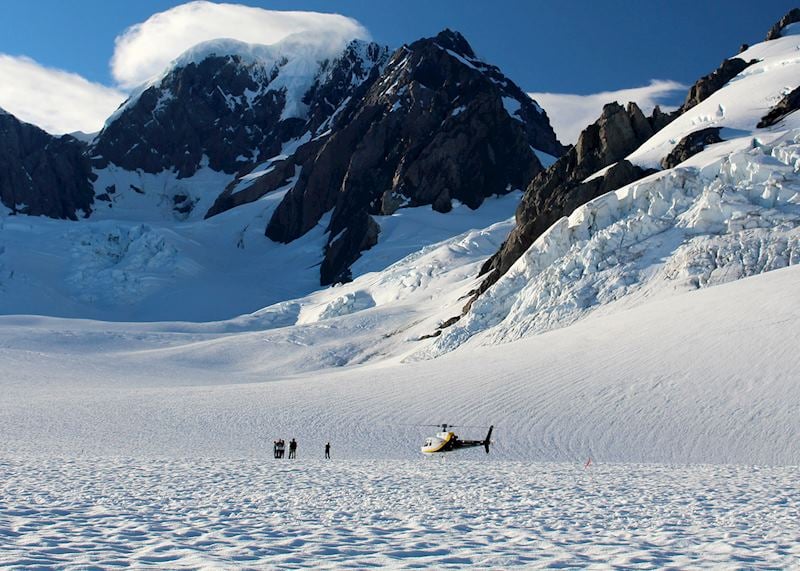 Franz Josef and its slightly longer but less steep cousin, Fox, run right down to the sea, a phenomenon almost unmatched elsewhere in the world. Bordered by dense podocarp rainforest on the West Coast of the South Island, you can visit them as part of a drive down the coast, linking up with the TranzAlpine, one of New Zealand's best railway journeys.
A guided heli-hike will get you onto the glaciers proper, and once there, you can clamber up and down their corrugated surfaces, gazing up at icefalls and the steep tree-covered moraine. Sometimes, if there's snowmelt, small waterfalls stream down the gully sides.
Up on the glaciers, your spatial relationships can become befuddled. I remember asking my guide on Fox how far we'd walk during our time on the ice. I pointed to the icefall looming ahead of us, 'That far?' I said, hopefully. My guide smiled and shook her head, 'A friend and I tried to go up there once. It took us eight hours.'
And then, once we'd begun to pick our way across the glacier's surface, I understood. From the helicopter, their sides look smooth; up close, they're anything but. You pick your way through parts of ice so jagged and crevassed they tower above you. Some gleam shades of blue, some are grayed and browned by moraine. At other points, you slip and slide over little slopes and through almost perfectly semi-circular caves. You're not going anywhere fast, and that's part of the fun.
The Mount Cook region: the Tasman Glacier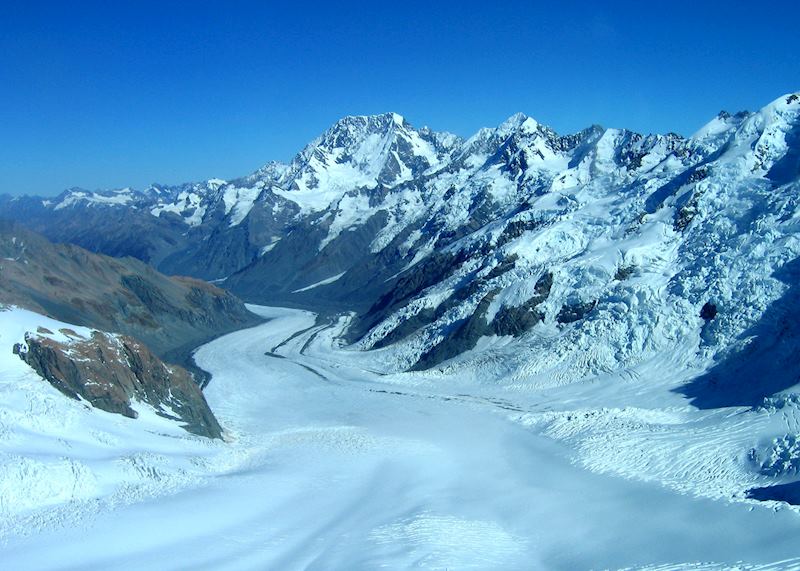 The biggest of New Zealand's glaciers lies a three-hour drive away from Wanaka. The Tasman Glacier can't be reached from the West Coast glaciers (the Southern Alps stand in your way), but it has a scale and stillness that neither Franz Josef nor Fox can rival.
A great pure-white ribbon running 26 km (16 miles) in total (compared with Franz Josef's 7 km (4 miles)), the Tasman Glacier has an ineffable sense of wilderness. It's much gentler in gradient than Fox or Franz Josef, and a less strenuous walk. Standing on it among the fresh, powdery névé snow, the ice stretches as far as the eye can see. Mount Cook stands shyly just beyond the glacier (I say 'shyly' because it seems to like hiding behind a scrim of clouds).
Tasman may seem a little less high-octane than Fox or Franz Josef, but I love standing on it, alone on this ice giant save for a few other people, who look like matchsticks engulfed by whiteness from the air. From a helicopter, on a fine day, it looks like you're coming into land on a dazzlingly white runway. Bring sunglasses.
From the air, on foot, or over water: how to get up close to the glaciers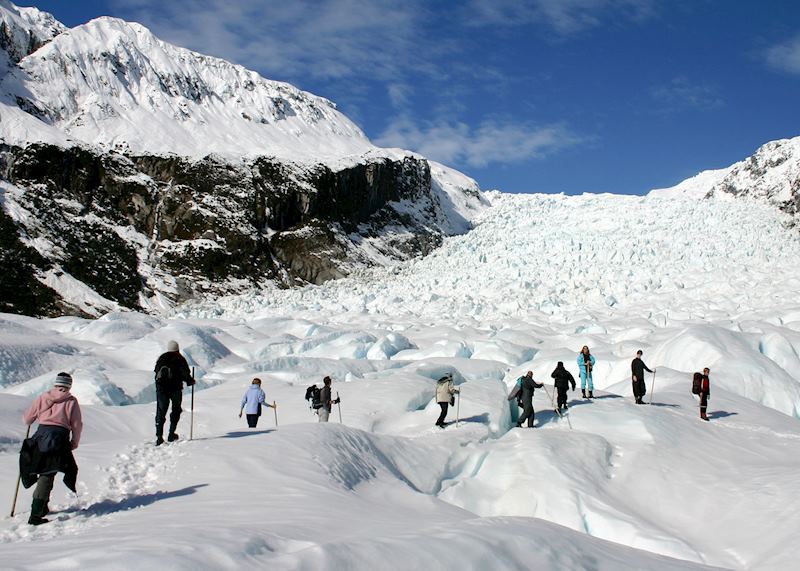 So, how best to experience these ice behemoths?
There are scenic light-aircraft flights that take you over Mount Cook and the Tasman Glacier. On fine days, the snow-capped Southern Alps glow blindingly white in the sunshine.
If you're on the West Coast, you can take in both Franz Josef and Fox on a 30-minute scenic flight. You'll fly down the length of the two glaciers, seeing how they tip over into their deep valleys via a series of icefalls, and you'll make a brief landing on top of them.
Heli-hiking, as the name suggests, sees you dropped off by a helicopter in the middle of a glacier, from where you walk over its top. Guides accompany you, sometimes hacking out routes with an ice pick as they go. You'll be equipped with crampons, whichever glacier you're on.
Tasman is a calving glacier, its terminus lying in a great lake. You can take a small-group tour in a Zodiac boat out across this glacial water, weaving past icebergs and coming within close (but safe) distance of the terminal face. You might see ice calving and crashing into the silvery lake. It's also possible to kayak on Mueller Lake, the terminal lake of the nearby Mueller Glacier.
My advice for visiting New Zealand's glaciers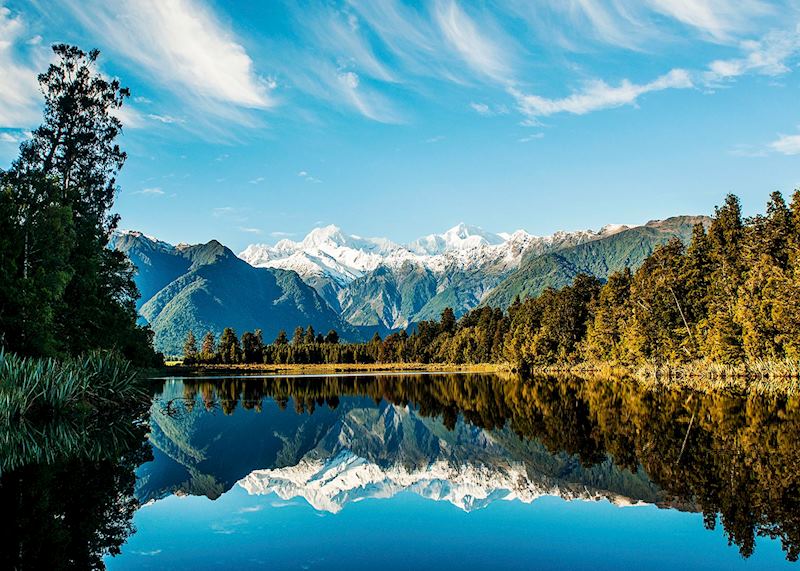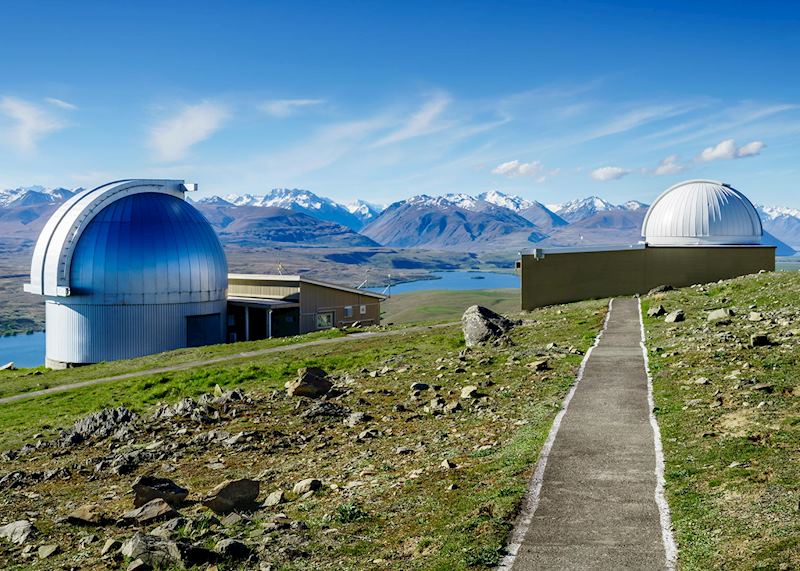 Allow at least two full days to see the glaciers. This is particularly pertinent for the West Coast, which experiences 300 days of rainfall a year, leading to only 30% of heli-hikes and scenic flights going ahead as scheduled. If yours doesn't, you'll be offered another slot.
These odds seem harsh, but you can increase your chances of getting onto the glaciers by staying longer, expanding your weather window. The townships of Fox and Franz Josef are petite places, but they have several good restaurants and (in the case of Franz Josef) hot springs, a kiwi hatchery, and a cinema.
At Fox, come nightfall, you can visit a glow-worm glade, and, in the day, walk around nearby Lake Matheson. Encircled by native forest and sacred to the Māori, the lake's mirror-like surface reflects the adjacent Southern Alps, Mount Tasman and (very occasionally) Mount Cook.
In short, there's plenty to do in both townships, small though they seem, and you can easily fill two days.
For the Tasman Glacier, scenic flights and heli-hikes have a 50% chance of going ahead. To make the most of your time in this region, you might like to stay a two-hour drive away from Mount Cook township (which is even tinier than Fox and Franz Josef) in a place called Twizel. It has several boutique lodges.
From here, you can experience nearby Lake Tekapo. It's one of the most visually arresting parts of New Zealand, in my book, what with the small Church of the Good Shepherd outlined against the (often) turquoise brightness of the lake water, and the flurries of purple lupins lining its banks. (They're an invasive species, but undeniably photogenic.)
The lake is a Dark Sky Sanctuary, and I highly recommend a tour of the nearby Mount John Observatory. Its telescopes are world-renowned, and the astronomist guides will help you identify several constellations. I've seen Mars, the Southern Cross, and the Milky Way.
Read more about trips to New Zealand

Start thinking about your experience. These itineraries are simply suggestions for how you could enjoy some of the same experiences as our specialists. They're just for inspiration, because your trip will be created around your particular tastes.
View All Tours in New Zealand