There can be few better countries in the world than New Zealand to take a scenic train journey in — and luckily it has two of the best.
The TranzAlpine rail journey traverses the South Island's Southern Alps of New Zealand, from the Pacific Ocean in the east to the Tasman Sea in the west, past varied and breathtaking scenery.
The Coastal Pacific train runs from Picton to Blenheim and Kaikoura before arriving in Christchurch. New Zealand's stunning coastal scenery makes this a photographer's dream.
The TranzAlpine, South Island
Distance: 224 km (139 miles)
Journey time: Four and a half hours
Route: Christchurch to Greymouth return, daily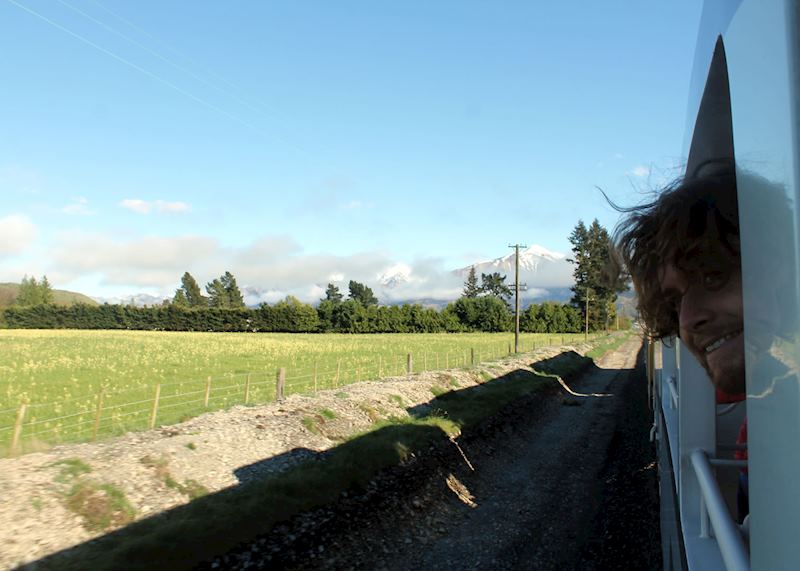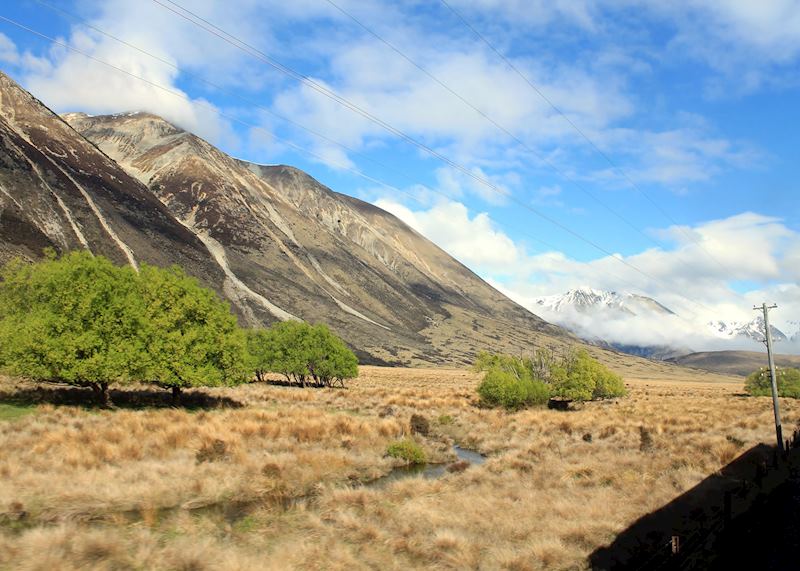 The grand doyen of New Zealand's scenic rail journeys, the TranzAlpine splices across South Island from east to west (or west to east, if you embark in Greymouth). It follows a route laid down in the 1860s by hardy stagecoaches carrying provisions to west-coast gold prospectors.
Most voyagers begin in Christchurch, a city steadily piecing itself together post-earthquake. The first few minutes of the journey take you through placid suburbs of wooden bungalows. But, before long, the train is streaking out across the low-lying Canterbury Plains.
After an hour or so of patchworked farmland dotted with sheep and cattle (and red deer, which are commercial livestock in New Zealand), the foothills of the Southern Alps start to smudge the horizon.
A silvery braided river, the Waimakariri, opens out in a gorge. The train traverses steel-girder bridges and viaducts over more gorges to climb into the snowy shanks of the Southern Alps proper.
You'll catch sight of alpine lakes, deep V-shaped valleys, beech forests, and mist-wreathed mountains before the train plateaus onto a high, grassy plain of tussock and gorse.
You then have the opportunity to disembark briefly and stretch your legs on the platform of Arthur's Pass, once a village of railway tunnel builders and now an outpost for the surrounding Arthur's Pass National Park. Here, you might spot a kea or two — fiercely intelligent (and famously pugnacious) native alpine parrots. Guard your lunch closely.
From Arthur's Pass, you plunge into the Otira Tunnel, one of New Zealand's longest, before emerging into the railway town of the same name.
Another river, the Taramakau, comes into view, and the train crosses this waterway several times on its final leg into Greymouth. Look out for waterfalls lacing more mountainsides, and the scars of long-disused mines.
What I like most about this journey (scenery aside) is how the train curls around several long bends, meaning you can look back from the open-air observation car and take a photograph of the carriages unspooling behind you, framed by mountains.
That said, some of the best moments for me have been spent at my seat, camera switched off and coffee in hand (there's a great buffet car), simply taking it all in.
Once in Greymouth, you're at the gateway to the west-coast glaciers (which you can explore via heli-hike). From here, you can also embark on one of New Zealand's greatest drives, the route from Haast to Queenstown, by way of more waterfalls, estuaries, podocarp rainforest, lakes and viewpoints over the Tasman Sea.
The Coastal Pacific, South Island
Distance: 347 km (216 miles)
Journey time: Five and a half hours
Route: Picton to Christchurch via Blenheim and Kaikoura, daily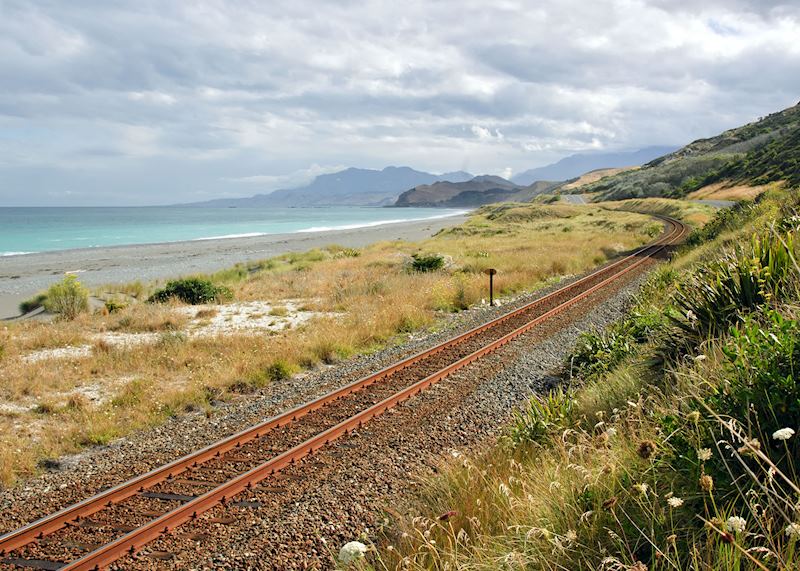 This is a great option if you like the idea of stepping right off the Interislander Ferry from Wellington and being immediately whisked off to see two of the standout highlights of South Island from the comfort of a railway carriage. Even your luggage can be automatically transferred from the ferry to the train.
You leave Picton's secluded wooded inlet, passing through a valley, and before you know it you're zipping through a flat landscape of primped and polished vineyards.
The main delight of this train is the ability for you to hop on and off, breaking your journey for a night or more. I'd recommend spending a day or so touring the wineries around Blenheim, the heart of New Zealand's sauvignon blanc country.
Back on board, you're greeted by grassy hills, distant snow-capped mountains, and a saline lake, Grassmere, which often glows pink from a type of algae.
Then you reach the ocean. The tracks run along the shoreline, and they've been extensively rebuilt among the landslides caused by earthquakes. At times you're sandwiched between waves and mountains. Look closely at the rocks along the shore, which are often littered with recumbent seals.
Break your journey again at Kaikoura, the country's premier whale-watching spot. You can even admire them from the air, as we highlight in our guide to observing New Zealand's wildlife.
Shortly after leaving Kaikoura, the train sweeps inland and travels through lustrously green hills and valleys before reaching its terminus, Christchurch. The train station is housed on a modest industrial estate, but around it lie the remains of Addington Railway Workshops, where many of New Zealand's locomotives were built.
From Christchurch, you can easily link up with the TranzAlpine, as described above.
The Northern Explorer, North Island
Distance: 680 km (423 miles)
Journey time: Ten and a half hours
Route: Auckland to Wellington, three times a week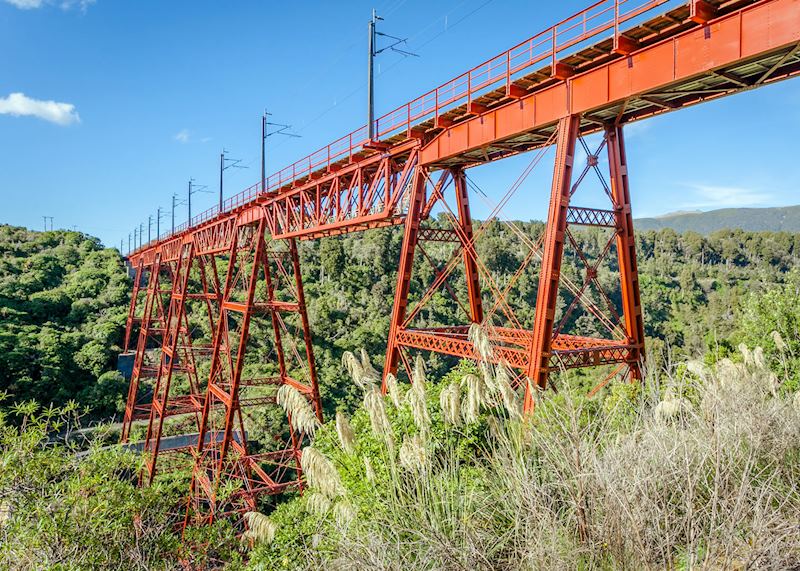 The Northern Explorer doesn't seem to get as much international press as the TranzAlpine, but I think it's just as rewarding. That is, if you're interested in seeing a landscape punctuated by chargrilled-looking volcanoes as opposed to alpine vistas.
This train cuts through the volcanic heartland of North Island on its route from city to city, taking in both coastline and rainforest. As you near Wellington, you can look out over to the densely forested lump of Kapiti Island, a predator-free haven for native birdlife.
The engineering feats that made such a journey possible are, for me, just as impressive as the scenery.
The route takes you on the North Island Main Trunk Railway, completed in 1908. Its chef d'oeuvre is the Raurimu Spiral (constructed 1905-1908), which makes light work of an otherwise unbreachable incline. On board, you can see how the track loops back on itself.
You'll also cross the heritage-listed Makatote Viaduct, once one of the world's highest, before reaching your journey's end.
You start off in gently pastoral farming country around Hamilton. The drama comes when you enter Tongariro National Park. You can gaze through the train's large panoramic windows at a trio of volcanoes — Ruapehu, Ngauruhoe and Tongariro — their slopes the shade of burnt toffee. Sometimes they're topped with snow.
You have the option to stop here for a night or two to explore Mount Ruapehu on two wheels. More traditionally, you can go hiking. I recommend a guided walk on the Tongariro Alpine Crossing, where fumaroles, neon-green sulfur lakes and lava formations await.
Life on board is comfortable: carriages are well-appointed and the ride itself is incredibly smooth (due to a very advanced suspension system). The food is excellent, too, and there's a choice of salads, platters and wraps.
One note on this journey: the Northern Explorer complements, rather than replaces, exploring the North Island by car for first-time visitors (otherwise, you'd miss too much).
It works particularly well in a North-Island-focused itinerary, as you can wend your way south on the train and then pick up a rental car to head back to Auckland. This lets you go back and explore North Island big hitters, such as Rotorua and Napier, at your own pace.
Start planning your New Zealand railway journey

Start thinking about your experience. These itineraries are simply suggestions for how you could enjoy some of the same experiences as our specialists. They're just for inspiration, because your trip will be created around your particular tastes.
View All Tours in New Zealand