New Zealand's coastline and waterways are some of the finest and most dramatic in the world, and any trip to this beautiful country should certainly include some time spent exploring secluded coves, awe-inspiring fjords, tranquil turquoise lakes or mighty rivers.
There are a multitude of day trips available throughout the country, but by spending a little more time journeying away from land you are rewarded with scenery and experiences which far fewer travelers get the chance to enjoy.
Cruises in New Zealand are just part of our overall cruises in the South Pacific offering.
Tailor-made itineraries of New Zealand
We also highly recommend considering incorporating a couple of longer cruising options into a tailor-made exploration of New Zealand and you can take in many of New Zealand's best and most diverse scenery while avoiding the roads and instead enjoying miles of unspoiled coastal scenery.
Bay of Islands boat cruises
The small townships of the Bay of Islands are steeped in colonial history, and set against a patchwork of gently rolling farmland and ancient forests of venerable kauri trees. The 144 islands are scattered in the clear Pacific waters, which are abundant with marine wildlife.
There are a number of cruising options available in the stunning Bay of Islands region, allowing you to escape the busier parts of the bay and to enjoy secluded coves where you can swim or snorkel, perhaps encountering some friendly dolphins if you are lucky!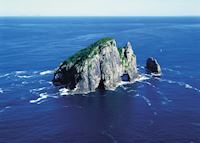 Be whisked away by the high speed luxury catamaran for a comfortable journey out through game fishing waters to the Cape Brett Lighthouse before reaching Motukokako Island and the famous 'Hole in the Rock'. The excitement grows as you make passage through the Hole and on to the majestic Grand Cathedral Cave.
Milford and Doubtful Sound boat cruises
The iconic Milford Sound is a classic example of a 'must-see' New Zealand attraction, but by choosing to overnight on the water you avoid the crowds of day-trippers and instead have the opportunity to enjoy the sound at its most natural and tranquil.
Similarly our preferred option, the less-known Doubtful Sound, is by far at its best when visited on the overnight Fiordland Navigator trip.
We also highly recommend considering incorporating a couple of longer cruising options into a tailor-made exploration of New Zealand. A five day adventure between Auckland and the Bay of Islands (or vice versa) is the perfect start or end to any itinerary, and not only takes in Auckland's fabulous harbor and the main sights of the Bay of Islands, but also some rarely visited but wonderfully beautiful islands along the way.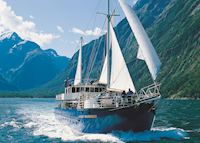 Spending a night on board the Milford Mariner is by far the best way to experience the splendor of the majestic Fiordland scenery.
Perhaps one of the finest options in Fiordland, the overnight Fiordland Navigator cruise on Doubtful Sound takes you to some of the national park's most untouched and inspiring scenery.