By Audley specialist James
If there was ever a country that seemed custom-made for the campervan, New Zealand is it. I've camped right on the perimeter of a shingle beach on the shores of glassy Lake Wanaka. In Orewa, North Island, I found a pitch so close to the ocean I could practically walk straight out of my van and dip my toes in the Pacific. And then there's the sense of being immersed in the outdoors that you just don't experience in a hotel — the morning I opened the van door to a field of squawking pukekos (swamphens) springs to mind.
At the right time of year, a campervan gives you greater flexibility, allowing you to follow your nose and reach places you simply wouldn't stay in otherwise. So whether you're a seasoned camper or a curious first-timer, here's my take on how to really make the most of renting a campervan in New Zealand.
Getting started with campervan hire in New Zealand
Vehicle size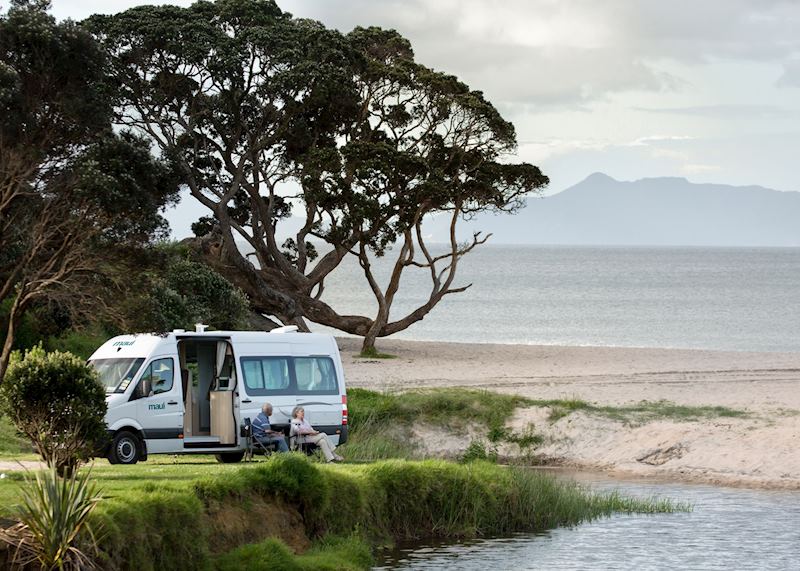 I'd only ever hire a van that was under two years old, with as few miles as possible on the clock. In terms of size, I prefer the two-berth options: they're more like an extended van than a motorhome, and you'll find they're more malleable on New Zealand's sometimes snaking roads. They have a built-in toilet and shower, as well as a cafetière, microwave, toaster, barbecue, bedding and towels. The only inconvenience is having to make up and dismantle your bed daily.
Four-berths are obviously more spacious. If there are only two of you, you can keep the bed over the cab made up and not have to dual purpose the living room/sitting area for sleeping. But these vehicles are necessarily chunkier, which can be a hindrance if you're trying to squeeze into narrow parking spots.
New Zealand's roads
Notoriously winding, New Zealand's roads are mostly single lane only. On the plus side, they've very clear signage, and surface conditions are excellent.
Campervans in New Zealand are all automatic and they do drive well, but I've found they don't generally pull away quickly, so progress can be especially slow if you're chugging up hills. It's always best to pull over and allow any impatient tailgaters to pass.
When to pick up your campervan
Don't be tempted to hit the road straight after a long international flight. I'd always advise spending one night in a hotel to catch breath before collecting your camper as early as opening hours permit the next day. Depots in the major cities of Queenstown, Christchurch and Auckland tend to get busy: I've arrived at 8:30 am in the past, just half an hour after opening, to an already long line.
Our video guide to campervanning in New Zealand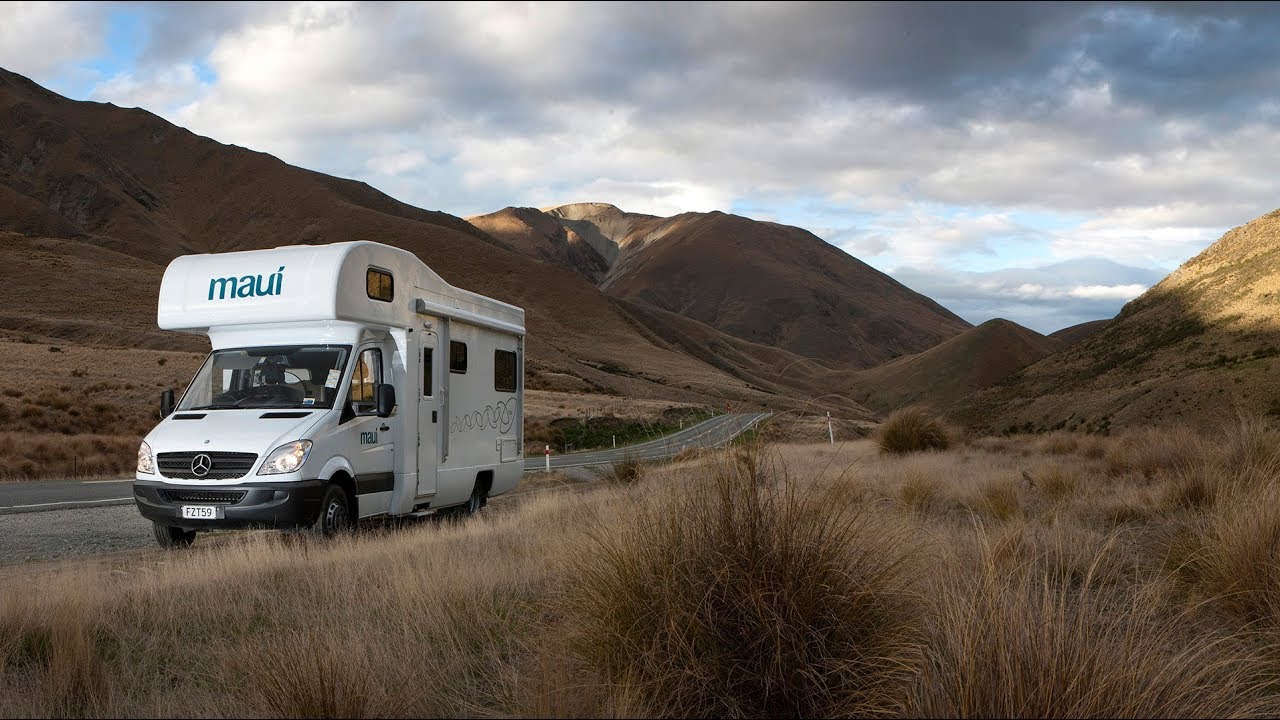 Video guide to campervanning in New Zealand
Our video guide to campervanning in New Zealand.
Where to park up: some of the best (non-obvious) pitches in New Zealand
North Island
Orewa and Mangawhai Heads
One area I'd previously overlooked that campervanning opened up to me were the beaches just north of Auckland. The Coromandel Peninsula and the Bay of Islands usually receive most acclaim for their beaches. But if you take the coastal road north from Auckland, you'll come to two spots that now rank high on my personal list of New Zealand's best vistas. Best of all, hardly anyone goes there.
I found them by accident. I was in the North Island during the Queen's Birthday weekend, a long weekend when Aucklanders traditionally decamp to the coast. All of my first-choice campsites (often called 'holiday parks' in New Zealand) in the Coromandel and the Bay of Islands were full, so I drove north out of the city, wondering where I was going to stop for the night.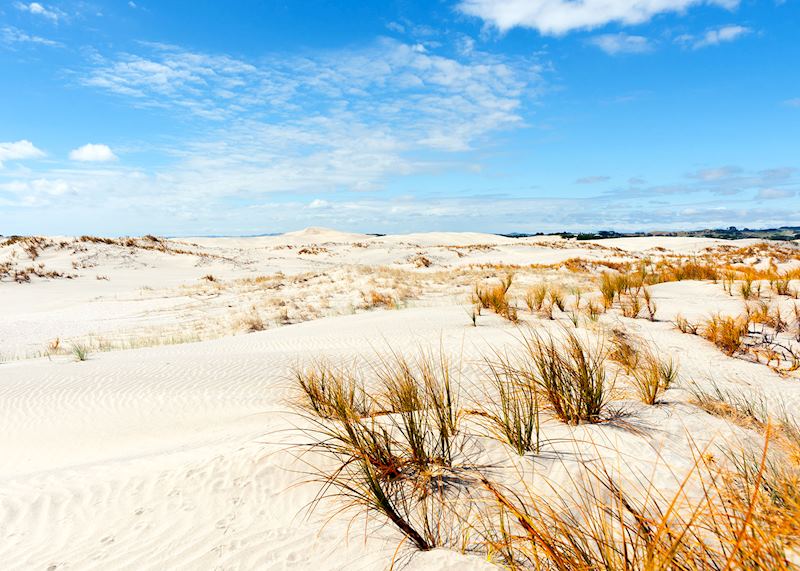 By the time I pulled up in Orewa it was dark, so I didn't see the serendipity of where I'd ended up till the next day. An unassuming town, it's fronted by 3 km (1.8 miles) of caramel-hued sand, delightfully squidgy and strewn with spume in some places, dense enough to jog on in others.
The campsite ends at the line of wide-spreading pohutukawa trees fronting the beach, so I could sit drinking my morning coffee with nothing between me and the long, empty sands.
There's also a scenic reserve nearby, its wooden boardwalks shaded by nikau palms, which gives you views over the water. At night, sections of its bush are stippled with glow-worms.
Then, farther north, you come to Mangawhai Heads, a town that sits on an estuary. I was able to park up a stone's throw from a floury-sand beach overlooking a sand dune, and watch the surfers.
Russell
If your heart's set on campervanning in the Bay of Islands (three and a half hours north of Auckland), I'd skip staying in Paihia, the de facto capital, and book in advance to get a space in Russell.
This small seaside town was a rum-doused whalers' port in the 19th century, but the brothels and drinking holes have long since been replaced with waterside cafés and snug clapboard houses with English cottage-style gardens.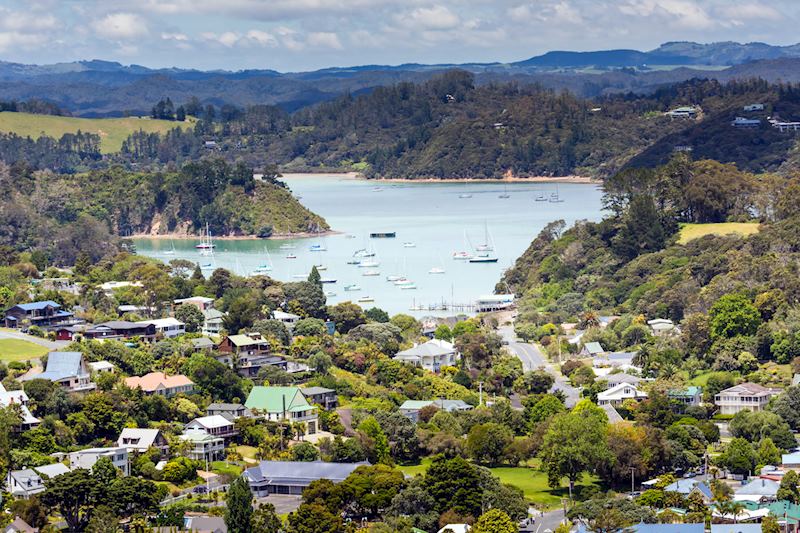 The campsite is located on a hill, a five-minute walk from the old town. Premium spaces sit on an even higher incline, where you're able to look right out across the town and the bay to Paihia twinkling across the water.
And, if you tire of Russell, you can easily catch the ferry across to Paihia. It's busier, but there's a greater choice of restaurants, and you have a good chance of seeing dusky dolphins leaping in the ferry's bow waves on the journeys there and back.
Tongariro National Park

This area is a honeypot for visitors to New Zealand, its blasted, ash-choked surrounds leading to a cluster of volcanoes that are immensely sacred to the local Māori, the Tuwharetoa.
There are very few hotel options within the park, save the Chateau Tongariro, an imposing Agatha-Christie-type relic from the 1920s. Luckily for campers, New Zealand's Department of Conservation (DOC) has a site with good facilities right in the heart of it all, set in a quiet area of native bush.
Okay, you don't have views of the volcanoes and, as on all DOC sites, facilities are minimal (clue: drop toilets). But the broad-girthed, snow-smeared crater of Mount Ruapehu and the cindery cone of Ngauruhoe (the body double for Peter Jackson's Mount Doom in The Lord of the Rings) loom into view as soon as you head out on a bicycle ride, or on one of the area's many walking tracks.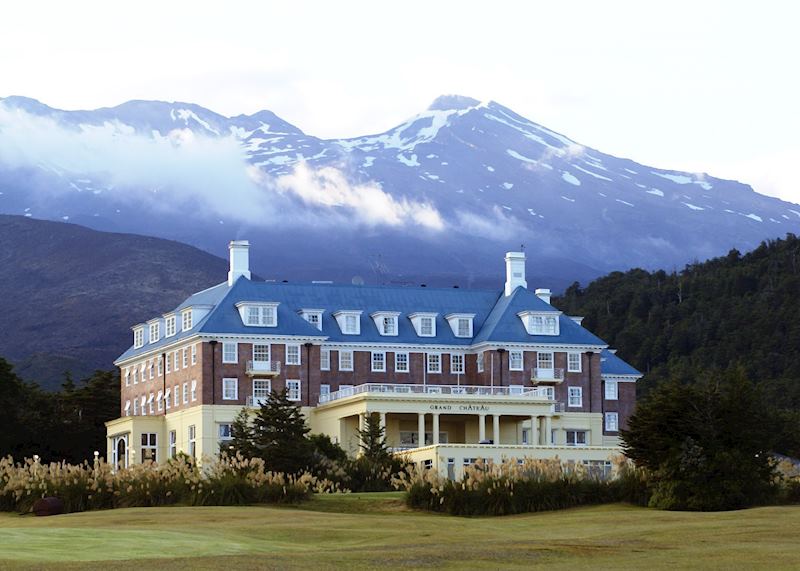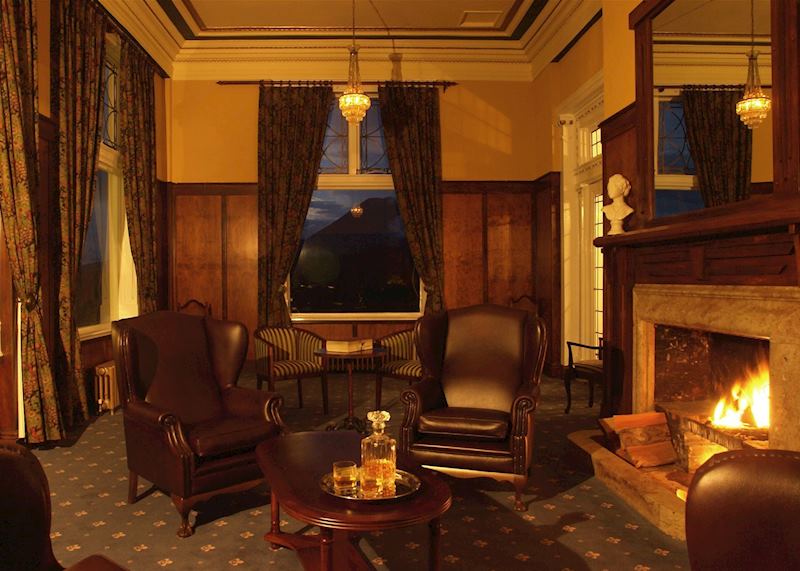 South Island
Wanaka
This lakeside town girded by mountain ranges and foothills is already a peaceful spot to stay. But you can go one better and reserve a space at the Glendhu Bay Motor Camp, a long grassy site stretched out in one of the lake's (even) quieter inlets.

You pass by Rippon Vineyard, its rows of vines neatly braiding the hillside all the way down to the lake (drop in for a tasting of their pinot noir and osteiner), and Mount Roy, whose arrowhead summit can be reached on a day walk.
There's nothing save the campsite at Glendhu Bay itself, and you need to reserve ahead to book a waterside pitch no matter what time of year you're visiting. But it's all worth it for the uninterrupted views over Lake Wanaka and the mountains of Mount Aspiring National Park.
Sites near Queenstown
Another site administered by the DOC, Twelve Mile Delta is set on a sprawling, stony river delta at the mouth of Twelve Mile Creek. Many pitches are close to the shores of Lake Wakatipu, a vast S-shaped glacial lake.
Crouch down by the water's edge and wait patiently, and you might observe the phenomenon of the seiche. This is a standing wave that raises Wakatipu's water levels slightly every half hour or so: a long-dead giant's heart still beating, according to Māori legend.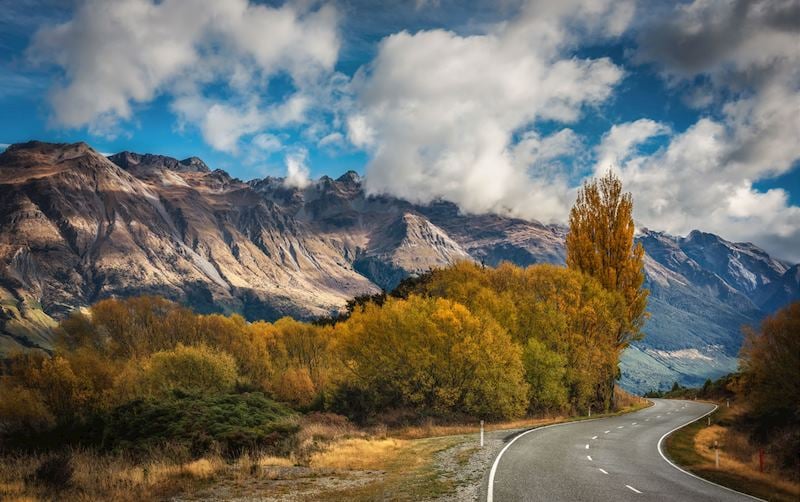 On a clear day, you can look south from the delta and see The Remarkables mountain range, which runs due north to south. I think there's little that beats poking your head outside first thing in the morning and seeing the summits covered with fresh snowfall, or smudged with great wisps of cloud.
If you hug the side of Lake Wakatipu and keep driving north, you reach the lake's northernmost tip, the township (though 'town' is pushing it a bit) of Glenorchy. It seems impossibly dwarfed by the schist mountains that soar either side, snowy Mount Earnslaw dominating to the north.
Down at eye level, the road takes you along the banks of the Dart, a braided river, into tussocky grassland peppered with spiky matagouri trees, then through ancient red beech forest.
Mrs Woolly's Campground, located almost at the entrance of Glenorchy, is the best site in the area. It has a general store serving organic food and is only a three-minute walk to activities such as Dart River jet boating, which many visitors assume can only be accessed from Queenstown. It's also the starting point for many walking trails, from the three-day Routeburn Track, one of New Zealand's Great Walks, as well as low-level ambles around wetland areas.
Winery stays
Lovers of fine vintages as well as non-orthodox pitches would enjoy staying overnight in a vineyard. Yes, there are boutique wineries all over the country, from the Coromandel Peninsula to Central Otago, where you can camp right among rows of carefully tended vines.
You'll be the only vehicle permitted in that particular spot, so there's nothing and no one to disturb you. As the sun sets, you're left in total privacy to enjoy a gourmet picnic hamper (and, of course, a bottle of straight from the cellar door, be it a pinot noir or a classic New Zealand sauvignon blanc).
Common myths about campervan travel in New Zealand
Myth one: It makes taking part in activities and day tours a little trickier
In my experience, staying in a campervan is no barrier to this. Often — and especially when it comes to smaller, locally run companies — guides will pick you up directly from your campsite. In fact, my guide for the Twilight Encounter in Waipoua Forest went one better and met me at the local fish and chip shop, where I was picking up a late dinner.
As dusk fell, she led me around this hushed kauri forest as her young granddaughter sang Māori prayers to the trees. She explained the legends surrounding the forest's oldest and most holy residents, Tane Mahuta ('Lord of the Forest') and Te Matua Ngahere ('Father of the Forest'), which have been rooted there since the Bronze Age.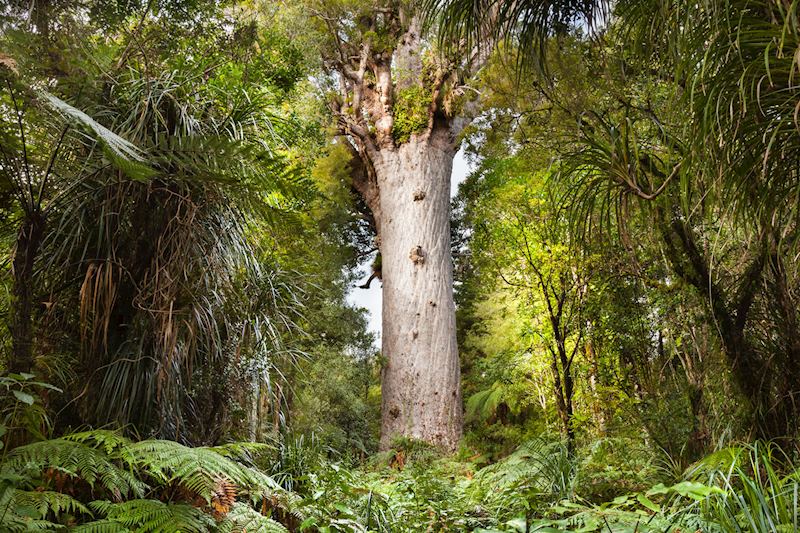 Myth two: You lose out on interaction with local residents
It's true that some of the best places to stay in New Zealand are locally owned B&Bs and lodges. Their proprietors will happily chat and share their insider view of the area — everything from where to eat, to known glow-worm hangouts.
While you may lose this contact to some extent if you're in a campervan, I've met some extremely friendly and wonderfully garrulous campsite owners who'll share all their local knowledge with you, if you ask.
Myth three: It's much, much cheaper than staying in hotels
In New Zealand, by the time you factor in van hire and campsite fees, I've found that there's not that much difference in price. Although you may save some money by self-catering, ultimately, campervanning here is more about accessing the outdoors and being able to sit warming yourself with the embers of your barbecue on a lazy evening.
In some ways, however, it can be a more cost-effective option. You would often pay a lot more for a hotel with direct lakeside or mountainscape views than you would for the same exclusive vista in a campsite — especially in more basic, DOC-administered sites.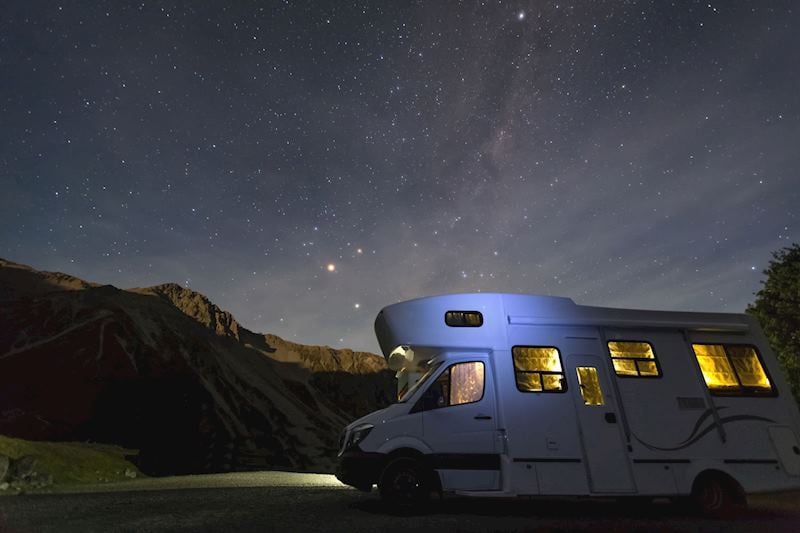 Myth four: You'll get a comprehensive introduction to how to use and run your campervan
Not necessarily, but the hire company I like to use provides each van with a tablet (which also acts as your Wi-Fi hotspot). It's ready loaded with useful videos explaining how everything works, from the hook-up and gas to emptying the chemical toilet.
The best time to visit New Zealand by campervan
March is the optimum month. You won't need to book most sites in advance, as it's far less busy than in December, January and February — these are the summer months, when New Zealanders tend to travel a lot domestically. But the weather will still be pleasantly warm, with the evenings just slightly cooler.
Practicalities and tips:what I've learned from my time on the road
Be compact with your packing: I suggest taking soft-sided bags (and certainly no more than one suitcase) that you can store away easily once they're unpacked.
Don't be surprised if you're asked to reverse your campervan onto the Interislander Ferry, right alongside a goods train wagon (yes, you read that right — a train). It can feel a little hairy, but just take your time.
Forget about campsites in Wellington, as the good ones are located too far out of the city. To avoid having to commute back and forth, I'd opt to stay in a centrally located hotel.
City parking is generally easy to find, with the exception of Queenstown: here, stick to the backstreets.
A note on 'freedom camping' or 'wild camping' (camping anywhere that isn't an officially designated site): this is legal in New Zealand, except where indicated by signage (such as in central Wanaka). However, you should adopt a strict 'leave no trace' policy.
Payment at all DOC sites is via an honesty box system, although weekly passes are available: please speak to your specialist, who'll arrange this for you.
Start planning your campervan trip to New Zealand

Start thinking about your experience. These itineraries are simply suggestions for how you could enjoy some of the same experiences as our specialists. They're just for inspiration, because your trip will be created around your particular tastes.
View All Tours in New Zealand