First a little context-setting: despite their relative geographical proximity, New Zealand and Australia have vastly different wildlife.
It's not that it doesn't offer drama or scale, but, having developed in isolation for 80 million years, the country has no native land mammals (save two species of bat). Instead, many of New Zealand's zoological riches lie offshore, from little blue penguins — the world's smallest — to pods of sperm whales.
Inland, the treasures are in the treetops or snuffling in the underbrush: the whole country amounts to one giant aviary of rare, native bird species. And that doesn't even take into account the country's native reptiles and entomological curiosities, from palm-sized, harmless wetas (similar to crickets) to the bioluminescent larvae we know as glow-worms.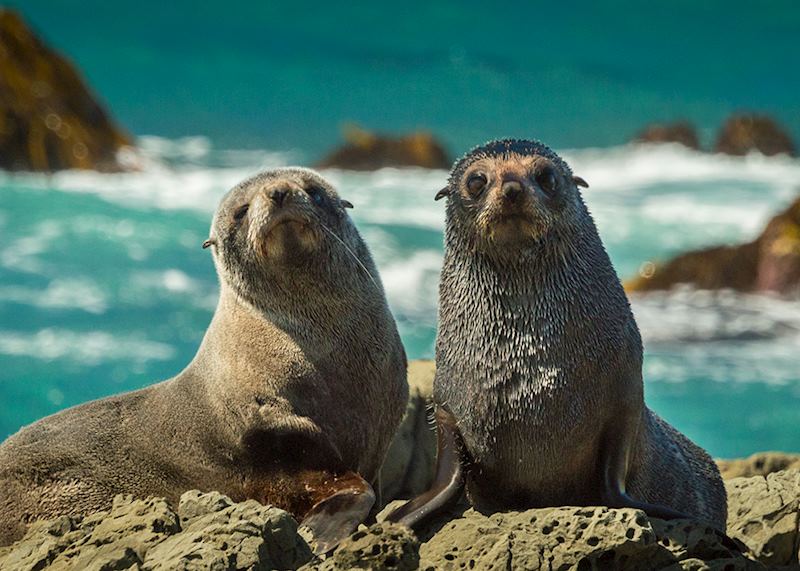 But where to go and how to see the wildlife of New Zealand at its best? Specialists Lucy and Holly take you on a tour of the country, sharing their recommended wildlife experiences from both the North and South Islands and beyond. It's possible to combine several of their suggestions into a two-week trip.
Where and how to see New Zealand's marine life by Holly
Sperm whales, fur seals and dusky dolphins in Kaikoura
There are few places in the world like Kaikoura. And that's not just empty praise. Geographically speaking, this township on New Zealand's east coast truly is unusual. It's hemmed in by mountains, the Seaward Ranges, that wear a mantle of snow almost all year round, and their foothills nearly touch the water's edge. Only a few places around the world have a similar topography.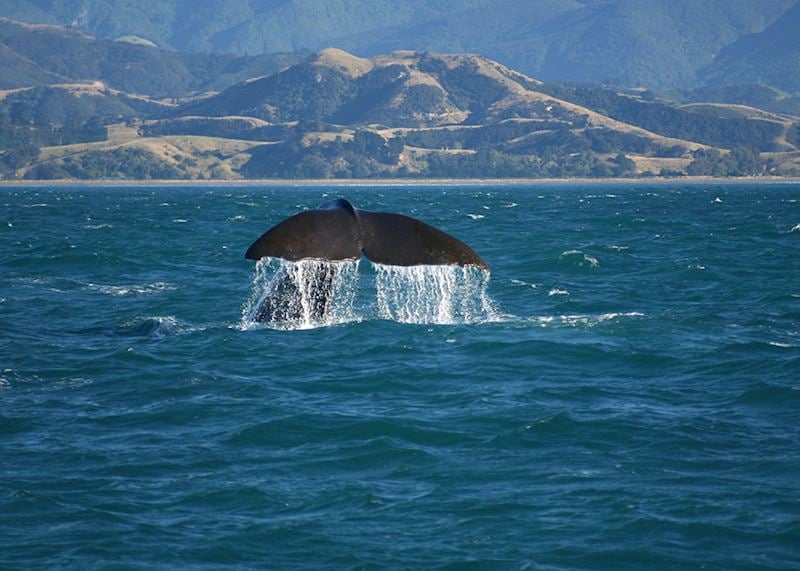 Then, under the waves, just east of the limestone and mudstone peninsula that gives the township its name, the continental shelf plunges sharply into a series of gullies. The ocean floor is also bisected by a vast underwater canyon, and the side-effect of all these great ravines and troughs is an upsurge of deep-ocean nutrients that enrich the waters not far from the surface. They support a healthy population of seabirds, such as mollymawks and wandering albatrosses, as well as mammals, notably dusky dolphins, New Zealand fur seals and sperm whales.
Whale-watching… from the air
From Kaikoura, I think the best way to see whales is to take a light aircraft flight rather than a whale-watching boat trip. Okay, you're not quite as up close and personal, but you can see the entire outline of the whales in the water, as well as the white spouts of spume from their blowholes.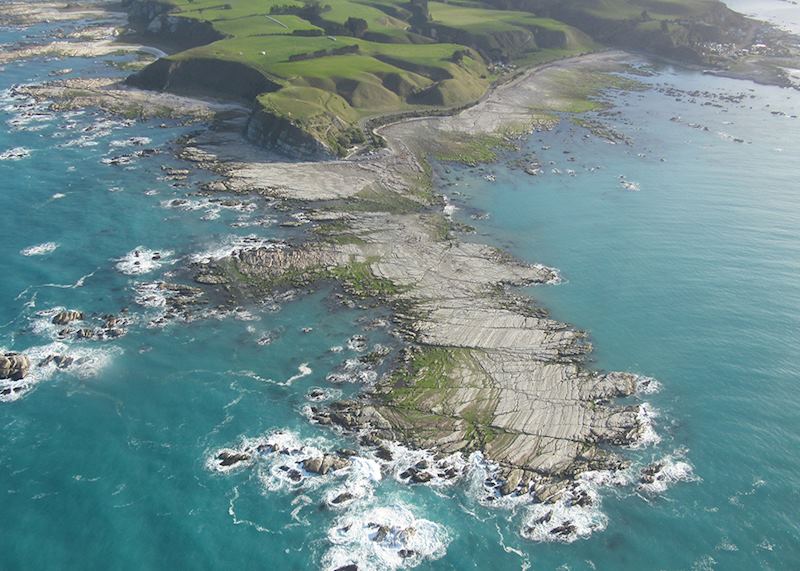 The whales here don't always exhibit the showier moves that you might have seen elsewhere in the world — such as fluking and breaching — but this bird's-eye view does give you a better impression of their size and speed, something that's not always apparent from a boat.
Sperm whales are most commonly seen, but other species you might encounter include southern right, minke, humpback, and even blue whales.
Swimming with dusky dolphins
The experience of swimming with wild dolphins in Kaikoura is by far the best I've ever had, anywhere in the world. At times, pods of up to 200 dusky dolphins, their anthracite gray bodies and whiter bellies as sleek as neoprene, shot all around me as I snorkeled. Naturally curious, they'll often come within inches of you before darting away again.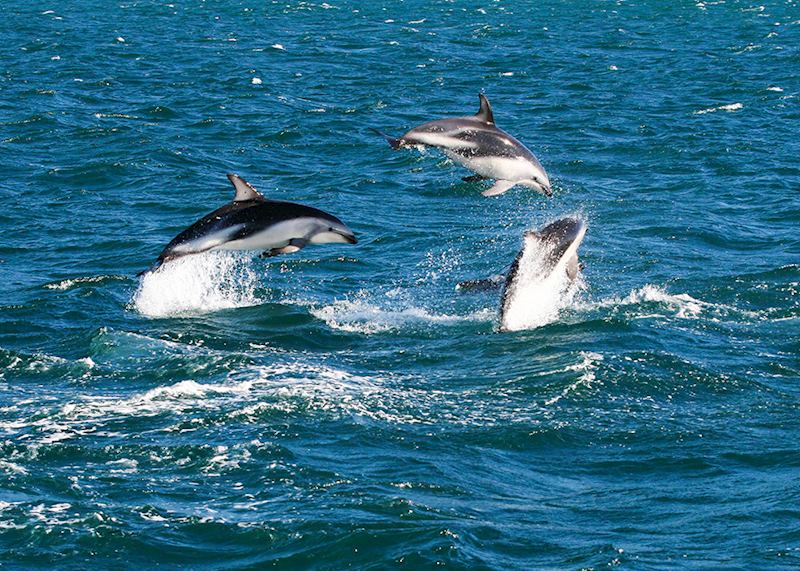 My tip to be in with the greatest chance of swimming with the pack is to brave the first outing of the day, at 5:30am. The dolphins are out hunting for their breakfast around that time, and they get steadily more blasé about us humans as the day wears on.
Incidentally, you can also swim with dolphins just off the Banks Peninsula, a four-hour drive south, although the species here is the rarer, shier Hector's dolphin.
Diving the Poor Knights Islands Marine Reserve, off Tutukaka Coast, North Island
If you're an enthusiastic scuba diver (or even a beginner…or, for that matter, simply a snorkeler), think about taking a guided trip to the Poor Knights, a clump of volcanic islands and rhyolite caves 24 km (14 miles) from the Tutukaka Coast in Northland.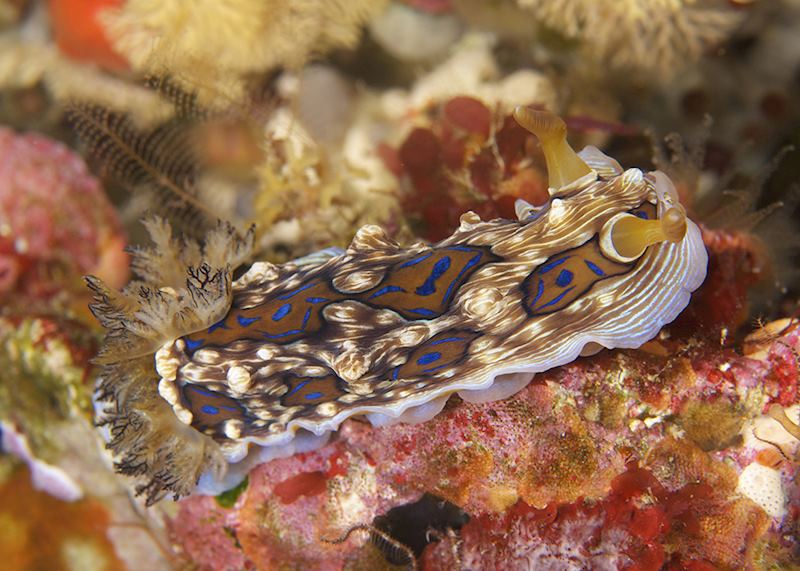 This cold-water dive site was hailed by Jacques Cousteau as one of the best in the world. Although it doesn't offer the surreally neon-bright corals, anemones and fish of, say, dives in the Caribbean, there's still a huge amount of marine biodiversity to observe.
Mosaic moray eels wriggle like weird finned cucumbers out of their holes in sea caves, stingrays glide over swaying oceanbed forests of sea kelp, and gorgonian fans spread their vein-like corals from underwater archways. Nudibranches add sudden jewel-like splashes, as do the schools of pink maomao.
Where and how to see New Zealand's birdlife by Lucy
New Zealand's island wildlife sanctuaries
In its drive to preserve its near-endangered native birds and other species, such as the prehistoric tuatara, New Zealand has turned a number of its smaller islands just off the mainland into predator-free sanctuaries. In these places alone, the Department of Conservation has eradicated rats, possums, stoats and other invasive species that decimate native birds' habitats (and the birds themselves).
If seeing a kiwi is your holy grail, you'll need to mimic their nocturnal habits: few appear before twilight. You might also consider an extended overnight trip (not just a day trip) to Kapiti Island, a mountainous landmass covered in regenerating native bush just north of Wellington. Here, you can take part in night-time walks with a family-run Maori guiding company looking for the island's some 1,200 little spotted kiwis.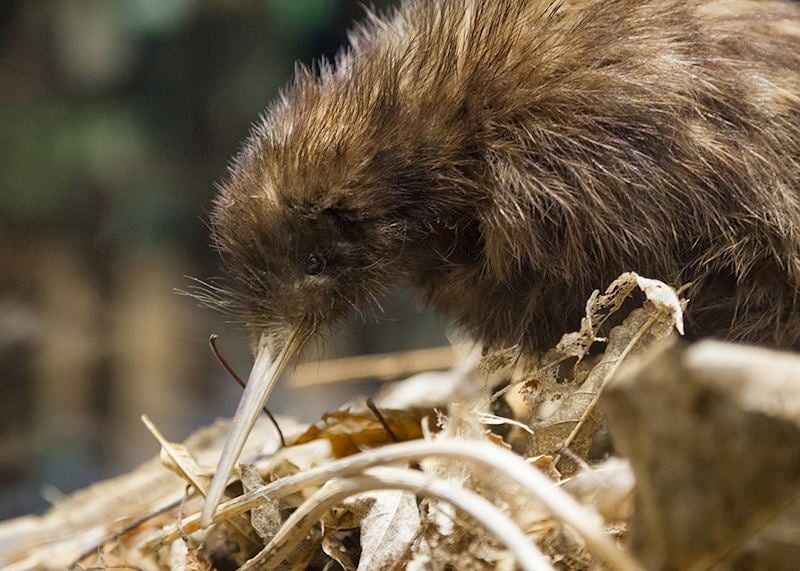 Likewise, you have a greatly increased chance of seeing a larger species of kiwi, the tokoeka, on predator-free Ulva Island. A ferny rainforest habitat dripping with orchids and mosses, it lies just off the coast of Stewart Island, which is a short flight from Invercargill.
As well as kiwis, species thriving on Kapiti include the takahē, a flightless bird with glossy teal plumage similar to a peacock's and a fire-engine-red beak, and wekas, which resemble oversized kiwis. You might hear tuis and bellbirds, which are identifiable by their melodious calls often interspersed with clicks and robotic sounds. Among the bush, you're also likely to find tree wetas and cave wetas.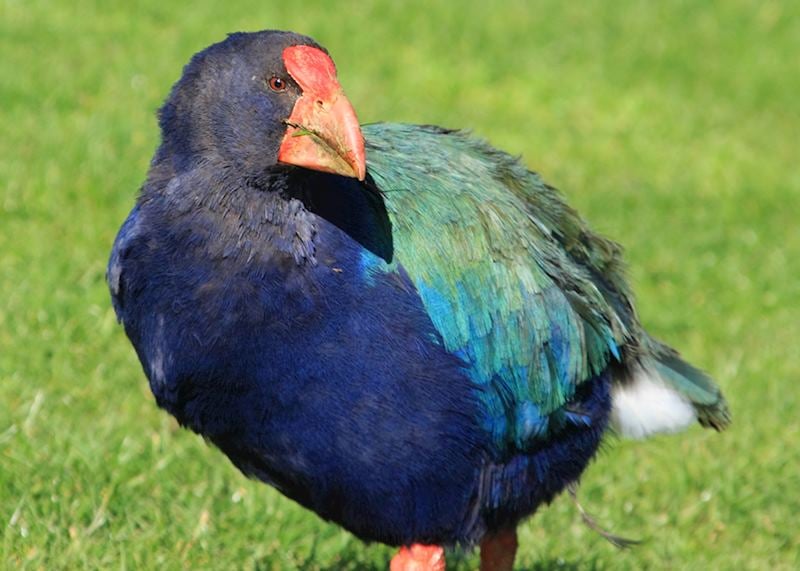 Kiwis aren't the only stars of the show: you also have the chance to spy birds that were once on the edge of extinction, such as the tieke (saddleback). According to Maori legend, it received its distinctive red back stripe when the bellicose demi-god Maui seized the bird with his burning hand.
Elsewhere on Stewart Island, as well as in the South Island's Fiordland and alpine regions, you might see wild kea. The world's only alpine parrot, they've a plumage in many delicate shades of green, while the undersides of their wings are shocking orange.
They're notoriously fearless and inquisitive, with the intelligence level of a four-year-old child. They'll also eat just about anything, and will happily run off with your packed lunch, walking boots… you name it.
Bird-watching experiences on the North and South islands' east coasts
If you find yourself near Napier on the North Island, consider making the trip to the gannet reserve at Cape Kidnappers. A minibus or (depending on the tides) 4x4 brings you within inches of an endless-seeming colony of Australasian gannets. Around 6,500 pairs, in fact.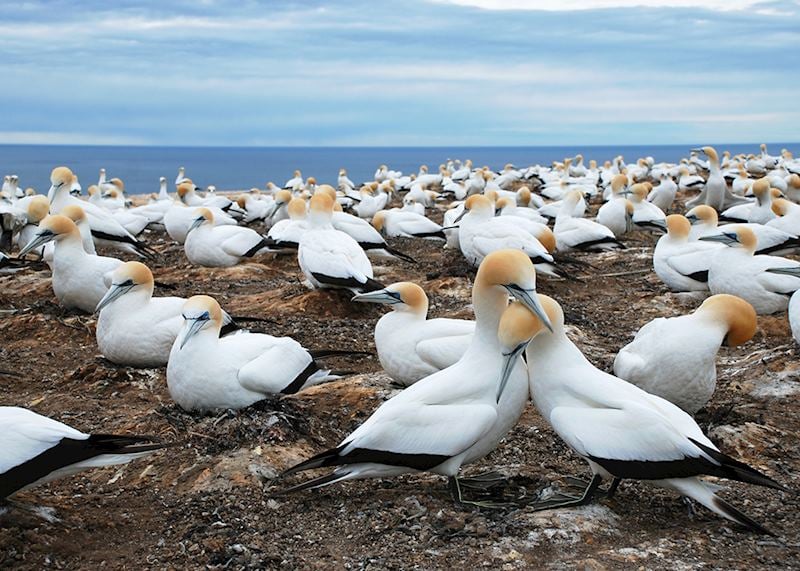 With their snowy-white bodies and amber-gold heads, they're attractive birds. Only a thin rope separates you from them, so you can sit back and watch the show as they nest, clack beaks and perform courtship rituals. The noise of their cries is near-deafening.
Hopping across to the South Island, the obvious place to start is the aforementioned Kaikoura, where it's possible to spot wandering albatrosses as well as the marine mammals. An even better way to take in the majesty of this family of birds is to take a cruise from Dunedin, south of Kaikoura, where you can see royal albatrosses soaring on ice-cold southerly winds.
The birds of the Otago Peninsula
A long, hilly, windswept sliver of land, the Otago Peninsula clings to the mainland just southeast of Otago Harbour by an isthmus. It has become something of a haven for oceanic birds, the most exciting of which are (in my opinion) endangered yellow-eyed penguins. You might spot them on a cruise around the peninsula, but I prefer to visit Penguin Place, a conservation-project-come-private-farm set right at the land's end.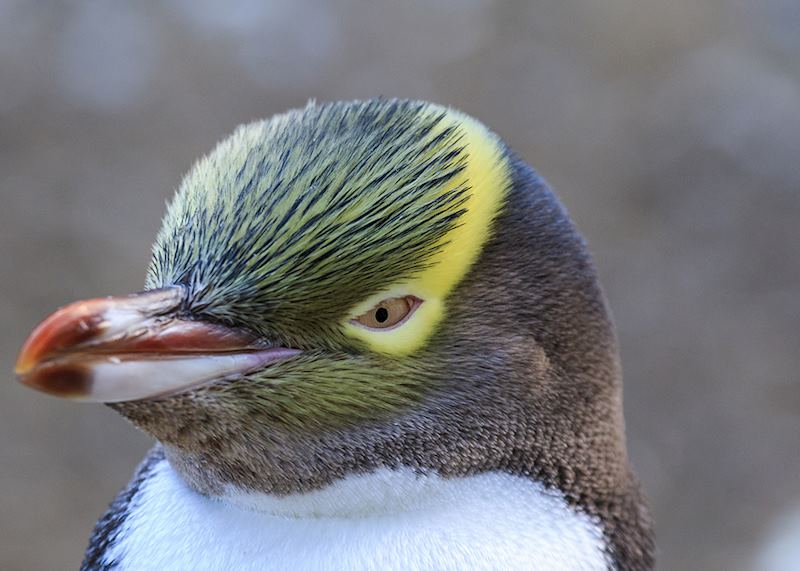 It functions as a penguin hospital and sanctuary, looking after injured yellow-eyed penguins before releasing them back into the wild in a controlled way. You can enter the reserve with a guide and observe the penguins via a number of tunnels and hides covered in camouflage netting. Sightings aren't guaranteed, as the penguins are free to come and go as they please, so I was delighted on my last visit to see some building nests on a cliffside.
Similarly, penguin viewing tours can be arranged at the peninsula's Royal Albatross Centre. The species here are kororā, little blue penguins. In the early evening, you can watch as groups — known as 'rafts' — of 100 or so birds plod their way ashore and return to their burrows. Their petite size can be a surprise, their name deriving from their slate-blue back feathers.
The best of the rest: tips for seeing other wildlife highlights of New Zealand by Holly
Glow-worms
You stand a good chance of seeing glow-worms if you go outside to any damp, mossy, dark area of woodland or undergrowth at night. My advice is to ask among the local residents if there are any nearby dells or spots where the beetles are known to congregate.
If you're looking for a formal tour, my first choice would be the boat ride through the caves of Te Anau. It starts with a video presentation explaining the science behind the creatures and then takes you on a gentle journey through caverns whose ceilings are spangled with a myriad pinpricks of green light: hundreds of thousands of glow-worms.
Hiking to see wildlife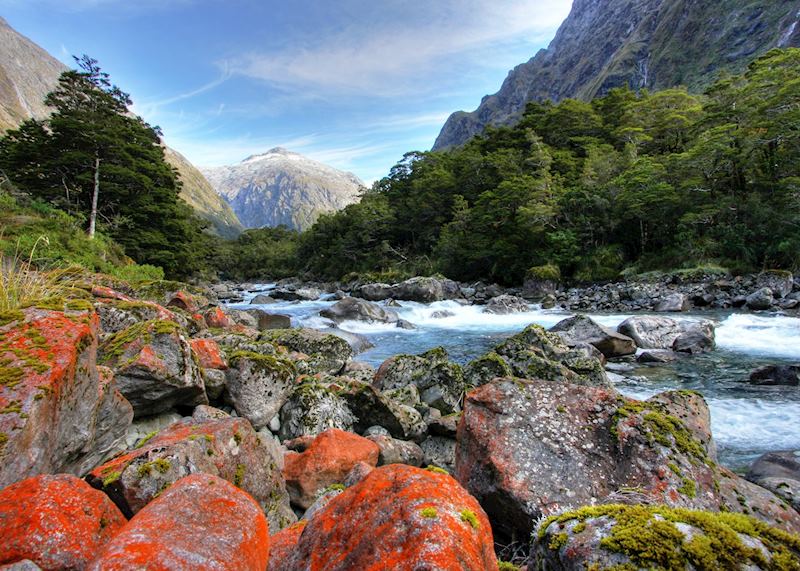 New Zealand's Great Walks combine a wilderness experience with the chance to spot wildlife. I recently hiked the Hollyford Track from Te Anau to Queenstown, passing through Fiordland's native beech forest and coast en route.
Although the wildlife can be hit and miss, you stand a good chance of seeing a variety of creatures as you pass through protected, unspoiled conservation areas. I saw glow-worms and eels as well as New Zealand fur seals congregating on coastal rocks (word of warning: they do tend to stink) and eccentric-looking Fiordland crested penguins.
I can also recommend hiking the Abel Tasman Track, which gives you the option of kayaking out to visit fur seal colonies and a good chance of spotting glow-worms.
Start planning your trip to New Zealand

Start thinking about your experience. These itineraries are simply suggestions for how you could enjoy some of the same experiences as our specialists. They're just for inspiration, because your trip will be created around your particular tastes.
View All Tours in New Zealand