During the pandemic I indulged in the works of Studio Ghibli (globally popular Japanese animated movies) for the first time which began my interest in Japan. Once the pandemic ended, my friends and I traveled extensively throughout Japan including Tokyo, Nagoya, Kyoto, Hiroshima, Osaka, and Ito. I immediately fell in love with the culture, public transportation, local street food, and scenery of the country. Throughout my travels I found myself relating to the way Japanese culture and tradition connects deeply to the environment around them.
On my return less than a year after my first visit, I was surprised at the level of familiarity I now had as I explored Japan's Golden Route (Tokyo to Kyoto), even in cities I had never been to previously. It felt like home and I was able to put the Japanese I had learned on my previous trip to good use the second time around. Since my first visit, Japan has become one of my favorite travel destinations. It's my goal to eventually see Japan in all four seasons and to be able to share my excitement with those who find themselves wanting to visit the land of the rising sun.
Speak to Justin

Start planning your trip to Japan with Justin
617-223-4700
Q&A with Justin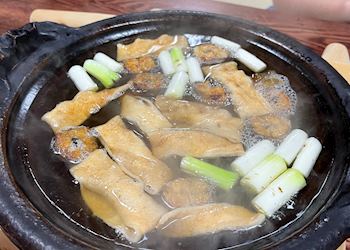 What's the best local dish you've tasted?
In Kyoto I went to a restaurant that specialised in eel. My friends and I ordered a pot of eel soup and a pot of eel porridge. Both dishes came out in massive circular pots that were extremely hot. Bubbling in the broth made from seaweed and fish flakes, a wheat-like substance called "fu", green onion, fresh eel, and harusame noodles that were made from bean starch. The taste was exquisite and it was fun to eat eel outside of a sushi setting. Next was the eel porridge which was much thicker than the soup. The porridge consisted of eel, carrots, shiitake mushrooms, burdock root, Mitsuba (east Asian wild parsley), and mochi (mashed-up rice). Because of the mochi, you could use your chopsticks to stretch the porridge similarly to how you stretch melted cheese when pulling apart a grilled cheese sandwich. It was a perfect, chewy, shareable dish for a group. I found myself taking seconds and thirds before finally filling up.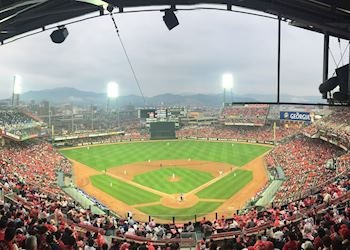 What's your most vivid travel moment?
On my first visit to Tokyo I attended a Tokyo Giants baseball game at the Tokyo Dome. When I first entered the stadium I could feel the energy and excitement from the fans around me. I sat down in the section where all the away team's fans were. I watched and listened to the chanting, the singing, and the colorful flags shaped like carp (the logo of the Hiroshima Carp Baseball team) waving around us. It was the same feeling as attending a European soccer match. Within minutes I found myself chanting and clapping along with the fans with a smile on my face.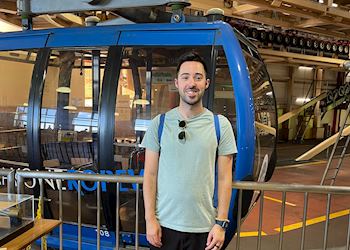 Your best piece of travel advice?
When visiting Japan download Google Translate on your phone. Japan has become much better in terms of English speaking over the years but there's still a small language barrier when chatting with locals or reading menus in hole in the wall restaurants, so it will help fill in those gaps where necessary. But never be afraid to ask for help while you're out there. Japanese locals are friendly and will always do what they can to help in any given situation when a traveller is lost or confused.