I grew up in Australia and during high school had the opportunity to travel to Japan with a cultural exchange program. Traveling to Japan when I was 15 was the first time I had ever left the area I was born in and the experience was profoundly transformative. I fell in love with Japan, its people and its culture. From that moment on I became enthralled by travel and took every opportunity I could to do so.
I have been to places dotted all around the world, but Japan is still my favorite place to see and experience. It truly is a country of contrasts, from awe-inspiring Alps and historic castles and temples to the bustling and modern metropolises of Tokyo and Osaka. The modern, progressive, and forward-thinking clashes with the historic and traditional in every facet of daily life and this is what pulls me in every time I visit.
Speak to Nadyne

Start planning your trip to Japan with Nadyne
617-223-4700
Q&A with Nadyne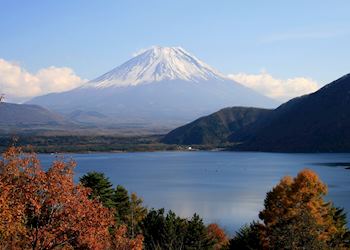 What's your most vivid travel moment?
I have so many travel moments that are in competition for the top spot but one of the most beautiful was the first time I flew to Japan, and incidentally, the first time I had ever been on an aeroplane. My flight was due to land fairly early in the morning and I was lucky enough to have a window seat on the side that offered me a morning view of Mount Fuji. As I looked out as we started our descent I was treated to seeing the sunrise hang above the mountain. The sky exploded into warm oranges and yellows and it's summit was saturated in deep blues, pastel pinks and vivid purples. At approximately 15,000 ft I was absolutely blown away by its sheer size, the peak rising above light and scattered clouds.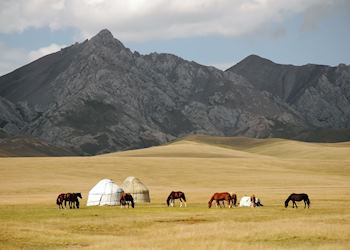 Where would you love to travel next?
I'd love to visit Kazakhstan. The architecture is interesting, I'm fascinated by the ornate mosques and towering futuristic buildings. The landscape is also so varied with beautiful lakes, mountains and semi-deserts. I've also heard that Astana is one of the strangest cities on Earth. My prediction is that one day soon it will be a very popular tourist destination and I'd like to see it before it gets busy.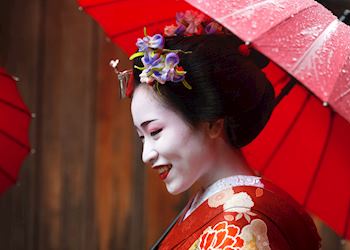 Which book, film or artwork captures Japan the most?
As suggested by a Kyoto guide I met through Audley, I have started reading 'Geisha of Gion' by Mineko Iwasaki. An autobiography by arguably Japan's most famous geiko, her story inspired the book and film 'Memoirs of a Geisha'. This is her story without the inaccuracies of the aforementioned book and is a powerful insight into the world of geisha. It even includes a little comment about her meeting with the now King Charles in the 70s.