Rebecca, Japan Specialist
I have always had a passion for travel and spent my younger years planning out adventures to faraway lands while trying to teach myself hieroglyphics. Although the attempt at hieroglyphics failed, my interest in cultures and languages vastly different from my own has remained a constant throughout my life. Japan in particular has always had a special pull for me and I promised myself at a young age that I would find a way to the Land of the Rising Sun.
My first visit to Japan cemented an eternal love for Japanese language and culture. I was immediately smitten by both the bustle of Tokyo and the serenity and beauty of the Japanese Alps. As my passion for Japan grew I decided to leave the hospitality industry and join Audley in order to help others experience the wonder I find every time I visit the country.
Speak to Rebecca

Start planning your trip to Japan with Rebecca by calling 1-855-201-7771

We would highly recommend Audley Travel to anyone considering a unique trip not only to Japan but to any of their other destinations.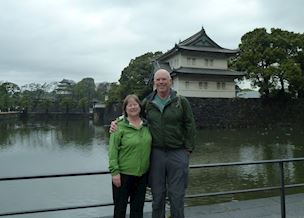 Beth and Ted traveled to Japan for 17 days in March 2018, organized by Rebecca N
From our first contact with Audley Travel to our return home, they were a pleasure to work with. Rebecca, our specialist, listened carefully, planned the trip to the last detail, and included what we asked for and more. The advanced preparations made making the moves between locations easy. We continue to rave about our trip. We would highly recommend Audley Travel to anyone considering a unique trip not only to Japan but to any of their other destinations.
Japan
Takayama is a historic riverside town nestled in the mountains where you can expect dramatic alpine backdrops, great food and bountiful Japanese hospitality. Walking trails lead you to its most handsome and historic areas where merchant houses, temples and shrines line the traditional streets. I particularly like the Higashiyama Walking Course which winds through ancient buildings to the ruins of Takayama's former castle. Nearby Hida Folk Village offers a glimpse of a time gone by with 30 preserved traditional houses, while the local Hida beef is one of the most prized meats in Japan.
Japan
In general, Tokyo hotels can lack individuality but the Artist Rooms at the central Park Hotel showcase Japanese creativity at its finest. The rooms on the 31st floor of this conveniently-located hotel are dominated by large-scale artworks painted directly onto the walls. Local artists have given shape to supernatural creatures, historic landscapes, handsome samurai and scenes from Japanese festivals. Along with the ingenious decor, the hotel offers easy access to the Shimbashi subway station and captivating views of Tokyo, especially exciting at night. You'll also get a large variety of Western dishes in the breakfast buffet and excellent service from staff who speak great English.
I'll never forget when…
Heading to snow monkey park in Yudanaka was one of those experiences that exceeded all my expectations. Although most people visit in winter when the monkeys bathe in the onsen (hot springs), I went in autumn which meant there were fewer people around. There were monkeys everywhere, darting across the path right in front of me, walking right beside me and paying no attention whatsoever to their visitors. As a life-long animal lover, it was so moving to watch the monkeys up close as they groomed each other, babies hanging onto their mothers and scuttling about after each other.