By Oman specialist Olivia
Sweeping golden deserts that roll out to a distant horizon, sky-scraping mountains, and white-sand beaches where you can lounge by turquoise waters, sipping cocktails in the shade of a feathery palm tree. With landscapes like these, I don't know why Oman isn't a more popular destination for honeymoons. However, I shouldn't complain since I think a big part of the country's appeal is its relaxed atmosphere and complete lack of crowds.
The epic landscapes and under-the-radar nature make Oman the ideal destination for couples who want something that's a little outside the ordinary. Here, I've chosen eight honeymoon-worthy hotels where you can enjoy the scenery in pure opulence.
The Chedi, Muscat
The Oman capital city is known for a consistent Arabesque elegance, its coastal skyline made up of low white buildings that all boast delicate arches and graceful balconies. The Chedi perfectly captures and refines the city's quietly luxurious style, with a lantern-lit reception and Moorish-style gardens.
The rooms and suites are cool, minimalist, and spacious, with pale neutral decor punctuated by dark wood. Enormous windows let in the light, and many have panoramic views of the sea. You can opt for a sprawling private villa, with a private terrace and sunken tub, for ultimate indulgence.
The Chedi has a huge spa, with 13 suites that offer a wide menu of treatments, as well as several pools, including the longest pool in the Middle East. The food here is a highlight — the six restaurants offer cuisine from around the world. I particularly liked the hazelnut mousse at the Beach Restaurant, served with layers of rich, bittersweet caramel, including a shatteringly crisp hazelnut praline on top.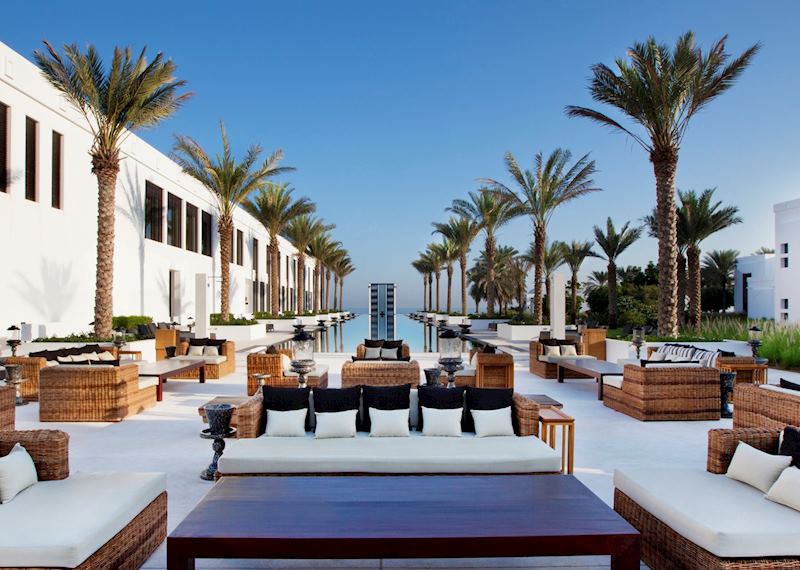 Places to stay on your honeymoon in Oman
All of our itineraries are tailor-made, which means you can pick the level and style of accommodations that suit you, and where your honeymoon is concerned, this is more important than ever. Here are just a few of our favorite places to stay throughout Oman, perfect if you're on a honeymoon.
For indulgence worthy of a sultan, I strongly suggest Al Bustan Palace, which lives up to its name — this building was originally a modern palace for Sultan Qaboos. Tucked into a palm-shaded oasis between the sea and the mountains, it's a world-class option just outside the capital.
The sprawling hotel offers a huge menu of options, including a luxe spa, as well as five eateries, a jazz lounge, and a wide range of chef-led private dining experiences. For a decadent breakfast, you can opt to enjoy a floating meal from your lagoon pool deck.
The rooms are sleekly modern, with all the comforts you could want, from balconies with a view to separate soaking tubs and rainforest showers. The hotel's public spaces reflect the local Islamic culture and style — I'm particularly fond of the tea room in the main lobby, with its intricate inlay, arabesque arches, and soaring ceiling. The whole edifice is topped with a gleaming golden eight-sided dome and those in the know hint that the sultan himself has a private suite on the top floor.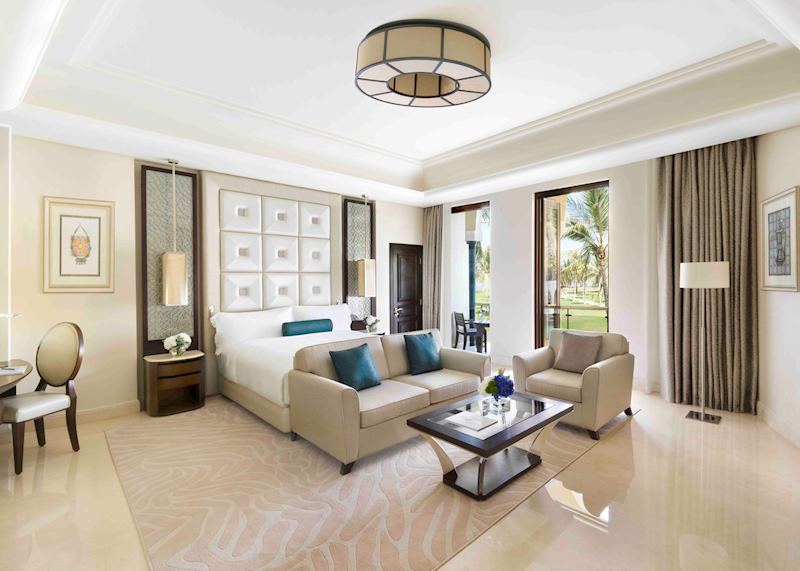 Anantara Al Jabal Al Akhdar Resort, Jebel Akhdar
Perched on the edge of the Saiq Plateau, overlooking a yawning canyon, Anantara Al Jabal Al Akhdar Resort has some of the best views in the Middle East. About two hours from Muscat, it's a luxe base for exploring the many hidden wadis and traditional villages of Jebel Akhdar.
The rooms here are airy, with a modern style that provides a neutral backdrop for those impressively vertiginous views. And almost every room here has those views, which you can soak up through floor-to-ceiling windows or out on your private balcony. Many have private plunge pools or even infinity pools overlooking the cliffs, so you can gaze over the canyon while enjoying time in the water.
The four restaurants all have small decorative touches that nod to the local culture, while the Al Burj bar serves shisha alongside an extensive cocktail menu. The spa also includes Omani touchstones, like rose water and pomegranate, from fruits grown in the sheltered valleys of the mountain range.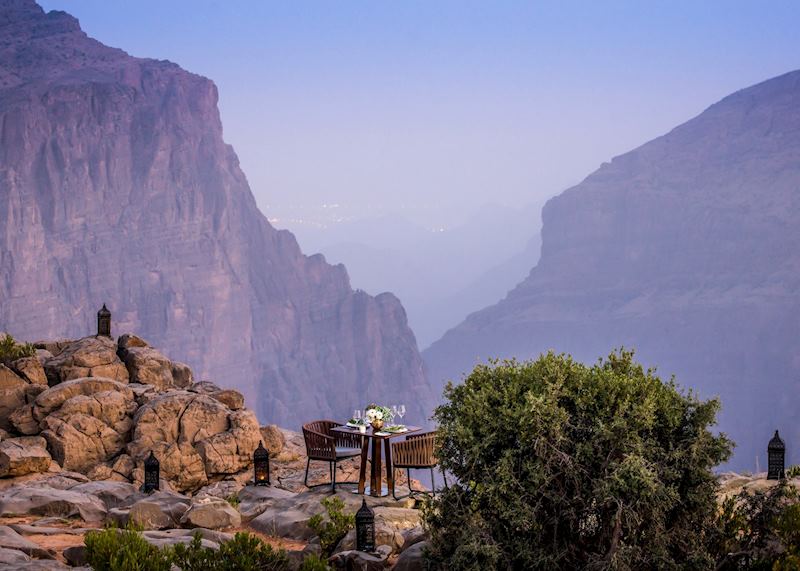 Alila Jabal Akhdar, Jebel Akhdar
Alila Jabal Akhdar is one of the only other hotels in Oman with a view that rivals the one at Anantara Al Jabal Al Akhdar — they both overlook the same grand, gaping canyon. The decor here has earthy touches that reflect the glorious natural setting, with rough-hewn stone walls, dark-wood furniture, woven reed baskets, and a curving, delicate hand-painted juniper tree motif, a nod to the trees growing outside the hotel.
There are no standard guest rooms here, only villas and spacious suites, each carefully designed to provide a sense of privacy. Bathrooms are impressively sized with gently curving bathtubs set next to windows so you can take in the views while you enjoy long soaks.
The main restaurant, Juniper, has a menu inspired by the golden age of Middle Eastern cuisine and I like how you can look out over the canyon as you eat. There's also a lounge for light bites and drinks. Spa Alila offers a wide range of treatments, many with ingredients grown in the hotel's own gardens.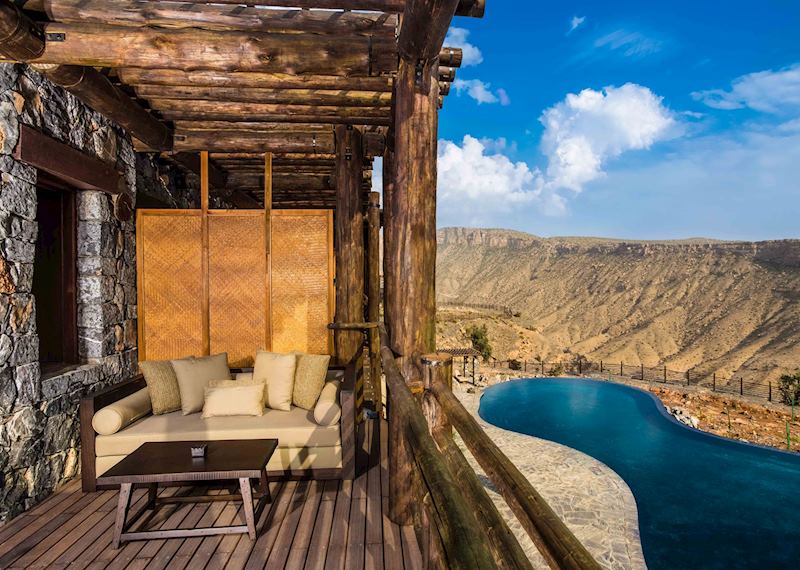 Thousand Nights Desert Camp, Wahiba Sands
A vast sea of golden dunes, the Wahiba Sands perfectly embody my idea of a Middle Eastern desert and the Thousand Nights Desert Camp gives you a chance to experience it in modern comfort. You can opt to stay in mud-brick villas or authentic black wool Bedouin tents, both decked out in generously sized beds as well as all the creature comforts.
In the evening, you can take a lantern and climb to the top of one of the nearby dunes to watch the sun sink into the sands and see the stars fade into twinkling existence over a meal of local delicacies. The next day, you can choose from a list of desert adventures, including camel rides, archery, and game drives to spot rare Arabian oryx and gazelles that still live in the local area.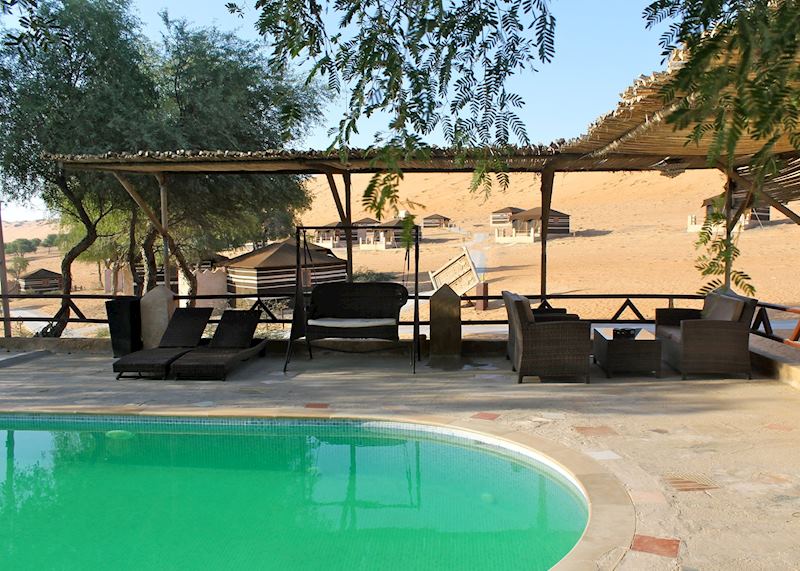 Magic Camps Wahiba Sands
If you imagine a desert honeymoon set in a solitary tent amid the yawning silence of the desert, then you might opt to stay at Magic Camps Wahiba Sands. Here, you have complete privacy, far from anyone except the camp support staff. You'll sleep under canvas and can dine under the stars. (There's a private bathroom as well, in a nearby tent.)
For a more sociable stay, the main camp includes just a handful of spacious tents, each outfitted with electricity, modern mattresses, and a private bathroom. These are clustered loosely around a traditional Bedouin majlis, a word which loosely means 'gathering area'. With open sides, a canvas roof hung with lanterns, and comfortable seats and hand-tied rugs, it's an excellent place to join fellow desert dwellers for evening drinks and stories.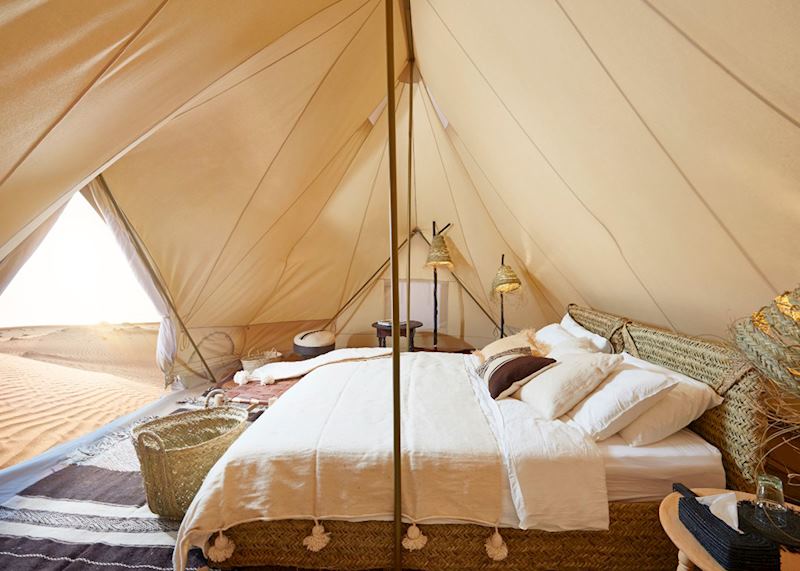 Six Senses Zighy Bay, Musandam Peninsula
After the city, the mountains, and the desert, you may well be ready for waterfront idleness — in that case, welcome to Zighy Bay. Here, traditional Omani-style buildings, constructed using only local materials, are scattered along a thin sliver of beach between where the plunging mountains meet the gentle blue sea.
Every suite and villa comes with its own private pool and most are just steps from the beach. You can lounge and linger here, doing as much or as little as you like. There are six eateries, ranging from traditional Middle Eastern cuisine to an alfresco Asian-fusion restaurant, as well as a well-stocked wine bar.
If lounging by the pool and eating delicious food is still too strenuous, the spa includes two traditional hammams, an ice cave, and sunrise yoga classes held outdoors.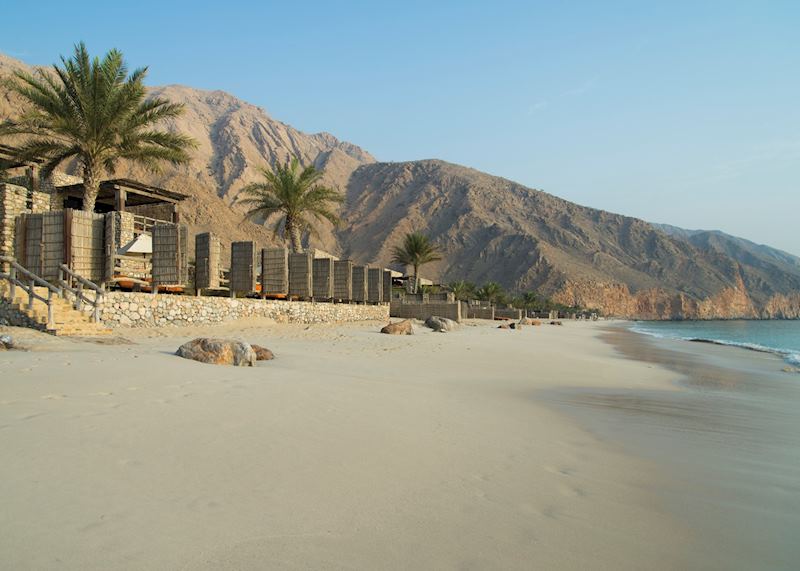 Al Baleed Resort Salalah by Anantara, Salalah
Salalah itself is a cool, verdant oasis in Oman's otherwise sere and stony landscapes — the profusion of plant life is fed by annual monsoon winds off the Indian Ocean. Nestled between a private beach and a freshwater lagoon amid this luxuriant greenery is Al Baleed Resort.
The sprawling resort includes more than 130 rooms, suites, and villas, all scattered in low-rise buildings around the palm-dotted grounds. Many of the rooms have private balconies and most of the suites come with their own pools and butler service. The spa is just as indulgent as you might imagine, with a rotating roster of world-renowned wellness experts in residence.
This is an excellent option for lazing by the sea, but if you feel compelled to do something more active, there's plenty to choose from. You might take a wine class, go fishing, visit nearby archaeological sites, or explore a museum dedicated to frankincense — the nearby desert grows trees which produce the highest grade of this ancient perfume resin.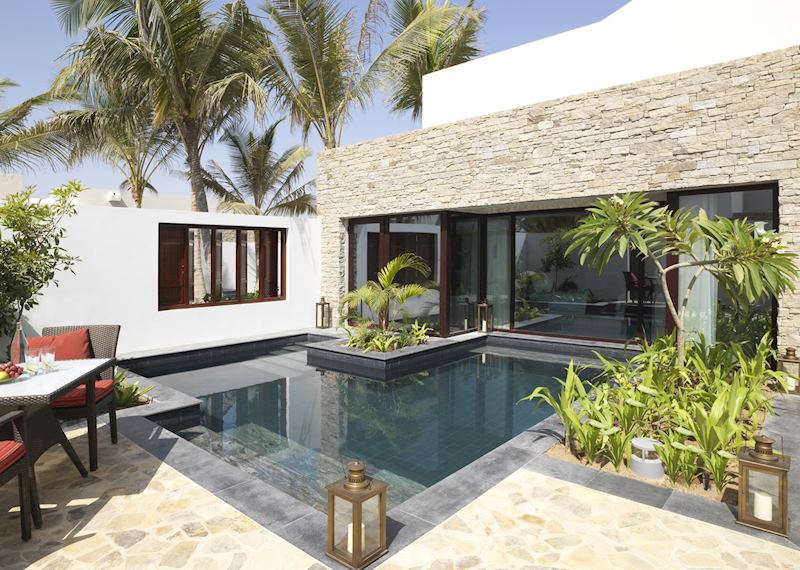 Start planning your honeymoon to Oman

Start thinking about your experience. These itineraries are simply suggestions for how you could enjoy some of the same experiences as our specialists. They're just for inspiration, because your trip will be created around your particular tastes.
View All Tours in Oman
Further reading