Hayley, South America Specialist
I have always loved to travel, jumping at any opportunity to visit European cities, US national parks or parts of Latin America. I chose to indulge my passion for adventure when I left my previous career to travel solo for several months through South America.
I began my South American journey in Patagonia and immediately fell in love with the dramatic scenery and wild unpredictability that makes each Latin American country so distinct.
When I returned, I took advantage of the opportunity to start a new career in travel. Since joining Audley, I have had the opportunity to revisit Argentina and Chile's wine regions, discover even more remote Patagonian glaciers, and dig deeper into the rich culture, history and food of Buenos Aires and Santiago. I'm thrilled to have the opportunity to help others discover all there is to love about South America.
Speak to Hayley

Start planning your trip to South America with Hayley
Q&A with Hayley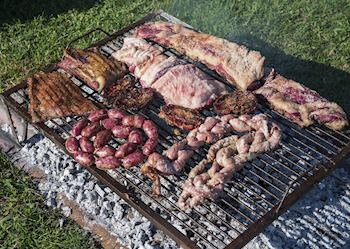 What's the best local dish you've tasted?
I'm not an adventurous eater, so I had a lot of reservations when I was initially presented with sweetbread at my parrilla (South American barbecue) experience in Buenos Aires. Sweetbread is the thymus or pancreas gland of a calf or lamb and is considered a delicacy. Despite my reluctance to try it, I ended up loving the delicate, creamy morsels and the experience deepened my appreciation of Argentinian cuisine and the importance of finding ways of using every part of the animal so that nothing goes to waste.
Which book, film or artwork captures Argentina the most?
Recently, I've loved watching the Magical Andes Netflix documentary. The series follows the same route I took through South America and explores the way of life in the mountains, introduces the people who live there, their culture and lifestyle, and the wildlife that inhabit its most remote regions. I get nostalgic for a lot of the places that I have visited. I even met a person featured in the documentary my second time in Bariloche on an Audley research trip. During a rainy day, I visited one of the first family breweries and got a tour from Tomás, the Brew Master featured in the documentary.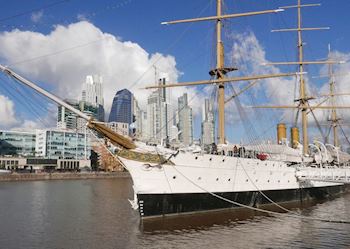 Your best piece of travel advice?
While most places accept credit cards, it's always a good idea to take some US dollars when visiting Argentina and Chile. ATM fees are high in both countries and you'll often get a better exchange rate with cash. The Argentinian peso is also very volatile and the exchange rate fluctuates rapidly so exchange your money in smaller amounts: you may find rates are far better a day or two later, and, if you're left with a large amount of peso when heading home, you may find you're losing money, or on occasion, find American currency exchanges won't accept Argentinian pesos because the rates are so unpredictable.