Rachel, Peru, Bolivia, and Chile Specialist
In 2006, Rachel decided it was time for a change in her life, and she purusued a career in something she loved: travel. Rachel spent the next 5 years helping clients to plan travel experiences throughout Latin America from Costa Rica to Chile. Rachel remembers her first trip to Central America or more specifically Costa Rica. It did not take long for her to be totally hooked by the lush landscapes and incredible biodiversity of this small mountainous nation. Chile was her next big trip and she was blown away by the natural beauty of the Atacama Desert and the spirituality and mystery of Easter Island. After each new destination, Peru, Argentina, Panama and Colombia, her love of and passion for the region only grew. In 2011, the company that she was working for moved and Rachel grasped the opportunity to take a brief hiatus from planning travel deciding to do some traveling just for herself. She spent some time in Guatemala and Colombia, brushing up on her Spanish before returning home to start a new adventure. Her passion for travel and Latin America never really left and when a colleague asked her about planning a honeymoon to Peru, Rachel jumped at the chance spending the next 30 minutes sharing her knowledge. It was a pivotal moment! Rachel knew almost instantaneously that she had to return to what she loved and started working at Audley.
Speak to Rachel

Start planning your trip to South America with Rachel by calling 1-844-250-3426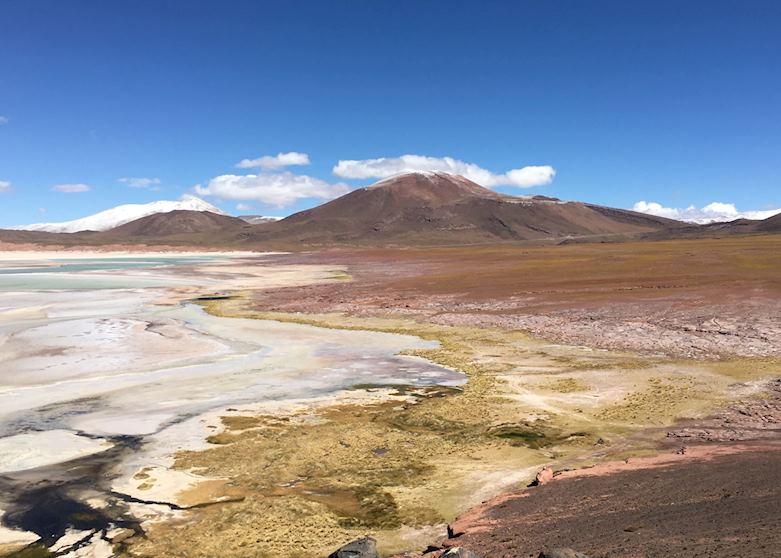 Chile
The Atacama Desert is about as opposite as you can get from where I've lived the majority of my life. From Tampa, Florida at sea level and the 4pm showers to the high altitude desert and mountain vistas of San Pedro de Atacama, I couldn't have imagined anything more different from my every day existence. The world was colored in reds, blues and whites. The horizon seemed so far away. The only thing that was remotely familiar were the flamingos. I loved the eerie, otherworldly landscapes of the Tatio Geysers and exploring the water conservation efforts of the little nearby towns. But my absolute favorite experience was being bundled up, looking up at the cloudless night sky and seeing the Milky Way. There was nothing more thought provoking than seeing my little corner of the universe so clearly.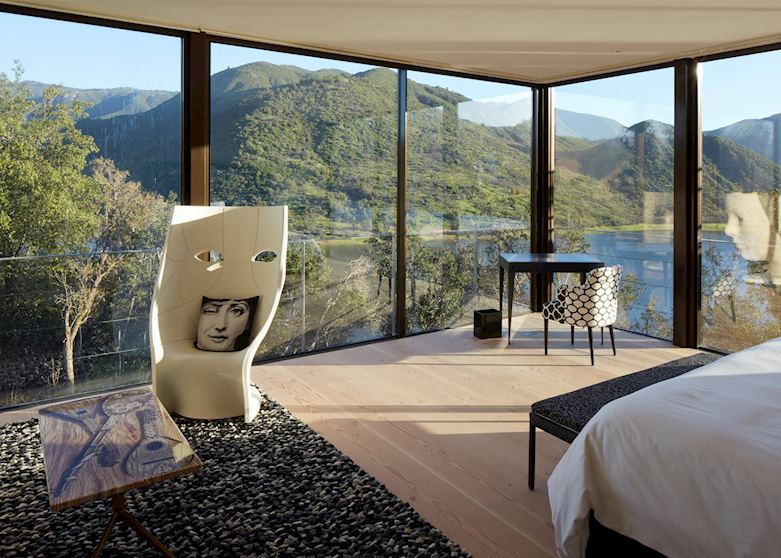 Chile
About an hour outside of Santiago, nestled in the hills and valleys of the wine regions sits Viña Vik. Staying at this labor of love is like sleeping in an art museum. Each of the 22 rooms has been designed by a different decorator/artist. The room decor ranges from hand painted Portuguese tiled murals to red lipped couches and a copper penny coated bathroom to pastoral images of war. I found this new option just south of the Colchagua valley refreshing and the avant-garde style unique and fun. One of my favorite moments here was relaxing with a glass VIK by the infinity pool overlooking the vineyards.
I'll never forget when…
I love markets. I've shopped for my dinner at local food markets, purchased handbags in small leather craft stores, and come home with hand carved suns that took up half of my luggage. If I can meet the artist, even better. On my second trip to Colca Canyon, I knew I'd pass through the town of Chivay. At the market, the ladies there work on 1940 Singer sewing machines and hand machine embroider change purses, make up bags, hats and more. I had already set aside money in my shopping budget to purchase some items. I had already made my personal selections as well as gifts for friends and family, I was just stuck on one more purchase. There were some new hat styles and I knew that one was going home with me. After 15 minutes of color selection, I finally narrowed it down to two. I knew that whichever I chose, I'd regret not getting the other one. Finally, after some fairly decent haggling, I decide I looked fabulous in both hats and for $20 each, they were both coming home with me. They are not only decorative art work on either side of my couch, but they also are fantastic for my sunny days at the park.