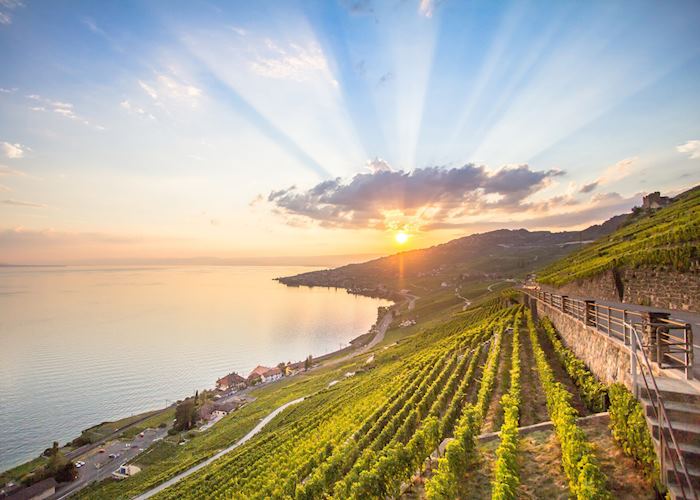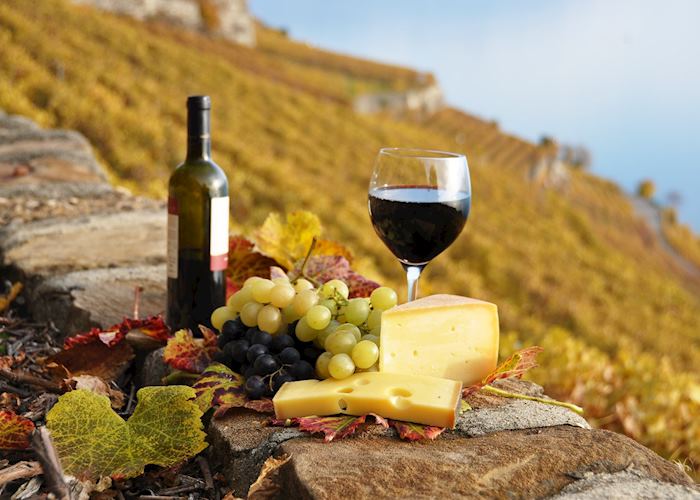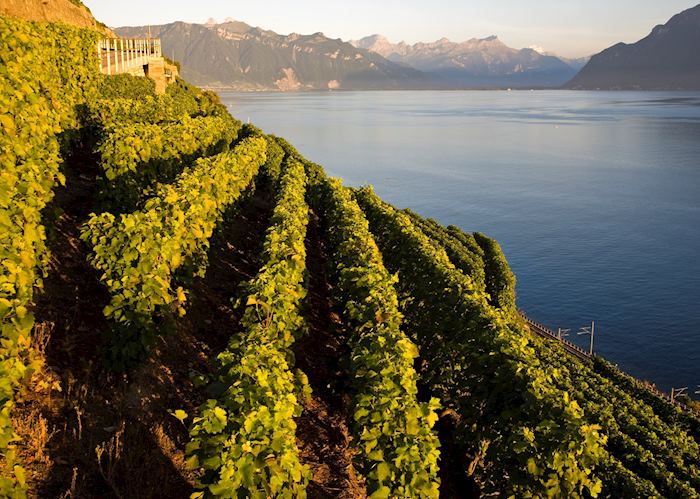 Lavaux wine tour
Take a tour through the bewitching Swiss wine-producing region of Lavaux, where steep terraced vineyards line the banks of Lake Geneva. You'll taste wines unavailable anywhere else, since very little Swiss wine is exported. Enjoy lunch with a local wine producer, visit a medieval fortress and learn about the history of this UNESCO World Heritage Site.
From your hotel in Montreux or Vevey, you'll be driven to Lavaux, where you'll hear some stories about this region's curious character. After a visit to a historic fortress, you'll have the opportunity to taste several of the region's distinctive wines, both reds and whites, most of which are drunk within Switzerland's borders.
Have lunch of local meats or cheese fondue with a local wine producer, paired with the appropriate wine, of course. Then head back toward your hotel, passing by some of the villages along the way.
If you visit in September and October, you may have the chance to see the grape harvest.
Your driver will pick you up at your hotel in either Montreux or Vevey, and you'll begin your journey through the UNESCO World Heritage region of Lavaux, where Switzerland produces some of its wine.
This singular region, along the eastern banks of Lake Geneva, enjoys a temperate climate but has some Mediterranean character due to the sun reflecting off the lake and onto the south-facing, stone-walled terraces, which produce both red and white grape varieties.
Your guide will introduce you to the history of the region, including a visit to a medieval fortress that offers sweeping views of the vineyards and the lake below. Then, you'll taste some of the wines produced here. There's very little global knowledge of Swiss wines, since only 5% of it is ever exported, and that only to Germany. Most Swiss wine is consumed within the country itself, making this tour an excellent opportunity to experience wines that aren't widely available anywhere else.
You'll have a chance to learn about the heritage of Swiss grapes, including the most commonly found chasselas, a white grape that produces a full, dry and fruity wine. Pinot noir is also popular here.
For lunch, you'll visit a wine producer who will provide a meal of either cheese fondue or assiette Valaisanne — a local charcuterie board — accompanied with a suitable local wine.
If you visit in September or October, you might be able to witness the grape harvest, locally known as vendange. The grapes are hand-picked, then carried down through the terraces in vast barrels. For the steepest terraces, the harvesters get assistance from a helicopter — an instance of old tradition meeting new technology.
On your way back to your hotel, you can pass through some of the small villages that dot the lakeshore, such as Lutry, and see the locals going about their daily lives.
Speak to someone
who's been there
Start planning your tailor-made trip by contacting one of our Switzerland specialists
Photos of Lavaux wine tour