By Thailand specialist Mark
When you travel in Thailand, you'll know some dishes by virtue of your local Thai restaurant. But, in the country of its birth, this seemingly familiar cuisine is suddenly elevated with a depth of seasoning, sourness or fragrant aroma you probably haven't experienced before. Experiment and you'll also find intriguing variants on popular dishes and food you won't see on a menu outside Thailand.
These are my recommendations for the best dishes to try, based on more than a decade journeying in Thailand. I focus particularly on each region's specialties.
You can see how some of these ideas might work together as part of our culinary tour of Thailand.
A brief introduction to Thai food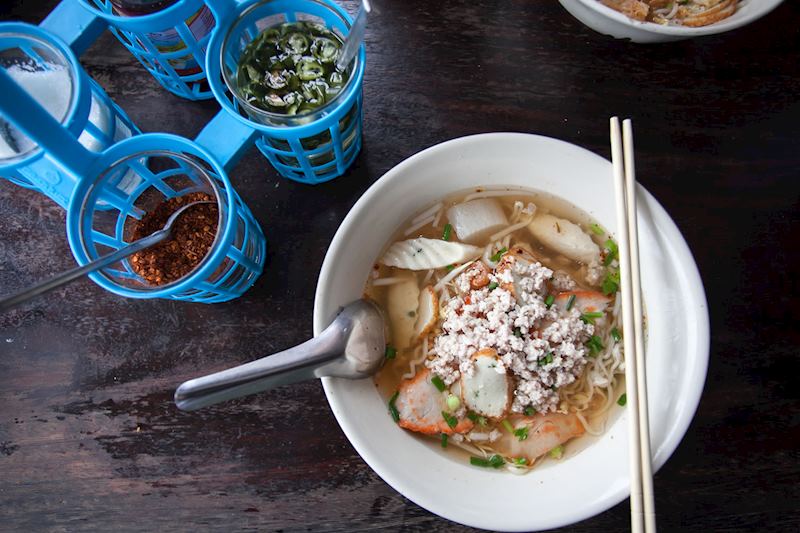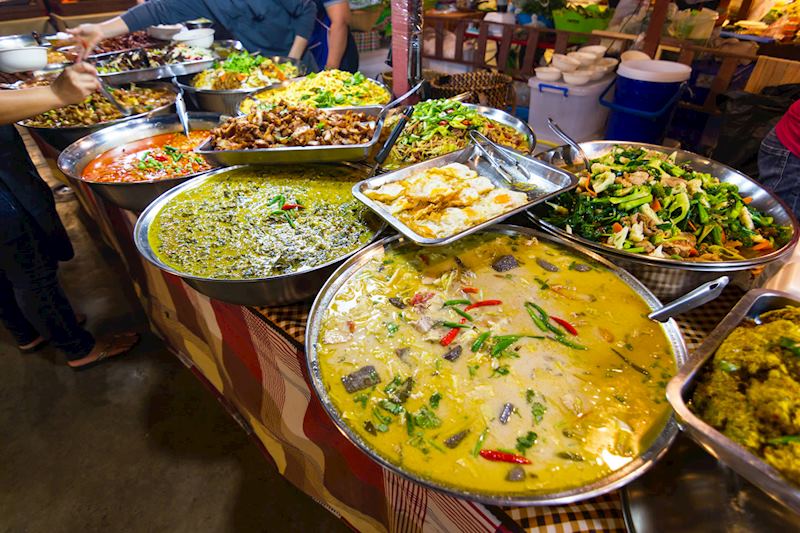 Thai food balances sour, sweet, salt and spice. The saltiness comes from fish sauce (the Thai equivalent of soy sauce), sweet from palm sugar, sour from lime, and spice from chili. This is tempered with the addition of exotic herbs, including lemongrass, galangal (a member of the ginger family) and kaffir lime leaves.
Traditionally, evening meals are a relaxed affair, eaten over a few hours as everyone catches up at the day's end. The main dishes can be loosely grouped as soups, curries, fried dishes and salads, accompanied by rice — with umpteen variations of ingredients.
On my travels, I've learned that food gives many Thais an important sense of home. So much so that many who relocate to Bangkok for work become food sick. There may be a thousand different green curries in Thailand, but only one is just how grandma used to make. This part explains the variety of food in Bangkok: everyone is after dishes from their region.
I once spotted a long queue for a tiny khao soi stall. It transpired the vendor had moved to the city from northern Thailand and, each day, fellow Thais from the north would religiously queue for their taste of home.
There are many fine-dining options in Thailand, but I also recommend being adventurous. The best cuisine often comes from nondescript restaurants and open-air street stalls. Your guides can make suggestions and, if in doubt, opt for a place that looks busy with locals.
Food in Southern Thailand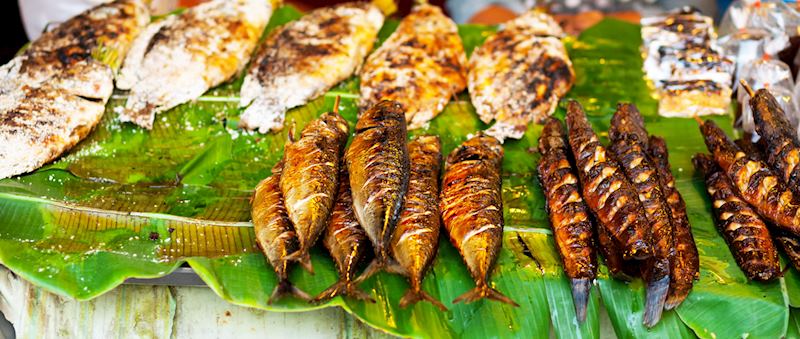 With two coastlines, a generous scattering of islands and communities of fishermen, southern Thailand is a seafood haven. Whether you have it fried from a beachfront stall or steamed in a coastal restaurant, it will be freshly caught. Sea bass and bream are common, but the local choice is red snapper. This lean, firm fish is well suited for pla neung manow, where it's steamed with chili and lime and served whole.
In a hot, tropical region, the dishes are influenced by the coconuts, lemongrass and galangal grown here, leading to some of Thailand's most fragrant food. Thai curries make the most of these ingredients, from the spicy gaeng keow wan (green curry) to the slightly milder prik gaeng ped (red curry). Each vendor will have a carefully crafted curry paste recipe, which might incorporate chicken, prawns or tiny aubergines.
While gaeng massaman (or yellow curry) originates in southern Thailand, it's influenced by Malaysia to the south, which in turn drew from 19th-century Indian migrants. Cardamom and cinnamon season this rich, filling dish, which often includes potato and pork.
An alternative to curry, tom yum goong is a hot, sour soup that, for me, encapsulates the depth of seasoning possible in Thai food. A delicate blend of lemongrass, galangal, kaffir lime leaves, chili and coconut milk, it hits you with real zing. If you find it too hot, you'll notice sugar is often provided as a table condiment for adjusting the spiciness of a dish to your palate.
Street food walking tour of Phuket Town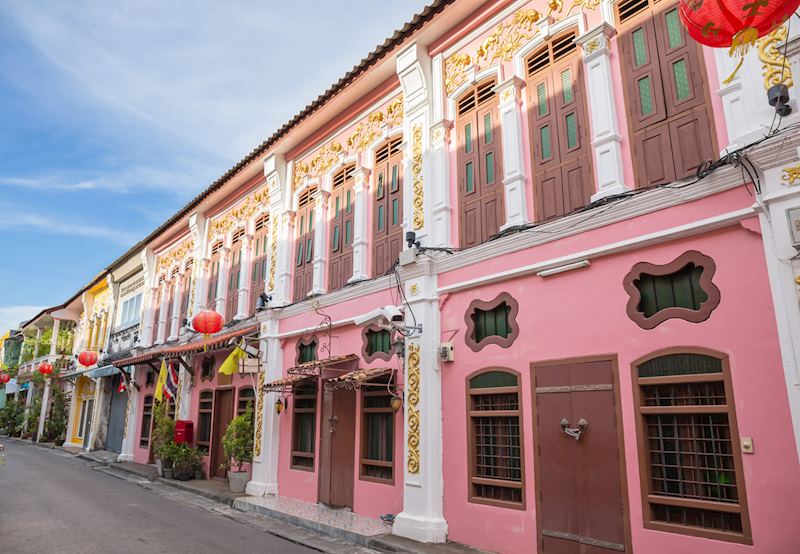 Long before the beach hotels went up, Phuket was a busy merchant town, central to the rubber and tin-mine industries. Today, the Sino-Portuguese old town is lined with artisan coffee shops, hip galleries and street stalls.
On a walking tour to sample some of the delicacies, your local guide will help you navigate the side streets and food courts. I suggest getting your hands on a real Thai fishcake, which tends to be rounder than the flattened ones at home. You can buy a bag of freshly cooked fishcakes with sweet chili sauce and pickled cucumber on the side.
You'll also encounter Chinese cuisine, thanks to the influx of Hokkiens (Chinese rice merchants) along the coast during the early 20th century. At the street side, you can pick up pork-filled steamed buns and crispy dumplings filled with minced pork or spinach.
Food in Northern Thailand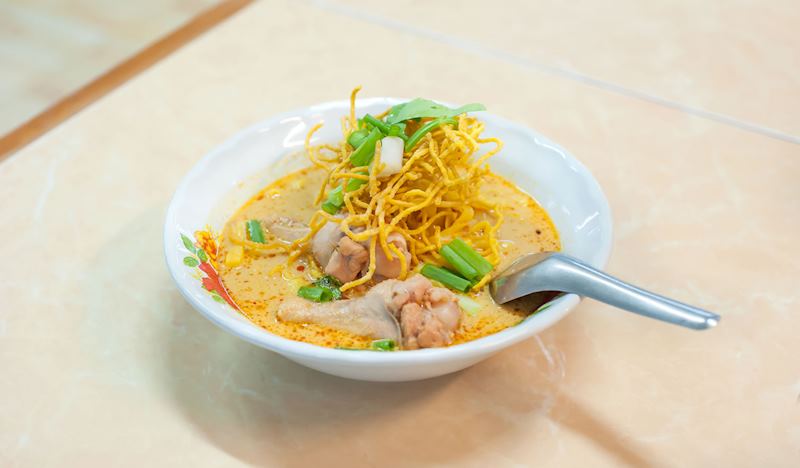 Thailand's mountainous north shares a border with Myanmar and Laos. Farther afield, India and China loom large. Each country has infiltrated northern Thailand's cuisine, from Indian turmeric to Chinese noodles, dumplings and fried pork scratchings.
There's debate over the origins of my must-try dish, khao soi gai. Both the Thai and Burmese claim it as their own. It's a creamy curry, typical of the region, with a thick, almost gravy-like sauce. Turmeric, potato and coriander are combined with coconut milk and chicken. At the bottom lie soft noodles, and crunchy fried noodles and shallots sit on top. Lime and chili on the side help you tweak the balance of spice.
There's a real fluidity to dishes across northern Thailand: you won't notice specific breakfast or dinner options. I once spent ten days exploring the north, and my local guide chose pad ka prao, a minced pork dish with soy, garlic and chili, each day for breakfast, lunch and dinner.
Chiang Mai night market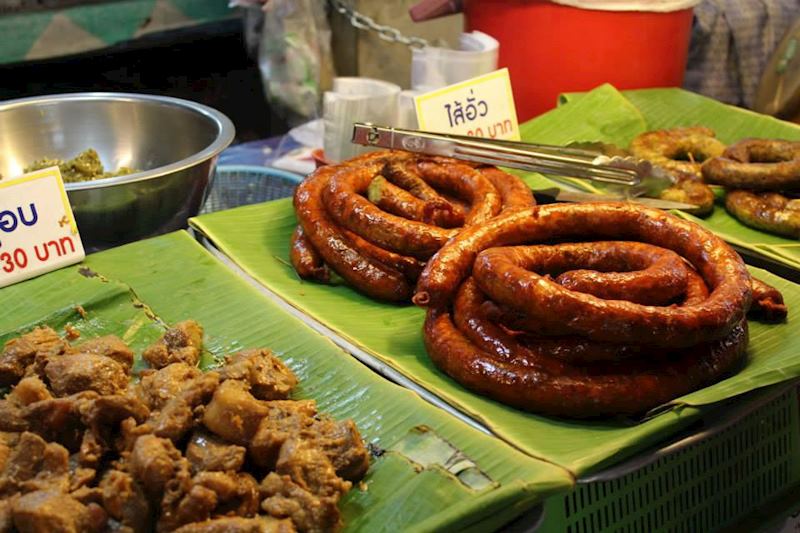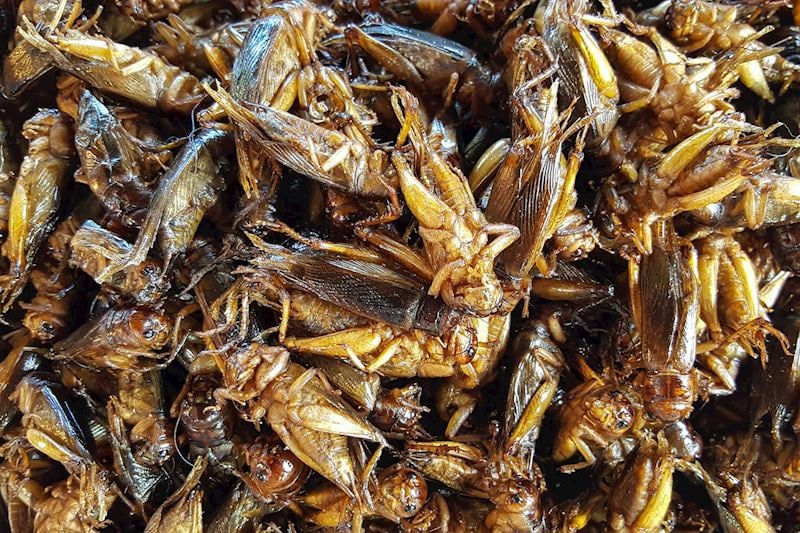 Each evening, the banks of Chiang Mai's Ping River haze over with the smoke of street stalls, cooking, steaming and frying a range of snacks. Look out for sai ua la wan, sausages cooked in massive spirals over hot coals. These cured sausages are filled with pork, lemongrass, garlic and lime. When you buy a portion, a chunk will be cut off and sliced up before being put into a bag to eat as you walk along the streets.
One of the more unusual snacks you might spot are insects (particularly at the busiest Sunday night market). The peckish can choose from crickets, cicada, grasshoppers or whirligig beetles, laid out in huge piles. Fried and salted, they are served in small plastic bags with a bit of chili. For insect-eating novices I suggest the small, crunchy crickets.
Cooking with a Thai family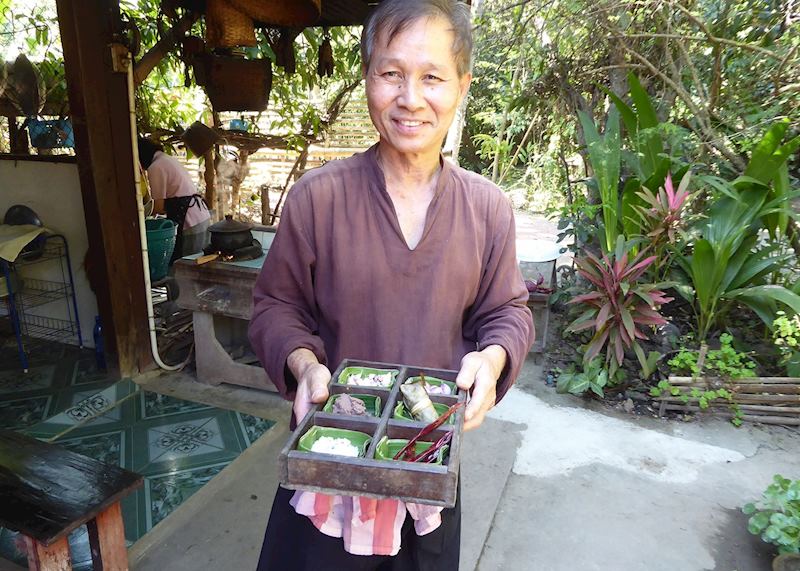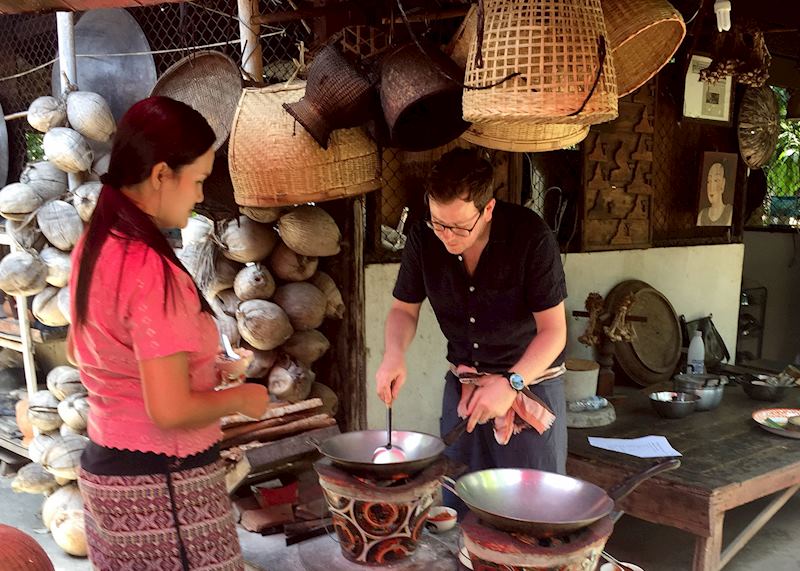 From Chiang Mai, you can head out into the countryside to the village of Hang Dong. Most of Thailand's tomatoes and cucumbers come from here, and Mr Prapat and his family are fruit and vegetable farmers like many in the region. You can tour their orchard to see how traditional Thai ingredients grow, as well as helping to pick a few (lychee picking is particularly skilled, involving deft movements with a long pole).
You'll also join the family as they cook and eat their meals. Sitting in the garden, under the shade of a parasol, you'll learn how to make curry paste from scratch and marinade chicken in a combination of lemongrass, ginger and garlic. The family dry their own chilies, which you get to pound in a pestle and mortar to make a hot chili sauce.
Food in the Isaan region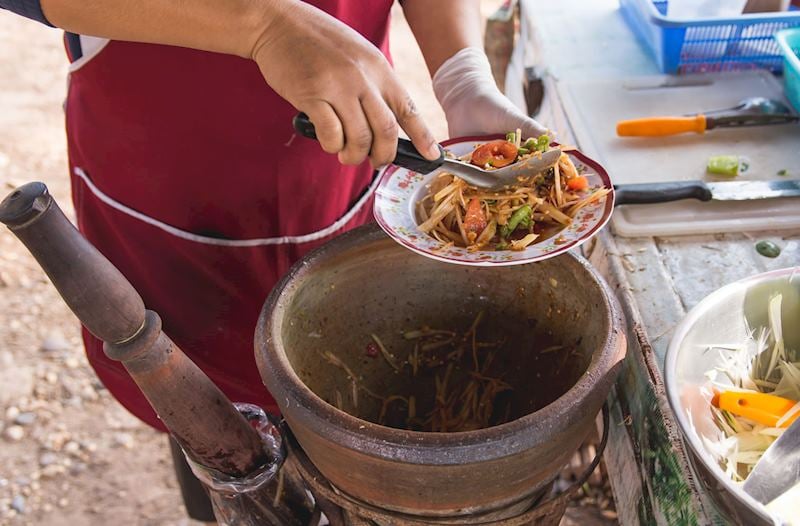 Nestled between Laos and Cambodia, Isaan is the agricultural heartland of Thailand. This little-developed area is punctuated by sandstone Khmer temples that predate Angkor, and small communities who speak a language that's closer to Laotian than Thai. Ask your tuk-tuk driver in Bangkok, and you're likely to find that he hails from here.
This is the hottest part of Thailand, and the food follows suit. Som tam, a simple green papaya salad that's found in virtually every eatery, is defined by extremely hot, tiny chilies that give the dish quite a kick. There are no major cities here, so you'll mostly eat at small plastic-chair-and-table cafés, or opportunistic eateries set up along the roadside.
My guide and I came across a vendor making som tam by the road, pulsing the papaya with garlic, chili, dried shrimp, lime and palm sugar. The dish is sometimes called som tam papaya pok-pok as a nod to the pounding of pestle to mortar. It can be tailored to your taste buds — I (just about) managed five chilies in my salad, my local guide happily munched through 20.
Reflecting Isaan's rural communities, the dishes are often simply prepared using local ingredients. The Mekong skirts around the plains, making catfish widely available. It's served grilled, with a fish-sauce dip (and the obligatory chilies). When the paddy fields begin to dry out in November, thousands of tiny fish are collected for fish paste and sauce.
Daily toil in the paddy fields resulted in com lam, a sticky rice steamed in bamboo. Farmers peel the bamboo back to eat it without the rice scattering everywhere whilst working in the fields. You'll see this across Thailand, but most of the glutinous rice needed to make it is grown here. It's also the key ingredient in khao neow ma muang, fresh mangoes and sticky rice sweetened with palm sugar and coconut milk.
The roads aren't as thick with street-food stalls as other regions, but you can still find bite-sized snacks. Isaan sausages are so chunky they're almost spherical — stuffed with pork, rice, lemongrass and chili. Often sold on a stick, they're easy to eat on the move.
Food in Bangkok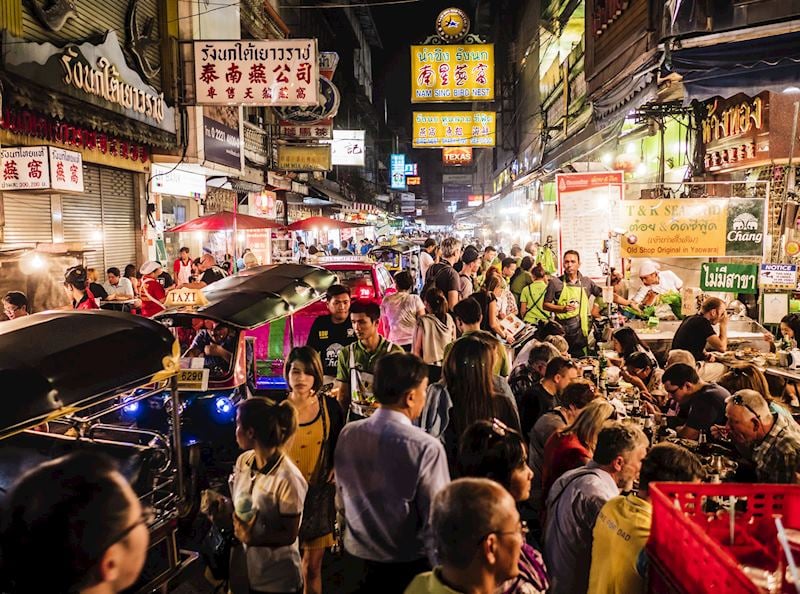 In Thailand's capital, you'll find a conglomeration of regional specialties and modern fusion dishes. It's an opportunity to experiment and try a bit of everything. After all, this is a city where street-food vendors, as well as fine-dining establishments, are awarded Michelin stars.
Street-food tour of Bangkok

Stroll the city streets and you happen across a bewildering variety of dishes, some hidden behind huge queues or the smoke of hot coals. As you're likely to begin your trip in Bangkok, a guided food tour can act as an introduction to what's on offer. New stalls and shops are popping up all the time, and a local gourmet will lead you to the best green curry or kafae boran (a classic Thai coffee).
Walking through the alleyways of Phraeng Phuthon, one of the oldest parts of the city, your guide will lead you to a tiny Sino-European ice-cream shop that has been using the same coconut ice-cream recipes for generations.
If you're in Bangkok from June to August, you could sample durian, a spiky fruit that's so pungent it's often served with plastic gloves to stop the smell permeating your skin. The texture is a little like mango but the taste is rather unique — from experience, you either love it or hate it.
Bangkok restaurant recommendations
As the city zooms toward modernity, hip, innovative bistros are opening up all the time, together with refined bars and award-winning restaurants.
Gaggan
Ironically, Thailand's most acclaimed restaurant has an Indian-Japanese-Thai menu. Diners have one choice: a 25-dish tasting menu. The food changes with the seasons, and previous menus have included aubergine cookies, lobster dosas and cartoon Minion ice pops. It's an unconventional performance of a meal (some dishes are served to specific songs or without cutlery so you're encouraged to handle your food). Because of its two Michelin stars, you need to book well in advance.
Nahm
For something swish without such a high price tag, I suggest Nahm in the COMO Metropolitan hotel. Created by Australian David Thompson, the first chef to open a Michelin-rated Thai restaurant outside Thailand (Nahm in London), the ethos is simple: the very best fresh Thai food.
The menu is full of classic Thai dishes — I recommend the tender duck red curry. Nahm was awarded its own Michelin star in 2017, so booking is essential.
Vertigo
As the name suggests, Vertigo is a restaurant with impressive skyline views. Occupying an alfresco terrace on the top of Banyan Tree Bangkok, it's best at dusk when the low-level lighting lets the glowing sky really sing. The menu has an international feel, from artfully arranged platters of seafood to premium steaks.
80/20
If you want to dine alongside Bangkok residents, head to Charoenkrung, the latest up-and-coming district of galleries, design institutes and start-ups.
80/20 is one of the restaurants that has mushroomed up to feed the influx of creatives. Its menu is an inventive take on locally sourced organic produce (making up 80% of the ingredients), which changes seasonally.
Read more about trips to Thailand

Start thinking about your experience. These itineraries are simply suggestions for how you could enjoy some of the same experiences as our specialists. They're just for inspiration, because your trip will be created around your particular tastes.
View All Tours in Thailand