Visit Bird Island, Seychelles
Bird Island might, technically, be a private island, but this is no manicured luxury retreat. It's a wildlife haven and important stop for many varieties of migrating birds and nesting turtles. The island's ecolodge is a comfortable base from where you can watch free-roaming Aldabra tortoises and preening, red Madagascar fodies. The surrounding beaches welcome the determined plod of nesting turtles, and stretching out beyond is an underwater world of tropical fish, dolphins and octopuses.
Bird Island sits alone on the edge of the Seychelles Bank, 105 km (65 miles) northwest of Mahé. First spotted in 1771 by a passing ship, the island was mined for its guano and converted to a coconut and cotton plantation.
The current owners bought the island in 1967 and have carefully coaxed it back to its original wilderness, encouraging the growth of sea cabbage and nut grass — ideal nesting vegetation for the island's sooty terns.
About 80,000 sooty tern pairs arrive each March, taking possession of the north of the island in a cloud of black and white feathers. Walk around in July and you'll need to watch out for their young — small, white fluff balls (with no predators, most terns nest on the ground).
There's also a healthy population of resident birds, including white-tailed tropicbirds with their streamer-like tails and a number of rather curious (and fearless) lesser noddies.
Rambling freely alongside the island's feathered residents are a number of giant Aldabra tortoises. The best way to encounter them is simply to spend time wandering the island or following one of the marked nature trails that signposts some of the endemic flora. You'll also find a small organic farm where pumpkins, papayas and tomatoes are grown for the lodge's restaurant.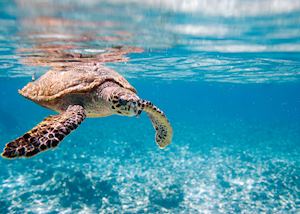 Green and hawksbill sea turtles live in the protected waters around the island. Depending on when you visit, you might see them nesting, or watch clusters of hatchlings emerge. Lighting around the shoreline is kept to a minimum to encourage natural behavior. Don a snorkel and you might spot one of the groups of juveniles that like to feed on the frothy beds of seagrass surrounding the island.
A host of tropical fish flicker alongside the turtles, from the neon bluestripe snapper to the dotted, honeyed grouper. As well as snorkeling in search of marine life, you can kayak around the coastline. You might see a pod of bottlenose dolphins or, toward the deeper water along the Seychelles Bank, humpback whales or short-finned pilot whales. Take a boat trip and you're likely to see the dolphins playing in the wake.
The only place to stay on the island is Bird Island Lodge, a low-key series of wooden chalets clustered along the west of the island. The simple lodge runs on a self-catering basis and has a small shop for essentials. Each spacious chalet has a private kitchen/dining area but otherwise it is a back to basics experience, with simple amenities and no swimming pool — it's unnecessary with the clear waters of the Indian Ocean at your disposal.
Best time to visit Bird Island
A year-round destination, Bird Island's temperatures hover at a comfortable 83°F (28°C). The best time to go to Bird Island depends on your specific interests, and we recommend discussing with your specialist what time might suit you. For example, turtles tend to hatch between January and March, while the sooty terns begin to arrive in March. Most pairs will have laid an egg by the end of June, with hatchings emerging throughout July.
Speak to someone
who's been there

Start planning your tailor-made trip to Bird Island by contacting one of our Seychelles specialists
617-223-4310
Places & hotels on the map