By Audley specialist Jasmine
Edinburgh embodies Scotland's storied history, flinty spirit and whisky bonhomie. As a fan of architecture, I adore the city's gray Gothic buildings and time-darkened stones. I also love that it's compact enough to be walkable, but dense enough that you can happily stay several days here.
You can spend the morning rambling through the medieval tangle of Old Town's streets, eat lunch in the shadow of the castle at a Grassmarket café, hike up Arthur's Seat in the afternoon, rub elbows with the regulars of a local pub in the evening, and finish off your night with a dram of single malt in a well-stocked tasting room.
What to see and do on your first visit to Edinburgh: my recommendations
Edinburgh Castle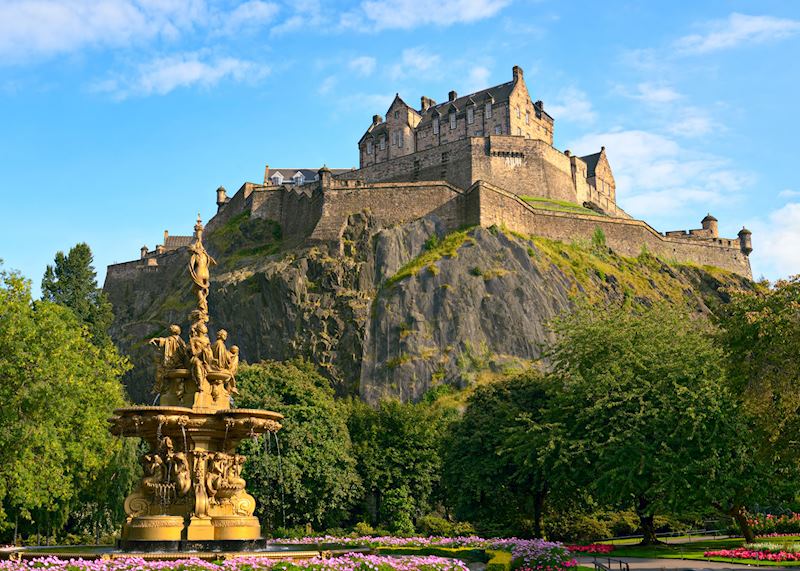 Perched high on a volcanic plug, Edinburgh Castle dominates the city both visually and historically. Smoke, wind, and weather have stained the stone walls an imposing dark gray and they seem to grow straight up from the sheer sides of Castle Rock.
Inside, you'll find the Crown Jewels of Scotland and various items from the country's history, including the Stone of Scone (often called the Stone of Destiny). This unassuming but highly symbolic block of red sandstone played a vital role in the coronation of first Scottish and then English monarchs. It was captured by Edward I in 1296 and spent most of the next seven centuries in Westminster Abbey before it was officially returned to Scotland in 1996.
Because it was used as a fortress until fairly recently, the castle retains much of its military mien, including barracks for an active (if largely ceremonial) garrison. Every August, it hosts the Royal Edinburgh Military Tattoo, a massed performance of the pipes and drums of Scottish regiments. The hallowed Scottish tradition is enormously popular and draws almost a quarter of a million spectators every year.
You can set your watch precisely to the One O'Clock Gun, a single shot fired from a Howitzer on the castle's north walls almost every day. If you decide to visit the castle, I suggest that you arrive early in the morning to avoid the crowds.
The Royal Mile and Old Town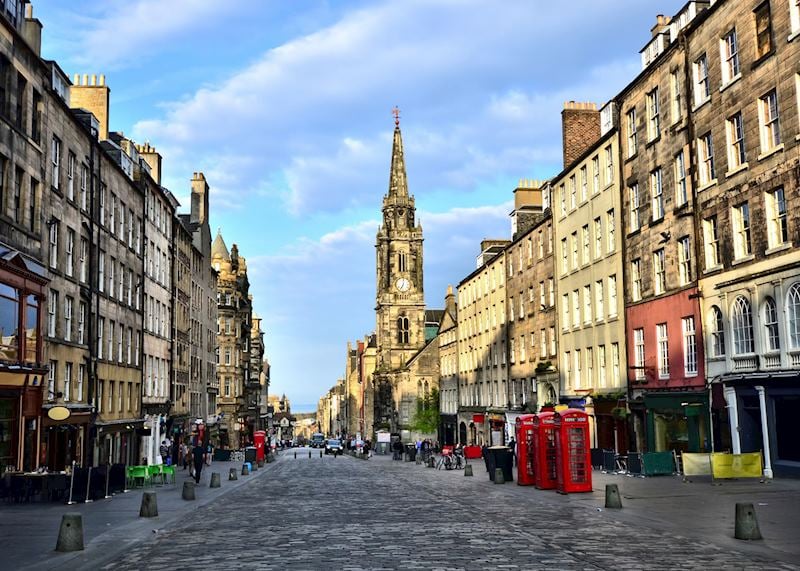 As the name suggests, Old Town is the oldest part of the city and it holds onto much of its medieval feel, unspooling down the sides of the volcanic slope that Edinburgh shaped itself around. The Royal Mile is the spine of Old Town, running from Edinburgh Castle to Holyrood Palace. Narrow streets and covered alleys — called closes or wynds — branch off from the main thoroughfare, often plunging downward quite dramatically.
The history of the city is written in the architecture and cobblestones of the area, and I strongly suggest you enlist a guide to help you understand the patchwork of tiny roads and mismatched buildings. There seem to be stories at every corner and a good guide can bring them all to vivid life. (Hauntings and ghost stories abound, in particular around Mary King's Close where plague victims were reputedly sectioned off.)
The main road, full of shops and cafés, has a fairly gentle incline, but the side streets and closes can be very narrow, uneven and steep, so I recommend wearing good walking shoes.
Holyrood Palace and Abbey

The Royal Mile ends at the Palace of Holyroodhouse, which is still the official residence of Queen Elizabeth II when she's in Scotland. Look for the standard flying to know if a royal is in residence before you plan to visit — the palace will be closed if it's displayed. (Her Majesty is always there during Holyrood Week, which is usually late June to early July.)
The palace, built in the 1670s with many later editions, is as elegant as the castle is imposing. Clearly built for beauty and comfort instead of defensibility, it has been called one of Britain's Best Buildings by historian Dan Cruickshank.
Inside, the state apartments provide a glimpse into the tastes of hundreds of years of kings and queens, featuring tapestries from continental workshops, paintings, and objets d'art.
If you leave the brightly lit luxury and head up a narrow spiral stair, you'll find historic apartments, where the ill-fated Mary, Queen of Scots lived during her short, tumultuous reign. You can visit Mary's chambers, where the queen's husband held her at gunpoint while he murdered her secretary, Daniel Rizzio. The barely visible bloodstains on the floor reminded me, viscerally, of the tragic human cost to these royal passions.
Outside, you can ramble through Holyrood Abbey (rood is an ancient word for cross). The roofless ruins make a melancholic setting for a stroll, with the stone traceries standing empty of their glass.
Holyrood Park and Arthur's Seat
Holyrood Park is a tidy pocket of Highland landscape, preserved in the heart of Edinburgh. The highest point in the park is Arthur's Seat, which Robert Louis Stevenson described as, 'a hill for magnitude, a mountain in virtue of its bold design.'
Just a mile from Edinburgh Castle, this bald peak rises 250 m (822 ft) above the city and is often cited by folklorists as a possible location for Camelot. There are a variety of paths to the top, some offering just a casual stroll and others requiring a challenging scramble.
On a clear day, rare though those may be, your climb to the summit is rewarded with sweeping views of the Royal Mile, from Edinburgh Castle to Holyrood Palace, as well as the Firth of Forth and the North Sea in the far distance.
Grassmarket and Greyfriars Kirk

Though it's now a lively spot full of artisanal shops, pubs, and restaurants, Grassmarket has a grim history. For hundreds of years, criminals were publicly executed here, under the looming presence of Edinburgh Castle.
Not far away is Greyfriars Kirk, a 16th-century stone church and kirkyard (cemetery). William Smellie, the creator of the Encyclopædia Britannica, is just one of the many notable Scots buried here.
J K Rowling is thought to have gleaned inspiration from the churchyard, and fans may identify some of the names on the headstones, including Tom Riddle. Just outside the main gate, you can visit a statue dedicated to the devoted little dog Greyfriars Bobby, who waited every day for his dead master at his grave in the kirkyard for more than a decade. The Skye terrier now is honored with his own grave nearby.
Princes Street

This popular shopping area combines high-end stores with an unobstructed view of the castle, the Old Town, and the valley between. You can also visit the Princes Street Gardens, a public park on the south side of the street. Its highlights include the world's first floral clock and the Scott Monument, which celebrates author Sir Walter Scott. Thought to be the world's largest monument to a writer, the overwrought Victorian confection is built out of pollution-stained Carrara marble and resembles a Gothic rocket ship.
The Scottish National Gallery is located just off Princes Street, set on the Mound in the gardens. The neoclassical building houses a collection that dates from the start of the Renaissance and includes notable paintings from both Scottish and international artists.
Works by the likes of Vincent van Gogh and Sandro Botticelli are enough of a lure to step inside the free-for-entry gallery, but Scotland's own wunderkind, Sir Henry Raeburn, provides some of the collection's finest exhibits. Largely self-taught, Raeburn concentrated on portraiture and his large canvases show off his bold, ahead-of-its-time style. Within the gallery's rooms you can see his brooding painting of Sir Walter Scott and, in a breakaway from his typical head and upper body portraits, his full-length picture Reverend Robert Walker Skating on Duddingston Loch.
How to get off the beaten path in Edinburgh
Dean Village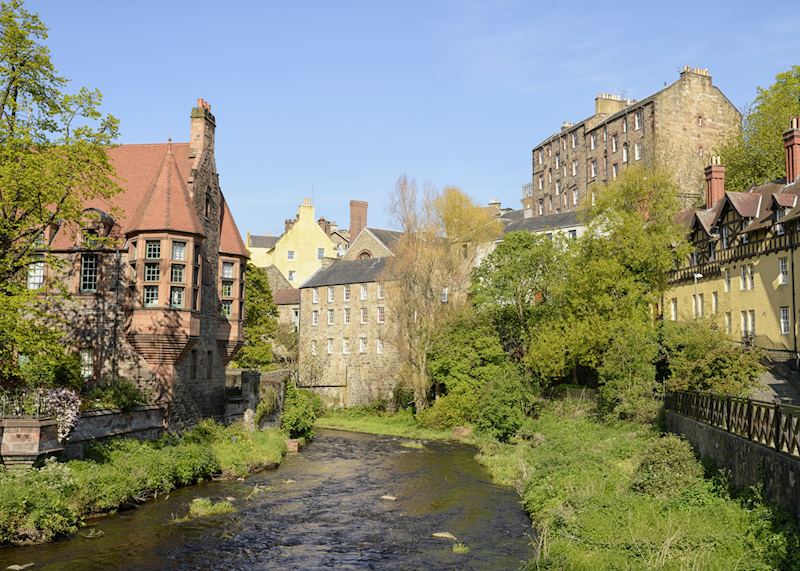 Though it's just a brief walk away from Princes Street, Dean Village is easy to overlook. This medieval hamlet, nestled in a valley and hidden by trees, was once a prosperous grain milling hub. Its original architecture, well-preserved thanks to economic vagaries, comprises a delightful patchwork of gray medieval stonework and half-timber Tudor houses lining irregular cobblestone streets and tucked away courtyards.
The Water of Leith Walkway runs through the heart of the village and I suggest a stroll along the riverside track as a respite from the urban bustle.
Royal Botanic Garden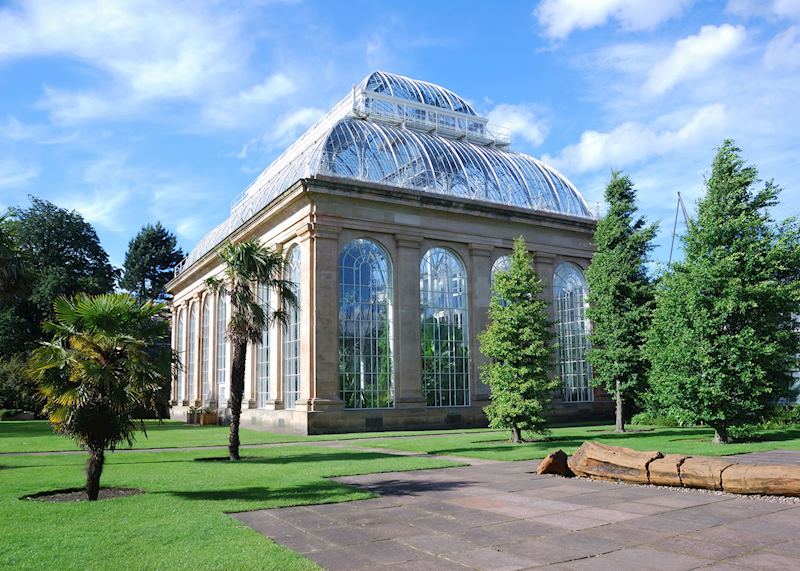 Whether you're an avid gardener or simply in need of a tranquil walk, the Botanic Garden is worth the short trip; this 300-year-old park is located just a mile from the heart of the city. Highlights include a Scottish heath garden, aquariums, a herbarium, and 28 large greenhouses (which are called glasshouses). Admission to the garden is free, but the glasshouses require a paid ticket.
Eat and drink like a local

Pubs are scattered throughout Edinburgh and if you drop in for a half-pint in the afternoon, it's likely you'll find yourself chatting with one of the garrulous locals. I enjoy visiting the Oxford Bar, an old-fashioned pub with wooden wainscoting and a fireplace. It appears as the preferred watering hole in Ian Rankin's Inspector Rebus detective novels and there's a good chance of sighting the author himself, who regularly frequents 'the Ox'.
I also suggest the Salt Horse, a fun little bar near the Royal Mile that offers an exceptional range of craft beers, such as the oak-aged beers of local brewer Innis & Gunn.
When you're in Scotland, you don't ask for Scotch but for whisky. Most of the restaurants have an excellent selection on hand, and you can experience a wide range of options by simply sampling their menus as after-dinner drinks. For a more immersive whisky experience, most hotels have a whisky bar and offer tastings. If, like me, you prefer peaty whisky, then I'd try Ardbeg, my preferred brand.
Thanks to its proximity to the cold waters of the North Sea, Edinburgh always has an abundance of exceptionally fresh seafood. The best meal I've eaten so far in the city included crab beignets (fried dumplings of delicately fluffed crab meat) at Fishers in the City on Thistle Street in New Town. You can also get oysters at The Mussel and Steak Bar in Grassmarket, and fish and chips at any of the city's many shops.
Robert Burns once called haggis the 'Great chieftain o the puddin'-race!' This national dish of Scotland is essentially an oaty sausage, but it isn't to everyone's taste. If you decide to try it, I'd point you to Whiski on the Royal Mile where you'll be able to sample a small portion served with the traditional accompaniments of neeps and tatties (turnips and potatoes).
When locals want a good curry, they head to Mother India's Cafe, which serves tapas-style dishes, allowing you to sample a wider range of the menu. It's often busy, so book a table ahead of time or go very early.
Where to stay in Edinburgh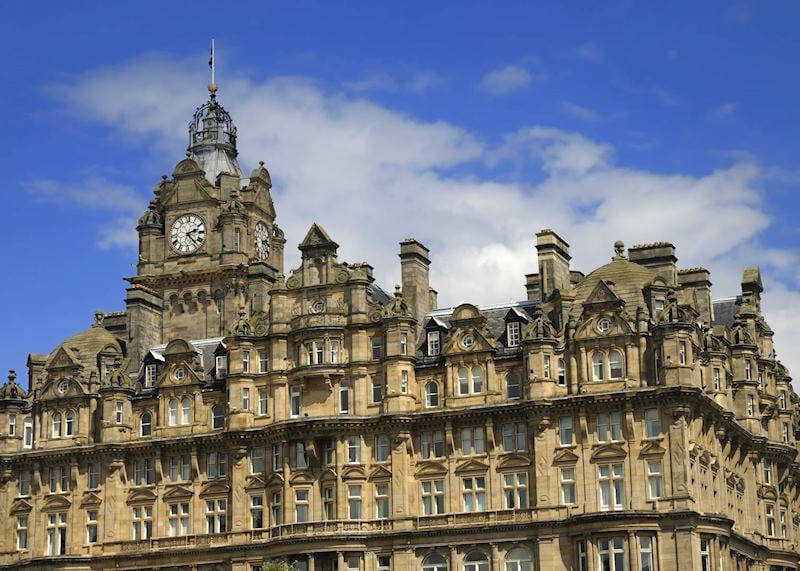 For traditional Victorian elegance, you can't do better than the Balmoral. Conveniently located on Princes Street, it offers a well-stocked whisky bar, afternoon tea, and sweeping views that include the Princes Street Gardens, the castle and Arthur's Seat.
If you'd like something with an equally central location but a more modern sensibility, the G&V Royal Mile Hotel is a good choice. Its rooms are all decorated with hand-drawn murals depicting the street scenes outside.
Best time to visit Edinburgh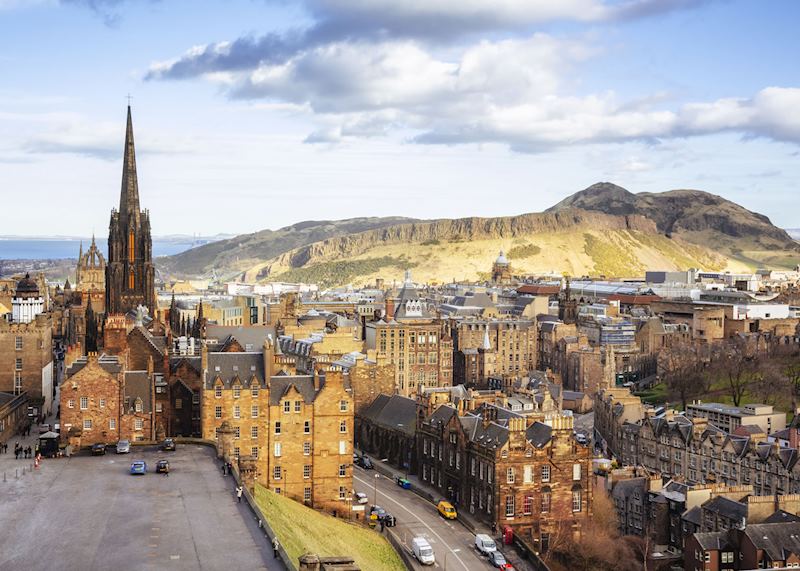 I suggest planning a trip between March and June or in September or October. These are probably the best times to enjoy the city's charms, despite the constant threat of yillen (one of Scotland's many and nuanced words for rain). Winter is bitterly cold, windy and wet, a particular problem on the cobbled streets and steep hills.
Summer months bring nice weather but are packed full of special events: Holyrood Week, the Tattoo, the Edinburgh Arts Festival and the associated Fringe Festival. Navigating the throngs can be tedious unless you're also there for the event.
Start planning your trip to Edinburgh

Start thinking about your experience. These itineraries are simply suggestions for how you could enjoy some of the same experiences as our specialists. They're just for inspiration, because your trip will be created around your particular tastes.
View All Tours in Scotland
Further reading