Route 66: it's America's epic drive, in more ways than one. With so much land to cover, it can take three weeks or more to complete. Our USA specialists Molly, Rob and Shannon share their ideas for condensed versions of the route you can undertake without committing to the entire road trip. Each mini-route focuses on an aspect of American culture, from American Indian heritage to standout architecture and 1950s Americana.
The best of Route 66 for… Americana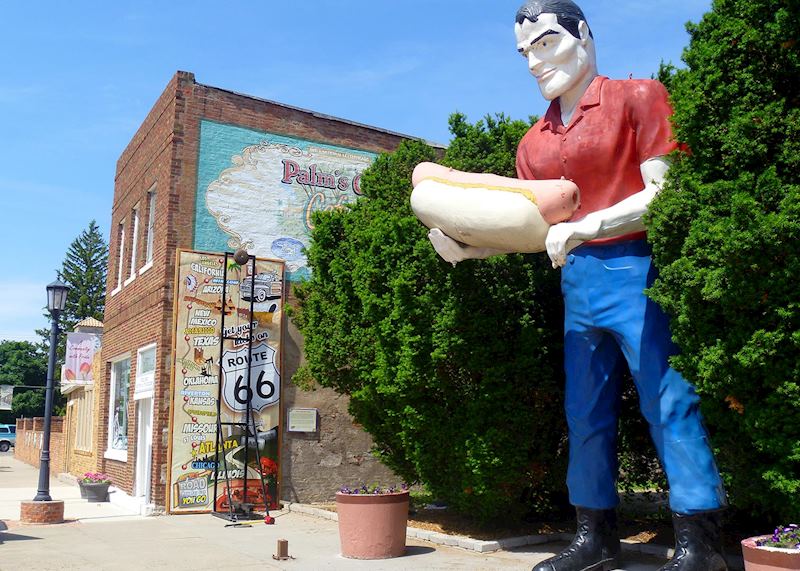 Section: Illinois, Missouri and Oklahoma
Time to complete: two weeks
By Molly
Route 66 reached its heyday in the mid-20th century, when the rise of automobiles opened up the country. It remains steeped in fifties and sixties nostalgia, and you'll find 1950s diners and old-fashioned drive-in movie theaters along this stretch of the drive, together with some giant novelty items.
Giant objects along Route 66
Towering dinosaurs, huge whales — it's hard to miss Route 66's brazen oversized objects. Now mostly used as novelty photo stops, they continue to add to the route's personality.
In Fanning, Missouri, you'll find the world's second-biggest rocking chair, while Illinois is home to the world's largest catsup (ketchup) bottle, stuck atop a water tower in Collinsville. There are also two of the 'Muffler Men' — huge fiberglass statues of square-jawed men that were erected across the country in the 1960s to promote everything from motels to diners.
At Wilmington's Launching Pad Drive-In, the Gemini Giant stands 8.5 m (28 ft) tall. Wearing an old-fashioned astronaut's helmet and clutching a space rocket, he's a reminder of America's Space Age. An hour and a half southwest in Atlanta, Illinois, his twin, the Bunyon Giant, holds a colossal hot dog.

Traditional American diners
Dating to the 1940s and 50s, classic American diners still feed and water people driving long distances across the country. Red plastic seats, neon lighting and black-and-white chessboard flooring are standard.
You've plenty of choice, but I like Chili Mac's Diner in St Louis, Missouri. The portions of cheese-sprinkled chili piled on top of spaghetti, nachos, fries, baked potatoes, burgers and hot dogs (among other things) are, let's just say, generous in size. Attentive staff regularly top up your coffee and greet many of the local customers by first name.
I've also visited Cozy Dog Drive In while in Springfield, Illinois. Its founder, Ed Waldmire Jr., claimed a first in developing and selling corn dogs (battered sausages on a stick) alongside his college friend Don Strand, and the current drive-in stands close to the original 1949 location. I couldn't help stopping to try one of the renowned fast-food delicacies, the crisp golden-brown outer layer preserving the moist, slightly sweet sausage inside.
Drive-in movies
The Admiral Twin Drive-In has been showing the latest movie releases since 1951 on its two large screens in Tulsa, Oklahoma. Up to 1,000 cars can pull up in the fields surrounding the screens on a first-come, first-served basis.
You tune into the film's sound via an FM radio. I recommend bringing your own portable radio rather than using your car's, to save draining the battery (the drive-in does offer jump-starts, but you might end up queuing).
Some moviegoers choose to stay in their vehicle and watch through their windscreen, others sit draped in blankets in the back of pick-up trucks.
The best of Route 66 for… American Indian culture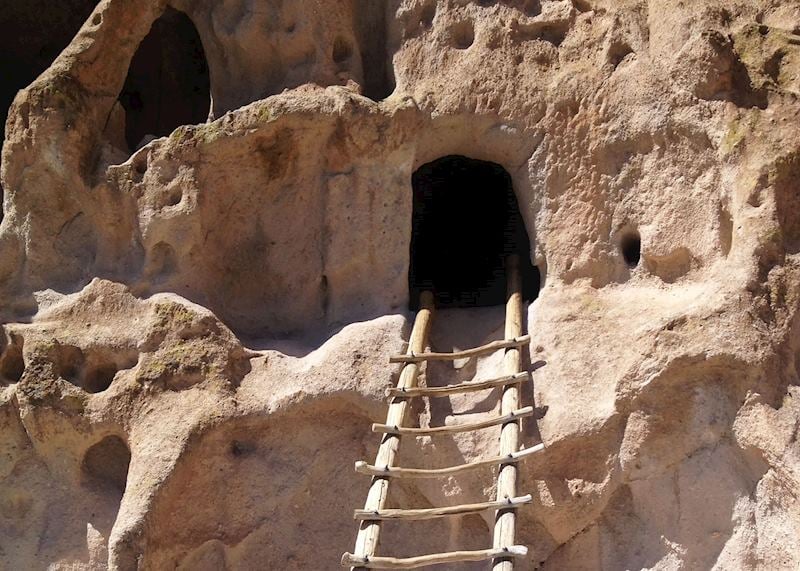 Section: New Mexico and Arizona
Time to complete: two weeks
By Rob
Before the Europeans arrived, American Indian tribes were scattered across much of North America. Each tribe was distinct in its language and traditions. While violence and suppression from the settlers and the US government took its toll on most tribes, those in the southwest — including the Navajo — held on to some of their territory. Along this stretch of Route 66, American Indian culture is still most tangible.
Santa Fe
Santa Fe is close to the Navajo's territory, as well as the Taos tribe's, and is known for its Pueblo Revival architecture, mimicking traditional adobe construction. In a low-rise city, buildings feature rounded corners and thick, stuccoed walls painted in earthy shades.
Throughout the city, galleries display traditional American Indian artwork and there are several museums where you can dig into the culture and history of the area's indigenous tribes.
Bandelier National Monument
From Santa Fe, it's around an hour's drive to Bandelier National Monument. This large protected area of canyons and mesas preserves the ruins of Ancestral Puebloan dwellings. Between the 12th and 16th centuries, the Ancestral Pueblo people slept, cooked and kept lookout from these cave-like homes carved into volcanic tuff cliffs.
The visitor center exhibits some of the excavations from the site, including tools, clothing and skeletons. Staff can tell you more about the cliff dwellings and provide maps of self-guided trails around the monument.
I suggest following the 2 km (1.2 mile) Main Loop Trail. You pass some of the archaeological highlights, including the Big Kiva (a former meeting place) and several petroglyphs. You can also climb wooden ladders to step inside some of the shallow cliff dwellings.

Taos
From Santa Fe, take the High Road to Taos along a scenic byway that winds through high desert, forests and the Sangre de Cristo Mountains over an hour and a half. You can stop in small towns to visit artisan studios selling American Indian rugs, woodcarvings and artwork.
In the town itself, we can arrange for a Navajo guide to show you around Taos Pueblo. A UNESCO World Heritage Site, the pueblo is one of the oldest continuously inhabited communities in the country. Some of the multi-level adobe buildings date back as far as the 11th century, and survive little changed.
My guide showed me the local church and village meeting points, while delving into the pueblo's history and culture. Inside, the adobe buildings were much cooler than the sun-baked outdoors, thanks to the thermal efficiency of the centuries-old building techniques.
Flagstaff
Over the border in Arizona, basing yourself in the city of Flagstaff, you can tour nearby Walnut Canyon to see where the Sinagua people once lived. Following a mile-long loop trail, you arrive at 25 cliff dwellings that are similar to those in Bandelier, but there are fewer visitors.
Around an hour east of Flagstaff is Homolovi State Park, home to a network of sites related to the Hopi people, mostly dating back to the 13th and 14th centuries. Excavations have uncovered a multitude of items once used by the tribe, including tools and pottery you can now see in the park's visitor center and museum.
From Sedona, 45 minutes south of Flagstaff, you can join a three-hour 4x4 tour to the Honanki Heritage Site in the nearby Coconino National Forest. Here, in addition to 700-year-old Sinagua cliff dwellings, your driver-guide will show you petroglyphs and pictographs carved into the rocks. Depicting people, animals and spiritual beliefs, they give an insight into the traditions, rituals and lifestyle of the Sinagua people.
The best of Route 66 for… architecture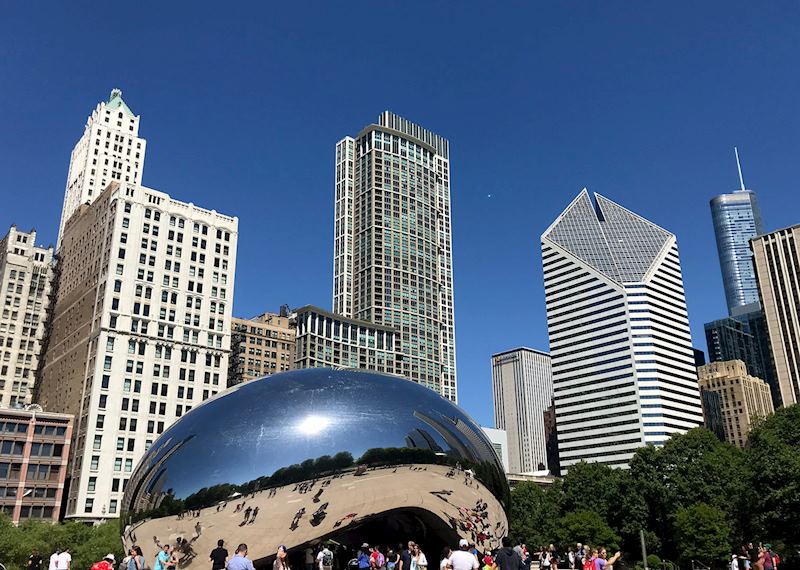 Section: Chicago to St Louis
Time to complete: ten days
By Shannon
The towns and cities along Route 66 showcase a variety of different architectural styles, but if you're short on time I'd suggest focusing on the stretch between Chicago and St Louis. In just a few days you could take in the towering skyscrapers of Chicago, the historic red-brick buildings and grandiose landmarks of Springfield, IL, and St Louis' emblematic Gateway Arch.
Chicago
A Mecca for architects, Chicago is the birthplace of the skyscraper, with a long history of innovation and creativity when it comes to building design. The skyline is constantly evolving, and architects dream of leaving their mark on it.
As well as embarking on an architecture cruise along the Chicago River (which you can read about in our Driving Route 66 guide), you can admire the city's buildings from the 360 Chicago observatory. At a vantage 300 m (1,000 ft) above the Magnificent Mile, you can gaze over many of the city's finest skyscrapers, including Tribune Tower, the Chicago Water Tower and the Wrigley Building, with Lake Michigan beyond. You could also brave TILT — a moving platform that angles you to look directly down to the streets far below.
While Chicago's buildings are striking from the outside, I was often just as impressed with their interiors. Macy's department store features large archways and ceiling murals, and the 19th-century Cultural Center boasts the world's largest Tiffany glass dome and mosaicked walls. The latter offers free walking tours on some days.
Springfield, Illinois
In complete contrast to Chicago, Springfield is a city of red-brick buildings and historical structures. After touring the Greek-Revival Old State Capitol with its colonnaded dome, you can compare it to the current Illinois State Capitol, whose design was influenced by French Renaissance and Italianate styles.
You can also visit a house designed by Frank Lloyd Wright for heiress Susan Lawrence Dana. It showcases his Prairie Style, which uses horizontal lines and overhanging eaves, and focuses on blending the inside of a building with its surroundings. Constructed between 1902 and 1904, the structure looks completely at odds with the rest of the city.
You can explore this one-time residential home with a guide. I was struck by the different height levels and how they differentiated between the rooms, rather than doors. The many windows constantly drew my eye to the outdoors, and the current owner's love of Japan is evident in the torii gate that leads to the house's two largest rooms.
St Louis' Gateway Arch
A shimmering stainless-steel rainbow, St Louis' Gateway Arch is the tallest monument in the Western Hemisphere. It's also the tallest arch in the world, rising 192 m (630 ft) from the banks of the Mississippi at the site of the city's founding.
Completed in 1965, the arch was designed by Finnish-American architect Eero Saarinen. Dedicated to all Americans as a testament to the USA's westward expansion, it has earned St Louis the nickname 'gateway to the west'.
It's impressive just to look upon the huge silver structure. But, you can also ride pod-like trams to the top, where an observation deck gives you views over downtown St Louis and the Mississippi.
Read more about self-drive trips along Route 66

Start thinking about your experience. These itineraries are simply suggestions for how you could enjoy some of the same experiences as our specialists. They're just for inspiration, because your trip will be created around your particular tastes.
View All Tours in The US