By USA specialist Natalie
The music of the Deep South is used in celebration and in grief, for storytelling and worship, and to unite everyone from close family to complete strangers. Living there, I found a strong emphasis on participation and collaboration. Everyone's eager to share their music, traditions and way of life, and to involve you in their culture. It's how music here was born, and how it continues to evolve.
Jazz, blues, country or soul: you can experience something new on each day of your Deep South trip that will deepen your appreciation for the region's musical heritage.
See our itinerary idea for a Deep South trip
Traditional jazz in New Orleans
Music is just a part of life in New Orleans. You walk to the sound of saxophonists busking on street corners. Live jazz streams from the open doors of bars lining Bourbon Street and Frenchmen Street. And, in the French Quarter, you might find yourself clapping along to a second line — a traditional brass-band parade that celebrates weddings, funerals and everything in-between.
New Orleans is easy to explore on foot. Wherever you go, locals are happy to share their recommendations for the best food, drink and music establishments. In my experience, they'll also encourage you to get involved in whatever's going on.
Music experiences in New Orleans
The jazz bars of Frenchmen Street and Bourbon Street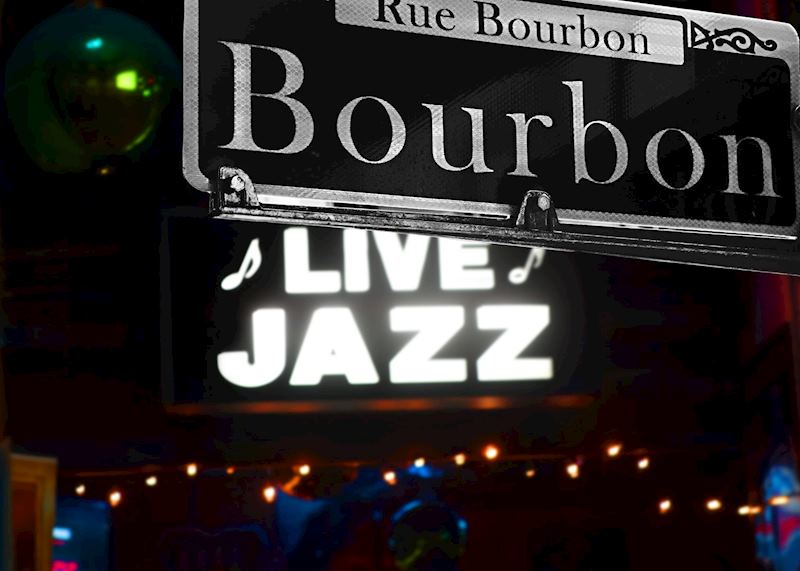 New Orleans' best-known nightlife spot is Bourbon Street in the heart of the French Quarter. It dates back to the 18th century, and was where jazz first developed. The street has become more of a visitor attraction than a local haunt. It can become rowdy at night, and I'd say it has lost its authenticity.
Frenchmen Street is a good low-key alternative. There are still lots of traditional jazz bars you can dip in and out of here. I like the very intimate Three Muses bar, which also serves excellent food. Snug Harbor hosts two live jazz performances every evening to suit both early birds and night owls. And there's The Maison, one of the larger venues with different bands playing each night across three stages.
Jazz cruise on the Mississippi River

It might not only be coincidence that the musical cities of New Orleans, Memphis and Nashville are all set on major rivers.
I recommend spending an evening cruising along the Mississippi aboard the Steamboat Natchez. During the 19th century, steam-powered vessels like this helped open up Louisiana to the rest of the world, generating wealth in New Orleans.
The two-hour cruise is more about the atmosphere than the views, though it did give me a different perspective over the illuminated city skyline. Live music from the bygone era is performed on board by the Dukes of Dixieland jazz band, and an on-board commentary tells you about some of the landmarks you pass and the history of New Orleans' busy port. You can also visit the engine room to see the workings of a traditional steamboat.
Traditional jazz performances at Preservation Hall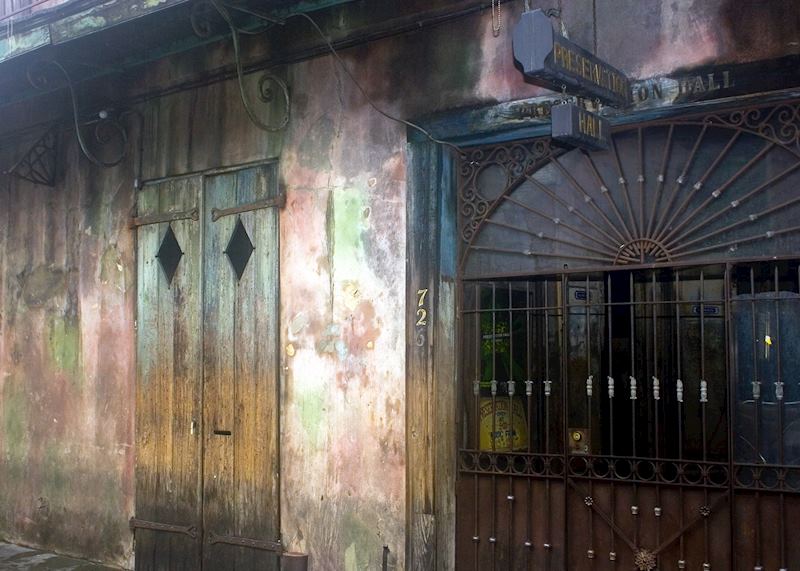 From the outside, Preservation Hall resembles a dilapidated, long-abandoned building. A rusted iron balcony runs around bare brown walls, and its large windows have battered wooden frames. The entrance is barred during the day; the simple sign hanging above it is easy to miss.
Every evening, though, the place comes to life with the pure sound of traditional New Orleans jazz. Performances have resounded within the building's shabby-chic walls since it opened in 1961 in an attempt to revive jazz's popularity. The venue has since grown so popular that it holds several shows each night. It even has a touring band, who perform around the world.
With space for only 100 or so audience members, the acoustic shows have an intimacy that I've found hard to beat in other major venues. You sit almost within touching distance of the band, and the sounds they create reverberate around the room.
What I like most about the performances is how they're at the whim of the audience. Requests from the floor dictate much of the hour-long show, so it's different every time you go.
Jazz Brunches
You can combine New Orleans' two great loves — music and food — over a 'Jazz Brunch' at the Court of Two Sisters, a Creole restaurant in a 19th-century French Quarter building. As you sit in the leafy courtyard, a jazz trio performs songs, inviting you to sing along while you dine.
It's a casual, light-hearted way to experience traditional jazz, and the food is excellent — I was overwhelmed by the menu. Order any style of eggs, sausages, bacon, hash browns, grits and grillades. Or, if you're visiting in the afternoon, choose Creole jambalaya, chicken and andouille gumbo, or barbecue pork ribs.
Country music in Nashville
Often referred to as 'music city', Nashville is synonymous with country music. Tennessee's capital, it's large, lively and continuing to open up to visitors. Streets are lined with honky-tonk bars where artists thrash out country classics. Museums tell you about the city's musical roots and the success stories of its biggest stars, from Johnny Cash to Willie Nelson. And, you can visit heritage bars, clubs and performance halls that continue to launch rising local talent.
I recommend spending three nights here, which gives you time to see everything at a leisurely pace. Despite its size, Nashville is easy to navigate using the excellent free bus system that circulates the downtown. You can purchase a Music Attraction Pass to gain entry to many of the city's museums.
Music experiences in Nashville
Grand Ole Opry House VIP tour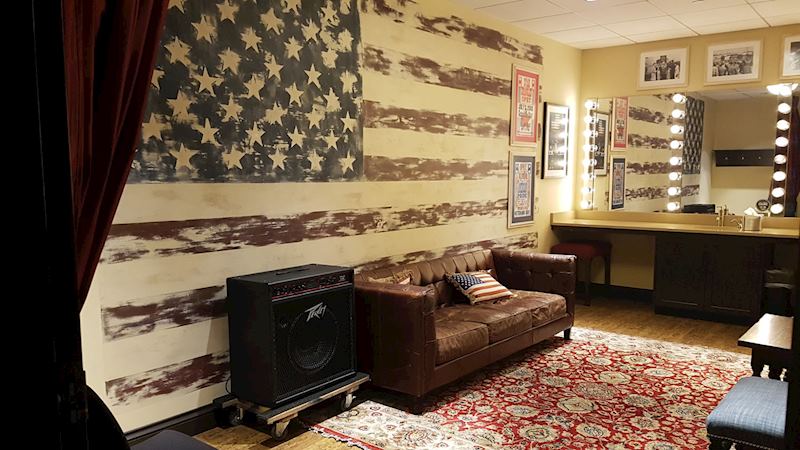 A Nashville institution, the Grand Ole Opry House is probably the region's best-known music venue. The radio show of the same name has broadcast live country music since 1925, cementing the careers of country singers such as Patsy Cline, Carrie Underwood and Hank Williams.
You can watch one of the live broadcast shows, which take place on Tuesday, Friday and Saturday nights. It's not just for dedicated country fans either. I knew very little about country music, but I still had a great time. The atmosphere is a big part of the experience — everyone is so excited to be there, some having driven long distances just to attend. Amusingly, the announcer on stage would regularly pause proceedings to read out commercials — a reminder we were on air.
If you're interested in what happens behind the scenes at a live music venue, I'd join the 'Behind the Opry Curtain' VIP tour. Before the performance, you're led backstage in a small group by a guide who'll talk about the show's background. Signed posters of country stars adorn the walls, and you're shown some of the individually themed dressing rooms. You'll see a set where the Nashville TV series is filmed, as well as a post office where you can leave fan mail for country stars to pick up when they're next in town.
The most exciting part for me was standing in the wings of the stage during that evening's first performance, experiencing it through the eyes of the singer. You're then escorted to your seat for the rest of the show.
Honky-tonk bars of Lower Broadway

The Broadway Historic District has attracted people to its bars and restaurants for decades. While it's unknown where the term 'honky-tonk' originated, it has become linked to the bars and clubs that line Lower Broadway — nicknamed 'Honky Tonk Highway' — and their nightly live music.
There are no cover charges in these bars, so you're free to come and go. Some of country music's biggest names began their careers in the honky-tonks here, including Gretchen Wilson, Kris Kristofferson and Willie Nelson. The artist you're listening to might well become the next big thing.
One of the most popular honky-tonks is Tootsie's Orchid Lounge. The purple building catches your eye as you walk down the street, and it contains three floors of live music. I also like Nudie's Honky Tonk, which is filled with memorabilia, including outfits worn by Johnny Cash and Hank Williams.
Music museums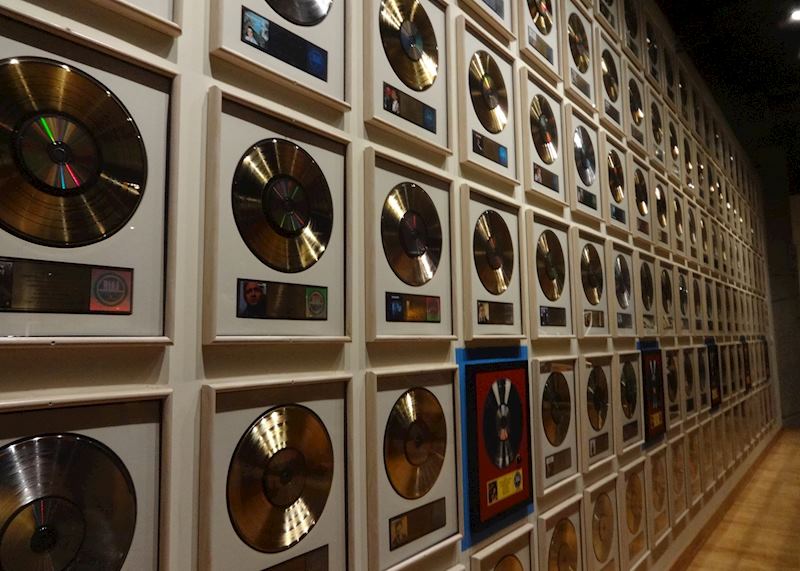 There are various museums dedicated to Nashville's musical heritage. The largest is the Country Music Hall of Fame and Museum, where you could potentially spend hours exploring the history of the genre and the lives of the biggest country music stars. A visit here also includes entry to Historic RCA Studio B, where many of the artists recorded their songs.
If you're a Johnny Cash devotee, there's a museum dedicated to his life and work. Here you can see personal items and memorabilia, from instruments and letters to costumes and awards.
I enjoyed visiting the Musicians Hall of Fame and Museum most, as it celebrates the US music industry as a whole. It's also very interactive: you can have a go at playing electric drums, keyboard and guitar, or record yourself singing along to The Supremes.
Blues, soul and rock 'n' roll in Memphis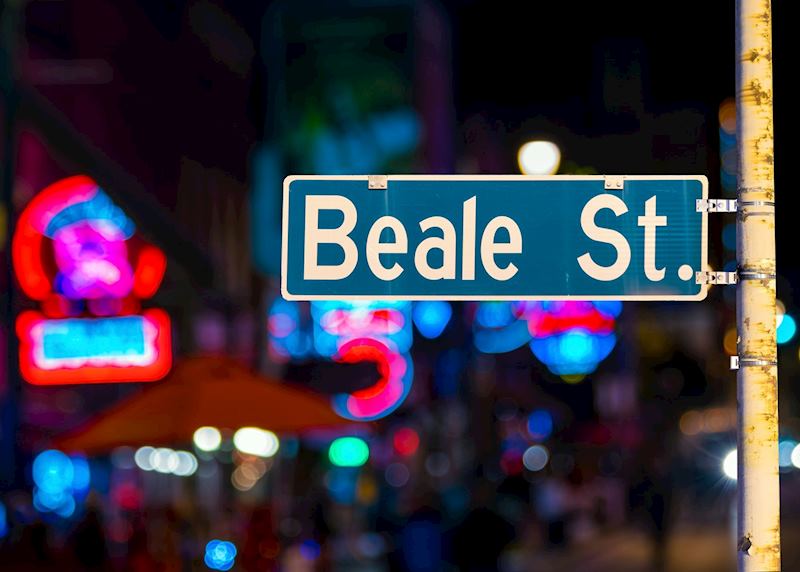 Memphis has more to offer beyond Elvis and Graceland. Spread along the east bank of the Mississippi, it has a more laid-back feel than the other cities. I find it a good place to visit before or after livelier Nashville.
In the early 20th century, Beale Street's bars and clubs sparked a new music genre: the Memphis blues. You can still wander down this fabled street and dip in and out of blues clubs, where music acts have performed for decades.
Memphis soul music also came into existence here thanks to Stax Records. The recording studio, now a museum, was behind soul singers such as Otis Redding, Johnnie Taylor, Luther Ingram and Sam & Dave.
I recommend getting a Music Attraction Discount Pass (like Nashville's), which covers your entry to most of Memphis's attractions. A free shuttle bus runs between Sun Studio, Beale Street, the Memphis Rock 'n' Soul Museum and Graceland (which is about 20 minutes outside downtown Memphis).
Music experiences in Memphis
Sun Studio guided tour
Opened in 1950, this unassuming recording studio is known as the birthplace of rock 'n' roll. It was here Elvis Presley recorded his first songs, and over the years many other famous names have followed, from Johnny Cash to Roy Orbison.
You can join one of the studio's hour-long tours, which run regularly throughout the day, to learn more about its legacy. I was surprised by how small the studio was, given its huge significance in the music world.
The enthusiasm of my guide, Layla, was infectious as we looked around the small museum. I soon found myself drawn into the world of rock 'n' roll, imagining the buzz that must have surrounded this building during its 1950s-60s heyday.
As you track the rising success of the studio and its stars, you can listen to snippets of songs recorded here, look at period photographs and see the original instruments used during recordings.
Graceland VIP tour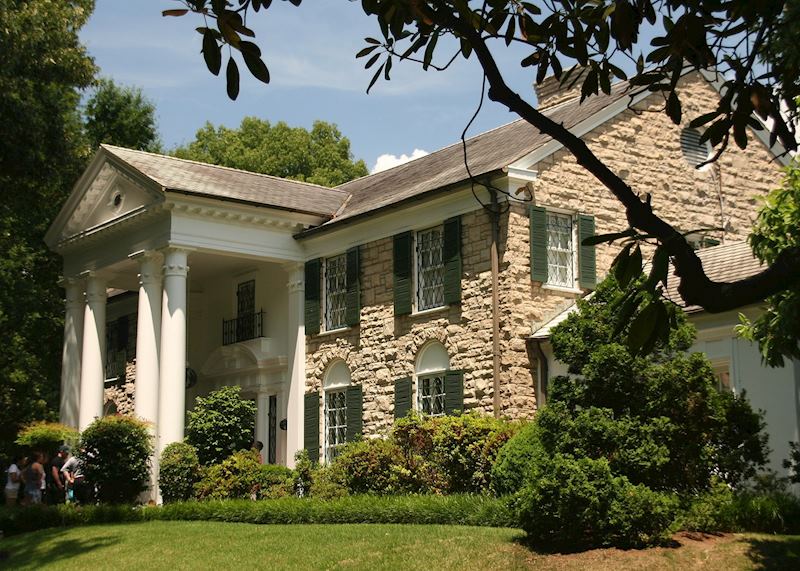 Graceland has been preserved inside and out to look as it did when Elvis lived there. The interiors reflect the height of 1970s fashion, with shag-pile rugs, stained-glass doors and bold reds, yellows and blues contrasting with white upholstery.
Different tours grant you varying levels of access. I recommend the Elvis Entourage VIP Tour, which admits you to the mansion and additional exhibits exclusive to VIP ticket holders.
An iPad audio tour tells you about the house and Elvis's life as you wander the rooms. Among them are his lounge and dining room, his billiard room and an animal ornamented jungle-themed room.
After the mansion, you can look around the manicured grounds, where Elvis and some of his family are buried. Many fans make a pilgrimage to his tomb, particularly during Elvis Week, which takes place here every August.
You then tour the 'Elvis Presley's Memphis' studio complex. The buildings hold some of Elvis's finest possessions, including his vast automobile collection and his airplanes.
Exhibits trace almost every facet of Elvis's life, from his early years and his road to fame, to the height of his celebrity and his key performances. You can see hundreds of personal items, from the many outfits he wore, to letters he wrote during his brief spell in the military.
I admit that I was no Elvis fan when I arrived. But, by the time I left (some four hours later) I'd gained a new appreciation for the man and his legacy.
Beale Street's blues clubs

Ever since the roaring 1920s, Beale Street has entertained the masses with its bars, clubs and Memphis barbecue restaurants. It was here the Memphis blues music genre first evolved thanks to the likes of Louis Armstrong, B.B. King and Muddy Waters, who performed in the street's bars between the 1920s and 1940s.
Today, as you walk down the strip, the bright lights and neon signs haven't faded. Live music plays in its clubs and bars every evening. For me, the joy of Beale Street is picking and choosing which venues to sample based on the music playing or the atmosphere they exude. Perhaps the best-known is the original B.B. King's Blues Club, opened by the music legend himself.
Extend your musical journey to Austin, Texas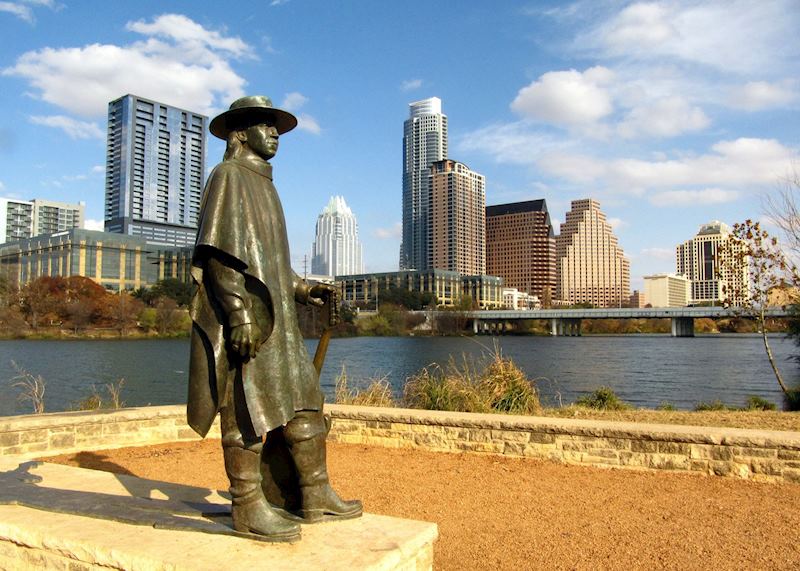 A short flight from New Orleans, Nashville or Memphis gets you to Austin, the 'live music capital of the world'. Like the Deep South cities, music is ingrained into everyday life here. There are more than 100 live music venues in the city, from intimate bars to lively clubs. Head out to breakfast or lunch and any café, bar or restaurant will have someone performing live music, whether it's a school choir, a casual guitarist or a professional jazz band.
But I find Austin also has a younger, more bohemian feel; the city's slogan is 'keep Austin weird', and as you walk around you'll notice that people march to the beat of their own drum. There's no conformity here, only individualism, creativity and innovation. It's the opposite of old fashioned.
Where to experience live music
Most bars are concentrated down 6th Street — on any given day, you can stroll down there and hear music ranging from country and western to hip-hop, R&B and jazz. There are more casual venues that allow you to quietly blend into the background, while others encourage audience participation. In many, you can couple live music with Texas barbecue.
Commerce Street is another music hub. Intimate bars are tucked between eclectic shops and cafés, food trucks serve sizzling street food, and open mic sessions are held all day.
In the east of the city, I particularly like The White Horse. In this animated honky-tonk you can listen to live music and try some of the free dance lessons on offer, from Texas two-step to Cajun and swing dancing.
Trip ideas: the Deep South

Start thinking about your experience. These itineraries are simply suggestions for how you could enjoy some of the same experiences as our specialists. They're just for inspiration, because your trip will be created around your particular tastes.
View All Tours in The Deep South