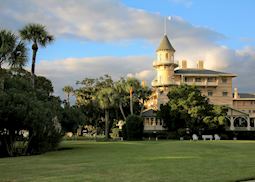 Deep South
Standing on undisturbed Jekyll Island, this historic resort feels refined and exclusive.
Access to the Jekyll Ocean Club offers guests beach chairs, umbrellas and refreshments.
The island boasts 63 holes of golf and many more outdoor activities.
Dine at the Wharf restaurant, enjoying delicious Southern dishes while watching the sunset.