By Zimbabwe specialist Tony
Zimbabwe is on the up. After years of political unrest, investment is now flowing into the country's tourism industry. Many camps and lodges have undergone refurbishment, and service levels have always been exceptional. Your money goes further here than in other high-end safari destinations, so it's easier to add a touch of luxury to your Zimbabwe safari.
Growing up in Zimbabwe, I've had my fair share of animal encounters. But, walking in the literal footsteps of two male lion was something else. For me, this is the best way to experience Zimbabwe — out in the wilderness with a guide who has years of experience under his belt, listening, looking and absorbing as much as you can. You can visit some or all of the areas I discuss below on a classic Zimbabwe safari. It's also possible to cross off two countries on one trip by combining Zimbabwe's Mana Pools region with South Luangwa National Park in Zambia.
Why Zimbabwe for a luxury safari?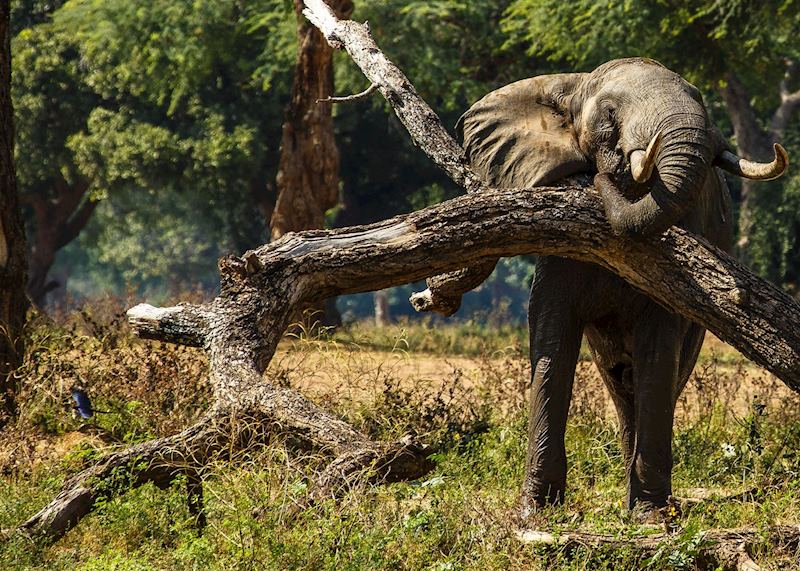 Zimbabwe's guides are the most highly trained in Africa, and it's the place guides come to from across the continent to earn their guiding diploma.
Even after qualifying, guides must undergo years of experience-building in a mix of habitats to gather a well-rounded knowledge of the country's flora and fauna. It means whatever safari activity you do, you'll see the bush through the eyes of an expert.
The camps and lodges are another draw. You'll find pools set beside busy waterholes, lodges with their own spas, canvas rooms with private decks facing the plains, and restaurant-quality dinners under the stars.
Game drives and poolside wildlife viewing at Somalisa Camp, Hwange National Park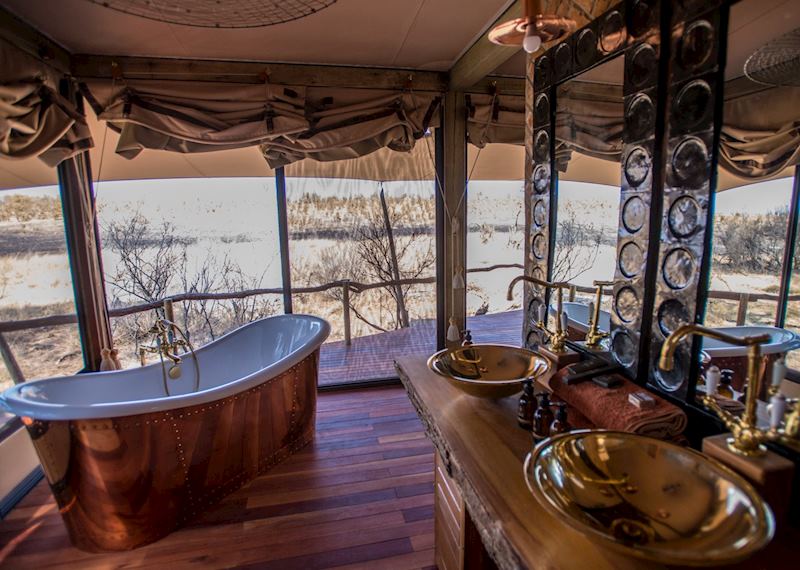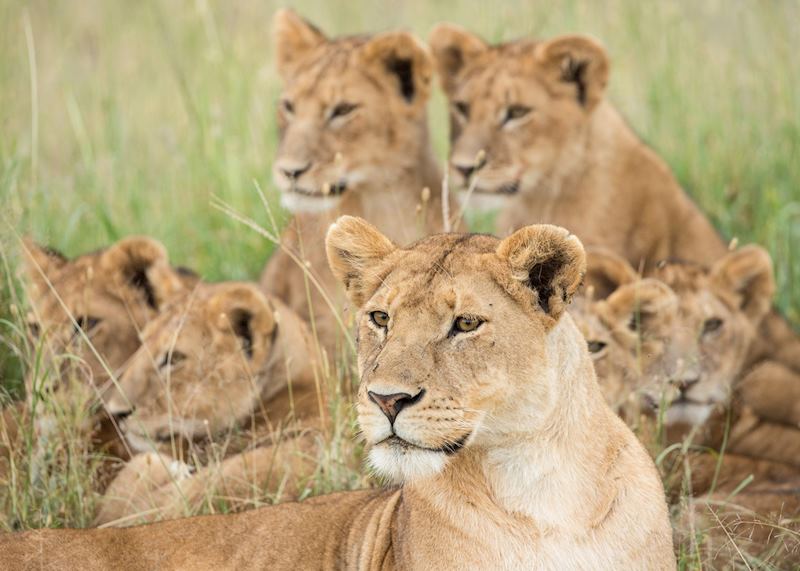 Somalisa Camp excels at combining luxury with a classic early-expedition style (think clawfoot copper bathtubs, canvas tents with wood-burning stoves, and faded wooden furniture). It's set on an acacia-littered island at the edge of a seasonal floodplain in Hwange National Park — an area known for its lion and elephant.
The best part of a stay, in my eyes, is taking time to soak in the pool. A second, smaller pool close by acts as a tavern for elephant. You can watch them come to drink as you cool off during the hottest part of the day.
There are seven guest tents, spaced out for privacy, so your stay feels very personal. Meals are shared around a big table facing the plains, and you might eat Moroccan-style chicken and cous cous one night and fish with roasted vegetables the next.
You can take both game drives and walking safaris from the camp — guides will lead you on two activities each day. You're likely to see lion, elephant, cheetah, leopard and various antelope species, with a chance of seeing wild dog.
I tracked a female leopard — she walked beside our vehicle for about three hours calling for her cubs, which she seemed to have misplaced while out hunting. I could sense her urgency and started to worry with her, but we saw them reunited just as the sun was beginning to set.
Boat safaris from Bumi Hills Safari Lodge, Lake Kariba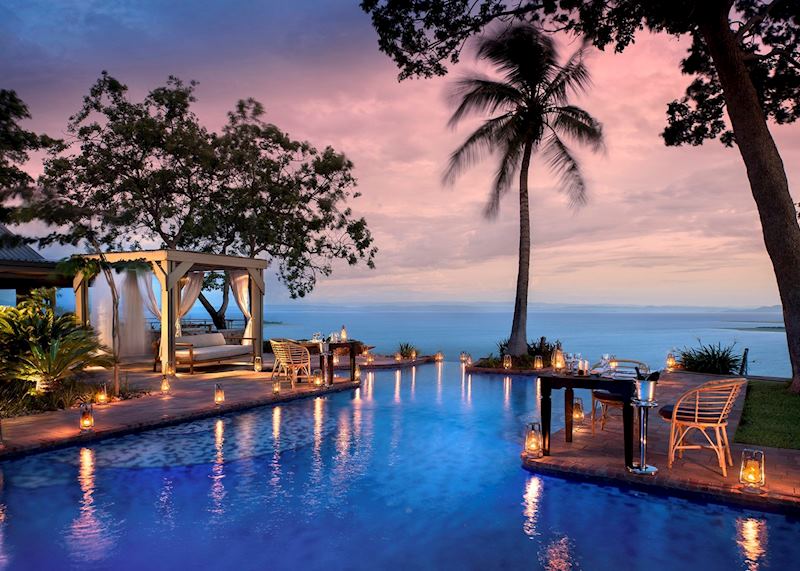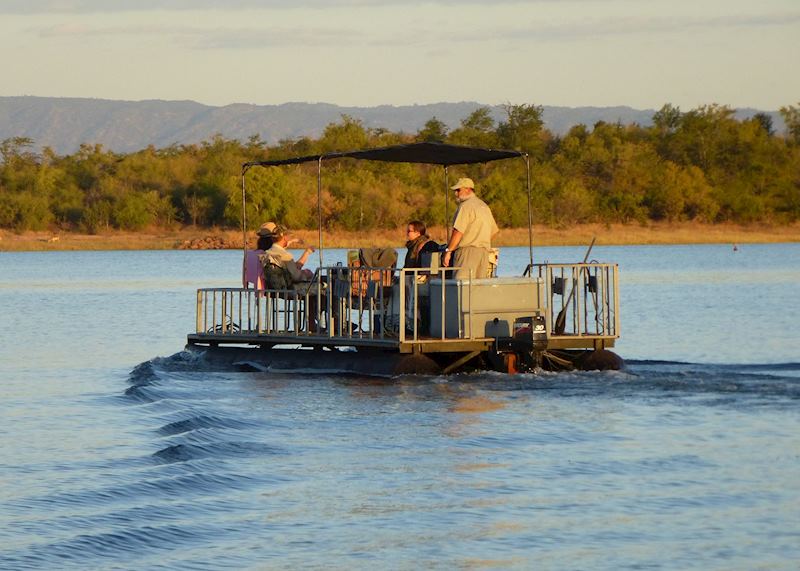 Built on a ridge with the Zambezi Escarpment rising behind, Bumi Hills Safari Lodge gives you views over most of Lake Kariba. As if this doesn't create enough of an entrance, you're treated to a 30-minute massage in the lodge's spa when you arrive.
More hotel-like than traditional safari camps, Bumi Hills still has muted, earthy tones that remind you of your location in the bush. The ten rooms are spread along the ridge and have air conditioning (a rarity in Zimbabwe) as well as large en suite bathrooms. A separate two-bedroom villa caters for families or groups of friends.
The lodge's proximity to both the lake and Matusadona National Park means your days are varied. What I like most is that you have a private guide for each activity. It's up to you if you keep the same guide or mix and match depending on which guide's expertise best suits the activity you're doing.
I went fishing with a guide known for his skills in reeling in the lake's tigerfish and bream — you can try catching them for yourself and, while tigerfish are released, you can have your bream cooked and served for dinner that evening.
I also recommend taking to the water for boat safaris. They get you close to hippo, crocodiles, birdlife including fish eagles, bee-eaters and lilac-breasted rollers, and herds of zebra and impala drinking on the banks.
Walking and canoeing safaris from Nyamatusi Camp, Mana Pools National Park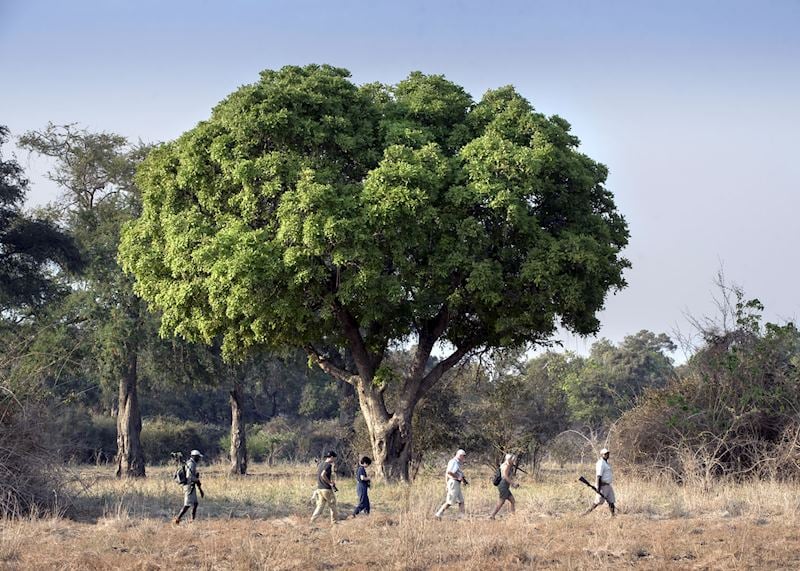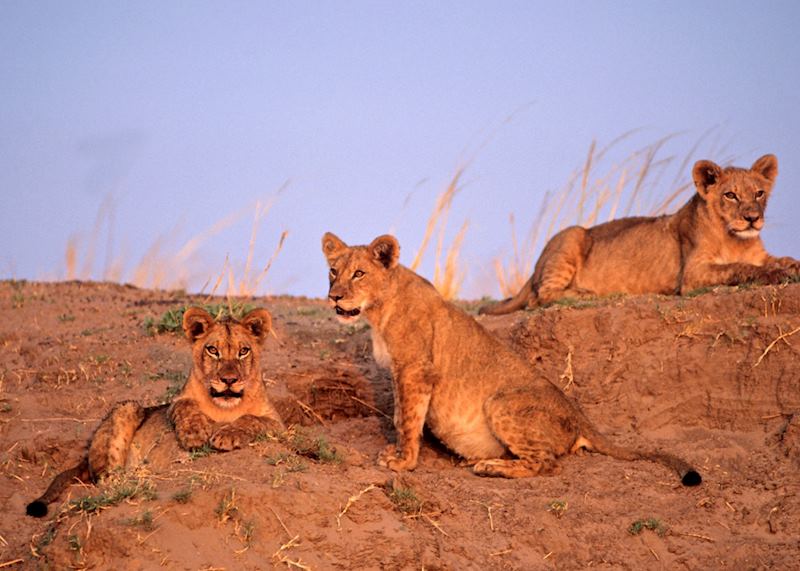 Mana Pools is one of Zimbabwe's wildest areas, and it's where I most enjoy spending time in the country. It's a place where humans are a second thought, with large swathes given over to the Pridelands, where lion rule.
In other areas, wild dog roam the park's plains — it was here David Attenborough's Dynasties documentary captured footage of Blacktip and her pack. I'd encountered her on a previous visit, when I watched her pack maneuver around some grazing impala and use their finely tuned hunting techniques to their advantage.
Just six guest tents make up Nyamatusi Camp, on the eastern side of Mana Pools. Each has a separate living area, an en suite bathroom and a private plunge pool on the deck, where you can lounge in the shade while looking out across the floodplain.
Game drives are offered, but I'd encourage you to make the most of the untouched surroundings by heading out on foot. Away from engine noise, you can hear everything — alarm calls, birdsong, the rustle of trees and plants in the breeze.
My guide brought it all to life, explaining how termite mounds are created and how you can use them to determine which direction you're facing (termites prefer shade, so always orientate their mounds north-south). We passed roan and sable antelope, wildebeest and zebra, and came across dusty tracks left by elephant making their way to the banks of the Zambezi.
You can also explore by canoe, paddling along the river with a guide who'll identify the different birds you pass and get you within a safe distance of hippo and crocodiles.
Start or end your luxury safari with a visit to Victoria Falls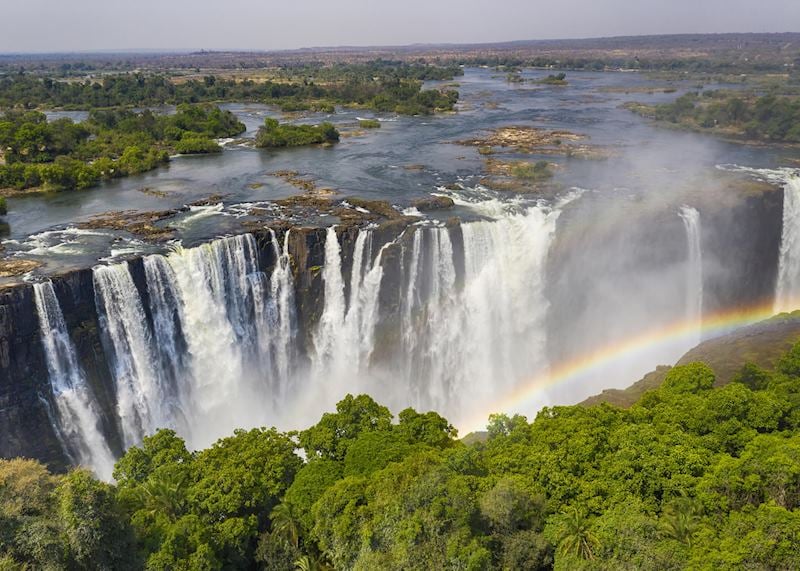 Whether a rest stop after your flight or a place to relax following your safari, Victoria Falls adds another dimension to your trip. The falls themselves need little introduction — you're there to get a sense of their power, hear the water's thunderous descent into the canyon and feel the spray as it rises like mist from the impact.
You can see the falls from above on a 12- or 30-minute helicopter flight, looking for rainbow streaks where the sunlight hits the water.
I also suggest visiting on foot with a private guide. They'll take you to the best spots while telling you more about the history of the falls, including their discovery by David Livingstone (the first European recorded to set foot here).
Afterwards, your guide can take you behind the scenes of the artisan market in Victoria Falls town. You have the chance to meet sculptors, wood carvers, jewelers and textile makers and talk to them about their craft, watching them create one-off pieces to sell at their stall.
Another way to explore is by joining a 'pot and paddle' tour. First, a chef guides you in creating a traditional African stew of beef, lamb or fish with vegetables, herbs and spices. This is slow-cooked in a potjie (a three-legged cast-iron cooking pot), which is placed in the embers of a fire for about three hours.
While the stew simmers, you head out on a game drive through Zambezi National Park — look out for elephant, buffalo, giraffe, zebra and antelope. Then, you paddle along the river back to your start point, stopping for a sundowner en route, before sitting down to a three-course dinner starring your potjie.
Where to stay at Victoria Falls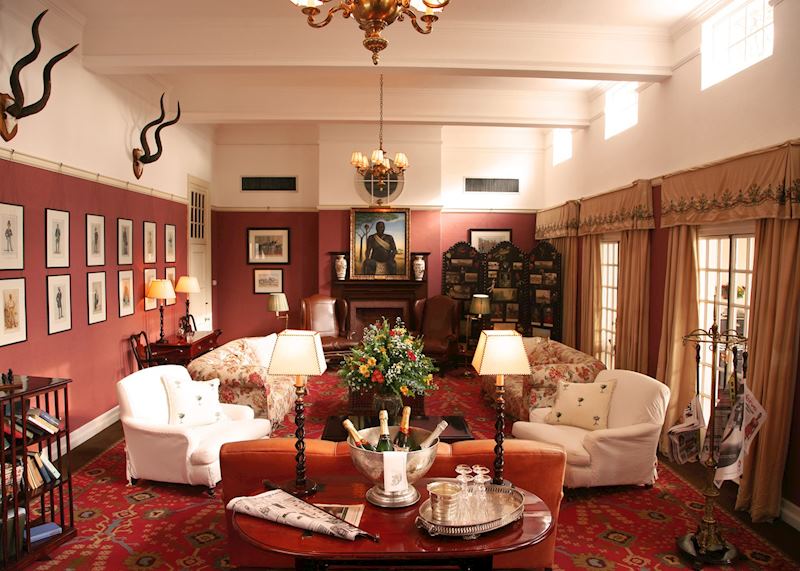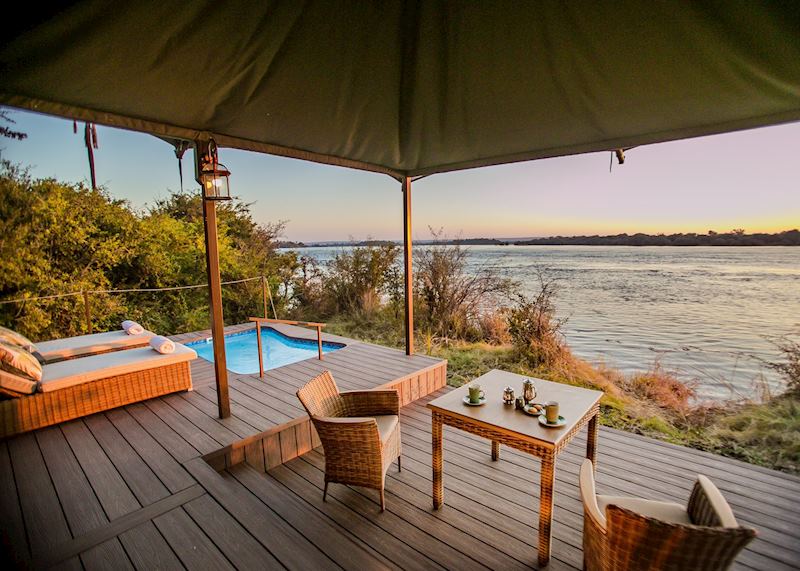 The most prestigious address in town is the Victoria Falls Hotel, which has hosted royalty and numerous celebrities since it opened in 1904. As a guest or visitor, you can take afternoon tea out on the terrace or in the grand 1920s-style dining room, whose high ceilings drip with chandeliers.
I prefer to stay just outside town at Old Drift Lodge, which has the feel of a high-end safari camp. You arrive by boat, and can also reach the falls area via a short paddle. Its 14 suites line up along the riverbanks, with glass-sliding doors opening out onto your own deck. Behind is a waterhole where you can watch elephant, hippo and antelope come and go.
The lodge's guides will take you on game drives and nature walks through Zambezi National Park. In the evening, you can join a sunset cruise along the river, watching as hippo and elephant are silhouetted against the pink-and-orange-streaked sky.
Best time to safari in Zimbabwe

The dry season in Zimbabwe is from June to October, which is when you'll typically have the best wildlife sightings. Mana Pools is seasonal, with camps opening between mid-April and mid-November, but Hwange is accessible year-round and offers exclusive experiences, great value and plenty of wildlife outside the dry season. If you're visiting Victoria Falls, aim for June to August, when the falls' water volume is impressive but not heavy enough for spray to interrupt your views. Our best time to visit guide to Zimbabwe gives month-by-month detail on when to go.
Start planning your safari to Zimbabwe

Start thinking about your experience. These itineraries are simply suggestions for how you could enjoy some of the same experiences as our specialists. They're just for inspiration, because your trip will be created around your particular tastes.
View All Tours in Zimbabwe
Further reading