By USA specialist Molly
The Deep South is often defined by the musical cities and Cajun culture of Louisiana and Tennessee. But look farther east and you find carefully preserved cities steeped in history, exclusive islands with unspoiled white-sand beaches, and forested mountains that provide a habitat for black bears.
I first fell in love with Georgia, North Carolina and South Carolina as a child, when my family enjoyed picnics on the beach and I tried my first clam bake. But, in the years following, I was diverted by the bright lights of New Orleans, Memphis and Nashville. It was time to rediscover these oft-overlooked states. Experiencing them as an adult, I noticed things I hadn't appreciated before, such as Charleston's breadth of architecture — from Georgian to Art Deco — and the moss-draped oaks I passed as I drove around.
A self-drive trip around Georgia and the Carolinas
The three states can be covered on a two- or three-week self-drive trip. After flying to Atlanta, Georgia, you could head north to North Carolina's Great Smoky Mountains, the Blue Ridge Parkway and Asheville. From here, drive over to the coast to take in the beaches, islands and cities of all three states before returning to Atlanta via Macon.
Things to see and do in Georgia
Historical Savannah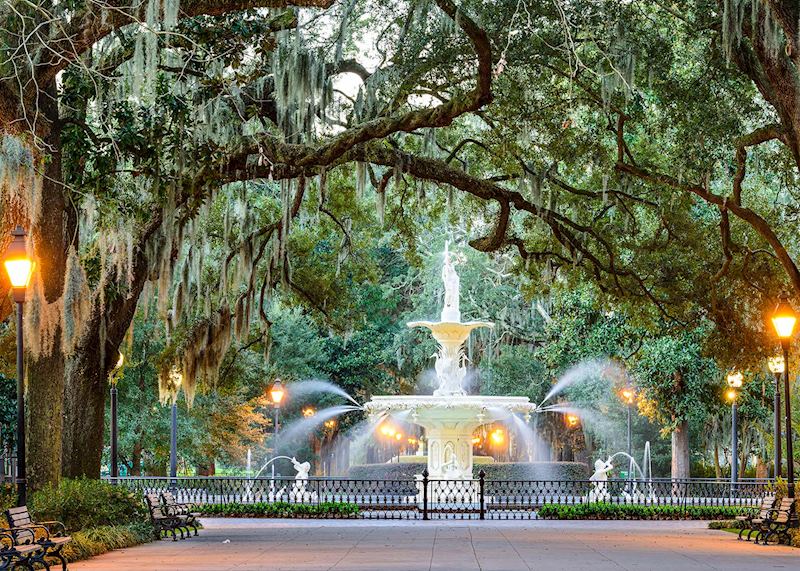 It's striking how much of Savannah's past can still be seen in its original buildings, cobbled streets and the 22 park-like squares that interrupt its neat grid system. Established in 1733, this coastal city is Georgia's oldest settlement, and Savannah's well-preserved downtown area is one of the largest National Historic Landmarks in the country.
I strolled down stone staircases and alleyways to the city's waterfront area, where huge ships loaded and unloaded their goods during the region's cotton boom. You can still see the brick warehouses where these goods would have been stored, now populated by seafood restaurants and bars.
Savannah's strategic position played an important part in the American Civil War. You can visit the Ralph Mark Gilbert Civil Rights Museum to learn more about the struggles faced by the city's African-American community. Three floors of photographs and interactive exhibits help paint a picture of life here during that time.
Food tour through Savannah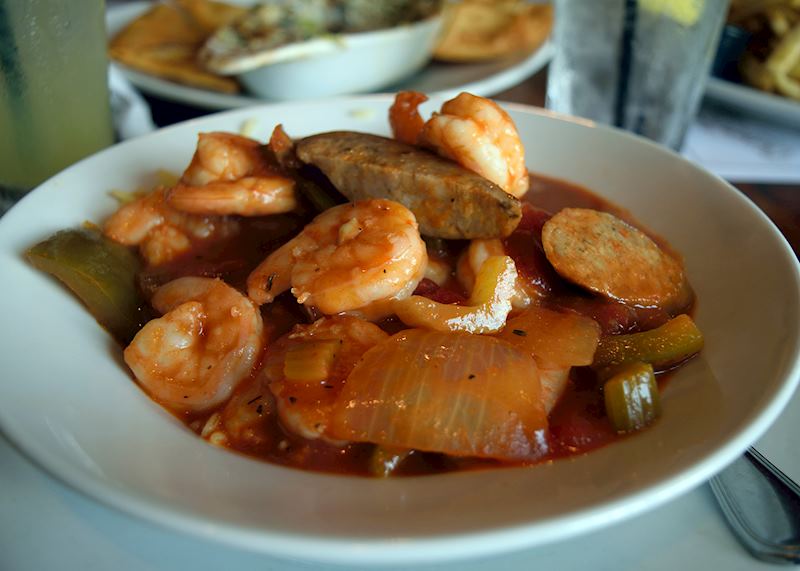 Savannah's coastal position means there's a big emphasis on seafood such as lobster, shrimp, crab stews and clam bakes. You also come across Southern staples like grits, barbecued ribs and fried chicken.
On a three-hour food tour, I discovered how local cooking also reflects the different nationalities that settled here over the years. My guide led us to six eateries around the city, including a Scottish pub and a British meat pie shop.
We also visited a cupcake bakery, a shop selling honey-based delicacies, and a 19th-century tavern serving fresh seafood and steaks. As we walked between the restaurants, our guide described the city's history and culture and how it tied in with the food we were sampling.
Where to stay in Savannah
Azalea Inn & Villas is a relaxed bed and breakfast featuring a handful of individually designed rooms with period furnishings. The colonial building dates to the 19th century and sits in leafy gardens, where you can take a dip in the pool or sit on the patio with a drink.
Jekyll Island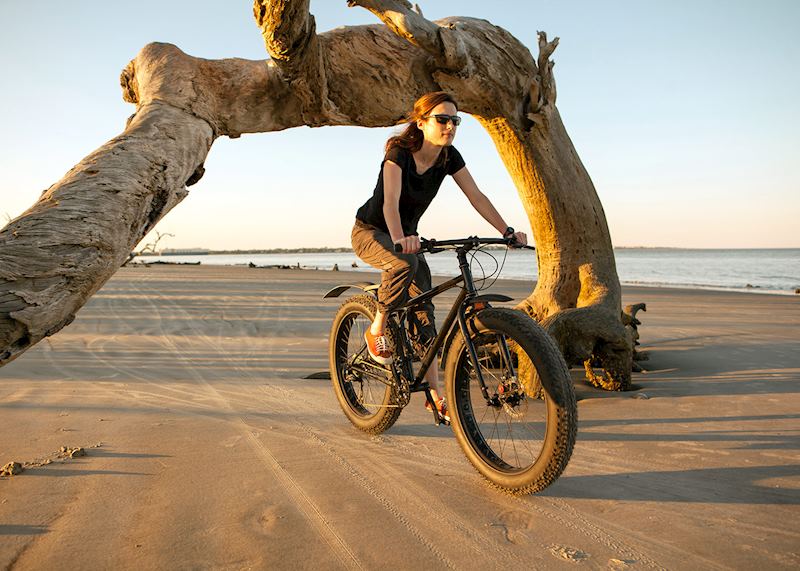 Lying just off Georgia's coast, around an hour and a half from Savannah, and accessed via a paved causeway, Jekyll Island is largely undeveloped. The island has unspoiled white-sand beaches and is woven with walking and cycling trails, which take you through tangled oaks and marshland fed by creeks. Wildlife sightings can include alligators, turkeys and wild horses. If you're visiting during July or August, you might also see turtles laying their eggs on the shoreline.
As you explore, look out for historic structures built from tabby — a cement-like substance made from crushed oyster shells, lime and water. A good example is Horton House, which was built in 1742 for Major William Horton, who developed the state's first brewery (whose ruins you can see nearby). While only the house's outer frame is intact, you still get a good idea of what it once looked like.
Around the Jekyll Island Club Resort, you'll also see a group of opulent Gilded Age mansions. These 'cottages' as they were playfully called served as lavish winter retreats for some of America's wealthiest families, including the Vanderbilts and the Rockefellers, who formed the exclusive club and spent their days hunting, cycling and playing golf.
Macon and the Antebellum Trail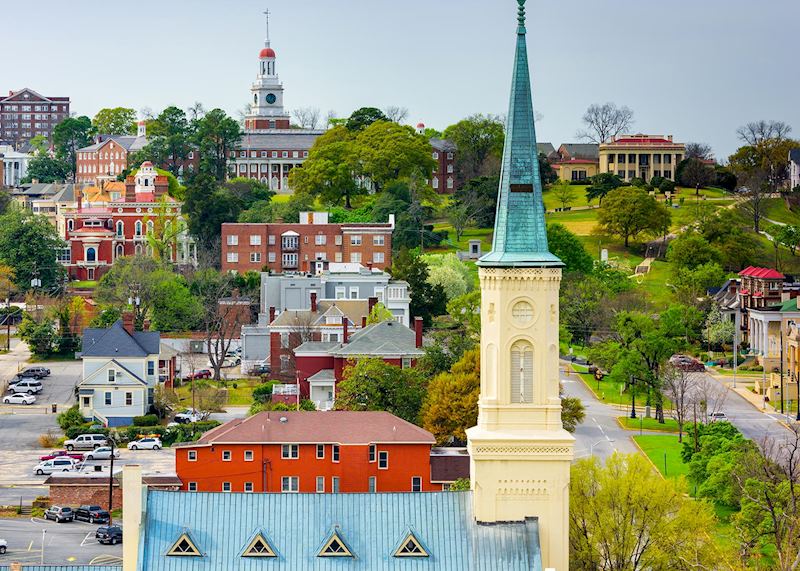 Most people visiting this region fly in and out of Atlanta, which is around four hours' drive from the coast. To break up the journey, I recommend stopping at Macon.
The city lies at the end of Georgia's Antebellum Trail, which runs for around 161 km (100 miles) northeast to the city of Athens. Along the trail you can visit antebellum mansions and cotton plantations that recount what life was like for both the slaves and their wealthy owners.
Set on a hill in the heart of Macon is the Hay House, a National Historic Landmark dating to the mid-19th century. I was surprised to find a grand red-brick building rather than the dazzling-white mansions typical of the time. A guide at the property explained how a trip to Italy had inspired the original owners to build it in an Italian Renaissance Revival style rather than the more common Greek Revival style.
You can take a tour of the house to discover the three families who occupied it until 1962: the Johnstons, the Feltons and the Hays. I also recommend heading up to the property's rooftop, which has far-reaching views over the city.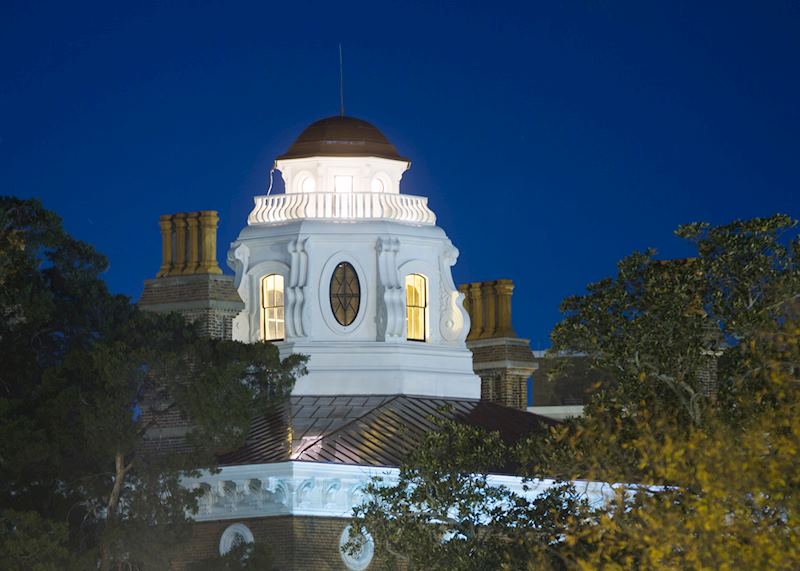 Macon's Native American history
I was unaware of this part of the Deep South's Native American history until I visited the Ocmulgee National Monument. Lying on the outskirts of Macon, this large Native American site comprises huge grass-covered mounds of earth linked by short walking trails.
The mounds are believed to have been constructed more than a millennium ago for the burial of elite tribe members and for ceremonial purposes. You're able to venture inside a reconstructed version, which gave me a sense of what they'd have looked like and how they were used. The site's archaeological museum displays items left behind by Native Americans up to 10,000 years ago, such as pottery, necklaces and pipes.
Things to see and do in South Carolina
Historical Charleston
Charleston has a slightly more upmarket feel than Savannah — a result of the wealth that poured in during the antebellum period thanks to its waterside location. Founded in 1670, the cobbled streets of its restored historic district are lined with tall, narrow houses painted in pastel shades and hung with shutters, with wrought-iron balconies, wide porches and leafy gardens.
I was also struck by the large number of churches, whose steeples rise up across the city, earning it the nickname 'the Holy City'. Visiting during Easter, the air rang with the sound of church bells for much of my stay.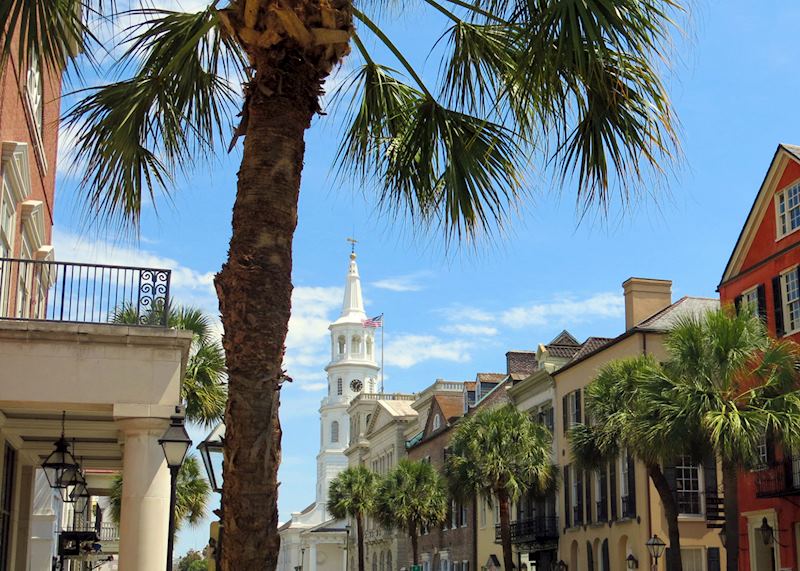 Walking tour around Charleston
I joined a three-hour walking tour that introduced Charleston's history, culture and architecture. My guide, himself a native Charlestonian, led us through the historic district, the French Quarter and the Battery — a defensive sea wall used during the Civil War.
As we walked, he pointed out features such as former cotton warehouses, old taverns, and scorch marks from the major fire that broke out here in 1838, damaging more than 1,000 buildings. He also talked about the city's links to piracy, its role during the Civil War and the lives of its enslaved population during the antebellum period.
Where to stay in Charleston
Situated in the heart of the historic district, Planters Inn echoes the city's sense of history and grandeur. Housed in an 1844 building, rooms and suites are furnished with four-poster beds, and its Peninsula Grill restaurant serves classic Southern dishes with French flair.
Magnolia Plantation and Gardens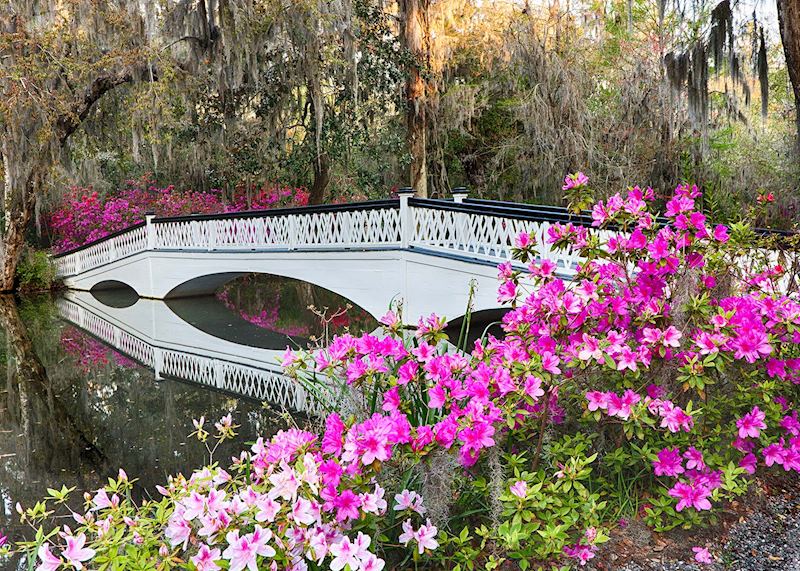 Drive half an hour northwest of Charleston and you reach the USA's oldest public gardens. Open to visitors since 1870, parts of the Magnolia Plantation and Gardens date back a further two centuries, continuing to bloom through the American Revolution, the Civil War and modern-day developments. The same family — the Draytons — have owned the gardens for more than 300 years, tending and adding to them over the decades.
I was expecting manicured formal gardens, but instead I found that, to a large extent, the plants and flowers have been left to grow naturally, so it feels like you're out in the wild.
As you wander along the well-maintained pathways, you might see crowds of daffodils, frothy blooms of pink, red and white camellias, and up to 15 different varieties of azaleas. I also encountered a blue heron wading in one of the ponds just a short distance away.
The property started life as a rice plantation, and you can also take a guided tour of the Drayton family home, which focuses on 19th-century plantation life. Alternatively, take a boat trip through the property's flooded rice field and along the Ashley River for a chance to see alligators and egrets.
Things to do in North Carolina
Blue Ridge Parkway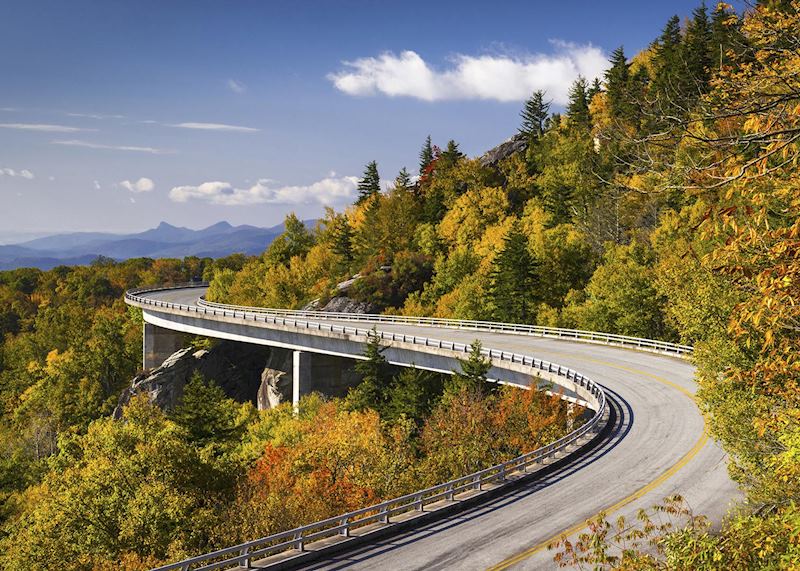 Driving is a highlight of visiting all three of these states, thanks to their natural beauty. Old oaks draped in Spanish moss line the roads, lazy rivers and waterways meander through low-lying land to the ocean, and wide, sandy beaches fringed with dunes stretch along the coastline.
But North Carolina's scenery impressed me most. While it still has beaches and marshes, head west and the land rises to form the Appalachian Mountains and the Great Smoky Mountains (a sub-range of the Appalachians).
To take it all in, I highly recommend driving part of the Blue Ridge Parkway, which stretches for 755 km (469 miles) from Great Smoky Mountains National Park in North Carolina's west to Virginia's Shenandoah National Park.
It's best to access the parkway by driving three hours north from Atlanta to Cherokee, which sits close to the Great Smoky Mountains National Park and the start of the route. From here, you could drive along the parkway to the city of Asheville, just over an hour away (not including stops).
The road winds its way through heavily forested mountains and valleys, which around October turn from deep green to red, orange, yellow and gold. Along the way, you can stop to explore short but scenic walking trails, drive to viewpoints such as Waterrock Knob, which has views over four states and several mountain ranges, and pause to admire natural phenomena like Looking Glass Rock, a huge granite formation where ice and water reflects light to create a mirror effect.
Great Smoky Mountains National Park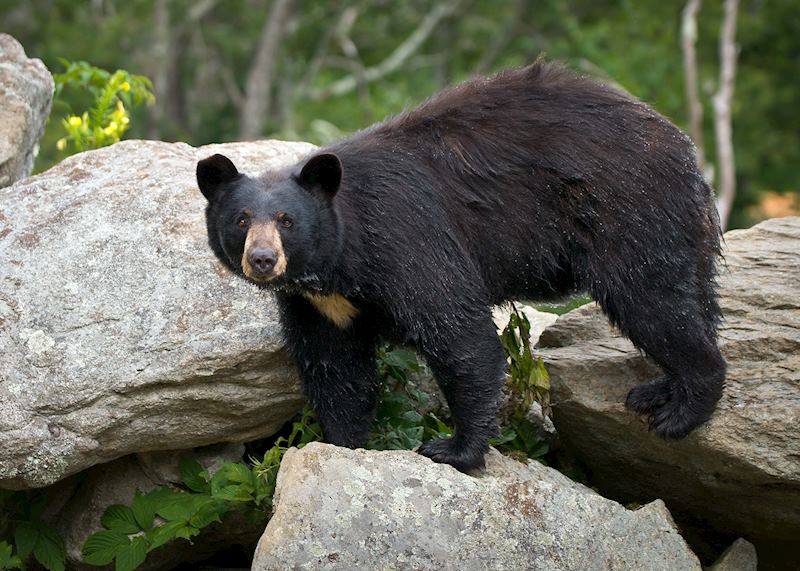 It would be a shame to head off along the parkway without spending some time in Great Smoky Mountains National Park. Straddling the North Carolina-Tennessee border, almost this entire 2,114 sq km (816 square mile) park is covered in dense forest, attracting wildlife such as black bears, groundhogs, chipmunks and white-tailed deer. The song of over 200 bird species fills the air, while streams teem with fish and salamanders.
I used my time here as an opportunity to lace up my walking boots and explore some of the park's many hiking trails. When I visited, the valleys were awash with spring wildflowers but the mountain scenery rewards you at any time of year, whether it's coated in the vivid green of summer or the dappled oranges of fall.
Despite being one of the USA's most-visited national parks, it still felt like a remote wilderness as I splashed my way through trickling streams and listened to the roar of waterfalls spilling over the rocks. As well as hiking, you could follow cycle trails, try rock climbing or spend an afternoon fishing.
Asheville
Asheville had a markedly different feel to the other cities I visited. The Appalachian Mountains form the backdrop, while the downtown area is filled with bars, low-key bookshops and 1920s Art Deco buildings.
Exuding a bohemian air along the east bank of French Broad River is the city's River Arts District, where old warehouses now contain eclectic art galleries, studios and exhibitions. Artists often give live demonstrations of their art, and you can lunch in one of the restaurants that have popped up in the area. Nearby is the Wedge Brewing Company, where you can sample locally made craft beers.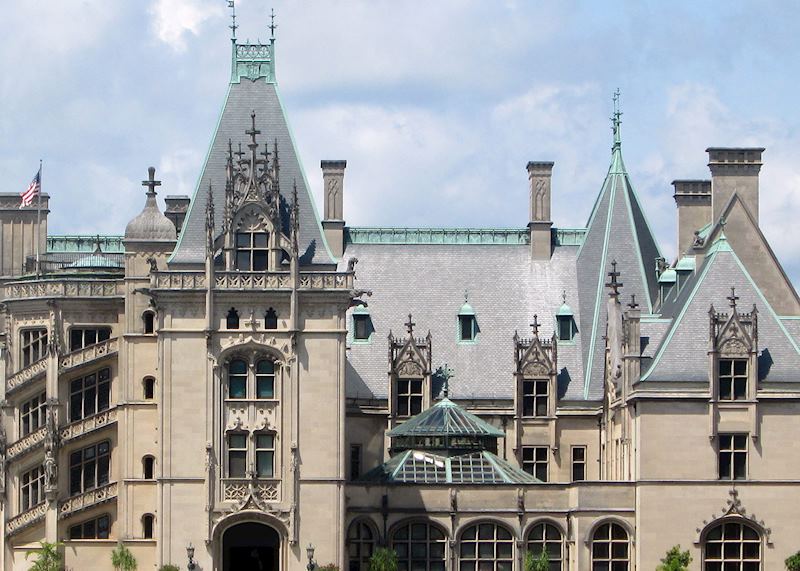 Tour the Biltmore Estate
Just outside the city and modelled on the chateaux of the Loire, stands the United States' largest private residence. Now a National Historic Landmark, the Biltmore Estate was built during the Gilded Age as the summer escape of George Washington Vanderbilt II.
A guided or self-guided tour of the house reveals the history behind the mansion and its former owners. Guides are on-hand to tell you about the lavish parties that took place here and the original items belonging to the Vanderbilts that are on display. Afterwards, you can wander the estate's grounds and visit the on-site winery, which offers tastings and tours.
Where to stay in Asheville
To experience a little more of the Biltmore Estate's grandeur, stay just steps from the main house at the Inn on Biltmore Estate, a large, manor house-style property with a pool, hot tub and restaurant.
Alternatively, At Cumberland Falls Bed & Breakfast Inn is an intimate six-room property in the heart of Asheville, offering plenty of character and personal service.
Best time to visit Georgia and the Carolinas
The spring (April to May) and fall (September to October) months are the best time to explore this region, when temperatures are warm but it's not as humid as summer (June to August). Having said that, the summer can be a good time to visit the coastline, where you can cool off in the ocean and appreciate the breezes.
Start planning your trip to Georgia and the Carolinas

Start thinking about your experience. These itineraries are simply suggestions for how you could enjoy some of the same experiences as our specialists. They're just for inspiration, because your trip will be created around your particular tastes.
View All Tours in The Deep South