By USA Specialist Carla
Almost everywhere you go in the Deep South, history calls. You hear it in the jazz, blues and soul music that drifts from bars — genres that began in the fields of the sugar plantations. You smell and taste it in the Creole food, which blends the many cultures that settled here. And you see it in the architecture, from antebellum mansions to New Orleans's French Quarter.
I find it's impossible to appreciate the modern day here without looking back to the region's roots. One of the surest ways of doing this is by visiting a plantation. While many that are open to the public brush over their role in the slave trade, others face the past head on. Visiting gives you a rounded view of the region and a renewed understanding of its character today.
How to fit plantation visits into a wider trip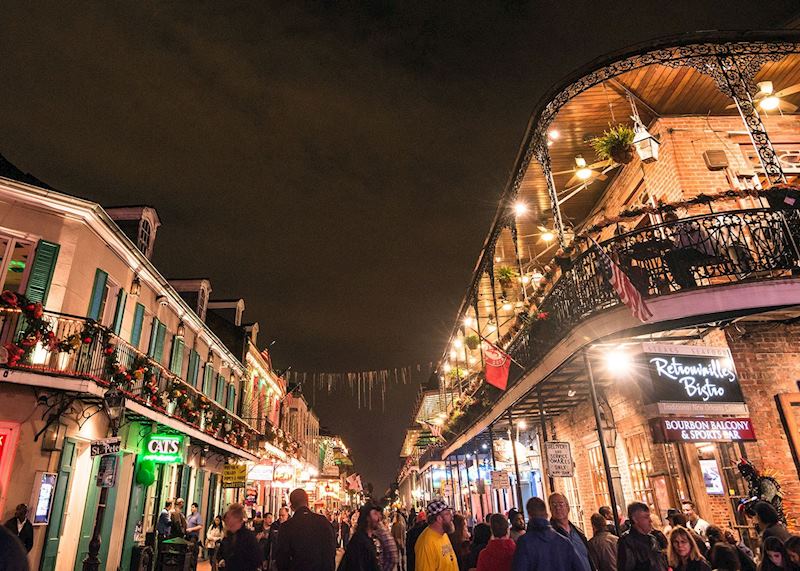 It's easy to plan a plantation visit (or several) as part of a wider self-drive trip through the Deep South. I recommend driving north to south so you can visit Memphis's National Civil Rights Museum first, which helps to set the scene. Most plantations are clustered along a stretch of the Mississippi River in Louisiana. You could stop at one or two of them en route to New Orleans, or visit on a day trip from the city. Another option is to stay overnight at one, which gives you a chance to explore Plantation Country in more depth.
Alternatively, you could visit plantations on a self-drive trip through South Carolina that focuses on the state's history.
Which plantations to visit in the Deep South: our recommendations
Whitney Plantation
Visit for: an in-depth look at slavery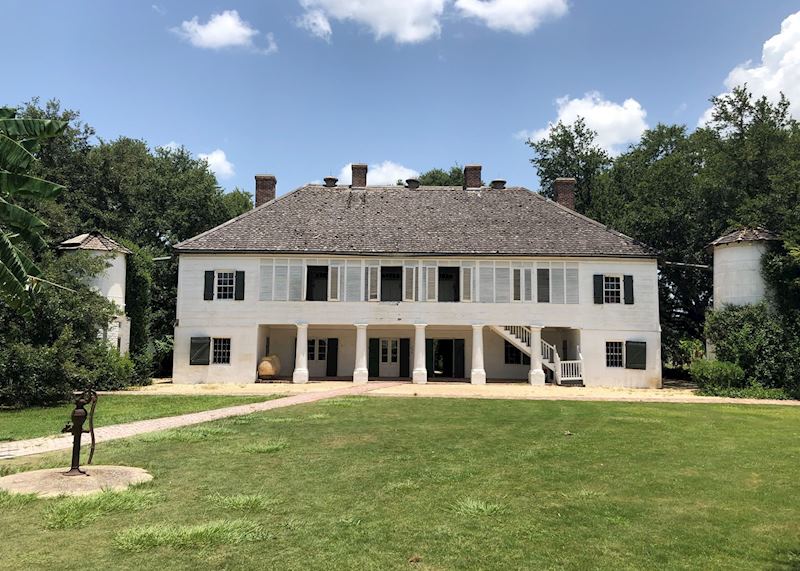 Established in 1752, Whitney Plantation is by far the best plantation in the region for confronting its history of slavery. Its museum focuses solely on the lives of the 350 enslaved people who were forced to live and work on its land for more than a century.
I find the level of research and curation the current owners have undertaken staggering: you'll find exhibits detailing first-hand accounts from enslaved people, photographs and original items from the time, and poignant memorials.
You can visit the property's two self-guided exhibits, one of which changes regularly while the other focuses on slavery across Louisiana. I also recommend joining an hour-and-a-half tour led by one of the plantation's guides, who each have in-depth knowledge of its history.
As well as showing you the main house (which is traditionally known as the 'Big House'), built in 1790, your guide will lead you to the original enslaved peoples' cabins and historic outbuildings, including a freedmen's church where you can learn about enslaved peoples' spirituality. You'll also find out more about the slave revolt that occurred in the region in 1811, marked by a memorial featuring sculpted heads impaled on pikes.
While things like this were disturbing to see, I also found it refreshing that the plantation had gone to great lengths to show the reality that enslaved people faced — something many others try to hide.
Laura Plantation
Visit for: an insight into the lives of plantation owners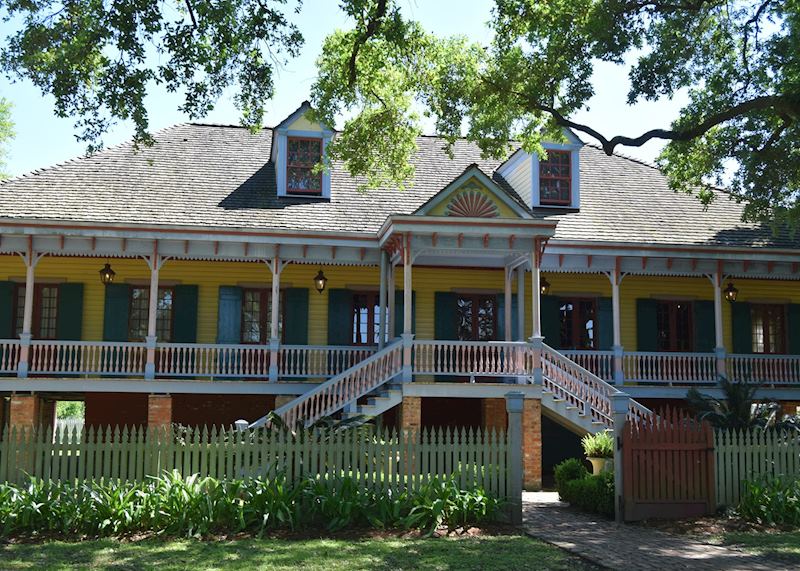 Originally owned by a French-Creole family, the Duparcs, Laura Plantation was established in 1804 and is still set among sugar-cane fields today. Its Big House has a distinctive Creole style, painted in shades of red, green, ochre and grey, with a balcony running along its entire width.
I found the tour guides here exceptional, bringing the stories of the people who lived here to life in their Southern drawl. While there's a detailed exhibit about slavery on the plantation, complete with photographs, personal biographies and documents related to those enslaved here, the tour mainly focuses on the Duparc family.
The diary of Laura Duparc-Locoul, who was born in 1861 and raised on the plantation, was discovered some years after her death. It paints a vivid picture of plantation life, and it's around this that the tour is based. Her memoirs detail everything from everyday occurrences to family feuds and affairs with enslaved people.
Taking the 80-minute tour is almost like seeing the plantation through Laura's eyes. You'll explore the restored rooms of the Big House, walk through three of its gardens and see some of the historic outhouses within the grounds. Your guide will also show you inside one of the slave cabins, built in the 1840s, where the contrast between rich and poor is most striking.
Oak Alley Plantation
Visit for: beautiful grounds and a one-off stay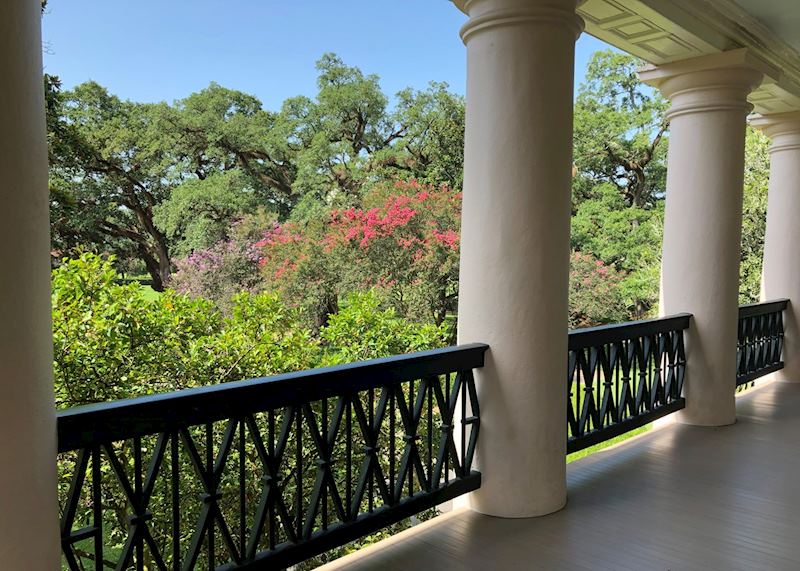 Used as a filming location for several movies and TV shows, Oak Alley is the most familiar of the South's plantations. Its grand antebellum mansion is framed by an avenue of oak trees, which curve inwards to form a tunnel leading to the house's dazzling white columns and shuttered windows.
While admittedly the tour here isn't the best, with guides sometimes downplaying the role of slavery, it does give you the opportunity to look around one of the area's most attractive mansions for an insight into the lives of the wealthy.
For me, the highlight of visiting Oak Alley is exploring its extensive grounds. You can stroll through its 1920s formal garden and find a peaceful spot to yourself among its wide green pastures dotted with oaks.
Make the most of the grounds by staying overnight in one of the plantation's cottages. Some have stood for more than a century, others are more modern, but all provide a comfortable and unusual base for the night. And, you'll have access to the property's grounds after other visitors have left.
While Oak Alley's restaurant is open for breakfast, come evening there'll be no staff, though you can arrange for a light dinner to be left in your cottage ready for your arrival (or stop by one of the restaurants en route to the plantation).
Start planning your trip to the Deep South

Start thinking about your experience. These itineraries are simply suggestions for how you could enjoy some of the same experiences as our specialists. They're just for inspiration, because your trip will be created around your particular tastes.
View All Tours in The Deep South