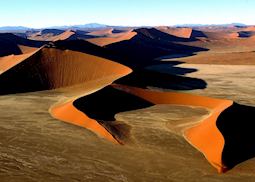 Located within the Namib-Naukluft National Park, is one of the most iconic destinations within Namibia, Sossusvlei.
In the heart of the desert, Sossusvlei is home to the largest sand dunes in the world some of which reaching up to 400 metres high. Sossusvlei is the region where the dunes come together preventing the Tsauchab River to flow any further, some 60 km east of the Atlantic Ocean. The dunes are best seen in the morning, as soon as the park gates open and the sun starts to rise. The colours of the sand dunes as the sun rises with the bright blue skies above is just spectacular, a photographer's dream. There are many attractions for visitors to explore including Sesriem Canyon, Dune 45, Hiddenvlei, Big Daddy and Deadvlei.
To get a true perspective of the vast scale of Sossusvlei, there is no better excursion than taking a hot air balloon ride, the views from the sky are just superb. There is also a wide variety of plants and wildlife that have adapted to this region. Accommodation varies from camp sites to luxury lodges all with influences of the surrounding areas offering spectacular views.