At 19, I travelled to Africa for the first time, embarking on an adventurous three month journey that took me to the summit of Mount Kilimanjaro in Tanzania, trekking to see gorillas in their natural habitat in Rwanda, experiencing different cultures in Kenya, Malawi and Namibia, and enjoying many many game drives, witnessing some incredible animal sightings in Botswana, Zambia, Zimbabwe and South Africa. Since then, I have returned to Africa every year for both my personal holidays and work research trips. Why would I want to go anywhere else?
As a wildlife enthusiast and amateur photographer, Botswana and Zambia are the key places within Africa that I love returning to. There's lots of incredible places to go on safari all over Africa, but in my experience, Botswana and Zambia have an elevated experience that you just can't replicate anywhere else. To me, the landscapes feel like artwork, the wildlife feels more vibrant, and the hospitality feels like returning to a long lost family.
Speak to Simon

Start planning your trip to Africa with Simon
01993 838 500
Q&A with Simon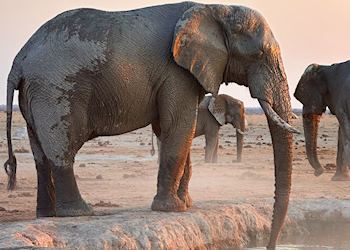 What's your most vivid travel moment?
As the sun was setting on the Nxai Pan landscape lying just southeast of the Okavango Delta, the dust was rising from the movement of the elephants that surrounded our game vehicle at the watering hole. Known for its abundance of bull elephant population, this moment remains vividly in my mind as not much else beats the visual combination of the beautiful colours created by the sinking sun and growing dust of the salt pans as a backdrop, to a tremendously powerful bull elephant making eye contact whilst walking towards you.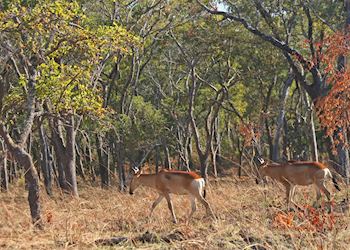 Where would you love to travel next?
A part of Zambia I've not been able to get to yet is Kafue National Park. What was once devastated by poaching in the 60s and 70s is now starting to become a thriving area for wildlife again, so I would be very keen to witness the environment and see how the animals are interacting with each other now.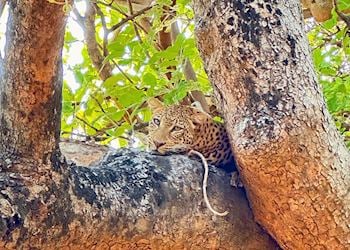 Your best piece of travel advice?
My top tip is quite simply, never miss a game drive. A 5am/6am wake up call can be quite challenging sometimes, especially on day four or five of your trip, but each game drive is a completely different experience to the last one and you never know what you're going to see… or potentially miss. In my 16 years experience of being on safari I have never missed a game drive, although I have been a bit grumpy on a few of the morning ones.