My wanderlust began when my Australian cousins visited during my childhood. I needed to go to the other side of the globe to prove to myself that it was there. Having now confirmed this three times I can say with certainty that Australia, the Land of Contrasts, never disappoints.
From the isolated, culturally enriched Red Centre to the lush, bustling, beachy metropolises dotting the coasts, it's easy to understand why this country/continent has captivated myself and others. The Great Southern Land and its people have inspired me to travel to dozens of countries and connect with anyone willing to share a story and a laugh.
Australia calls me to explore its vastness, whether I'm in the graffitied laneways of Melbourne, SCUBA diving in the Great Barrier Reef, on walkabout in the Outback, or climbing the Sydney Harbour Bridge. I cannot wait to share my second home with you.
Speak to Anthony

Start planning your trip to Australia with Anthony
01993 838 800
Q&A with Anthony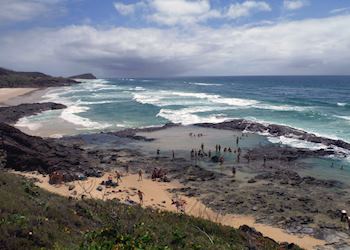 What's your most vivid travel moment?
During my three days of exploration on K'gari, the largest sand island in the world, I got to explore one of Australia's best kept secrets. The island has no paved roads and is only accessible with 4-wheel drive vehicles via a ferry. The sandy beaches became our open highway as we zoomed past shipwrecks, rock champagne pools, and dingoes running on the beach. Our vehicle safely drove us through rainforest to the most crystal-clear lake I'd ever laid eyes on and we made a splash. The combination of tranquillity and adventure found on K'gari is unmatched.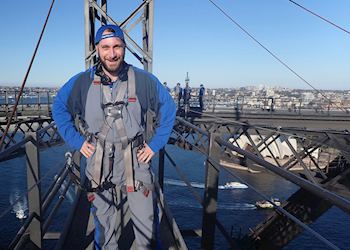 Which book, film or artwork captures Australia the most?
'In a Sunburned Country' by Bill Bryson details the stories of several of Bryson's travels in Australia. I find the book extremely relatable as it's told from the perspective of an American travelling in Australia and truly gaining an affinity for the Land Down Under and its people. He covers many cities and popular routes through the continent, and he comically tries to understand the confusing logic of many of Australia's naming conventions, politics, and wacky historical happenings. I learned of so many fumbles early explorers made in this desolate, isolated land. You're in better hands with Audley today.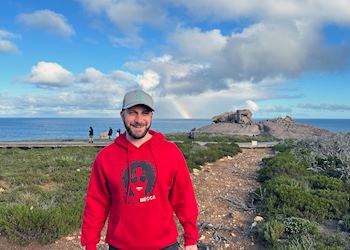 What's the one thing you always pack?
One thing I always pack is a smaller backpack. You've got your suitcase, and your personal item for the plane, but these can be too bulky for everyday use. Invest in an affordable yet durable drawstring bag and take these on your day trips or to the beach.