I went into the ski industry straight from school and spent time as a European travel agent. In 2019, I decided that I wanted to experience a more far-flung destination. I booked a one-way ticket to New Zealand (via Australia for a quick jaunt down its east coast).
As soon as I landed, it felt like home. The scenery was unbelievable, the emptiness of the roads provided the perfect road trip conditions and the people I met were keen to share their country. I was lucky to be 'stuck' for two years while the borders were closed over the pandemic and managed to travel both islands extensively. From geothermal hot pools and sub-tropical beaches to snowcapped mountains and sun-drenched vineyards; New Zealand really does have it all.
After moving back to the UK, I knew I wanted to help more people to experience what is, in my opinion, the best country in the world.
Speak to Elly

Start planning your trip to New Zealand with Elly
01993 838 800
Q&A with Elly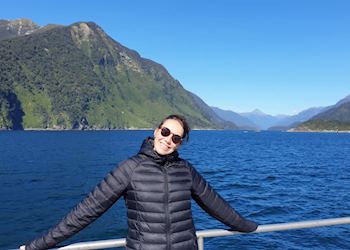 What's your most vivid travel moment?
I could never have predicted that my overnight stay on Doubtful Sound, where it rains more than 200 days a year, would include two perfect, blue-sky days. The first day consisted of cruising through the deep fjord, marvelling at the waterfalls and spotting fur seals from my sunset kayak trip. The next morning, after waking to a pod of dolphins showing off against a dusky pink sky, I ventured out into the Tasman Sea where a humpback whale propelled itself up, right in front of the boat. The colours, the silence, and the humble feeling of being totally immersed in practically untouched nature will stay with me for a long time.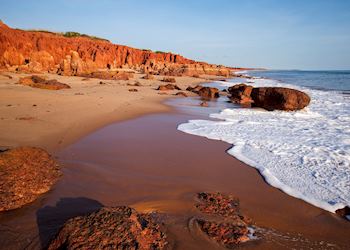 Where would you love to travel next?
My parents spent lockdown in Western Australia, which is at the top of my bucket list after hearing their stories. I've spent a lot of time dreaming of the white sand and turquoise ocean in Busselton, the laid-back vibes of Margaret River's wine country and the vast, red, dusty earth surrounding Broome.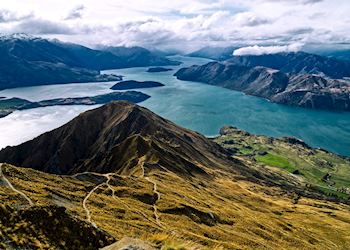 Which book, film or artwork captures New Zealand the most?
In Wanaka, after being in the country for two days, I watched 'Hunt for the Wilderpeople' written and directed by New Zealand film royalty Taika Waititi. It's quirky and heart-warming, not only showcasing the magnificent wilderness of the native bush but also highlighting Waititi's love for New Zealand's people and culture. Venturing into the landscape myself over the subsequent years and forging friendships with Kiwis, I've come to appreciate the film even more for its accurate depiction and celebration of Aotearoa.