When I left education, I fell into a role in the travel industry which soon set me on a path to taking a few years out to explore our beautiful planet. This is when I first stepped foot in New Zealand and was immediately captivated by its beauty, people, and culture. So much so, that I spent nearly two years living as a Kiwi and discovering the magic of what both the North and South Islands have to offer.
My highlights include hiking past the Emerald Lake and hot spring on the Tongariro crossing, kayaking next to a pod of dolphins off the coast of the picturesque town of Kaikoura, and taking in the dramatic views while cruising the majestic Fiordland.
I also love the sense of community New Zealand has — the people are warm and welcoming, and always seem willing to help a stranger out. I make sure to strike up conversations with the locals in restaurants and markets to find the hidden gems in the area.
I'm passionate in using my knowledge to help others create unforgettable experiences and love knowing that I've helped people fall in love with the country just as I have.
Speak to Keshia

Start planning your trip to New Zealand with Keshia
01993 838 800
Q&A with Keshia
What's your most vivid travel moment?
I was in the small town of Kaikoura where they have a deep underwater canyon just off the coast, which is home to an amazing array of marine mammals year-round. We headed out on a boat in search of the graceful dusky dolphins. The incredibly knowledgeable crew knew which direction to find them on this winter lunchtime — a little further offshore as they tend to range over greater areas during these months. Once spotted, we were soon ready to jump in the water and see if they were inquisitive enough to stay. The crew's tips on keeping them around included swimming with your arms at your side, making some noises like a dolphin through the snorkel, and to swim in circles. Sure enough, within a few moments, we were surrounded by the energetic pod who copied us by swimming in circles below us and performed somersaults next to us. After around 40 interactive minutes, it was time to leave, but this moment will stay with me for the rest of my life.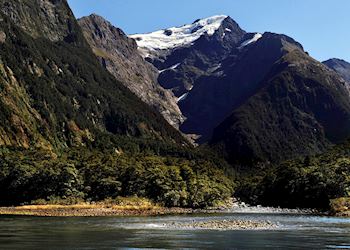 Where would you love to travel next?
My bucket list of destinations is endless — I'm sure it only gets longer, rather than shorter. Within New Zealand, I would love to visit Doubtful Sound next. I've been lucky to have visited Milford Sound and enjoy its scenery, however Doubtful is bigger and quieter.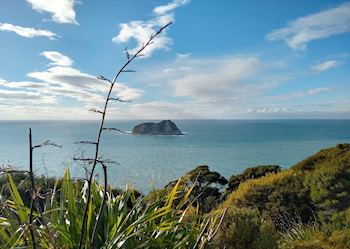 Your best piece of travel advice?
Wake up for the sunrise. New Zealand is blessed with some beautiful sunrises which guarantee great photos. My favourite sunrise spot is Gisborne, which is officially the first city in New Zealand to greet the morning sun.