You can enjoy five-star dinners, rare wildlife experiences and unspoiled beaches for less than you might think. Our specialists have picked their top destinations for 2017 that they feel offer great value. Some destinations have always been synonymous with value, others have seen fluctuations in local currency or benefit from improved logistics. Regardless, each location makes your money go further, with inclusive extras, unique excursions or incredible service.
By Borneo specialist David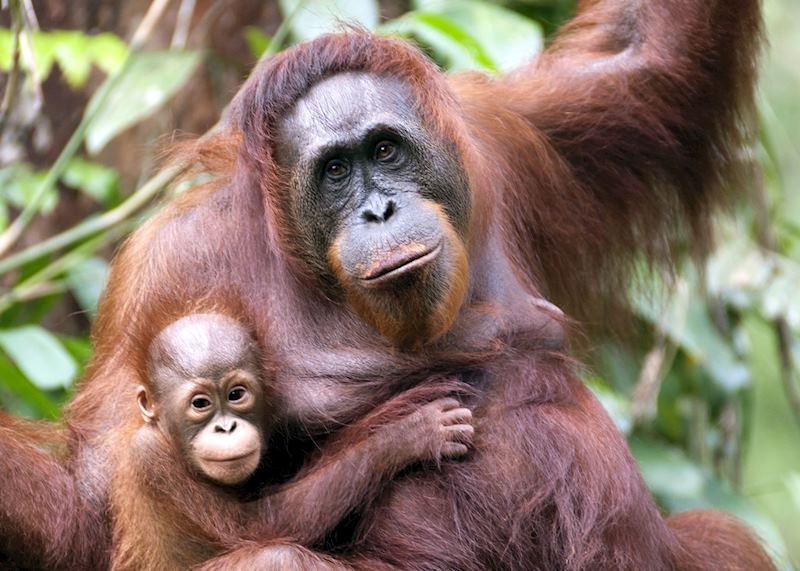 That first glimpse of a rare wild animal, through a jungle clearing or drinking by the riverbank, stays with you. In Borneo, you don't have to pay a fortune for the privilege — you can spot pygmy elephants, orangutans and bulbous-nosed proboscis monkeys at a fraction of the cost of other wildlife destinations.
Most head straight to Sabah, Borneo's eastern state, but I suggest focusing on the lesser-visited Sarawak in the west, using the fishing town of Kuching as a base. From here you can arrange day trips searching for orangutans in Semenggoh Nature Reserve, or hike through Bako National Park.
As your money goes further here, make time to enjoy cultural experiences too. I took a boat up river to spend a night with the Iban tribe. After sharing an evening meal with the community — I enjoyed freshly caught wild boar — I slept in a traditional Lemanak Longhouse.
Don't dismiss Sabah completely, as domestic flights cost little. Nip across for a few nights on the Kinabatangan River, binoculars in hand, to look for crocodiles, bearded pigs and serpent eagles. Hopefully, you'll glimpse a wild orangutan swinging above you.
It's also worth considering that, while your upfront costs for Borneo might be more than for other southeast Asian countries, most of your meals, non-alcoholic drinks and activities are included in the cost. I've often left with most of my Malaysian ringgit unspent.
How far your money goes in Borneo
Price of a street-food meal: £2 per person
Price of a locally brewed rice or palm wine (tuak): 50p
By Hidden Beaches Specialist Matt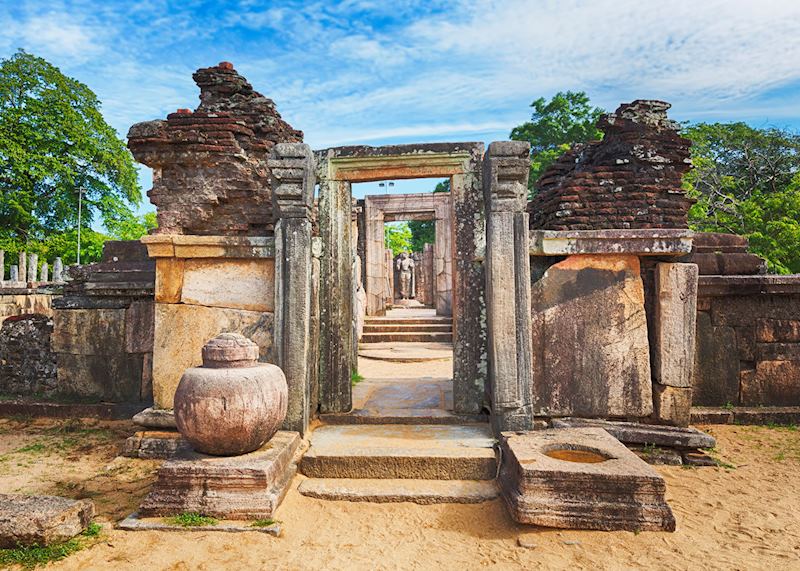 When I first arrived in Sri Lanka, I was struck by the exotic rose-gold stretches of beach, framed with undisturbed palm trees and rocky outcrops. Brightly painted fishing boats regularly moor up, the fishermen patiently untangling their nets on the sand. The snorkelling might not be as good as the Maldives and the beer more expensive than Thailand, but for me, Sri Lanka offers a beach stay that's a little bit different.
If you know where to look, there are some excellent-value areas to explore — with few visitors. The sleepy town of Kalutara is an old spice-trading town on the west coast. Built around the estuary of the Kalu Ganga (Black River), there are remnants of the Portuguese, Dutch and British colonies that once traded here as well as some important Buddhist temples.
Out on a peninsula, the Avani Kalutara is nestled between a seemingly endless stretch of beach and a turquoise lagoon. The area hasn't made many guidebooks yet so rooms are great value and the local staff keen to provide a warm welcome. Days can be spent relaxing by the pool or kayaking across the calm lagoon.
I'd suggest adding a short stay inland to make the most of your trip. Spending just a few nights in Sri Lanka's Cultural Triangle, you can climb Sigiriya Rock Fortress, delve into the Dambulla cave temples and wander the sacred city ruins of Polonnaruwa. Take a jeep safari into nearby Minneriya to spot elephants, crocodiles, gray langurs and if you're exceptionally lucky, the Sri Lankan leopard.
How far your money goes in Sri Lanka
Price of a local Lion beer: £2
Price of an ayurvedic massage: £25
By Africa specialist Anna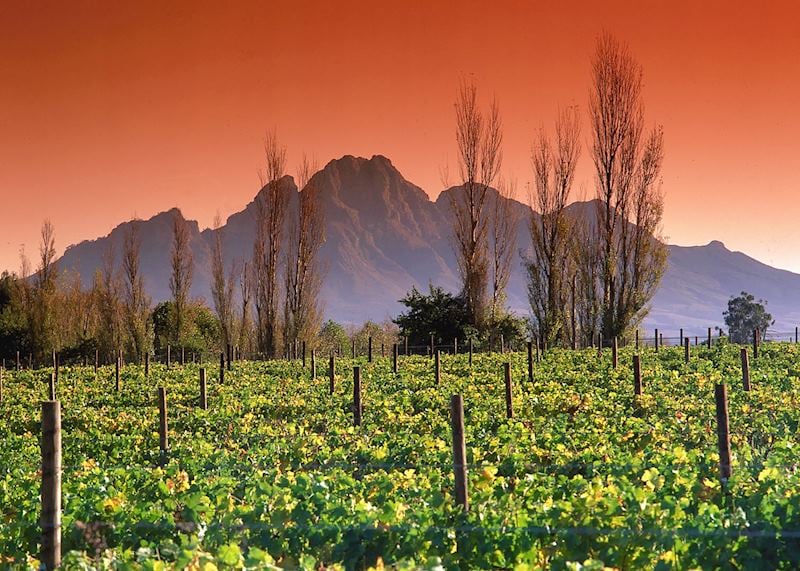 South Africa offers visitors history, natural beauty, iconic sites and Big Five safaris. And with the pound strong against the South African rand, your money goes further here than in other African destinations.
A stay at the five-star Cape Grace Hotel in Cape Town may not be the cheapest accommodation option, but once there you can tuck into a six-course taster menu complete with wine pairings for £50 per head. A one hour massage in the hotel's spa costs around £60 — a far cry from the £100+ I've spent in five-star hotels elsewhere.
Add to this the high level of service you receive here — I was greeted every time I passed a member of staff, and they were able to arrange a paragliding experience for me with an hour's notice. The hotel also offers a complimentary chauffeur service, running you anywhere within a 10 km (6.2 mile) radius, so you don't need to fork out on taxis.
Self-driving allows you to explore this diverse country at a reasonable cost. The well-maintained roads mean internal flights aren't necessary (unlike many other African destinations), and travelling around at your own pace gives you flexibility to stop on a whim and soak up the scenery.
Our Highlights of South Africa itinerary takes you along the Garden Route from Cape Town to the Eastern Cape game reserves. Along the way you can sample the region's wines in Franschhoek's wineries, take a stroll along Plettenberg Bay's white-sand beaches and take a tractor ride up Knysna Head to gaze over a blue lagoon hugged by rugged hills. End your trip with a self-drive safari in Addo Elephant National Park, staying in a characterful guesthouse just outside the park. This way, you can enjoy a Big Five safari for the cost of a B&B stay.
How far your money goes in South Africa
Price of a coffee: £1.20
Price of a three course meal plus glass of wine: £35 per person
By Latin America specialist Anna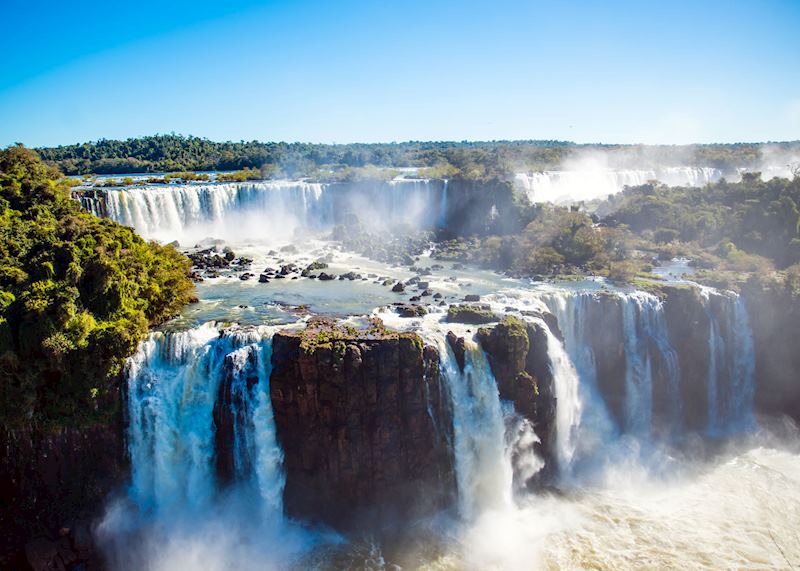 Brazil can offer great value for money, especially now that we enjoy a marginally better exchange rate than a few years ago — but you have to be shrewd about where you go.
I'd start with a few days in Rio de Janeiro. You can cut costs by staying in a no-frills, three-star hotel in a beachfront location, minutes from Copacabana and Ipanema. One of my favourite activities is to take a guided cycling tour of the beaches — it's free to stroll the avenidas that run alongside them, of course — or a hands-on cooking class with a Carioca (Rio local) chef. I also recommend a visit to the eccentrically decorated Rio Scenarium club in the Lapa district for a taste of Brazilian nightlife.
Then fly on to the Iguaçu Falls. I prefer staying in a small hotel just outside the national park protecting the cascades, rather than the more opulent option closer to the falls. It's a fairly basic hotel, but the advantage is that you're a 20 minute walk from the falls — staying in a more stylish property in the town of Iguaçu means the hassle and hidden costs of transfers to and from the falls. There's also wildlife encounters to be had at the falls — on the jungle-clad walkways leading to the viewing platforms, you're likely to see coatimundis (raccoon-like animals) and other creatures scuttling across your path.
For a quirky add-on to your trip, consider flying up to Salvador in the northeast. It's a city imbued with African heritage and the syncretic candomblé religion (look out for adherents wearing coloured beads representing different deities). Stay in the historic Pelourinho central district, where you're immersed in samba drumming and capoeira — I was eating dinner one night when an impromptu performance broke out in the street just below the restaurant.
How far your money goes in Brazil
Price of a caipirinha cocktail: £3
Price of a meal, including drinks, at a Brazilian barbecue buffet in Rio: under £50 per person
By Latin America specialist Nik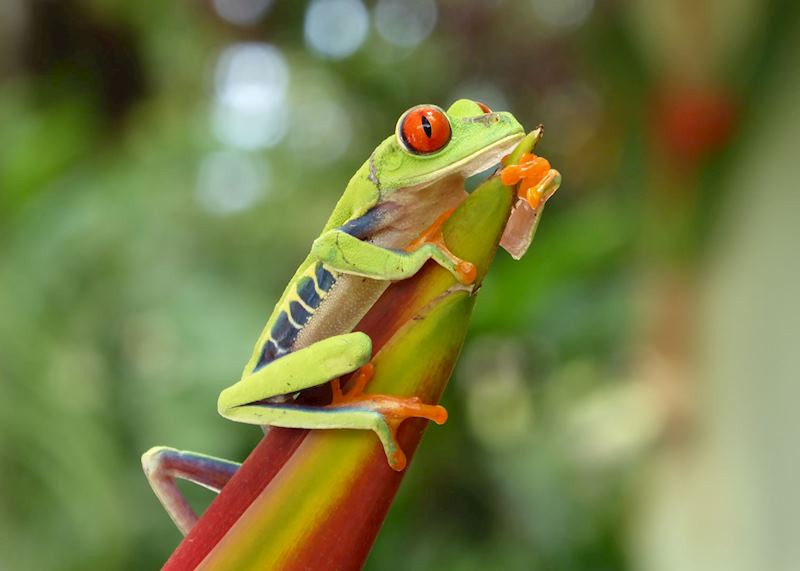 Costa Rica offers sustained good value. It's particularly great for family trips, not just on account of the experiences it offers — wildlife watching, adrenaline activities and beach time — but for logistical reasons, too. Last year saw the launch of direct flights from the UK to San José. Rainforest areas are relatively easy to reach — road networks are well-maintained, and unlike other destinations in Latin America, accessing primary, old-growth forest doesn't require a long journey with multiple transfers.
Best of all, for me, is the biodiversity and accessibility of the wildlife. Here, the wildlife is so rich, it isn't confined to the wild. Hotel gardens are havens for hummingbirds; you can make a pit stop at a roadside café and find a tree crawling with basilisk lizards — or, in my case, meet a sloth in the car park.
The classic visitor route works well for families. Starting in Tortuguero National Park, you'll wake to the throaty growls of howler monkeys and explore the waterways of this flooded rainforest by boat, with the added bonus of observing turtles hatching on the park's beaches if you visit during the summer holidays.
The knowledgeable wildlife guides also add value to your trip: they'll use all of their senses to help you spot creatures on guided walks, and they're familiar with the haunts of various local species. On a night walk, my guide was able to lead me straight to a tarantula's lair, and recognised the call of the red-eyed tree frog, enabling us to track one down.
You can then move on to the Arenal Volcano area, where children aged ten and up can take part in exhilarating activities. I highly recommend the zip-line, which offers views over the volcano and surrounding lake, as well as rafting and exploring the canopy walkways. End at the long, volcanic beaches of Tamarindo, where the waves are just challenging enough for beginner surfers.
How far your money goes in Costa Rica
Price of a hearty meal at a soda (traditional Costa Rican restaurant): £12 per person
Entry to a hot springs complex (near Arenal Volcano) including dinner: £44
By Overseas Product Executive Daniel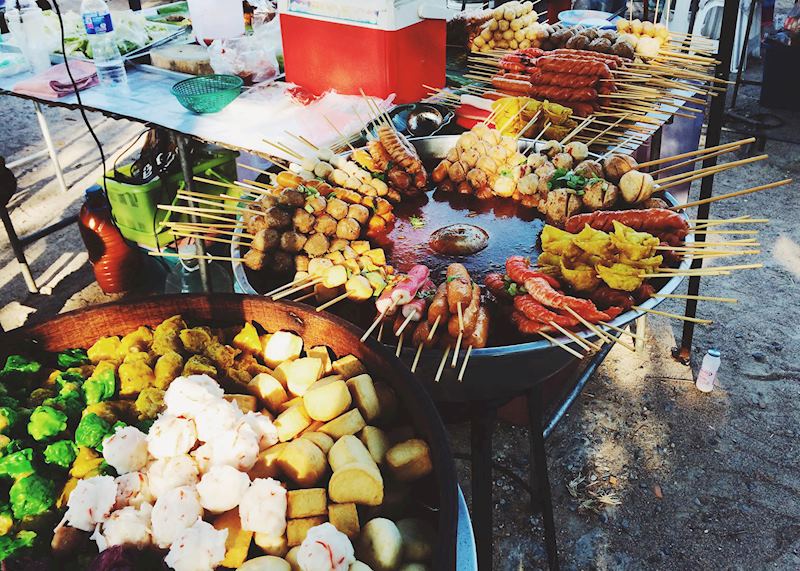 Thailand has managed to sustain its reputation for good value. In essence, it's a combination of competitively priced hotels and convenient flights but, once you're on the ground, your money goes even further.
I can slip out of my office in Bangkok and pick up a bowl of freshly cooked rice from the stall outside, accompanied by an iced tea, for only a couple of pounds. At the other end of the scale, I've been lucky enough to eat at Sra Bua, a modern Thai restaurant conceptualised by Michelin-starred chef Henrik Yde Andersen. The seven course tasting menu will only set you back about £100.
Choose to travel in 2017 and you'll be visiting at a very significant time. Although the official mourning period has finished, many Thai are still wearing black in memory of King Bhumibol Adulyadej. Shrines to the king have been erected in towns and cities and there's a photo montage of him as you enter the airport. Festivals and celebrations might be a little subdued — but it's still a chance to witness an historic period in the country's existence.
For an economical trip, I'd consider two bases, exploring Bangkok and its surroundings before relaxing on the beach. Koh Samet is one of the quieter islands, and, as the majority of the island is protected national parkland, it's less developed than its neighbours. Le Vimarn Cottages & Spa, situated on a long crescent of beach, often includes complimentary meals and the occasional free night in its pricing.
How far your money goes in Thailand
Price of a local Chang beer: £1.80
Price of a street-food dish: £1 per person
By Hidden Beaches specialist Kate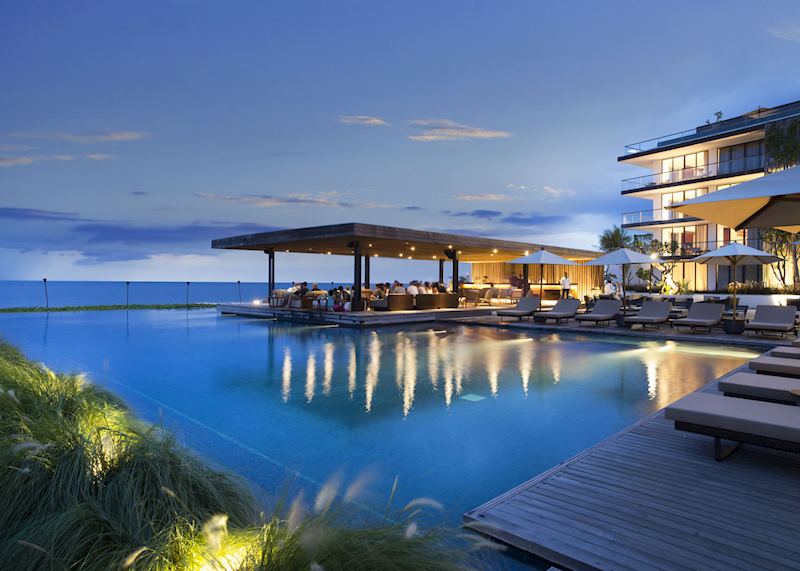 As a Hidden Beaches specialist, I often help couples find their ideal honeymoon. For me, Bali offers a balance of beach, culture and excellent value hotels. Choosing a destination where your money goes further can really make your honeymoon special — it's often only a little extra to upgrade to a spacious suite or arrange a private beachside dinner.
Head to Seminyak in the south of the island and you'll find a relaxed beach town of galleries, restaurants and shops. Yoga classes take place on the beach as the sun rises and days finish with cocktails and a bottle of local Bintang Beer.
The Alila Seminyak is to the north of the town centre, right on one of Bali's longest stretches of beach. The modern, minimalist rooms and suites have a distinct sense of relaxation, built around five infinity pools. The staff are well-versed in honeymoons, offering a range of complimentary surprises during your stay.
I'd suggest staying on a bed and breakfast rate and taking the hotel's free shuttle bus into the centre of town for dinner. I've enjoyed steaming plates of deep-fried tempeh (tofu) and babi guling (roasted suckling pig — a Bali speciality) for a few pounds.
For an insight into Balinese culture, you can head inland to spend a few nights in Ubud. Discover some of the town's temples and its 19th-century palace complex or barter for locally produced mementos in the artisan markets. Take a bike ride through the surrounding rice paddies and villages — I was welcomed into a farmer's home for a much-needed cup of lemongrass tea along the way.
How far your money goes in Bali
Price of a bottle of Bintang Beer: £1.50
Price of dinner in a local restaurant per person: £5
Start planning your trip to Bali
By Uzbekistan specialist John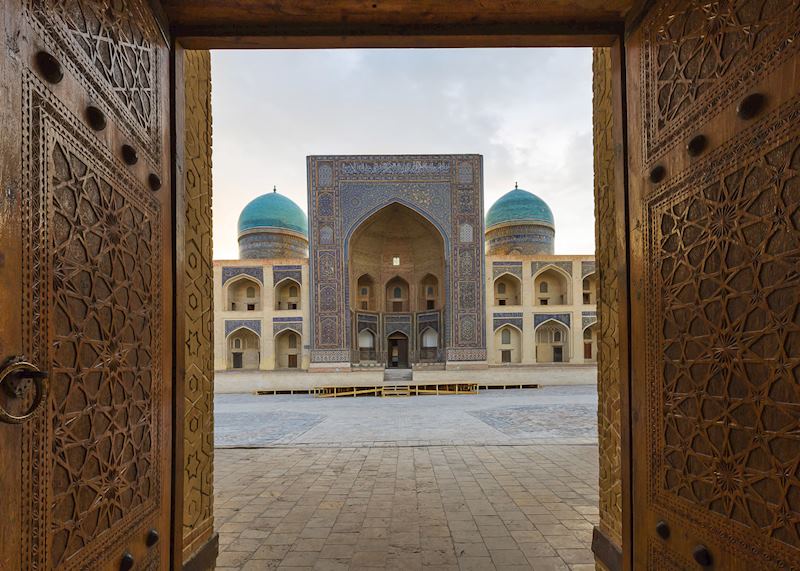 Great news for anyone interested in visiting little-explored Uzbekistan is that, from April 2017, UK citizens will no longer need a visa. Costing £133, the visas have to be arranged in advance, making it difficult to visit last minute and adding an extra cost to your travel budget. However, once they're abolished, you'll only need to pay a £45 entrance fee on arrival.
Following the death of President Islam Karimov last September, it seems that interim president Shavkat Mirziyoyev has big plans for opening up the country to visitors. While making it easier and cheaper to access the country is a positive change, I'm wary that increased tourism could change its authenticity and character. Visiting sooner rather than later means you can still experience the real Uzbekistan.
This often forgotten country has an interesting history, playing a key role in the Silk Route. The people are always very friendly and welcoming (I was even invited to the wedding of my driver's niece). The beautiful Persian architecture means you're constantly gazing up at the blue domes and mosaics of madrassas and mosques. It's also very cheap once you're there, with a meal costing just a few pounds despite the generous portion sizes.
My favourite city is Bukhara. I knew little about it before I visited, but soon fell in love with its laid-back atmosphere. Stroll around the streets and you'll see old men playing chess, people sipping green tea and food stalls selling fresh kebabs. Watch craftsmen and women weaving carpets in the markets — visit early enough and you may receive a discount for being the first sale of the day.
How far your money goes in Uzbekistan
Price of a meal: £5 per person
Price of a pint of locally brewed beer: £2
Read more about trips with Audley

Start thinking about your experience. These itineraries are simply suggestions for how you could enjoy some of the same experiences as our specialists. They're just for inspiration, because your trip will be created around your particular tastes.
Further Reading