If you've explored a destination on land, why not spend a few days exploring the underwater part of it? A whole new world is waiting to be discovered just beneath the waves.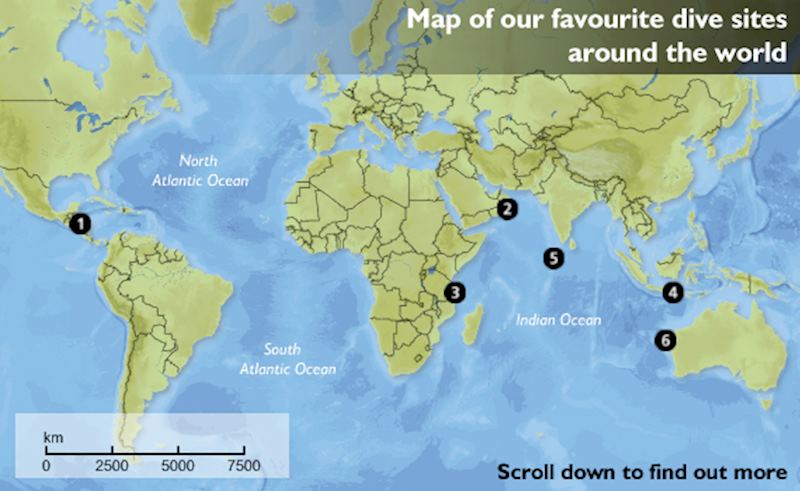 A number of our destination specialists are keen divers, some are qualified instructors. Here they pick out their own favorite scuba diving sites from around the world.
1. Belize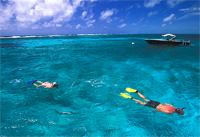 As an experienced diver who has explored many dive sites throughout the world, I can guarantee that you really can not get a much better scuba diving experience than in the crystal clear waters of the Caribbean, off Belize. Here the world's second longest barrier reef, at nearly 300 km (186 miles), is teeming with life and waiting to be explored.
The coral reef rivals that of anywhere else I have been, with its array of beautifully-colored soft and hard corals and abundant sea life such as turtles, moray eels, reef sharks and spotted eagle rays. We work closely with Turneffe Flats who operate three, four and seven night diving packages from their wonderful family run lodge on Turneffe Atoll. The diving here is both peaceful and pristine — you will barely see another boat and each and every dive is incredibly different.
Discover more about booking a tailor-made trip to Belize
---
2. Damaniyyat Island, Oman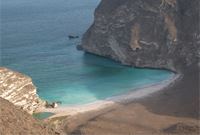 Fed by rich currents from the Indian Ocean, the waters around Oman are able to support a huge variety of marine life. Divers can regularly expect to see angelfish, moray eels and often some (very docile) black-tip reef sharks amid stunning coral formations.
The protected marine nature reserve of the Damaniyyat Islands, where whale sharks are known to congregate in remarkably clear water, are absolutely world class and lie 15 km (9 miles) from the coast. Added to that, Oman has several nesting beaches for the green turtle so it is not uncommon to encounter these placid and graceful creatures over the course of a dive.
Discover more about booking a tailor-made trip to Oman
---
3. Mafia Archipelago, Tanzania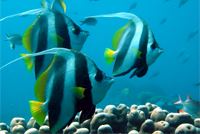 One of my favorite areas for diving off East Africa is the
Mafia Archipelago
in Tanzania. The Chole Bay boasts 48 species of coral ranging from beautiful sea fans to pink-tipped staghorn coral. The marine life itself is superb with more than 400 species of fish including colorful damselfish, butterflyfish, Napoleon wrasse and hawksbill turtles.
Visibility is best from October to February, and between November and March migrating whale sharks pass through the islands, which is a real treat. The lovely thing about diving off Mafia is the diversity of the dive sites which can suit beginners right up to advanced divers.
Discover more about booking a tailor-made trip to Tanzania
---
4. Gili Islands, Lombok, Indonesia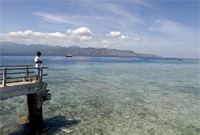 The Gili Islands, off the island of Lombok, have long been renowned on the backpacker circuit for their tropical blue waters and white sand beaches. Although the islands themselves have now become saturated with accommodation options, the hundreds of dive sites around the islands are still an excellent place for new divers or those looking to fit in a bit of diving on a touring trip.
Famous for the abundance of green and hawksbill turtles, the area is also home to manta ray. Visibility is regularly in excess of 20 m (65 ft) and the coral life found at a depth of between 20 to 30 m (65 to 98 ft) below the surface is superb.
The last time I visited the Gili Islands, I chartered a traditional local boat at our favorite hotel in the area, the Tugu Lombok. From here we set sail on a half day tour exploring the islands, stopping where we liked to dive or snorkel in these tranquil waters — a day trip I would certainly recommend.
Discover more about booking a tailor-made trip to Indonesia
---
5. Male, The Maldives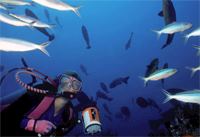 My favorite dive site is a 'cleaning station' not far from Male and within easy reach of some of our resorts in the Maldives. A cleaning station is a location where fish and other marine life congregate to be cleaned of parasites by animals such as cleaner shrimp and cleaner fish.
Some of these locations attract manta ray and whale sharks, which are probably two of the most exciting marine animals to see during a dive.
Discover more about booking a tailor-made trip to The Maldives
---
6. Ningaloo Reef, Western Australia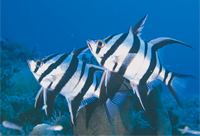 It is impossible to choose one particular dive site as a favorite of mine within Australia as the country is blessed with too many to mention here. However, the many dive sites that can be found around the famous and altogether infrequently visited Ningaloo Reef on the west coast of Australia have some of the finest diving to be found anywhere and can easily be ranked up there with the Indian Ocean and Caribbean.
As well as experiencing a plethora of colorful marine life, at certain times of the year you can spend a relaxing afternoon with the beautiful and elegant whale sharks. Measuring between 12 and 20 m (39 and 65 ft), these gentle creatures glide within feet of you without a care in the world. As well as these gentle giants you can spend time with other goliaths of the sea, such as manta rays, sharks and humpback whales. If, like me, you enjoy spending time viewing the iconic creatures of the sea, then Ningaloo Reef will never disappoint.