From treetop dining to occupying an entire island, some Southeast Asian resorts are extra special, perfect for relaxing or luxuriating — our specialists pick their favorites
Glamping at its best
Amanwana, Indonesia
Traveling by seaplane to your vacation accommodation is luxury enough for some. Traveling by tiny eight-seater seaplane and touching down on the impossibly clear waters surrounding Pulau Moyo requires an entirely new adjective!
Just off the coast of Sumbawa, Pulau Moyo (Moyo Island) is 350 sq km (135 sq miles) of paradise: lush rainforest, secluded waterfalls, outstanding coral reefs and arguably Indonesia's most lavish private beach resort, the Amanwana.
This exclusive resort is situated in a secluded cove on the western tip of the island, looking out to the protected marine park of Amanwana Bay. With just 20 luxury tents dotted from the jungle to the oceanfront, accommodation here is peaceful, unique and private. The atmosphere is that of modest opulence.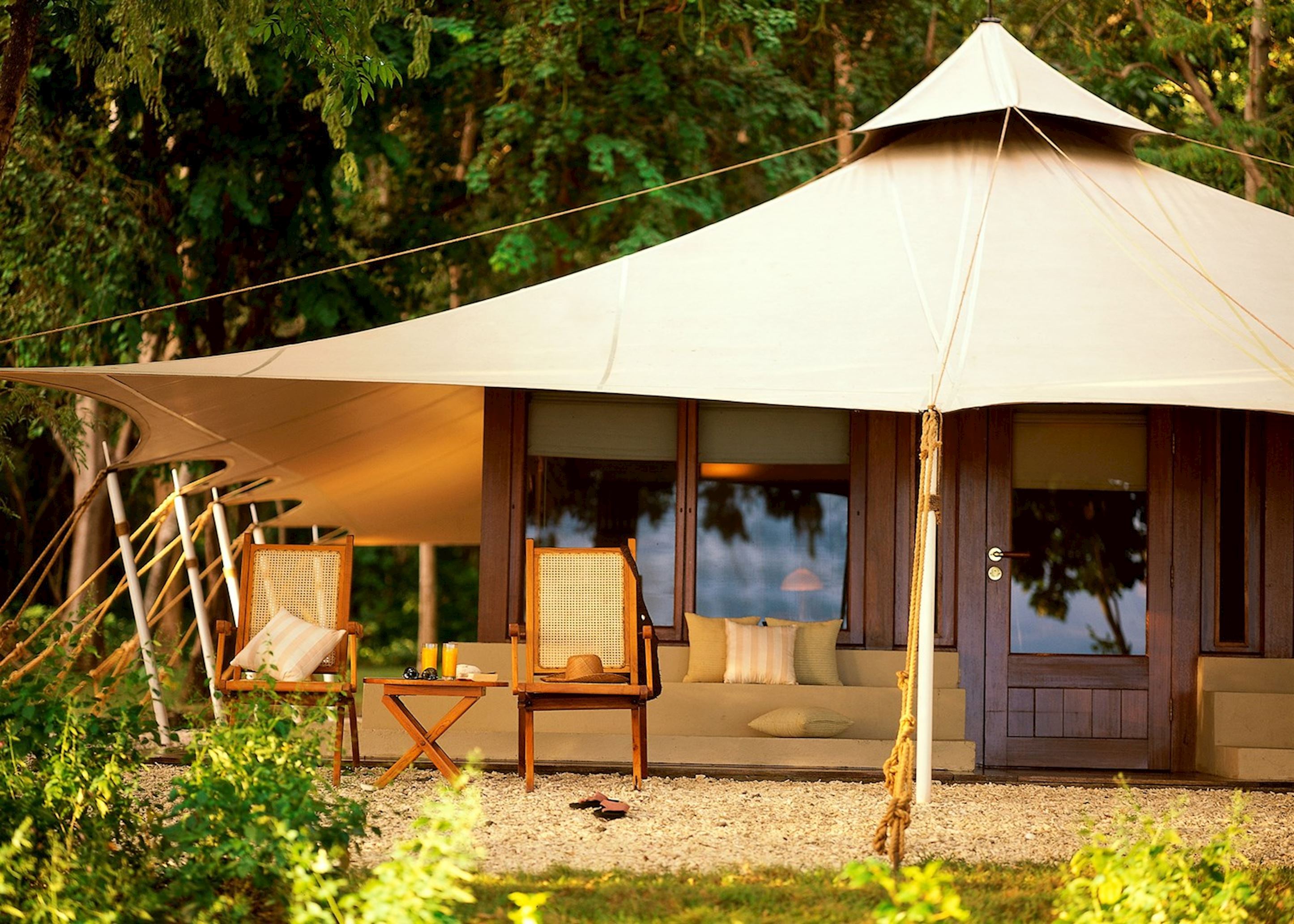 Staff appear just that second before you look up to call them, with a glass of chilled white wine they had spotted you enjoying at sunset the night before. Leave your tent even for a second and the room is restored to its untouched glory. The team of chefs create beautiful dishes three times daily, each served seamlessly by the ever attentive waiting staff. Every member of the Amanwana team knows you by name from the moment your plane lands at the jetty and you set foot on the island.
The resort really is different to anything else in Indonesia. The tents are large, with living, sleeping and dressing areas, twin vanities and even air-conditioning. The open-air spa has views across the bay and out to the Flores Sea. The private island location simply cannot be beaten.
The whole island is a nature reserve; you can spot inquisitive monkeys and diverse birdlife as you trek through the rainforest in the morning, then scuba dive or snorkel in the warm clear waters with giant turtles and tropical fish in the afternoon. As night falls, watch the protected indigenous Rusa deer approach camp as you settle in for a private cinema on the beach under the stars.
If all this isn't enough, charter one of the resort's fishing vessels or outriggers for a day relaxing at sea or for an evening sunset cruise. The resort's newest cruising vessel — the custom-built 32 m (104 ft) Amanikan — can also be used to venture further east to the islands of Komodo (home to the Komodo dragon), and Rinca.
A stay at the Amanwana will certainly prove to be unforgettable and unlike any other wilderness camping trip!
An exclusive, opulent island hideaway with stunning tented accommodation, Amanwana is a nature camp and wilderness hideaway.
Rainforest Retreat
Gaya Island Resort, Borneo
Only accessible by boat, and nestled into the hillside of a rainforest — newly opened Gaya Island resort has a truly unique setting.
Located on Pulau Gaya, just 20 minutes off the coast of Kota Kinabalu, the resort is one of Borneo's best kept secrets. Barely inhabited, it reflects all that is distinctly Borneo, from the lush rainforest interior to the turquoise waters of the protected Tunku Abdul Rahman Marine Park. The innovative design of the 120 villas allows you to feel a part of the beautiful and natural surroundings.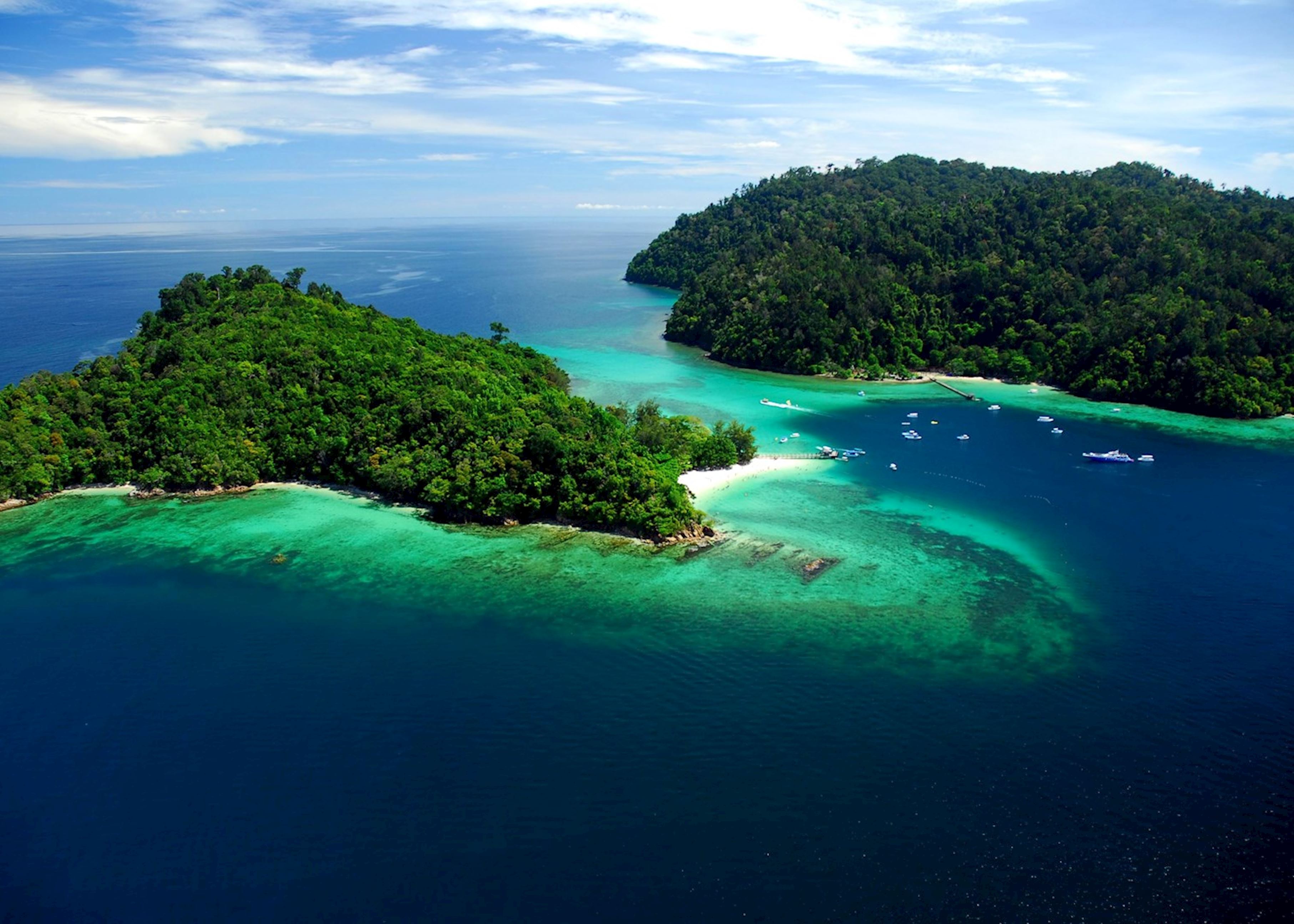 Wake up to stunning views of the ocean, rainforest canopy or Mount Kinabalu and begin your day looking for tropical wildlife with the resident naturalist or snorkeling in the aquamarine waters of the South China Sea. Perhaps indulge in an afternoon of pampering in the award-winning Spa Village before a rooftop dinner of fresh seafood, followed by a glass of champagne on a private sunset cruise.
Overlooked by Mount Kinabalu, Gaya Island Resort is a sleek and elegant option for those who enjoy a little luxury on the fringes of one of the world's richest tropical wildernesses.
A stay here allows you to immerse yourself in Borneo's incredible wildlife, both on land and below the waves, and its excellent facilities give you the chance to truly unwind.
Dining in the treetops
Soneva Kiri, Kohkood, Thailand
How do you fancy being hoisted six meters up into the air where, not only do you have a bird's-eye view of the beach and rainforest that surrounds you, but by a waiter who arrives by zip-line? This is just one of the unique experiences offered by Soneva Kiri in Thailand.
Thailand is renowned the world over for beautiful beaches, warm welcomes and delicious food. And there is no finer place in the country to experience all three of these qualities than in your private dining pod at Soneva Kiri, a luxury resort on the Thai island of Koh Kood.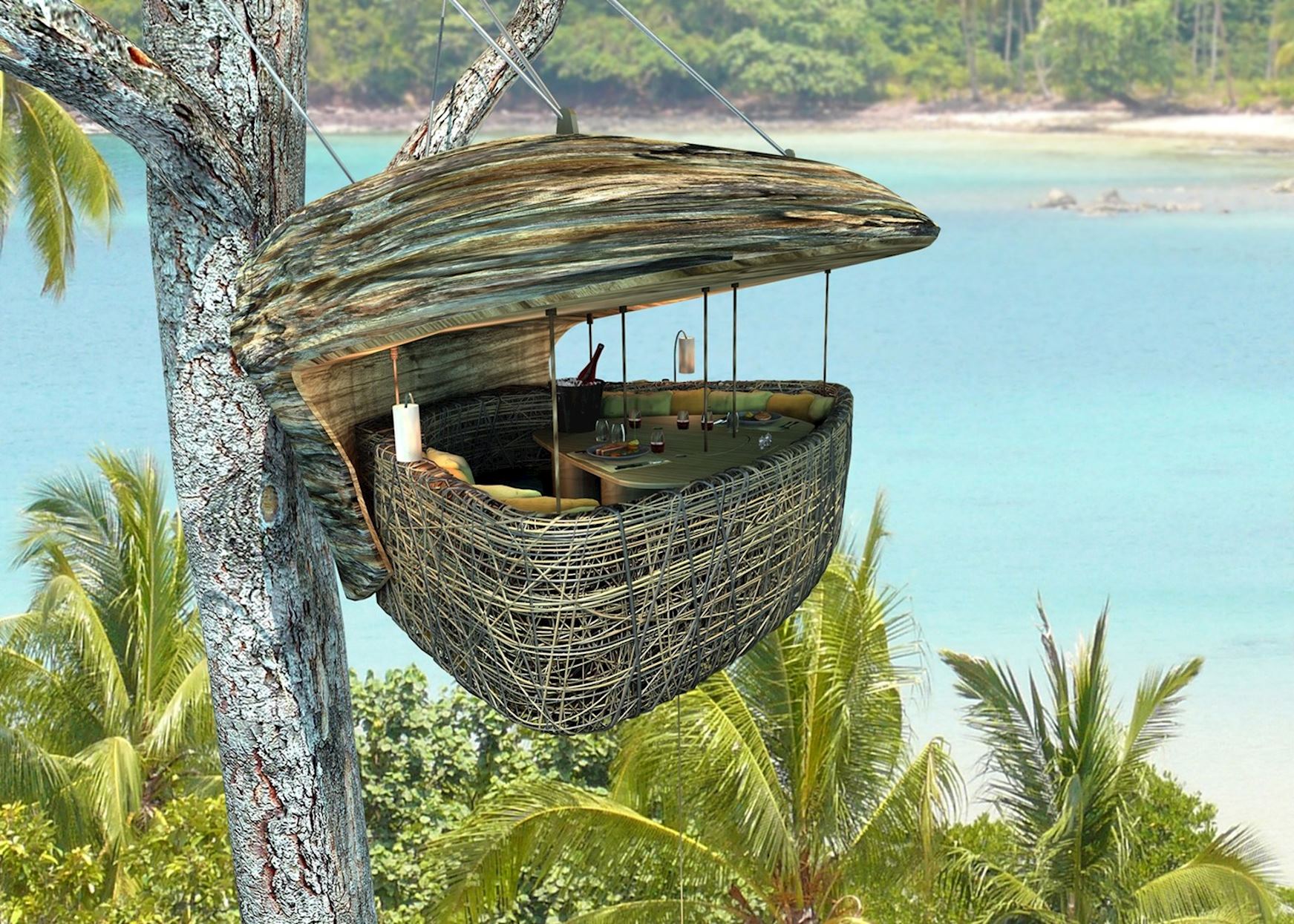 Not only will you have a menu that offers perfectly spiced and mouth-watering dishes, complemented with the expected fresh kick of flavors — mint, lime juice, tamarind, chili — you'll have glorious views out over the azure waters from your treetop pod.
The quality of the food and treetop dining echo the values of the entire resort. It's barefoot luxury at its finest; all of the villas have private pools, and a Man (or Girl) Friday on hand 24-7. The resort also includes an open-air cinema, five different restaurants, a chocolate room (popular with a lot of guests!) and a host of complimentary activities from Thai kick-boxing to stargazing in a purpose-built observatory.
Soneva Kiri is the first resort of its kind on Koh Kood. The journey to Soneva Kiri is by light aircraft from Bangkok to a neighboring island, and then by speedboat to the arrival pier where your desert island experience begins.
Escape to your own tropical paradise
Ariara Islands, Philippines
Located in Palawan, one of the Philippines' most stunning and diverse archipelagos, Ariara is the perfect place to unwind in luxury and words might normally be associated with live out your very own desert island dream.
Staying here not only means you get your own private property — it also includes exclusive use of the whole island, managed and serviced by the owner's personal staff. Designed by renowned Filipino architect Jorge Yulo, the buildings are contemporary in style and have been designed and built with sensitivity to the environment. The property provides luxurious and spacious accommodation for up to 18 guests.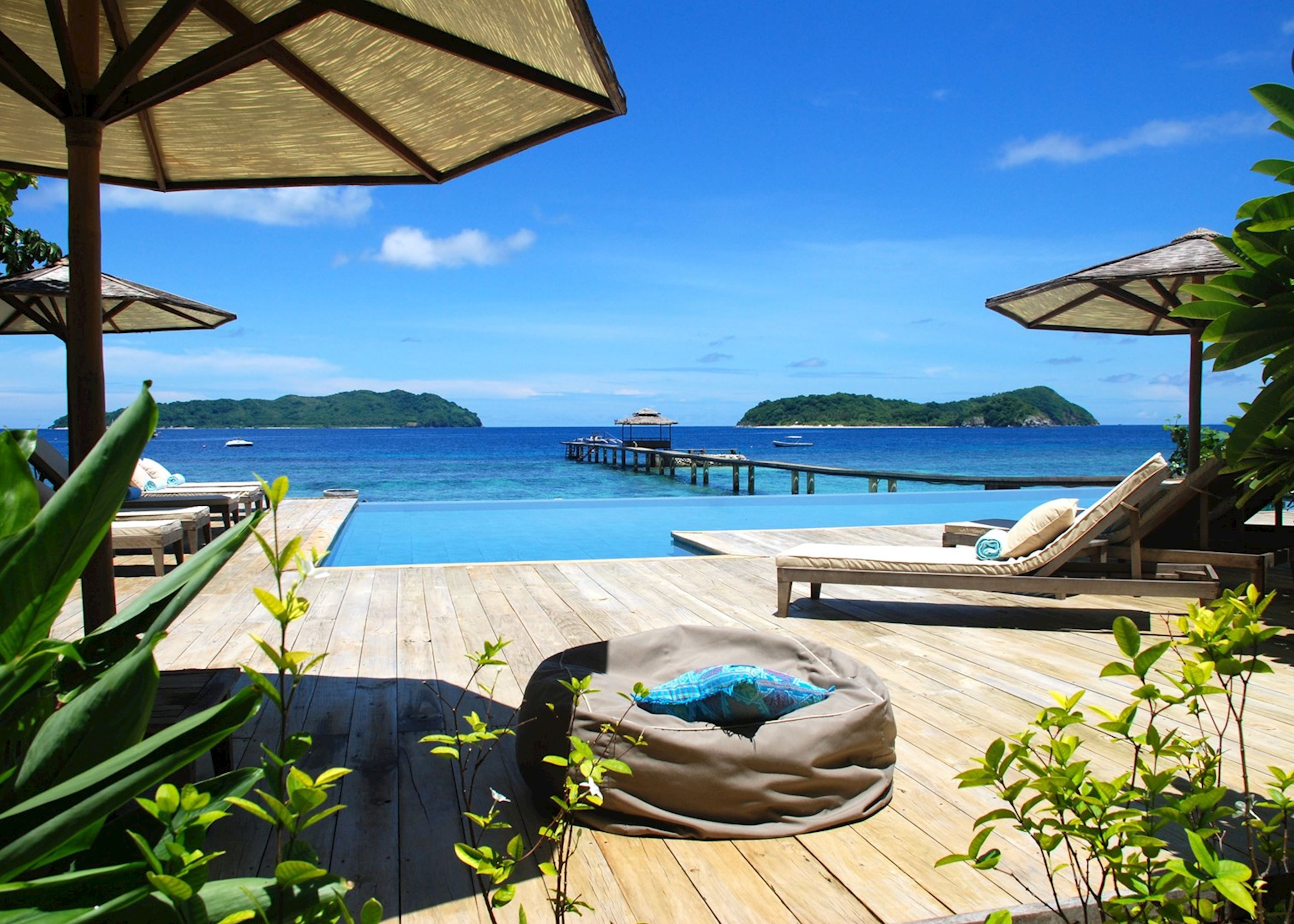 Covered by lush green forests, rolling hills and miles of untouched golden sand, castaways can spend their days lounging around the gorgeous infinity pool, designing their bespoke menu with Ariara's executive chef, or swimming with turtles on the spectacular house reef.
You're not marooned on the island however. Take a trip on the Karen Joy — your 30 m (100 ft) trimaran, free to use as you choose. Sail across to the iconic coastal town of El Nido while your private chef serves up delicious food, or explore neighboring islands to spend your days diving and snorkeling in turquoise bays. Ariara is the ultimate secluded getaway that is yours to share with whom you choose and no-one else.
Cambodia's only luxury each resort
Song Saa Island, Cambodia
When you think of a trip to Cambodia, images of the majestic and awe-inspiring temples of Angkor spring to mind, not 'luxury private island.' These words might normally be associated with places like the Maldives, but now Cambodia has its own unique offering.
Song Saa (meaning 'sweethearts') are two islands located in the sapphire waters of the Gulf of Thailand. The island resort is located just 30 minutes by speedboat from the international airport of Sihanoukville. Featuring 27 intimate pool villas, it should be on any honeymooner's wish list.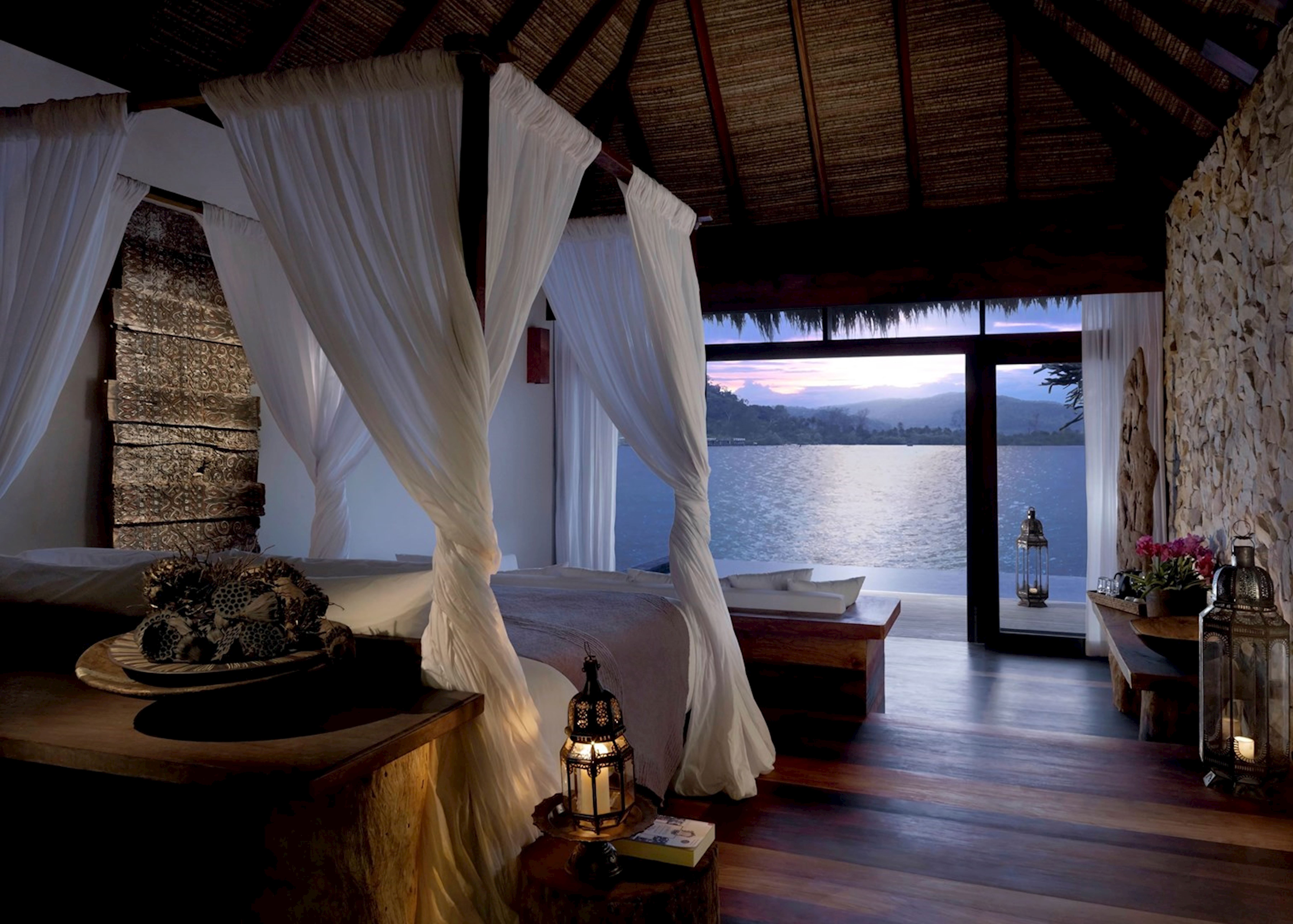 Song Saa has a one-villa-one-price all-inclusive policy, meaning everything is included during your stay — food, drinks, excursions, laundry, even phone calls.
For those thinking that they may be stuck for dining options, the resort has everything covered from in-villa Khmer tasting menus, to private candlelit barbecues on the beach, freshly made pizza at the Driftwood Bar or fine dining in the Vista Restaurant.
If you are worried you might get bored of your infinity pool or eating too much good food, Song Saa has plenty to keep you occupied. You can kayak, snorkel, take a mangrove or rainforest tour of the islands, picnic on other islands, do yoga or indulge in the spa treatments.
Song Saa offers a truly unique and wonderful getaway where you can have your Robinson Crusoe experience in style.
Located in the unspoilt Koh Rong archipelago are two small islands which make up Song Saa. Accommodation consists of stunning jungle, sea-view and overwater villas. Song Saa also has a strong commitment to conservation, the environmental and social responsibility.