The Kimberley is the real Australia, a place with more crocodiles than people, epic vistas and opportunities for both high adventure and cruising in style. Paul Done, one of Audley's Regional Managers introduces this wonderful wild west.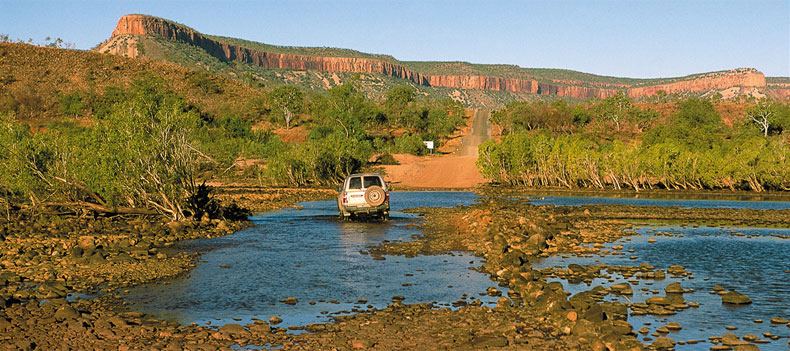 The Kimberley — three times bigger than England — is the kind of place that, even as an Australian, I feel is the real Australia. Big. Bold. Beautiful.
I've been fortunate enough to travel to many amazing destinations within Australia. While my heart lies at a particular point on the coast between Sydney and Melbourne — where I grew up and my family still reside — if I were to choose my favorite Australian destination it would have to be the Kimberley.
The Kimberley is the kind of place that, even as an Australian, I feel is real Australia. Big. Bold. Beautiful. It's a destination I've been fortunate enough to explore a couple of times, in two different fashions: first by 4x4, splitting this magnificent wilderness along the dusty artery known as the Gibb River Road; then in luxury, by expedition boat, exploring a vastly different aspect of this truly unique part of the country.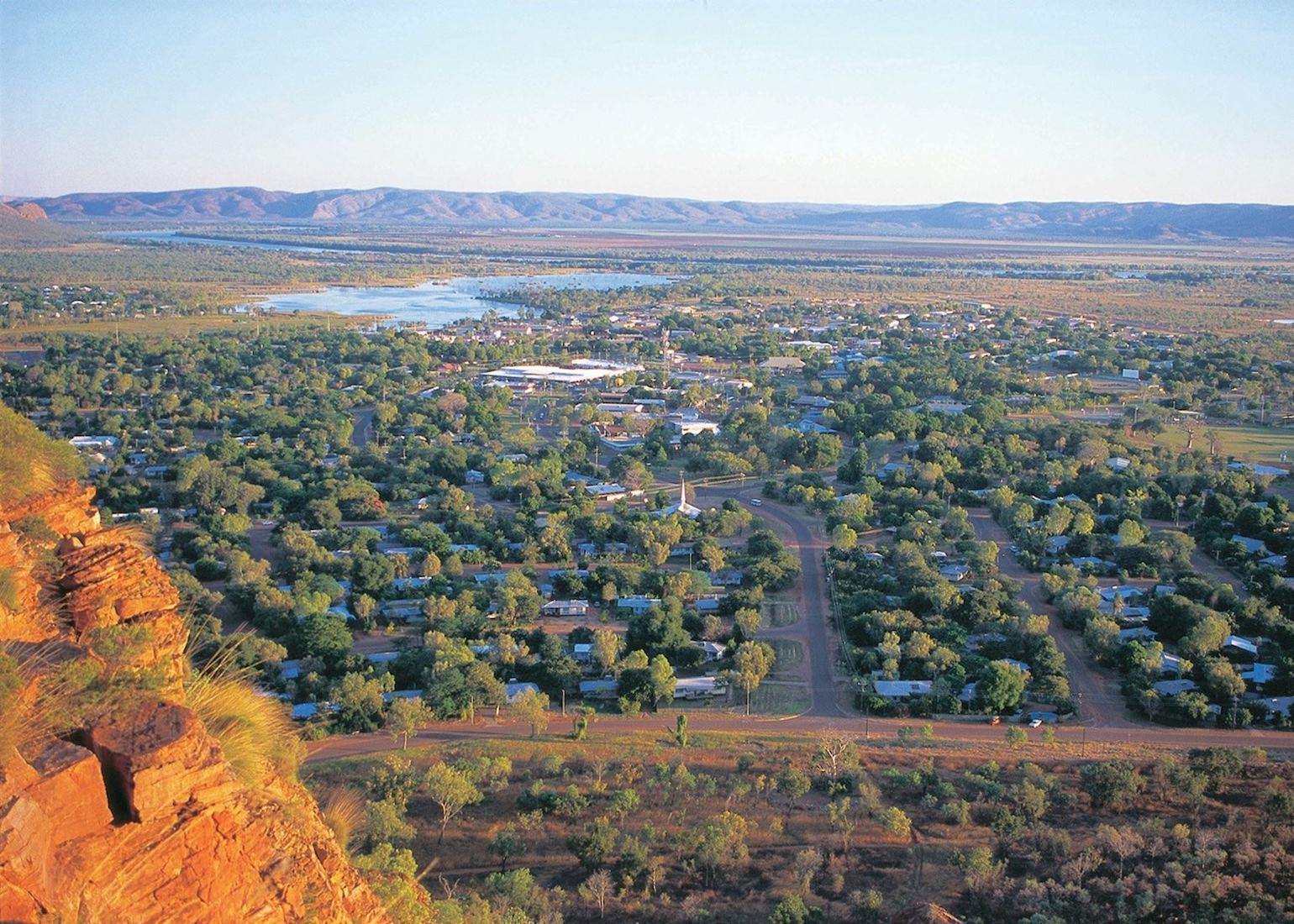 It is important to understand the scale of this region, not only to put things in perspective, but to explain my methods of exploration. The Kimberley occupies an area 15% bigger than Japan, three times that of England. Less than 40,000 people call it home, half of whom reside in its western and eastern entrance points, Broome and Kununurra. Some of the most remote, uninhabited wilderness stretches in between. So it's 'big' in Aussie terms: big space, big skies, big landscapes. It's perfect for those looking to taste the real Australia.
The Kimberley by road
Traveling the Kimberley by vehicle does require more preparation and advice than hopping on a cruise or one of the excellent small-group tours. The seasons are unforgiving, the distances are vast; a healthy appreciation of not trying to do too much or travel too far is really the order of the day. But it is oh-so worth it.
To do it properly you should fill those days when you're driving with many stops. Stops to admire plunging waterfalls — complete with reinvigorating swims in their cool croc-free waters. Stops to feel humbled by Aboriginal rock art, which tells stories of the ancientness of this land. And blissful, non-planned stops to simply admire the landscapes.
There are the classic scenes that I'm sure you have seen. The sweeping escarpments that glow bright red like fanned embers in the late-afternoon sun. The iconic boab trees, gnarled and twisted. The alluring multi-tiered waterfalls. The hidden oases. Your journey will be filled with these kinds of scenes. But if I'm honest, some of my fondest memories from my time driving through this region aren't those featured on the postcards. They involve the times when I spontaneously stopped the car to just appreciate the wilderness.
For instance, I remember pausing at a river's edge, ready to navigate my first river crossing; I remember waiting intently, soaking it all up, sun beating on my back as I studied the path cut by fellow explorers (far more experienced than me I'm sure). But there were also many stops to just breathe in the vastness of the land I was lucky enough to be traveling through.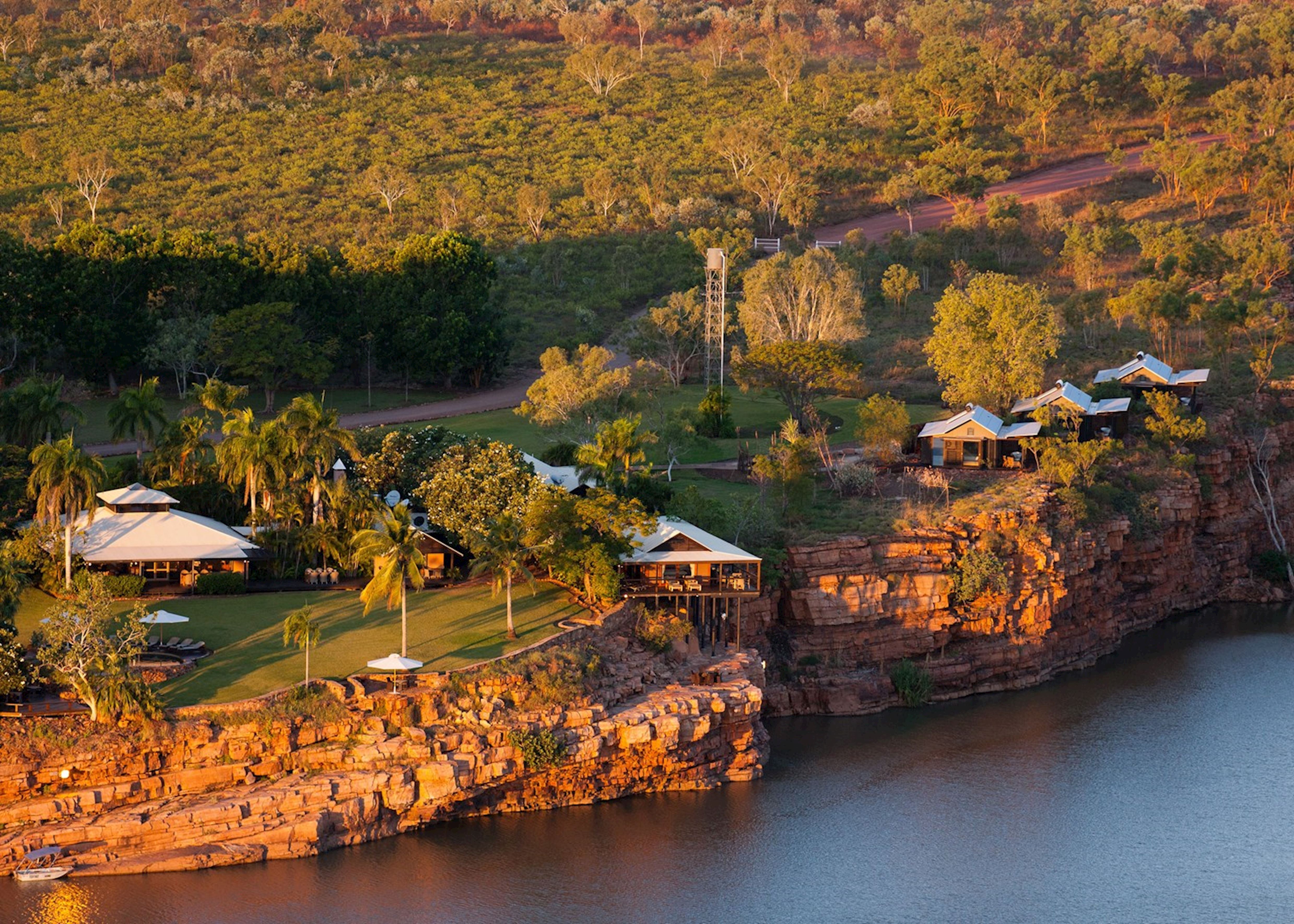 This is how I recommend seeing the Kimberley by road. Spend your days slowly exploring. Take it all in and try not to cover too many kilometers in one day so that you never feel rushed. And then rest assured that after a full day of exploration, some great — albeit diverse and mostly simple — accommodation awaits. It may be a permanent tent, it may be a truck stop, or it could even be a cattle station the size of a small European country. Regardless, it will serve up home-cooked Kimberley hospitality, a cold beer, a glass of wine and the obligatory yarns from fellow travelers regaling tales from the day's adventure. This is what traveling along the Gibb River Road is all about.
The Kimberley is, as we've already established, an enormous chunk of Australian real estate. The few roads that exist — the Gibb River Road being the most famous of them — stretch out as far as they can, taking travelers to as many sites as their dusty fingers can reach. However, they reveal just a snapshot. The majority of the vast Kimberley lies completely untouched.
It's only by light aircraft that you can see huge swathes of this remote wilderness area. And it is on the Kimberley's lengthy coast — the untouched shoreline where this uncompromising land ends and frequently plummets dramatically into the sea — that you get the most amazing vantage point to take in many of the region's most recognized highlights: the bits that the road doesn't reach.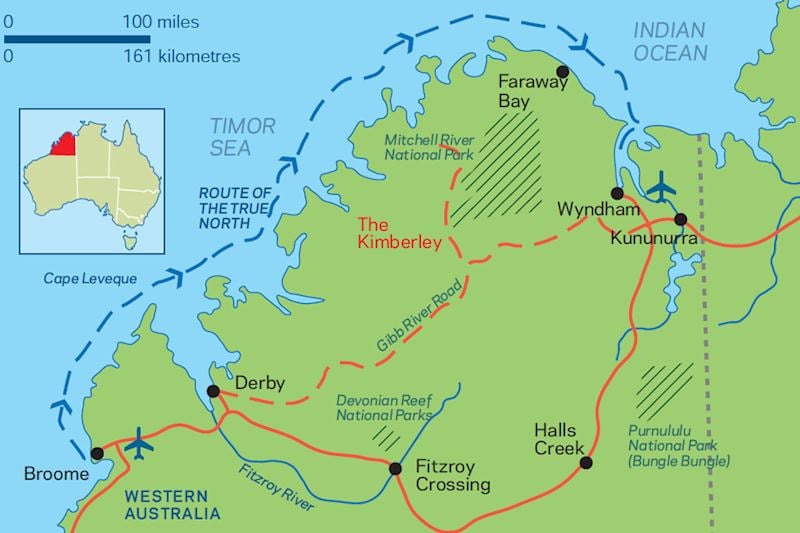 Do I want to try barramundi fishing? Hike to a hidden waterfall? Or hop in a helicopter to be whisked to a spectacular barbecue spot? Tough choices.
The Kimberley coast by boat
A handful of excellent companies explore the Kimberley coast. I was fortunate enough to find myself on board what's recognized as the best of the bunch — the True North — a beautiful purpose-built luxury expedition vessel operated by Northstar Cruises, which has been exploring the Kimberley for over 25 years.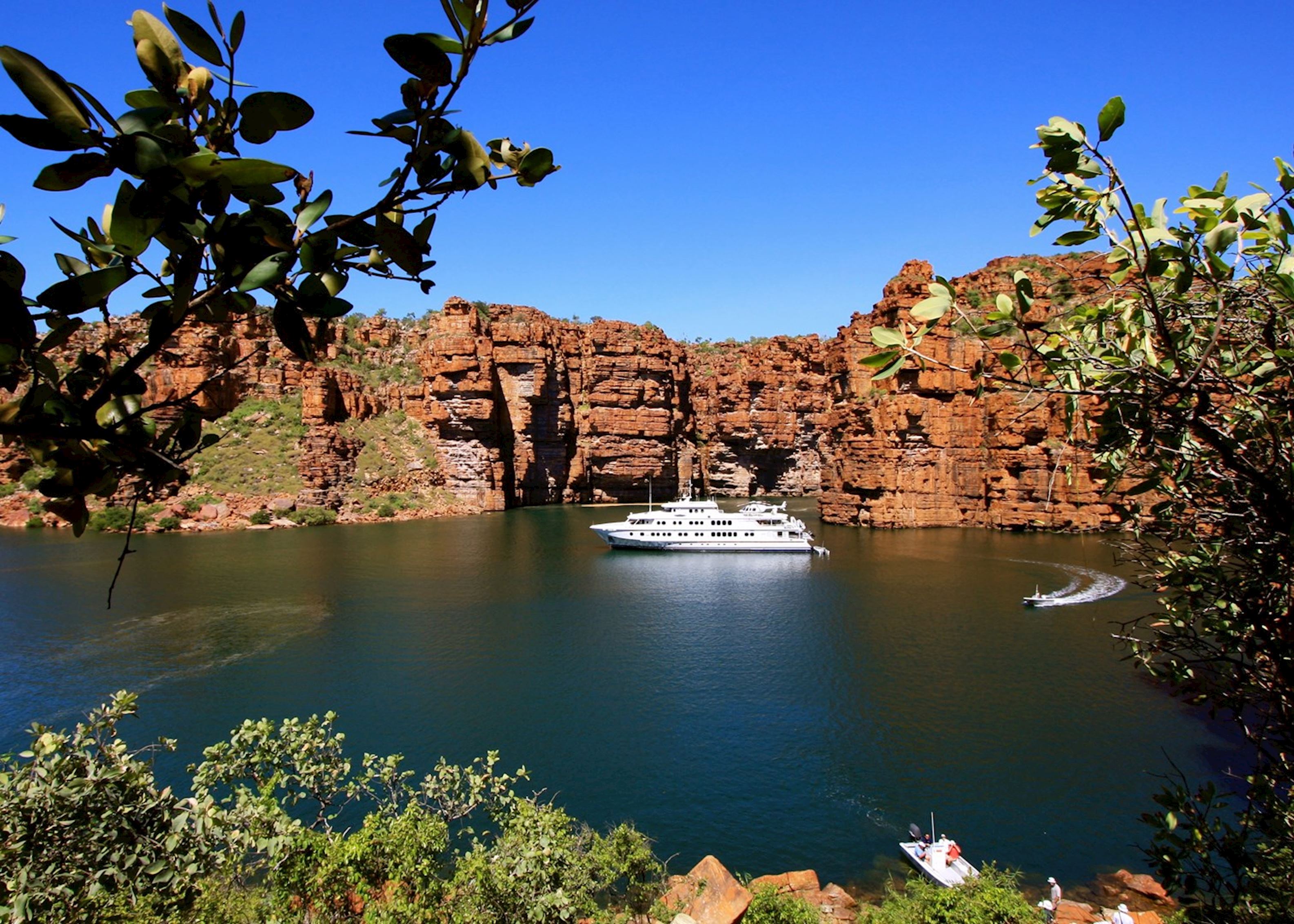 That time has clearly allowed Northstar Cruises to polish its act. Nothing is left to chance. Each cruise takes 36 guests, who are serviced by 20 staff. On board they pack one helicopter, six exploration tenders, an on-board naturalist and two fine-dining chefs (my cruise was graced by one from a Chefs Hat-rated restaurant in Melbourne, a grade akin to a Michelin star); also, the larders and fridges are jam-packed with high-grade seasonal produce. These are the supplements to the main event, the cruise itinerary — a veritable smorgasbord of exploration and adventure.
My cruise started with my shoes being tied up and slung around my neck. I was one of a full complement of excited passengers boarding tenders from the pearly white shores of Broome bound for our own private getaway, the True North. We all felt like rock stars. We were greeted by the amazing crew (soon to become friends), handed a glass of champagne and a scallop canapé, and invited to watch the sun set over the beautiful beach, while the hoi polloi looked on from the mainland. We all grinned, clinked glasses, snapped the first of many (many) sunset photos and giggled at the thought of what lay ahead.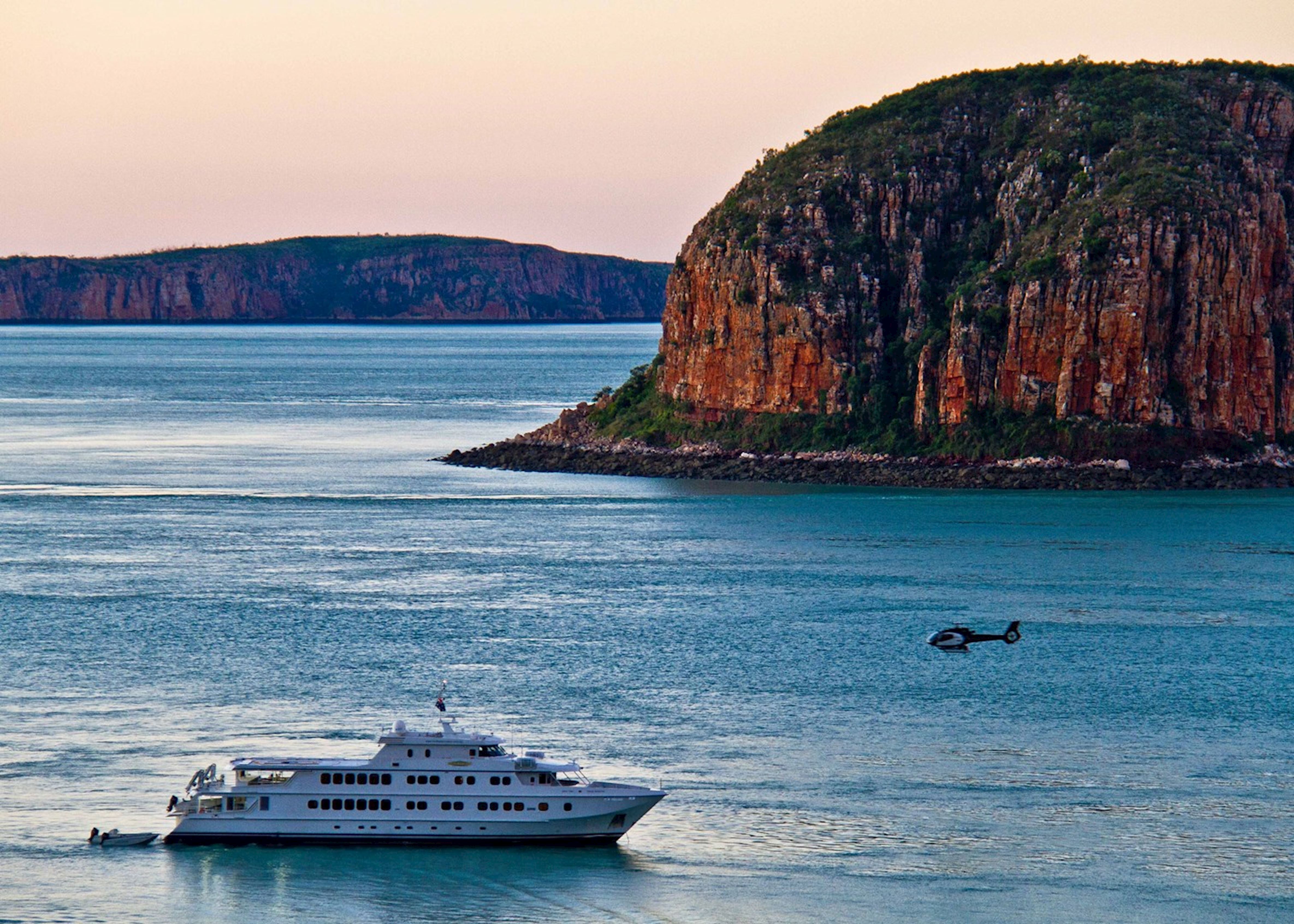 This is how days on-board were spent and fellow guests and I quickly fell victim to this intoxicating rhythm. Each evening after a gourmet dinner, after we'd all raucously clapped and cheered as the cruise director recapped on the day's events, the following day's activities were unveiled to dramatic 'Oohs' and 'Ahhs'. It is at this point that the most difficult part of the day presented itself. Do I want to try my hand at barramundi fishing again? Or how about a hike to a hidden waterfall? Time with an expert guide deciphering Aboriginal rock art, estimated to be over 30,000 years old? Or should I hop in the helicopter to be whisked away to a secret three-tiered cascade and perhaps the country's most spectacular barbecue destination? Tough choices.
A week later, after we'd become used to those tough choices, grown accustomed to course after course of fine-dining, seen so many spectacular sunrises and sunsets, we were still all giggling and grinning. What a way to experience the Kimberley! Yes, we felt like rock stars, but we all knew the Kimberley itself was the biggest star of all.
What not to do in the Kimberley
A word of warning: if tackling the 'inland' option of the Kimberley — and I highly recommend it — then don't try to do too much. Don't miss one stop to rush to the next. Don't get caught in the rain and watch your average speed of 60-70 km/hr drop to less than 20 km/hr. Don't nearly, very nearly, get bogged at various points. And don't find yourself in a situation where you are forced to alter your route in a place where mobile phones don't work.
This advice is most relevant if you are a first-time 4x4 driver, like I was — though it's made much easier with a set of comprehensive instructions to guide you through each step of your road trip. This is a wonderful environment, but it is one that requires the utmost respect from those who travel through it.
Further reading