By Dubai specialist Matt
Before I visited Dubai, I pictured sparkling skyscrapers, vast shopping malls and golden-sand beaches. It's true that this is a bling city whose wealth is very much on display, from the Ferraris zipping along its highways to the world's tallest building, the man-made archipelagoes designed to look like palm trees and fountains that dance to music.
But, I discovered there are more layers to this desert metropolis. Visiting its older, more traditional areas, you can wander souqs, taste Middle Eastern foods and cruise the creek by dhow. You can also venture outside the city to explore the Arabian Desert by camel, sandboard or 4x4.
How your trip to Dubai could work
For many, Dubai's a stepping-stone en route to far-flung destinations. But, spend a little longer in the city or visit it in its own right and you can make a trip here your own.
For example, your visit could take in the essential highlights of the city, with time in Old Dubai, Downtown and the beach areas. Or, for a trip with a touch of luxury, stay in a secluded resort set among the desert dunes before ending with some relaxation on the Palm Jumeirah. And, with each area being easily accessible wherever you stay in the city, it's possible to enjoy a bit of everything in a short space of time.
Places to visit in Dubai
Downtown Dubai
The world's tallest building, the second-biggest shopping mall on the planet, choreographed fountains… Downtown Dubai is the glossy face of the city that everyone sees on websites, postcards and adverts before they arrive. I can't deny it has a certain wow-factor — it's the glamour and excitement of Las Vegas, without the tackiness.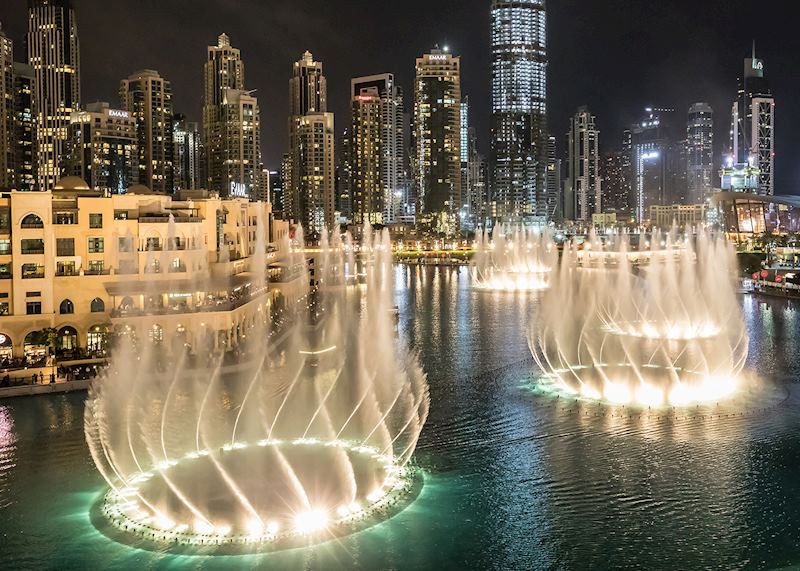 This is a great area to base yourself if you want to be at the heart of everything — you're steps from every shop imaginable, acclaimed restaurants serving a variety of cuisines and numerous entertainment options, while still being within easy reach of a beach and the city's older districts.
Things to see and do in Downtown Dubai
Your eyes can't help but be drawn to the Burj Khalifa, a jagged finger of glass and steel that rises 830 m (2,722 ft) to prod the sky. It's so tall that it's impossible to fit all in one picture unless viewing from a distance, and its shiny exterior reflects the near-guaranteed rays of sun.
We can arrange VIP tickets for you to ride the world's fastest elevator to the tower's exclusive 148th floor (you'll also have access to the main viewing platforms on levels 124 and 125). Here, from 555 m (1,821 ft) high, you can gaze out across the entire city and the glittering Persian Gulf.
The dizzying view also highlights your location on the edge of the desert, the city rising like a mirage from the sun-baked dust. Interactive screens show you what the same view would've looked like before the city's rapid development — the difference is stark, as densely packed skyscrapers are replaced with a scattering of low-rise buildings camouflaged against the sand.
You'll receive drinks and refreshments as part of your experience, and staff will be on hand to tell you more about what you're seeing.
At the foot of the Burj is a turquoise lake dotted with fountains. Head to the side of the lake or position yourself in one of the restaurants and cafés to see the fountains, illuminated by 6,600 lights, shoot up water in time to music every half-hour from 6pm. I watched the performance while sipping a non-alcoholic cocktail at Joe's Café in The Dubai Mall.
The mall is another highlight for many visitors to Dubai. As well as containing more than 1,200 shops, it's home to an aquarium, a virtual reality park, a cinema, a haunted house and the skeleton of a diplodocus.
Where to stay in Downtown Dubai
Palace Downtown sits on the edge of the Dubai Lake, giving you uninterrupted views of the fountains and the Burj Khalifa. I like how its Middle Eastern touches, such as carved wooden doors and intricate lattice work, create a sense of place.
Dubai's beaches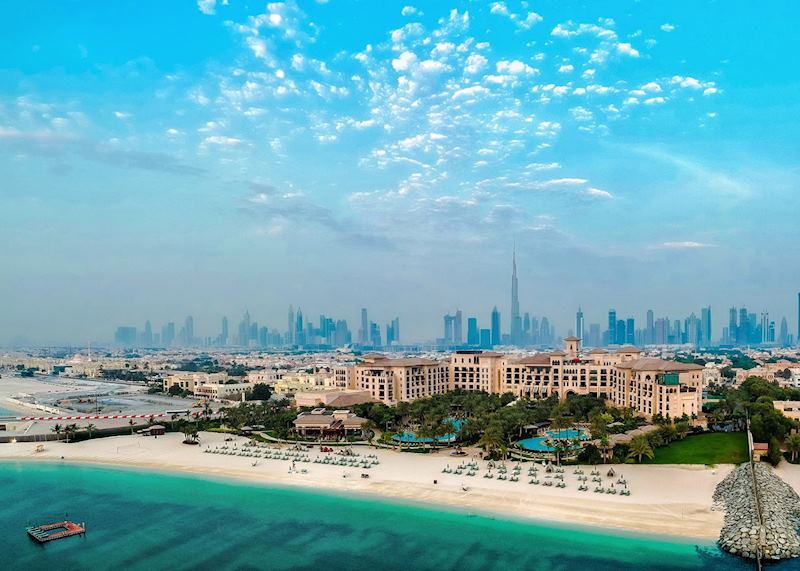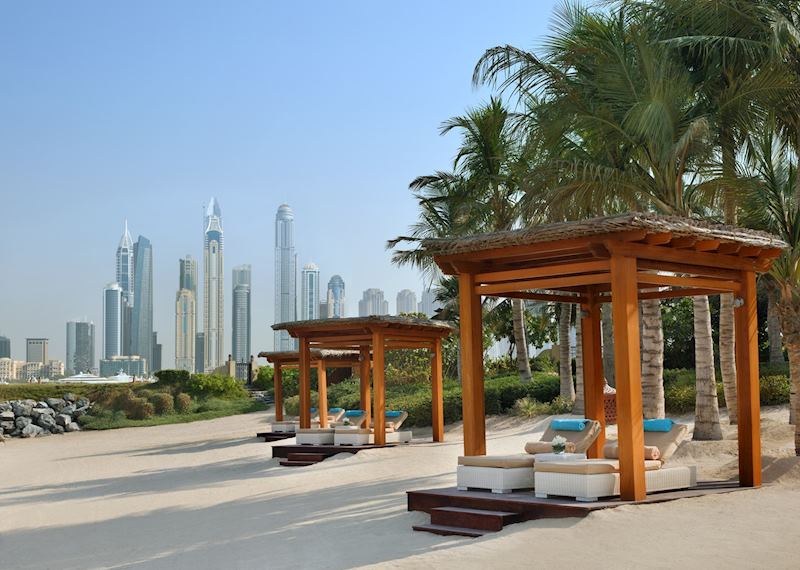 With sunshine almost guaranteed year-round and temperatures that range from warm to scorching, Dubai gives you ideal conditions for a beach break. I find it's easy to forget that many of the beaches here are man-made: you'll find swathes of soft, golden sand lapped by clear, turquoise waters warm enough for swimming in most of the year.
Hotels and resorts often offer activities like water sports, and some have their own private stretch of beach, lined with loungers and shaded cabanas.
I recommend staying in the popular Jumeirah Beach Residence (JBR) area, along the shoreline of the mainland. Or, choose a hotel in the adjoining Dubai Marina area, where you can balance time on the beach with strolls along the waterfront, which is lined with shops and restaurants.
Attached to the mainland by an underground tunnel, the Palm Jumeirah is a more exclusive beach area. Here, luxe hotels and resorts line the man-made fronds and outer circle of sand that make up the distinctive palm-shaped peninsula. You're further away from the city's other attractions here, but if you're looking for seclusion and all-out luxury, venture no further.
Dubai's best beach hotels and resorts
I like the Four Seasons Resort Dubai at Jumeirah Beach for beachside luxury. It has two sparkling pools lined with daybeds, its own stretch of beach and highly attentive staff.
Nearby, in the Dubai Marina area, the JA Oceanview Hotel is particularly good for families. It has a lovely pool area, is within a short stroll of lots of shops and restaurants, and connects to the beach via a dedicated walkway.
Or, for a stay on the Jumeirah Palm, I suggest the One&Only The Palm. One of the smaller hotels on the peninsula, it offers a high level of service in leafy surrounds, has its own beach and a distinctive Andalusian style that makes it feel as though you're staying at a palace.
Old Dubai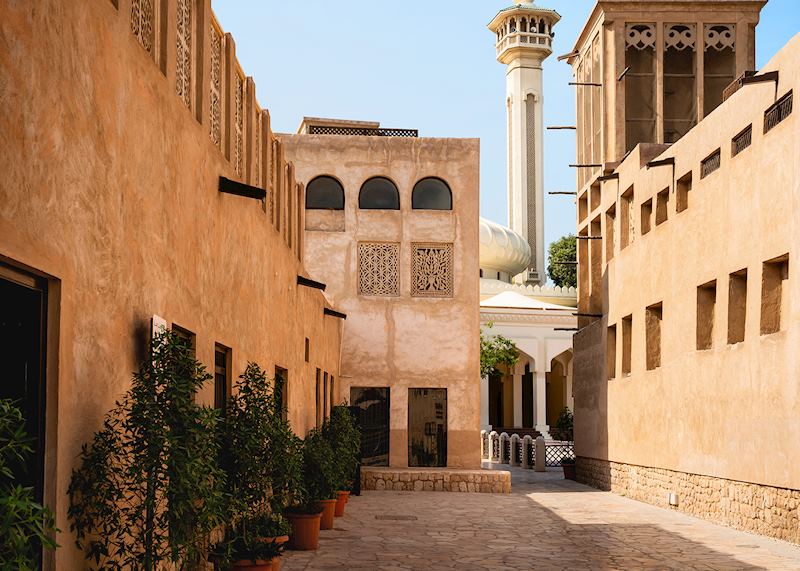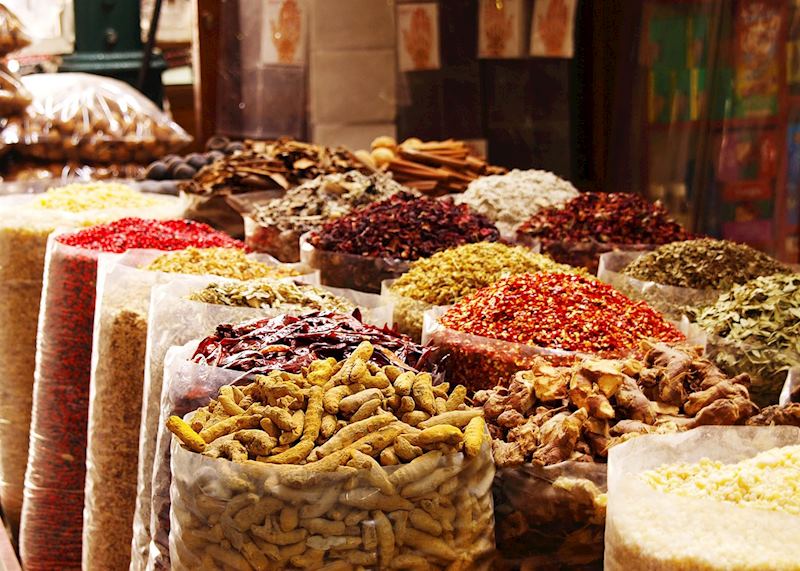 Dubai's past stretches far beyond its metal-and-glass skyline. Before the oil boom that sparked its rapid growth, Dubai was an 18th-century fishing village that grew to become an important port and trading hub, particularly known for its pearls.
Exploring the city's older districts along Dubai Creek, including the Al Fahidi Historical District and Deira, gives you a taste of the culture that's now overshadowed by Dubai's modern face. I was amazed at how different it felt in these relatively untouched areas — you'll find traditional sandstone buildings lining narrow lanes, early 20th-century souqs piled high with spices, textiles and gold, and galleries and museums that tell you more about the traditional culture that's still very much alive in these parts.
Things to see and do in old Dubai
We can arrange for you to take a walking tour of the Al Fahidi Historical District to experience a different side to Dubai. Your guide will tell you about the history and culture of the Emirati people as you stroll the district's winding, shaded streets. Mine explained how the traditional buildings were designed to keep their interiors cool through pierced lattice work and tall towers that help air flow. You'll also get a chance to browse souqs and bazaars that existed before the city's malls.
Another place to learn about Middle Eastern traditions and Islamic culture is at the Sheikh Mohammed Centre for Cultural Understanding, in the Al Fahidi Historical District. Visiting over a traditional breakfast, lunch, or dinner, you can have open conversations with the staff there. They encourage you to ask questions — anything from 'why do you wear the clothes you do?' to 'what rituals do you follow in a mosque?', so you leave with a little more insight into the Islamic way of life.
In the evening, you could board a traditional wooden dhow boat for a dinner cruise along Dubai Creek. It's a chance to see the city lit up in the distance as the sun sets and take in the sights of old Dubai from the water over a buffet meal.
Where to stay in Old Dubai
The adults-only Park Hyatt Dubai is set along the shores of Dubai Creek and the marina. It's right next to an esteemed golf course, but also has a spa, a large pool surrounded by palms and a peaceful infinity lagoon complete with private beach.
The Arabian Desert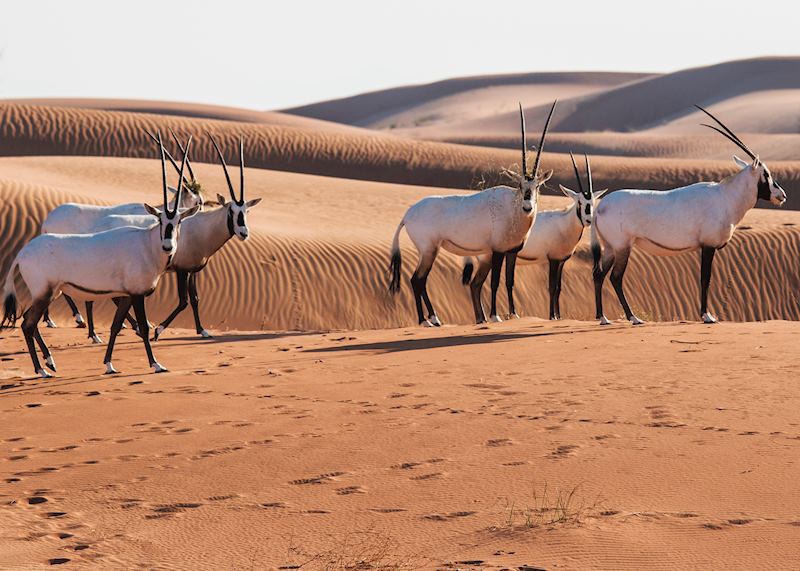 While you're surrounded by Dubai's sleek skyscrapers and leafy, palm-filled gardens, it can be hard to forget you're effectively in a desert. Just a short drive away, you reach a sea of orange dunes, the rippled sand constantly sculpted and reshaped by the desert winds.
I find a morning or afternoon in the desert is a good way to have a break from the city and explore a landscape that's completely different. And, you can learn about the local Bedouin culture that still exists in this stark terrain.
Things to do in the Arabian Desert from Dubai
I suggest joining a shared tour of the desert in the late afternoon. You're driven to the Dubai Desert Conservation reserve, a protected swathe of land where you might spot wildlife such as camels, gazelles and Arabian oryx.
You eventually reach a Bedouin-style camp, where you're welcomed with a refreshing drink. It's then up to you how you want to explore the dunes: you could opt for an adrenaline-driven 4x4 ride, slide down dunes on a sandboard or take in the desert from the back of a camel.
As the sun sets, you can climb to the top of one of the dunes to watch the changing light as the sun sinks into the sand. Then, gather around the campfire for a traditional meal of grilled meats and local sweets under the stars.
What to eat in Dubai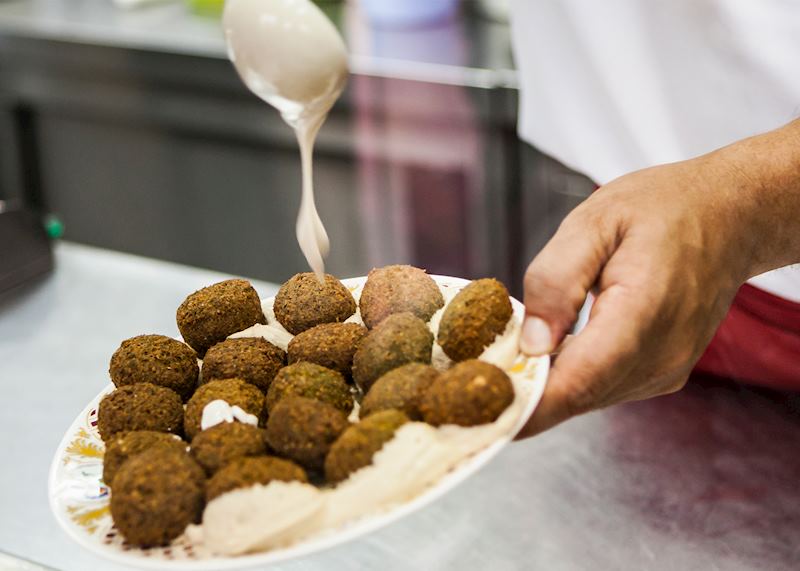 One of the best ways to explore the city's fusion of Middle Eastern cultures is through its food, so I recommend joining an evening food tour of Deira with a local guide. In contrast to the polished restaurants found downtown, you'll visit local eateries and food stalls to sample dishes inspired by Palestinian, Jordanian, Lebanese, Iraqi and Iranian cuisines.
You might try baklava, Lebanese smoked fish, stuffed herb falafels and cardamom coffee. And, through your guide, you'll hear about some of the traditions and rituals associated with eating and drinking across the Middle East.
Elsewhere, each hotel and resort in Dubai will have its own set of restaurants, bars and cafés, some headed by Michelin-star chefs. This is also where you should head if you'd like to drink alcohol, which is only permitted in hotels and bars. You'll find many eateries within the city's malls and lining its marina that serve dishes from around the world.
Getting around Dubai
Getting around Dubai is easy, with an inexpensive, clean and straightforward metro line running through its heart. Taxis are reliable and safe, with dedicated pink-roofed vehicles driven by women, for women. Bear in mind that journeys can take a while depending on traffic levels. We can also arrange transfers through our Dubai partners. Whichever area you're staying in or visiting, you can often stroll between different sights, and the city's low crime level means it's generally safe to walk around at night.
Best time to visit Dubai
The best time to visit Dubai is September or October, when you'll experience warm, sunny days and fewer visitors than between November and April, when many people head there for some winter sun. It's very hot between May and August, though all buildings are air conditioned. Ramadan is usually quieter, but can affect certain activities. I suggest avoiding Eid al Fitr, the three-day festival that marks the end of Ramadan, as it can get very busy.
Read more about trips to Dubai

Start thinking about your experience. These itineraries are simply suggestions for how you could enjoy some of the same experiences as our specialists. They're just for inspiration, because your trip will be created around your particular tastes.
View All Tours in Dubai
Further reading