By Egypt specialist Steve
Historically the easiest way to travel through Egypt, Nile cruises have been carrying visitors between Luxor and Aswan for well over a century. Winding along the river at a relaxed pace, you see the country through the eyes of early visitors who, like us, came to marvel at the tombs and temples left behind by the Ancient Egyptians.
Walking through the darkened corridors of a tomb, its walls covered in hieroglyphics and paintings of ancient gods, my imagination runs wild. Huge columns still stand at ruined temples, while scorched ceilings are evidence of sacrilege by early Christians. This is a journey not just through land, but through thousands of years of history, culture, religion and architecture.
My recommended Nile cruise route

Beginning in Luxor and ending in Aswan, my recommended route lasts five days and four nights. This gives you a good amount of time to both see the sites and spend time relaxing on board.
The first night is spent at Luxor itself, the second at Edfu and the third and fourth at Aswan. Along the way, you visit Luxor and Karnak Temples, several tombs at the Valley of the Kings, the Temple of Edfu, the Temple of Kom Ombo, and Philae Temple. You may also have a chance to spend time exploring Aswan's markets, Nubian Museum and dam.
Sailing the route in reverse takes a day less as you're following the direction of the river. There's also the option to embark on a seven night round trip, seeing the highlights at a more leisurely pace.
Nile cruising: a typical day
Each morning, you'll visit temples or tombs, usually in a small group with a guide. You stop at the same sites no matter the length or direction of your trip, and whichever vessel you choose. I found it interesting to learn that the Ancient Egyptians generally built temples along the Nile's east bank and tombs along the west, reflecting their worship of the sun.
After your morning tour, you return to your boat for lunch. The afternoon is either spent visiting another site or enjoying the sights and sounds of the river, making use of your boat's facilities. I loved sitting on the open deck with a drink, watching fishermen drift past on their feluccas. The scenery varies from the hubbub of cities to quiet villages, distant sand dunes and fertile green fields.
Highlights of a Nile cruise
Luxor and Karnak Temples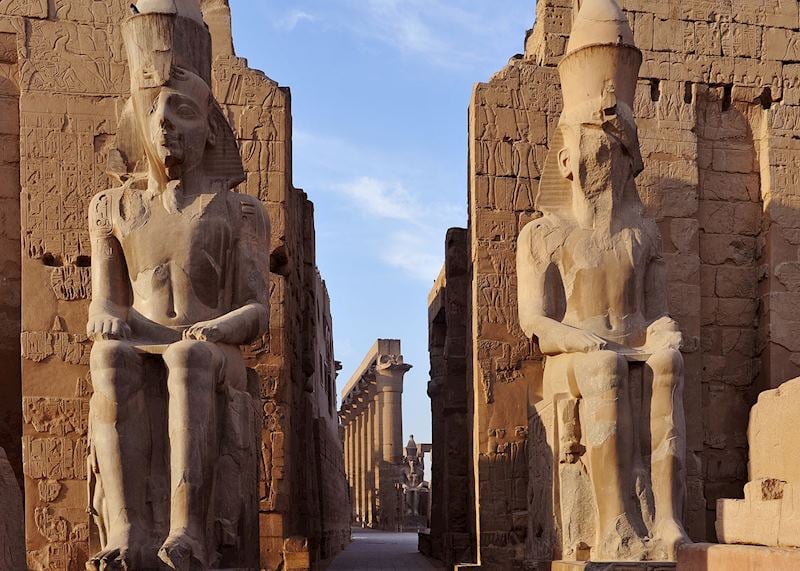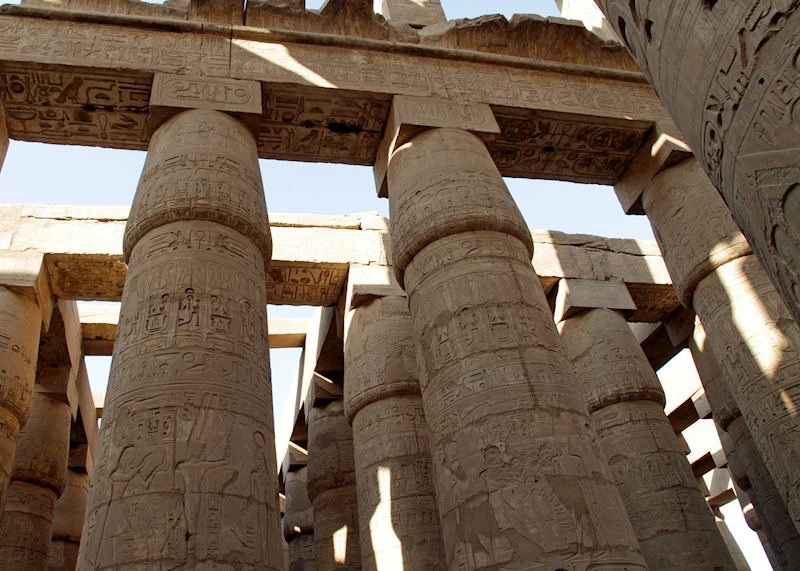 The town of Luxor lies on the site of Thebes, the capital of Ancient Egypt, and has the highest concentration of temples and tombs in the world. Here you'll visit the huge Karnak Temple complex, which was constructed over a 120-year period, as well as the smaller Luxor Temple, built in around 1,400 BC. These temples were once connected by an avenue lined with sphinxes, some of which remain.
Around 30 different pharaohs added to Karnak Temple over the years. As you wander around, your guide will point out the diversity of building styles and explain the various representations of gods that the Ancient Egyptians worshiped at different times.
What struck me was the size and scale of the complex — it's the second-largest ancient religious site in the world after Cambodia's Angkor Wat. You could spend hour upon hour exploring its halls, pillars and stone statues. I was most impressed by the Great Hypostyle Hall, which contains 134 columns rising up 24 m (80 ft).
Luxor Temple is right in the heart of the town, its ancient columns contrasting with modern roads and buildings. The temple was dedicated to the god Amun, his wife Mut and their son Khons, the moon god.
When you arrive, you're greeted by two great seated statues of Ramesses II, and throughout the complex you can admire intricately detailed hieroglyphics painted on the walls and columns. Your guide will help to decipher them and explain their significance.
I returned to Luxor Temple in the evening. At this time it's lit up against the night sky and you can stroll around its courtyards when they're at their most atmospheric.
Valley of the Kings

Across the river from Luxor on the Nile's West Bank, the Valley of the Kings was used as a pharaoh burial site for over 500 years and is home to at least 63 known tombs (it's believed more are awaiting discovery), each one containing up to 150 chambers. Among them are the tombs of Tutankhamun, Hatshepsut, the second female pharaoh, and both Ramesses II and III.
The tombs are opened to visitors on a rotational basis to help their preservation, so your guide will advise you on the best options on the day you visit.
The tombs are carved into the sides of the cliffs, and can look unassuming from the outside. Heading inside is incredibly exciting, as you go from blazing sunlight to sudden darkness and eerie silence.
You're led down corridors with walls covered in detailed paintings and hieroglyphics depicting the tomb's owner, various gods and scenes from Ancient Egyptian life. These channels eventually open out to a burial chamber, where the deceased pharaoh would have been laid to rest surrounded by treasured possessions for the afterlife (most of these items are now in museums).
Temple of Edfu

For me, the Temple of Edfu (or Temple of Horus) is the most impressive site as it's exceptionally preserved. At most temple sites you can see the remains of columns and walls, but here even the roof is intact. Stepping inside, the huge walls and repressive darkness of some of the rooms give you a true feel for how the temple would've been in its heyday.
Edfu is newer than Karnak and Luxor, having been built between 237 and 57 BC during the Ptolemaic dynasty. It was dedicated to the falcon god, Horus, who was alleged to have defeated the god Seth on the site. Detailed inscriptions on the walls depict scenes from their battle, as well as details of life during Egypt's Greco-Roman period.
Some of the temple's decorations were removed by early Christians at a time when all other religions were banned in Egypt — you can see scorch marks in places where imagery was destroyed. Being able to see these layers of history and evidence of different cultures that have come and gone is what captivates me about Egypt.
Temple of Kom Ombo

Further south of Edfu, the Temple of Kom Ombo sits right on the riverbank and is visited on the same day (unless you're on the slower-paced seven night cruise).
The site is unusual in that it's split into two separate temples dedicated to two different gods — Haroeris, or Horus the Elder, and Sobek, the crocodile god of fertility and protector against the dangers of the Nile.
Also constructed during the Ptolemaic dynasty between 180 and 47 BC, the temple would have been perfectly symmetrical, with duplicate courts, halls, sanctuaries and rooms for the two gods. Today, much of it is in ruins, but large columns and archways still tower over you — it's mind-boggling to think about how they were erected using just basic tools.
Next to the temple is a crocodile museum, where around 300 mummified crocodiles are housed. Found inside the temple, they were likely to have been sacrificed in recognition of Sobek.
Aswan

While there's less to see in Aswan in terms of Ancient Egyptian ruins, the city has an interesting history of its own and shows a whole other side to Egypt through its Nubian culture (an ethnic group originating from Sudan and southern Egypt).
I also think it's by far the prettiest city on the Nile and a great place to relax while watching feluccas weaving between huge boulders in the river. Stroll through its markets selling traditional Nubian crafts and food, such as spicy stewed meat, or visit its churches, monasteries and mosques.
You'll usually visit Aswan Dam as part of your cruise. The dam was built between 1960 and 1970 to provide water for irrigation, generate hydroelectricity and control flooding. It also meant the loss of entire Nubian villages as they became submerged in the waters of Lake Nasser, a by-product of the dam's construction.
You can learn about Aswan's Nubian population at the city's Nubian Museum. This was an unexpected highlight for me — exhibits display various relics and artwork from Nubia and tell you about the Nubian way of life in southern Egypt. You can also see old photographs of some of the villages that now lie at the bottom of the lake. Over on Elephantine Island in the middle of the Nile, relocated Nubians have built traditional mud-brick homes.
Temple of Philae

It's believed Philae was the last temple dedicated to the Ancient Egyptian religion, with the last Egyptian hieroglyph written there in the 4th century. Built during the Ptolemaic dynasty and dedicated to the goddess Isis, it marked the southern boundary of Egypt.
The temple originally stood on Philae Island in the Nile, but since the first Aswan Dam was built in the early 20th century it had suffered from flooding. With the second dam on the horizon, UNESCO and the Egyptian government decided that the temple should be moved, piece by piece, to another island, Agilkia, just a little south of Aswan.
The remarkable feat took ten years to complete but, visiting the temple, I'm so glad they did it. Arriving at Philae by boat, you're greeted by one of Egypt's most attractive temples. Its island location gives it a different atmosphere to the other temples, and knowing that it once stood somewhere else makes it all the more striking.
A colonnaded courtyard leads to the main temple building — the entrance is marked by 18 m (59 ft) high pylons (monumental gateways). There's also the Kiosk of Trajan, a small, unfinished pavilion with intricately carved columns set by the water.
Nile cruise boat options
While the focus of a Nile cruise is firmly placed on visiting the temples and tombs, spending time on your boat is all part of the experience.
There are lots of boats to choose from. All provide a relaxing space to unwind after being on your feet all morning. Some have plunge pools, libraries or spas on board, as well as sun decks.
All meals are served on board, usually consisting of both international and local Egyptian dishes, such as ful medames (mashed fava beans), falafel and sweet pastries.
M/S Mayfair

The M/S Mayfair is an elegant, great-value option. I like its modern interiors, which have a tasteful nautical theme. Its 52 cabins and two suites are spacious and furnished with dark wood furniture. Floor-to-ceiling windows let in lots of natural light, and you have your own bathroom. There's a sunny terrace on the top deck with a Jacuzzi, a small pool and a bar, while the Mayfair's Nile Avenue restaurant is below deck.
M/S Sun Boat IV

M/S Sun Boat IV has a traditional Egyptian style, with wooden floors and large windows. I was impressed by the high staff-to-passenger ratio, which ensures a high level of service. The 36 cabins and four suites are spread across all four decks and have en suite bathrooms. Some also have four-poster beds. There's an outdoor bar so you can relax on the deck with a drink, as well as a plunge pool. In Luxor and Aswan the boat has a private mooring spot away from other vessels.
Oberoi Zahra

For those on the seven-night cruise looking for a touch of luxury, I suggest the Oberoi Zahra. Its plush interiors create the illusion that you're staying in a five-star hotel. A refurbishment reduced its 70 cabins to 25 cabins and two large suites, each offering panoramic views of the Nile through generously sized windows.
While on board, you can make use of the spa, gym, pool and library. The restaurant menu changes each evening, and live entertainment is provided in the evening.
Combining Cairo with your Nile cruise

I strongly recommend you visit Cairo prior to your cruise. Egypt's capital is just a one-hour flight from Luxor and an hour and a half flight from Aswan, so it's easily incorporated into a trip.
Staying for two nights gives you a chance to visit Cairo's Museum of Egyptian Antiquities with a private guide and Egyptologist. You'll gain an excellent grounding in Ancient Egyptian history and the complex belief system Ancient Egyptians followed, as well as seeing some of the relics recovered from the tombs and temples you'll visit later on your Nile cruise. Knowing where each of the sites fits into Egypt's timeline meant I got far more out of my trip.
Best time to cruise the Nile
My ideal time to go on a Nile cruise would be between March and April or October and November. The weather is dry and warm without being too hot. There also tend to be fewer visitors at these times, so the sites are quieter and more atmospheric.
Start planning your Nile cruise in Egypt

Start thinking about your experience. These itineraries are simply suggestions for how you could enjoy some of the same experiences as our specialists. They're just for inspiration, because your trip will be created around your particular tastes.
View All Tours in Egypt