By Egypt specialist Amira
I'd be foolish to say that the chance to see the traces of ancient history up close isn't Egypt's main draw. During my travels in the country, I've loved seeing and deepening my understanding of iconic sites like the Valley of the Kings, but I've found there's much to enjoy beyond archaeological ruins.
Egypt is about experiencing the ancient, but it's also about immersing yourself in medieval Cairo with your expert guide, watching the changing landscapes on a Nile cruise while relaxing on deck, and many long, lazy lunches of mixed grill and baba ganoush served by welcoming, chatty Egyptians.
Get to know Cairo

Cairo's frenetic energy hits you as soon as you leave the airport and plunge into weaving four-lane traffic (along with the occasional donkey and cart). Hectic, hot and noisy, the city is at its best in the evening. This is when locals flock to food stands, shisha-perfumed coffeehouses and the alleyways of the Khan El-Khalili souq.
Explore the Museum of Egyptian Antiquities

Cairo's Museum of Egyptian Antiquities really helped me to put into context the Ancient Egyptian ruins that I went on to see, and the complex system of beliefs surrounding them, such as the rise and fall of sun worship.
Housed in a pink colonial building near Tahrir Square, the museum holds around 100,000 artifacts. Its most renowned exhibits include the contents of the tomb of Tutankhamun excavated by Howard Carter in the 1920s. Notably, the young pharaoh's death mask, which glints with gold and bright blue lapis lazuli, is on display.
I strongly recommend visiting the museum with an Egyptologist as your guide. They can help you navigate the masses of pottery, art, jewels, mummies and statues (objects are rarely labeled). They will also take you to some of the lesser-known displays. I was fascinated to see the life-like statue of the priest Ka-Aper, the tools and weights that were used to build the pyramids, as well as mummified animals — not only cats (which were seen as sacred) but monkeys and crocodiles.
Wander the streets of old Cairo

The citadel, a fortified area of Cairo, has panoramic views of the city with the Pyramids of Giza in the background. Make sure to visit the Mohammed Ali mosque — a huge, alabaster, Ottoman-era building with spindly minarets. No longer used for a place of worship, once you step inside into the circle of trailing gold and glass lamps, it's an instant sanctuary from Cairo's packed streets below.
I had the same sensation when I walked into the mosaic-lined entryway to the Hanging Church — so-called because its nave is built over the city's Roman water gate, so it looks suspended in mid-air.
The church is in Coptic Cairo, the oldest and calmest area of the city where Egypt's early Christians, the Copts, first settled. They still live here today, along with the city's Jewish community. I like wandering this district's maze of narrow, twisting, mostly car-free streets, which are filled with the smell of baking flatbread while residents quietly go about their day.
See the Pyramids at Giza, Saqqara and Dahshur

Egypt has three main pyramid fields. Saqqara, the oldest site, was the necropolis of Egypt's ancient capital, Memphis, and contains the earliest pyramid — the stepped pyramid of the pharaoh Zoser. Dahshur, a 50 minute drive from Cairo, takes pyramid construction to the next stage, with its partially successful attempt at a true pyramid, while pyramid design was perfected in the three great pyramids at Giza.
You can visit all three pyramid sites on a full-day tour with a driver and guide. I suggest starting with Dahshur and working your way back toward Giza via Saqqara. This way, you'll get a sense of how pyramid architecture progressed over time.
Dahshur's 'Bent Pyramid' is a somewhat quirky sight with sides that change angle halfway up. It does give you an idea of how the pyramids would have originally looked, as much of its limestone cladding is intact. Nearby is the red limestone structure of the Red Pyramid, Pharaoh Snofru's successful attempt.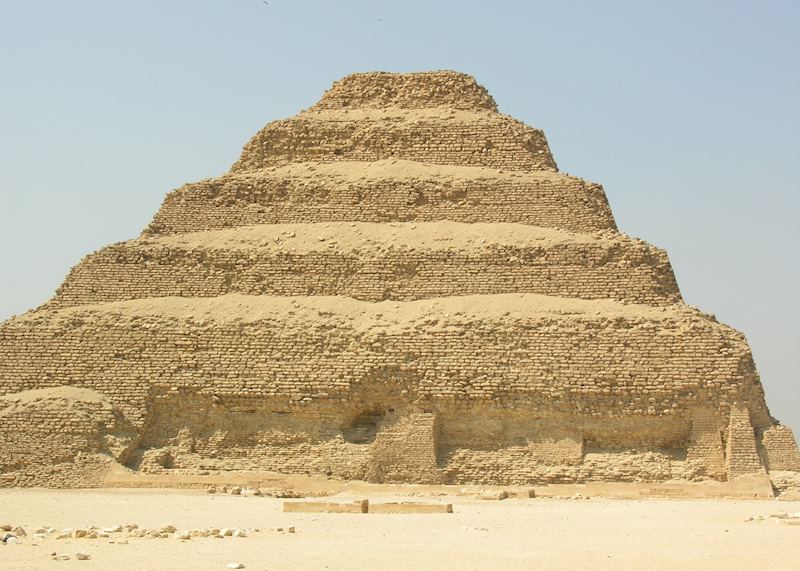 Moving on to Saqqara, you enter a vast site scattered with mastabas, burial chambers pre-dating the pyramids that have flat-roofed stone tombs, and the stepped pyramid. Both Dahshur and Saqqara tend to be considerably less busy than Giza, and you can take them in at your own pace.
If you're interested in venturing inside a pyramid, I'd suggest doing it at the Bent Pyramid in Dahshur, where crowds are unlikely.
I climbed down backwards through the entranceway until I reached a walkway that led deeper into the pyramid, the musty smell of stale air washing over me. Eventually, I reached the central burial chamber with its empty granite sarcophagus. The room was surprisingly small and the slightest sound echoed. The passageway continued, bringing me eventually to a higher point where I could look out over the chamber and see the individual blocks of stone that made up the pyramid's outer wall.
Arriving at Giza for the first time, I worried that the crowd-swamped Pyramids would be an anticlimax. They weren't. The best way to appreciate them is simply to stand at the base of the Great Pyramid of Cheops, taking in its scale. Each limestone block is twice the size of a grown man. You can't help but wonder at the toil and architectural skill involved.
Cruise the Nile

The Pyramids aside, many of Ancient Egypt's most important archaeological sites are clustered around the Nile. A Nile riverboat cruise from Luxor to Aswan is a relaxing and convenient way to visit these places.
Cruising the world's longest river is an experience in itself. Sitting on deck, as you depart from Luxor, you'll see the riverbank landscapes gradually transform from urban sprawl to desert sand dunes. Then scrubby vegetation gives way to papyrus reeds, tropical forest and farmland that benefits from the Nile's fertile silt.
The river is wide and busy. As you pass through locks, sellers swarm to the sides of the boat, trying to do business with you and your fellow passengers. Yet you'll also pass through many quieter stretches where the only other river users are fishermen stringing out nets from their small crafts.
Visit the temples of Luxor and Karnak

Luxor is a modern Egyptian city but cocooned within its roads and shops lies a massive temple complex dedicated to the Ancient Egyptian god Amun, his wife and his son, a moon god. It's here you'll find towering, wide columns festooned with hieroglyphs, an obelisk, and the colossi (larger than life statues of pharaohs) that sit like guards at the temple's entrance. I particularly like going there at night, when the main colonnade and statues are lit up, and the air is cooler.
Karnak Temple, also located in Luxor, is even larger, and was once linked to Luxor Temple by a sphinx-lined avenue. Several pharaohs added to and developed Karnak over time, making it an architectural multi-layering of different shrines and hieroglyphic inscriptions. Walking through the hypostyle hall, you're dwarfed by the columns that stand at 21 m (69 ft) tall.
Enter the tombs in the Valley of the Kings

At first sight, this fabled necropolis looks unpresumptuous — a valley of stark, rocky desert with the tombs carved into steep cliff faces. But as you descend into the burial chambers of pharaohs like Hatshepsut and Ramses II, you're confronted with detailed wall paintings and hieroglyphics in vivid reds, blues, greens and yellows.
My guide helped me to study the frescoes of different gods and unpack the symbolism of figures like scarab beetles, and the scenes from the Book of the Dead that were meant to guide the tombs' inhabitants through the afterlife.
Discover Nubian culture in Aswan

Your cruise will generally end in Aswan, a pretty, sleepy town. Here the Nile meets the Sahara Desert, and wooden felucca boats thread their way between huge boulders in the river.
The town's Nubian Museum is one of Egypt's lesser-known collections and a real hidden delight. Clearly laid-out exhibits detail the history of the Nubian people who lived in southern Egypt. Many Nubian villages were flooded and lost after the creation of Lake Nasser, and the museum's photographic display gives you an idea of what they looked like.
Nubian homes built using traditional mud brick to create vaulted structures can be found on Aswan's Elephantine Island, and Nubian culture is still very much alive in Aswan today. I really enjoyed traditional Nubian cuisine, such as meats served in various spicy stews.
Choose your Nile cruise vessel
Many Nile riverboats resemble cruise ships (although they're much smaller). Some are equipped with facilities like swimming pools and spas.
There are also more characterful vessels like the S/S Sudan, a well-preserved steamship that once hosted Agatha Christie and inspired her to write Death on the Nile. Stepping on board, you'll see features like brass bedsteads, bells to call for servants and candlestick phones, as well as barmen wearing white gloves.
A more intimate option is a dahabiyya, a traditional Nile passenger boat with sails and a small number of berths. While facilities are simpler on these vessels, they're able to dock at other points on the Nile that are closed to the larger ships, such as village ports, although this may change depending on the tide or weather conditions. Some are so small that the only people watching you disembark are local children playing by the river.
Gaze at Abu Simbel

You can visit the Sun Temple of Abu Simbel from Aswan. Getting there means an early-morning six-hour round drive in convoy through the desert, but it's worth the 3am wake-up call. Not only do you get to see sunrise over the desert, but for me, this site comes close to the Valley of the Kings for spectacle. The four monumental statues of Ramses II that were originally gouged from a mountainside are 21 m (69 ft) high and stare impassively south to ward off the Nubians.
Equally impressive is the fact that they were transported and reconstructed 210 m (689 ft) behind the original site. An on-site museum explains how UNESCO achieved this and so salvaged the temple complex to save it from the rising waters of nearby Lake Nasser.
Look out for graffiti on the statues scratched by visiting Napoleonic soldiers.
Relax at the Red Sea resorts of El Quesir or Hurghada

These port towns are fairly unremarkable and accommodation mostly consists of upmarket chain hotels. The diving and snorkelling, however, is great. Hurghada has some excellent wreck dives and the opulent Oberoi Sahl Hasheesh — the outstanding hotel in Hurghada for me — has its own PADI-certified dive hub. At the Mövenpick Resort El Quesir, you can snorkel among coral reefs straight off the beach. Overall, these beach resorts are ideal for kicking back for a few days at the end of your trip.
Start planning your trip to Egypt

Start thinking about your experience. These itineraries are simply suggestions for how you could enjoy some of the same experiences as our specialists. They're just for inspiration, because your trip will be created around your particular tastes.
View All Tours in Egypt