By Greece specialist Abby
Rural and remote, the Peloponnese is the birthplace of ancient Greece's gods and monsters. Even today, it's sparsely populated and visitors usually cluster around the big-name ancient sites. Outside those ruins, you'll find a countryside dotted with vineyards, farms and villages where you can glimpse authentic Greek life.
I particularly love the Peloponnese when it comes to getting outside and enjoying the Mediterranean landscape — you can hike or cycle, and the deep-blue waters are ideal for kayaking or sailing. And, as you can see from this nine-day Peloponnese-focused itinerary that includes time in Athens, there's plenty to keep you busy.
Olympia, home of the ancient Olympics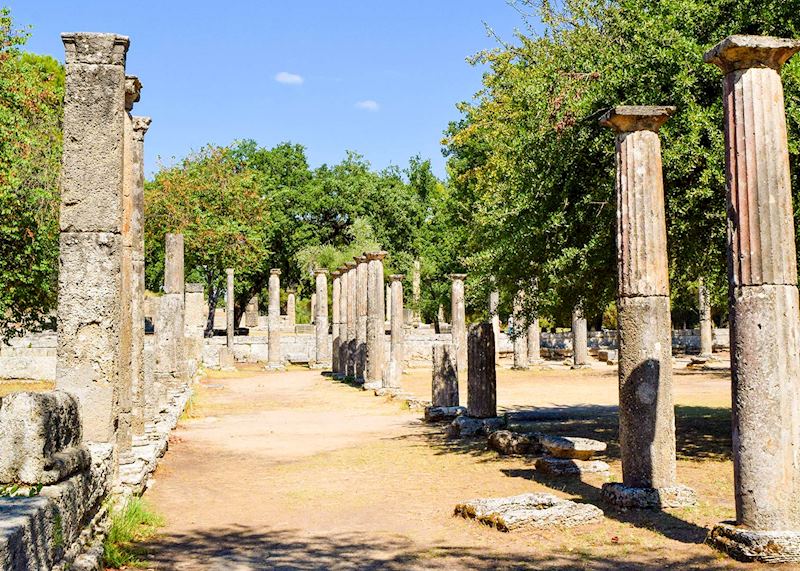 Olympia lies in the far western mountains of the hand-shaped Peloponnese, about a four-hour drive from Athens. I'll be honest — there's not much to see out this way except Ancient Olympia. The roads are narrow and often unpaved, but you can always pause at a vineyard to break up the journey. (More on that below.)
Today, Olympia is best known as the home of the original Olympics, but its primary function during ancient times was as a sanctuary dedicated to Zeus. A sprawling ruin, the main temple is a jumble of tumbled column pieces, as if an Olympian-sized toddler had kicked it down in a tantrum. In fact, the ancient complex was abandoned after a violent earthquake in the 6th century AD and not rediscovered until 1766.
I think a tour of Olympia with a private guide is necessary to get the most out this site, where archaeologists have left some of the ruins collapsed and scattered. Having an expert on hand can resolve the chaos of skeletal ruins into a cohesive whole. My guide brought the site to vivid life, particularly when he described the enormous statue of Zeus, one of the Seven Wonders of the Ancient World.
Ultimately, Zeus was less interesting to me than the ancient Olympic Games and the chance to see the actual stadium where athletes competed. It's a long grassy bowl with a packed-dirt track where you can line up for an impromptu race at the same marble starting line that the ancients used.
The seaside town of Nafplio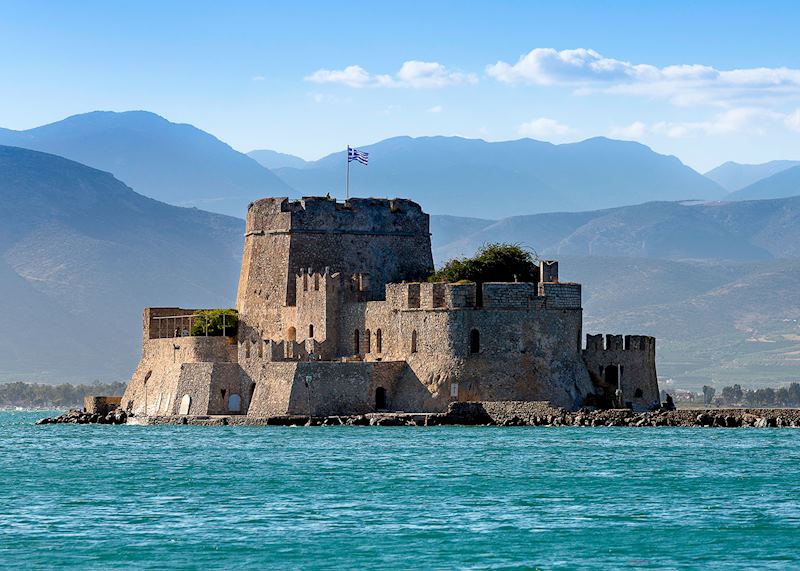 Once one of the most hotly contested settlements in Greece, Nafplio sits on the Argolic Gulf, about two hours east of Olympia. Its narrow streets are lined with remnants of its turbulent past, including not one but two large fortresses that recall the days when Venice and the Ottomans struggled to control the town's vital port.
Today, the biggest threat of invasion comes from Athenians who flock here on weekends to take advantage of the many chic boutiques and cafés, not to mention sandy beaches and excellent museums. Despite the crowds, however, it's the best place to base yourself in the Peloponnese. Both Epidavros and Mycenae are within easy reach, as is the Nemea wine region.
If you'd like to delve into the history of the town itself, there are several options. A local guide can take you kayaking out to Bourtzi, the island fortress that guards the city from the water. Or, you can go up to Palamidi Fortress, which overlooks the city, via a steep hike or a leisurely bicycle ride.
Day trips from Nafplio
The earliest Greek city, Mycenae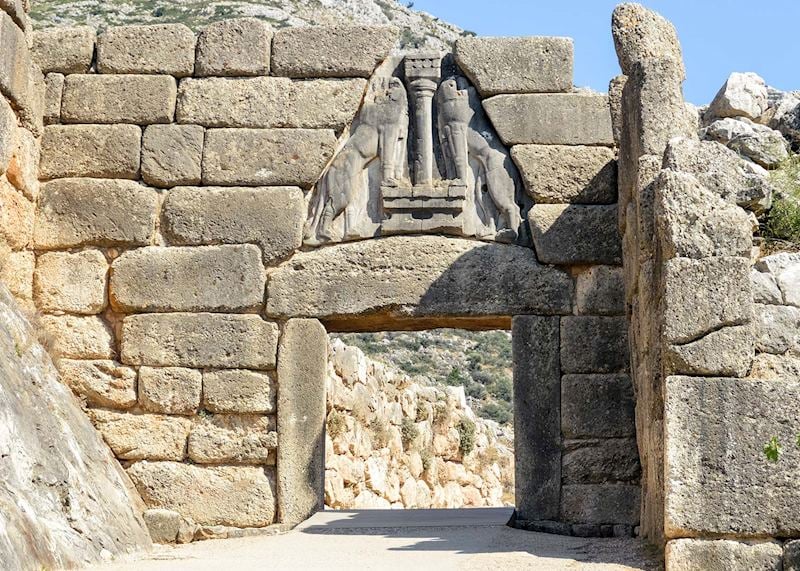 Perched high on a hill about 20 minutes' north of Nafplio, Mycenae frankly lacks the commanding majesty of the Parthenon or Epidavros. It wasn't until I understood that the citadel dates back to about 1600 BC that it really struck me just how impressive these ruins are.
The precursor of Classical Greece in the 4th and 5th centuries BC, this was the first Bronze Age civilization on mainland Europe, at the height of its power between 1600 and 1200 BC. When Homer wrote the Odyssey, he was describing a mythologized Mycenaean Greece, harkening back to a distant, misty past the way a modern author might write about King Arthur. This is one of the oldest ruins you're likely to see in Greece.
Its great age contrasts sharply with the architectural sophistication still on display. You can see intact Mycenaean beehive tombs that, pre-Pantheon, were the largest unsupported domes in the world, as well as the monumental Lion Gate, with its imposing heraldic lionesses guarding the entrance to the citadel.
This is also where the so-called Mask of Agamemnon, a gold funeral mask, was uncovered. Along with a trove of other intricately worked gold treasure, it sits on display at the National Archaeological Museum in Athens.
Epidavros, an ancient place of healing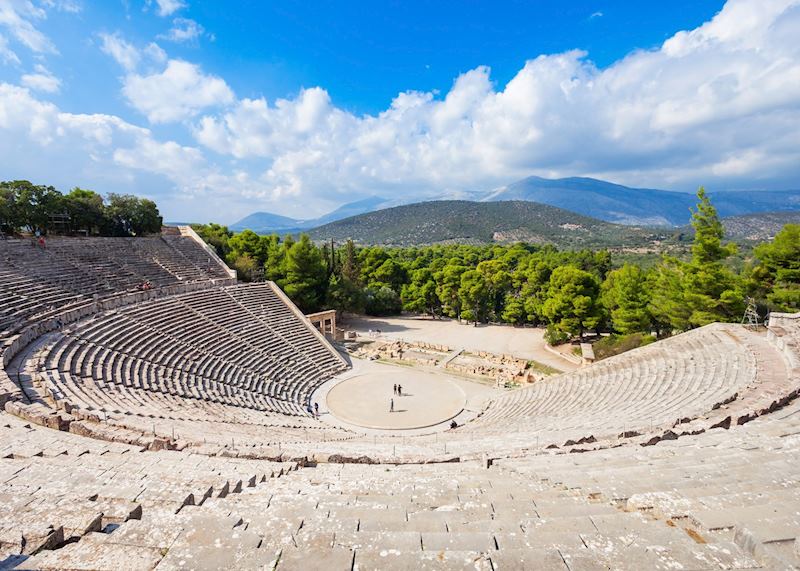 Located just a 30-minute drive from Nafplio, Epidavros was the greatest place of healing in the ancient world; a sanctuary was dedicated to Asclepius, the Greek god of medicine. Doctors might prescribe special diets, prayer, exercise or art.
To facilitate those cures, the site includes dormitories, temples, a stadium and a massive amphitheater where the ill went to see plays and musical performances. This 14,000-seat theater was buried in a massive earthquake that almost completely preserved its remarkable acoustics. Last time I visited my guide Ilias directed me to sit in one of the high seats, before walking to the middle of the stage. He dropped a coin that tinkled off the distant stone as loudly as if it were right in my ear.
This party trick isn't the only reason to climb to the top of the stadium — you'll also get a perfectly framed view of the mountains rolling away into the distance.
Modern Greeks take advantage of the atmospheric setting with a summer arts festival. If your visit is timed correctly, it's a treat to see one of the Classic plays performed here.
Kayaking over sunken ruins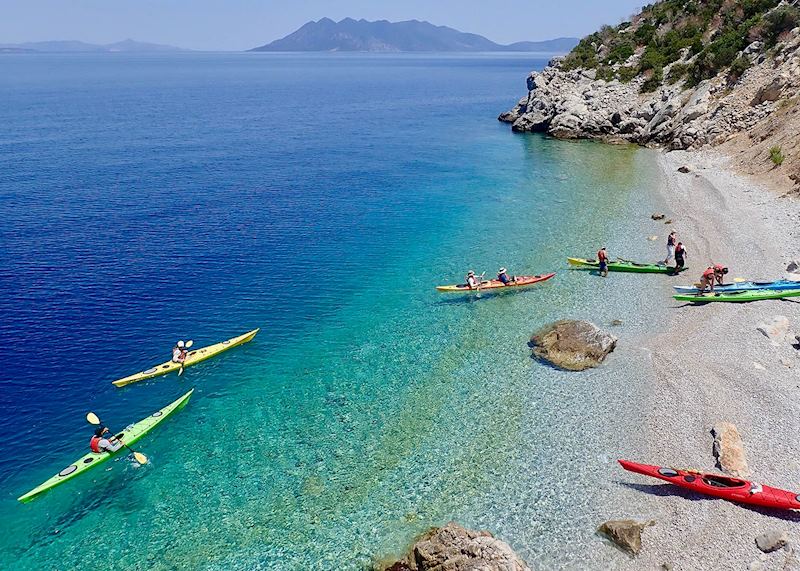 As you might imagine, people came from across the ancient world to be cured at Epidavros, which means that the city had a busy port, located about 15 minutes away via modern car. However, some past calamity caused part of the port to collapse into the ocean, which you can still see today.
On a recent visit, I took a guided kayaking tour to explore the submerged ruins. Alex, my guide, sported a neatly trimmed beard and boundless enthusiasm for exploring the waters off the Peloponnese coast. Paddling steadily, he took me past towering cliffs and hidden coves that were completely deserted.
Eventually, we came to the so-called sunken city — a slight misnomer since what you're seeing is mostly the remnants of a single villa. The name might be a bit overblown, but it was thrilling to look down over the edge of my boat to see the ghosts of several rooms as well as almost-intact amphorae overgrown with sea urchins.
Alex and I beached our kayaks on a strip of deserted white sand and enjoyed a glorious lunch in the shade of a tent — moussaka, gemista (stuffed tomatoes) and horiatiki (traditional Greek salad), as well as wine, bread and oil.
After eating, I slipped into snorkel gear and swam out to get a closer look at the underwater ruins. Like everywhere in Greece, the water has this astounding clarity that makes it like looking through blue-tinted glass. I could easily make out all the details on the stone foundations and large shards of pottery.
Tasting the Nemea winelands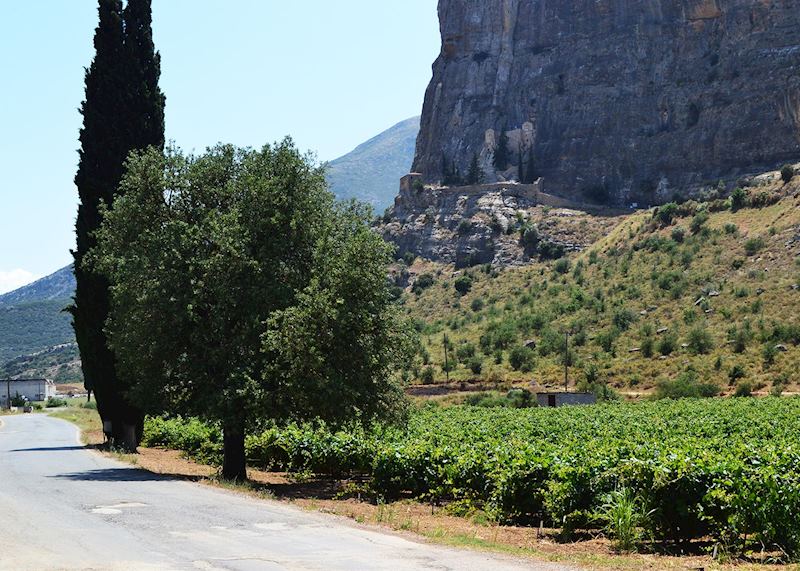 Covered in olive groves and grape vines, Nemea is arguably the country's most important red wine appellation and one of Greece's oldest wine regions. Located just 45 minutes' north of Nafplio, it's known primarily for the agiorgitiko grape, which produces a dry, full-bodied red.
In addition to hundreds of formal wineries, the whole area has a rich tradition of home wine production. I lived in Greece for a while and when I'd visit homes in the area, everyone seemed to make at least a few casks for home use and personal gifts. Table wine for dinner was usually drawn from a large cask into a glass bottle and I'd often get another bottle at the end of the night to take home with me.
That casual attitude prevails at Ktima Bairaktaris, a small family-run vineyard that you can visit on a tour from Nafplio. You reach the winery via a dirt road and pull up to a working barn, where a member of the family greets you. After a tour of the small facility, you can sample some of their nine different wines. I was particularly fond of the Monolith, a round-bodied agiorgitiko red with a bouquet that hinted at vanilla and dark chocolate. The gentle tannins were, I learned, typical of the grape.
On the same tour, you can also visit Skouras winery, a much more polished winery of the sort you might see in the Loire Valley, Tuscany or Napa Valley. Here, too, you'll get an insider's tour of the facility, a tasting and a generous platter of meats, cheeses, bread and spanakopita. Skouras's best-known bottle is Maga Oenus, a blend of mostly agiorgitiko with a dash of cabernet sauvignon. It has notes of dark berries and a subtle hint of spices like cloves, black pepper and nutmeg.
Read more about trips to Greece

Start thinking about your experience. These itineraries are simply suggestions for how you could enjoy some of the same experiences as our specialists. They're just for inspiration, because your trip will be created around your particular tastes.
View All Tours in Greece