The best time to visit Greece is outside the busy summer peaks, during spring (April to June) and early autumn (September and October). Temperatures are warm but not stifling, and you'll find that destinations are open but still relatively quiet.
The period from November to February tends to be colder, but city attractions remain open and are pleasantly quiet. Summer brings steamy, hot weather and hordes of visitors at the main sights and on the islands.
Creating tailor-made tours for over 25 years
Excellent
TrustScore

4.7 | 3424 reviews
Month-by-month guide for travelling in Greece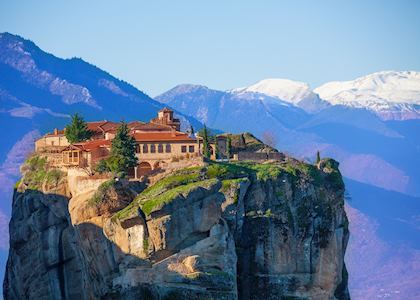 Visiting Greece in January - February
The year in Greece begins with cool temperatures and damp weather in some areas. Meteora and the Delphi area can even see snow. For the most part, seasonal destinations such as the Greek islands are closed down for the winter. But, cities like Athens remain open for business, and major sights are pleasantly uncrowded.
Events & Festivals
Epiphany on 6th January is celebrated by local priests blessing major bodies of water, and a chill-inducing tradition in which adventurous Greeks leap in to retrieve a cross thrown in by the priest in the hope of good fortune for the coming year.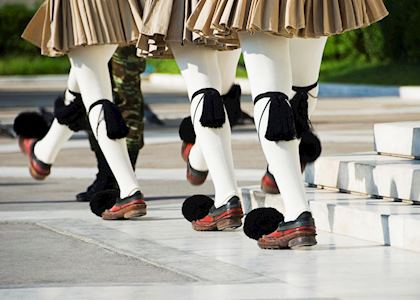 Visiting Greece in March
March marks the beginning of spring across the country. Although it's still low season in most places, and many island destinations are yet to open, attractions across the mainland are open and much quieter than they will be in a few weeks' time.
Events & Festivals
Greek Independence Day is celebrated on 25th March throughout the country with military parades and traditional folk dress and music.
March usually falls almost entirely within Lent and, starting with Clean Monday at the end of February or beginning of March, Orthodox Greeks traditionally observe this time by abstaining from meat, fish, dairy and eggs.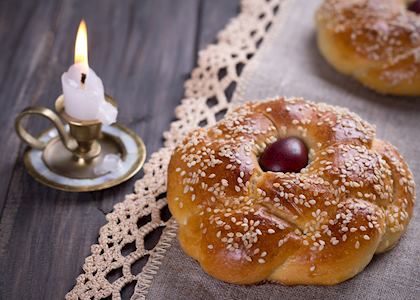 Visiting Greece in April
Most years, the highlight of April is Greek Orthodox Easter, which occurs near the end of the month or in the first few days of May. The weather at this time is excellent for sightseeing or hiking, with plenty of sun and mild temperatures averaging around 17°C (68°F).
Events & Festivals
The celebrations of Holy Week and Easter, culminating on Easter Sunday, are usually the highlight of the month and mark the most important holiday of the year.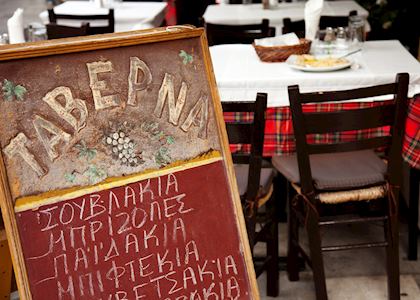 Visiting Greece in May
One of the best times to visit Greece, May is a good month to travel if you're looking to experience both the cities and the islands. While sea temperatures can still be chilly, the weather is usually warm enough for swimming, and it's not too hot for touring the cities. May marks the month when all the island destinations open fully for the summer season.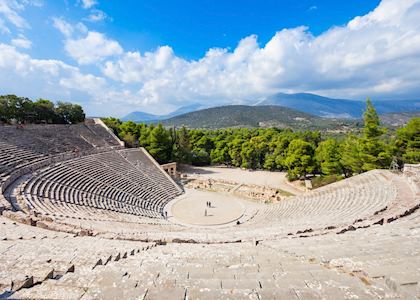 Visiting Greece in June
June sees temperatures rising and crowds increasing but, overall, it's a very pleasant time to be in Greece. Everywhere is open, the sun is warm, and plenty of festivals are taking place across the country.
Events & Festivals
Beginning in June and lasting throughout the summer, the Athens and Epidavros Festival showcases performances, including Greek plays, in ancient and modern venues across both cities, including the Theatre of Epidavros.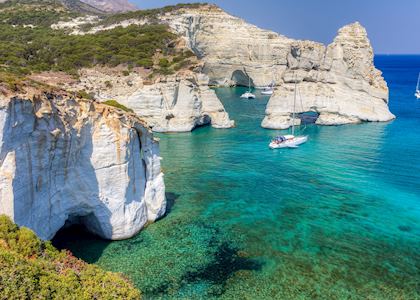 Visiting Greece in July - August
The heat of summer in July and August brings temperatures that can run north of 38°C (100°F) and plenty of sunshine with very little rain. At this time of year, the cities can feel oppressive under the unrelenting sun and sights get extremely crowded, but it's a good time for water activities, if you don't mind the coastal towns and islands being busier.
Events & Festivals
The Feast of the Assumption on 15th August is a national public holiday, when people return to their hometown to enjoy the festivities.
Visiting Greece in September
September is a great time to visit Greece. The weather remains hot throughout the month, sea temperatures stay warm, and visitors start to thin out as children go back to school. While the main sights are still busy, September is usually better for touring compared with hotter and more crowded July and August.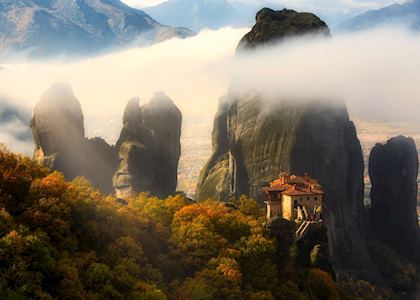 Visiting Greece in October
Visiting in October represents a good-value time to go, when you can enjoy cooler weather and fewer crowds. The islands start to wind down ahead of winter, but usually stay open until the end of the month. In central and northern areas, leaves turn to their autumnal hues.
Events & Festivals
Ochi (or Ohi) Day on 28th October commemorates the date in 1940 when the Greek Prime Minister Ioannis Metaxas said ohi (no) to Mussolini's demand for the Axis forces to occupy parts of Greece.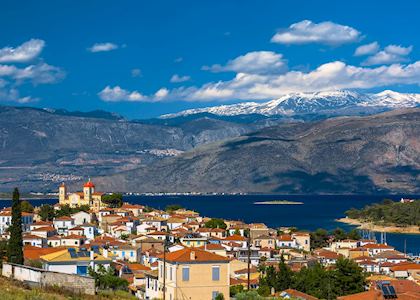 Visiting Greece in November - December
The final two months of the year bring cooler temperatures to Greece. Island destinations close down for the winter, while historical sites across the mainland remain quietly open.
Events & Festivals
Christmas, while not as important as Easter, is celebrated on 25th December as a joyful holiday shared with family.
Greece Climate Guide
Destination
Jan
Feb
Mar
Apr
May
Jun
Jul
Aug
Sep
Oct
Nov
Dec
Athens

12°C

63mm

13°C

54mm

15°C

50mm

19°C

31mm

24°C

23mm

29°C

12mm

32°C

6mm

31°C

6mm

28°C

13mm

22°C

55mm

18°C

64mm

14°C

80mm

Delphi

9°C

62mm

9°C

57mm

12°C

52mm

17°C

37mm

22°C

25mm

26°C

13mm

29°C

9mm

29°C

11mm

25°C

13mm

19°C

57mm

14°C

84mm

10°C

101mm

Olympia

14°C

116mm

14°C

93mm

16°C

70mm

19°C

45mm

23°C

22mm

27°C

8mm

30°C

6mm

30°C

8mm

28°C

27mm

23°C

102mm

19°C

131mm

15°C

148mm

Santorini

14°C

114mm

14°C

81mm

16°C

66mm

19°C

28mm

22°C

14mm

26°C

4mm

28°C

1mm

27°C

1mm

25°C

13mm

22°C

61mm

19°C

69mm

16°C

102mm
Why travel with Audley?
100% tailor-made tours
Fully protected travel
Established for over 25 years
98% of our clients would recommend us Travel advice
Practical tips for travelling to Greece, from social protocols to guidance on money matters, with a link to the latest FCDO travel advice.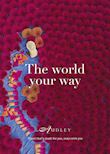 Request our brochure
Covering all seven continents, The world your way shows you how you can see the world with us. It features trip ideas from our specialists alongside hand-picked stays and experiences, and introduces our approach to creating meaningful travel experiences.
Trip ideas and travel guides for exploring Greece