'Once a wise man, twice a fool' tells a Japanese proverb of those who hike up Mount Fuji. Completing Japan's best-known hike is a rite of passage for its residents but, as a visitor, we feel there are other — dare we say it, better — trails to tread.
Our Japan specialists have chosen three hiking regions, where you can take on routes rated from easy to hard. Part of Japan's fastidiously maintained walking network, they'll take you along ancient pilgrimage paths, Samurai trade routes and into the forested island of Yakushima.
Easy: The Nakasendo Highway, Honshu
By Tim
Japan's feudal lords were forced to pay their taxes to the Emperor in person, often having to walk for days, occasionally months, to reach the capital, Kyoto. A series of popular routes developed into national highways for samurai, messengers, spies and traders, and the 530 km (330 mile) Nakasendo Highway, from Tokyo to Kyoto, felt the most footfall, with shrines and ryokans (inns) popping up to service weary walkers.
Head to the Kiso Valley, midway between Tokyo and Kyoto, and you'll find sections of the highway that hang onto their rural 12th-century authenticity. I based myself in Kiso-Fukushima, one of the Edo-era trading towns, away from the popular, and busy, Magome-Tsumago section of the route.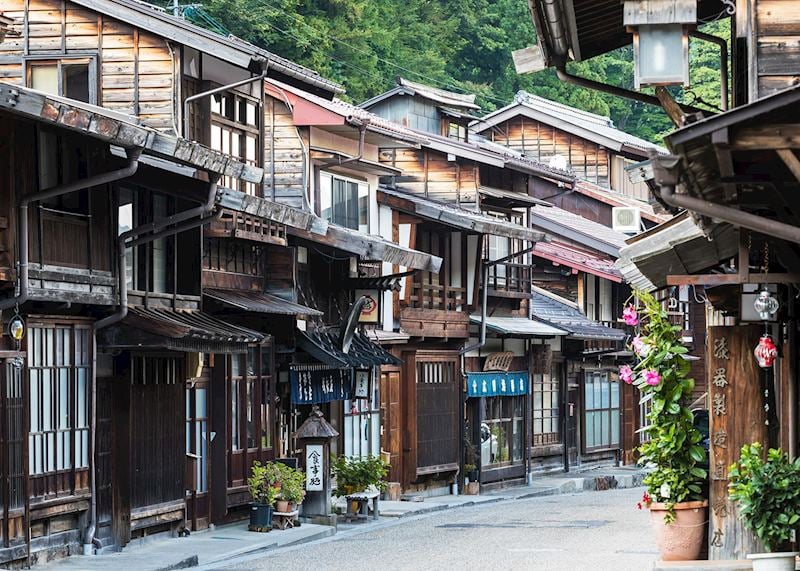 I suggest tackling a 6.5 km (4 mile) stretch of the highway to the north of Magome-Tsumago, between Yabuhara and Narai. This quieter section runs alongside a railway line, so you can take a train from your ryokan to the starting point, and simply catch one back from Narai when you're done. It also gives you flexibility to continue along the highway to the next station if you're feeling sprightly.
Arriving in Yabuhara, you follow the river through this modern Japanese town until, suddenly, you're in semi-alpine forest. From here, a cobbled woodland walkway leads you past Shinto shrines, hamlets and the occasional bear bell — the Japanese tend to have their own miniature versions of bells tied onto their backpacks, which you can hear tinkling along as they walk.
The route is easy to follow, steepening as you walk over the Torii Pass, whose mountaintop views stretch along the valley. At this point, on one of the most isolated parts of the route for Edo-period walkers, you can also spot statues of dosojin (guardian deities), which offered wayfarers protection against robbery or bad weather.
The pass leads down into Narai, once the wealthiest post town in the valley. Its main thoroughfare is a long line of painstakingly restored Edo-period wooden houses, where you can celebrate the end of your walk with a dorayaki (bean curd pancake) in one of the many cafés.
Where to stay along the Nakasendo Highway
The great thing about Kiso-Fukushima is its choice of small, family-owned ryokan. In the middle of town is Onyado Tsutaya, a traditional wooden-fronted inn with hot steam baths and tatami mat flooring. Its kaiseki dinner, a multi-course of tiny delicacies, is exquisite. In a landlocked region, the menu is often a meat-heavy collection of pheasant, beef and pork paired with pickled vegetables.
Medium: The walking trails of Yakushima Island
By Jo
The Japanese animation classic Princess Mononoke is set on a forested island where tiny, opaque kodama (forest spirits) poke curious faces from moss-draped trees as a wolf goddess prowls below. This ethereal animated fantasy world is, in turn, based on Yakushima, an island off Japan's southernmost coast.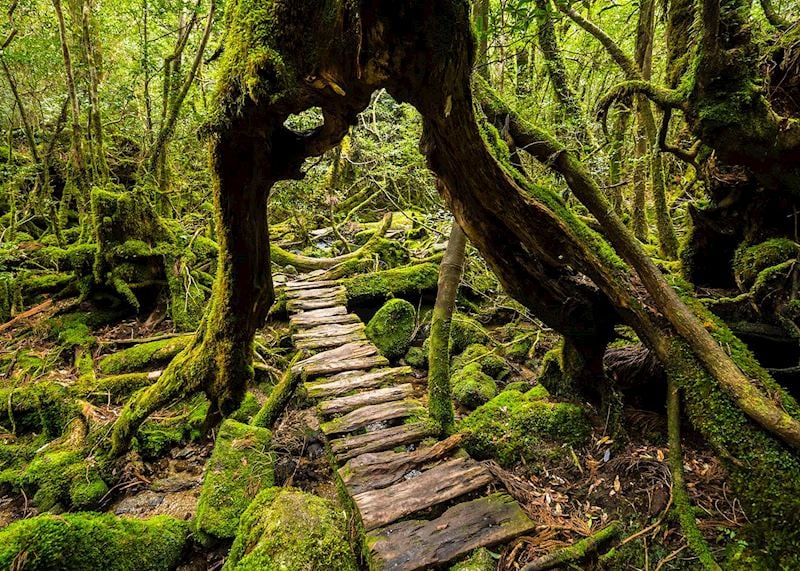 The journey to the island feels like entering another realm. I set out on a hydrofoil from the busy city of Kagoshima (it's possible to fly, but flights are easily disrupted). You pass the frequently smoking cone of Sakurajima, an active volcano in Kagoshima Bay, before hitting the open ocean. As the mainland tails off, Yakushima looms on the horizon. With its curves of blond sand, aquamarine sea and forest-draped ridges, its look is more Caribbean than Japanese.
Yakushima is a UNESCO-protected collection of national parks, ringed with a smattering of hotels and restaurants. If you only have time to visit one park, make it Shiratani Unsuikyo. Here, three trails run from the park headquarters along the ravine floor, before tunneling into forest so thick you can't see the sky. Worlds away from the Nakasendo Highway's neat paths, you'll clamber over tree roots and lichen-specked rocks, and occasionally be sprayed by a close-by waterfall.
The routes take one to four hours. Careful signposting ensures they're easy to follow, yet nothing manmade jars with the otherworldly landscape. I suggest hiking the longest trail, which is 5.6 km (3.4 miles). This takes you up into the moss forest, where rare liverworts, hornworts and more than 700 types of moss have smothered the foliage and show you the world through a filter of green.
As you walk through this primary forest, you'll come across the occasional yaku sugi. These ancient cedar trees once covered the island, but were heavily logged during the Edo period (islanders paid their taxes in wood). The remaining trees have all been affectionately named, including the gnarled Jomon Sugi (names after a period of Japanese prehistory), thought to be about 5,000 years old. You'll often pass stumps of felled trees, some as large as houses. Wilson's Stump is named after Ernest Henry Wilson, the British naturalist who first studied the region.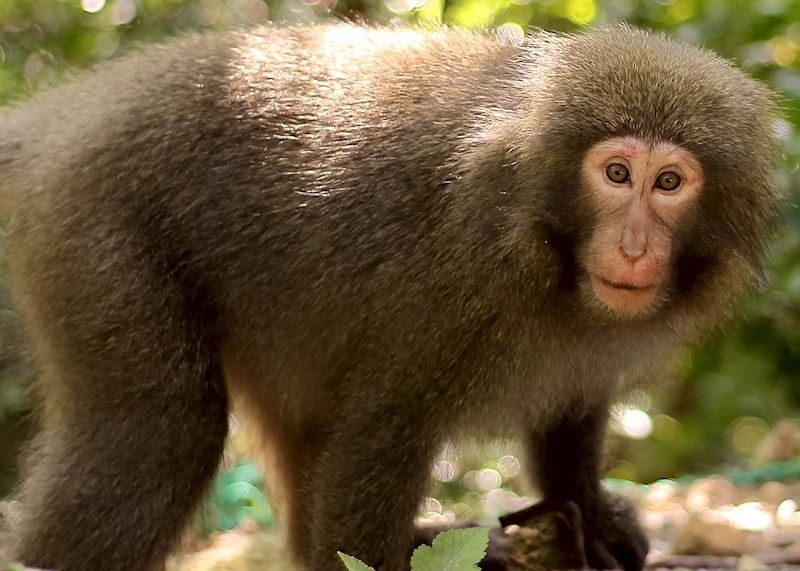 I'd hire a car to make the most of your time as, unusually for Japan, public transport is limited on Yakushima. As you drive into the national parks (all have car parks) the roads narrow considerably, but the Japanese are exceedingly cautious drivers and slow down accordingly. Troops of Yakushima macaques like to hold family meetings in the middle of the road, but be patient and they'll begrudgingly move out of your way.
Where to stay on Yakushima
You can end a day's hiking by informing your personal butler to prepare you an alfresco bath, at the Sankara Hotel & Spa. This is proper luxury, where dinner is an eight-course tasting menu and even the hairbrush on your dresser promises a thorough scalp massage.
If you'd rather embrace the island's outpost feel, at Cottage Morinokokage you can stay in your own basic wooden cabin. Sleeping in hammocks in a sparsely furnished room, it almost feels like glamping. In the evenings, you can sit and tend a barbecue on your front porch, surrounded by trees.
Hard: Kumano Kodo pilgrimage trails, Honshu
By Alice
Associated with Yomi-no-Kuni (the mythological land of the dead) and considered a gateway to the Buddhist celestial paradises, the mountainous district of Kumano has long been a place of worship. For more than 1,000 years, people from all levels of Japanese society have walked to the three Grand Shrines at its core, on the Kii Peninsula in southern Japan. The region is now defined by the Kumano Kodo, a series of pilgrimage trails that stretch across the mountains.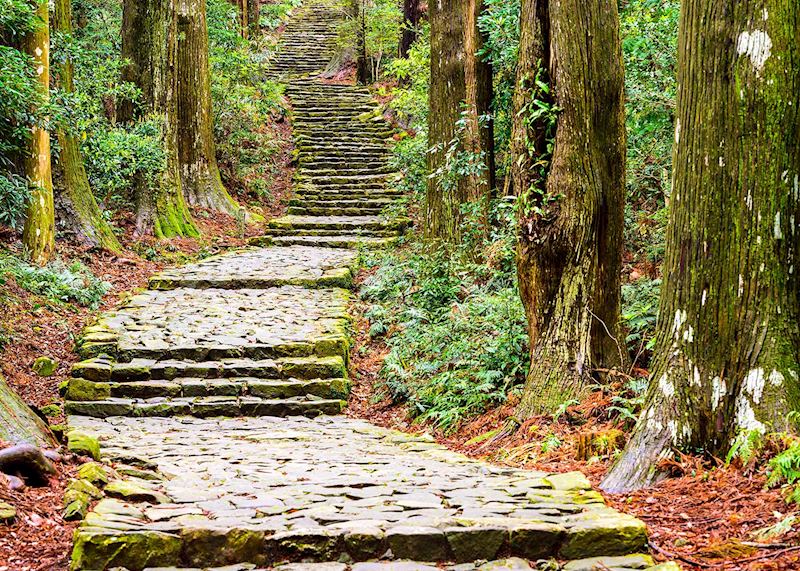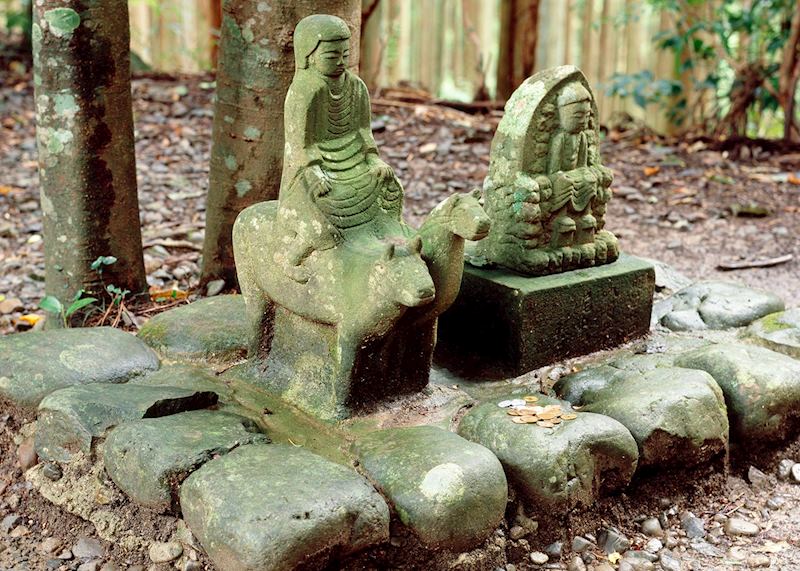 The Nakahechi route was typically used by the Imperial Family. Leading from Takijiri-oji to Kumano Hongu Taisha, one of the Grand Shrines, it's lined with Oji shrines, where pilgrims can make offerings and perform purification rituals. Some of the shrines are marked with torii gates and pavilions, at others you'll simply find a carved stone or statue. It's also the most popular route — although don't let this put you off, as I saw few fellow walkers.
With clear markings along the way, you don't need a guide. If you do go off-piste, you'll soon see a sign saying 'not Kumano Kodo'. It's 40 km (24 miles) of up-and-down walking over two days but, with a series of bus links, you don't have to walk the entire route. On the second day, I opted to skip an 8 km (5 mile) section that's now a road.
More rural than the Nakasendo Highway, most of the trail winds upward through forest thick enough to filter out most of the sunlight. Sporadically, you'll happen upon an Oji shrine, many of which are marked by wooden Torii gates. I could occasionally hear fellow walkers ringing the shrine bells. You'll pass through the odd tiny hamlet of houses, where you'll be welcomed to stop for tea.
The Nakahechi route finishes at Kumano Hongu Taisha, a Shinto shrine of multi-tiered pavilions. Built with natural materials to blend in with the surroundings, it's held together with intricate no-nails joints.
After your two-day hike, you can tick off the trio of Great Shrines by taking a boat trip along the Kumano-gawa River (you're not cheating, most pilgrims did this) to the shrines of Hayatama Taisha and Nachi Taisha.
Where to stay on the Kumano Kodo
A number of villages have sprung up around the key shrines along the route. Chikatsuyu is about halfway along and makes an ideal overnight stop. I stayed at one of the tiny traditional ryokans here, right by the river. At the end of your walk, you can stay in the onsen village of Yunomine and reward your tired limbs with a soak in its thermal waters.
Read more about trips to Japan

Start thinking about your experience. These itineraries are simply suggestions for how you could enjoy some of the same experiences as our specialists. They're just for inspiration, because your trip will be created around your particular tastes.
View All Tours in Japan