By Vietnam specialist Georgina
Vietnam's imperial city, Hue is defined by the giant square footprint of the Nguyen Dynasty's citadel. The influence of these former ruling royals has filtered throughout the city, where their mausoleums line the Perfume River and the families once under their patronage still live in traditional garden houses.
Despite being caught in the crossfire of Vietnam's conflicts — bullet holes from the Vietnam War still scar the floor of the royal palace — Hue remains a regal, dignified city, known for its scholars and artists. Vietnamese cuisine blossomed here, helped by the fresh supply of prawns and fish from Tam Giang Lagoon, which sidles up to the city.
Many visitors pass through Hue quickly, assigning more time to the larger cities of Hanoi and Ho Chi Minh City. But, I found it a key jigsaw piece in getting to know Vietnam, where the history, food and culture of the country come together. Spend a few days in the city as part of a classic trip across Vietnam to make the most of the range of experiences described below.
Hue's historical highlights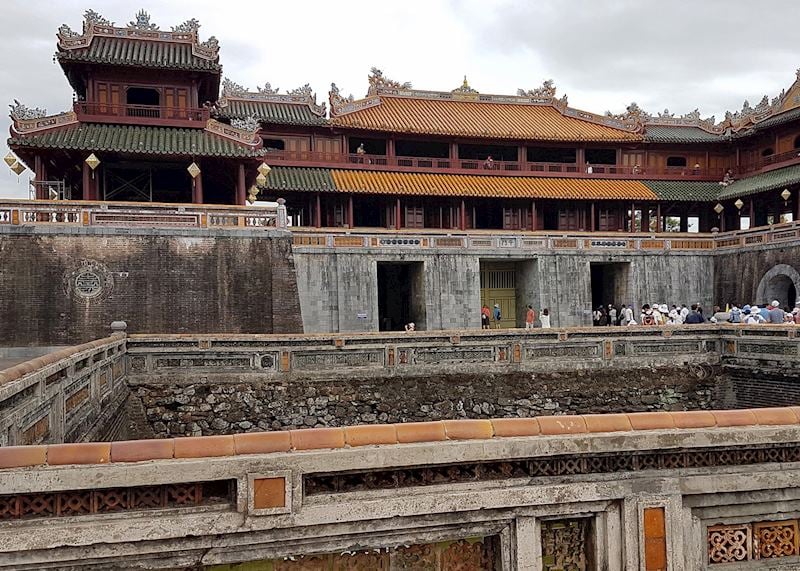 Hue's glory days began in the late 18th century, when the Nguyen lord Gia Long took control of Vietnam, proclaimed himself Emperor and founded the Nguyen Dynasty. With a day in Hue, you can explore the relics of the rule he established, starting with the citadel.
Almost as big as modern Hue, the citadel's thick walls protect the Imperial City, a feng shui designed complex of administrative buildings, dynastic temples, parks and the Tu Cam Thanh (Forbidden Purple City), reserved for the emperor and his family.
Much of the citadel was destroyed during the Vietnam War, but it's slowly being restored. Today, you can walk through the Ngo Mon (southwest gate) topped with the Five Phoenix Watchtower, its tiered yellow-and-green glazed-tile roofs designed to look like five birds in flight. The main palace within, Thai Hoa has been repaired back to its former red-and-gold lacquered glory. The original floor tiles and mirror remain, albeit riddled with bullet holes.
From the citadel, you can journey along the Perfume River to visit the final resting places of the Nguyen emperors. Seven mausoleums are scattered along the riverside, as well as the seven-story Thien Mu Pagoda, a focal point for anti-government protests in the 1960s. If I had to single out a couple of temples to visit, they'd be the mausoleum of Minh Mang, which is fringed with frangipani-scented gardens, and the mausoleum of Tu Duc, a grandiose complex of lakes, temples and pavilions.
The DMZ and the Vinh Moc Tunnels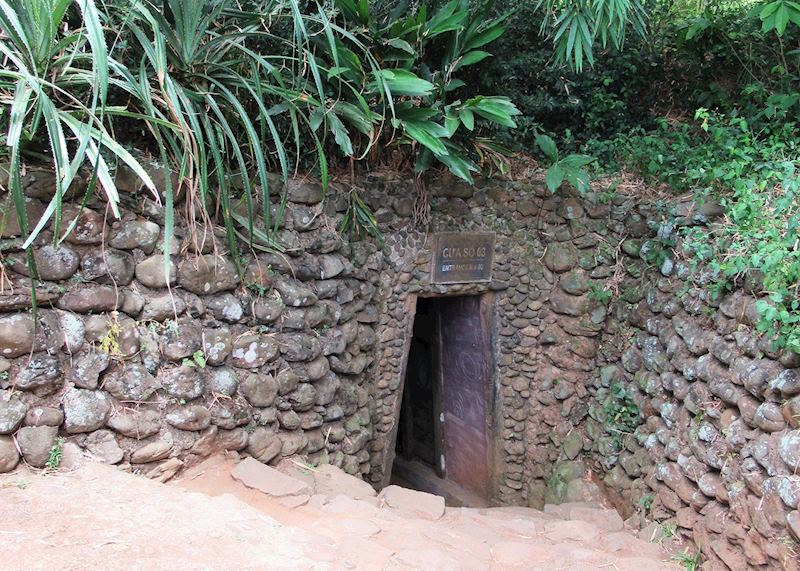 During the Vietnam War, the DMZ (demilitarized zone) functioned as the division between North and South Vietnam. On a guided tour, you can visit a number of sights of military importance around the zone, including overgrown American bases, parts of the Ho Chi Minh Trail, and Dong Ha, the northernmost town in South Vietnam.
From the DMZ, you can carry on to the Vinh Moc Tunnels, built by villagers to shelter from American bombs. As I arrived, my guide pointed out a number of wells, cunningly disguised air vents for the tunnels below.
There are three levels of tunnel, which get progressively smaller as you descend. A large proportion are open for you to visit and, aside from some minimal lighting and the occasional life-size manikin 'villager', are still in their original condition.
Freshly picked produce in Hue's garden houses
Nearly two-thirds of Vietnamese dishes hail from Hue, invented by chefs of the royal household who were desperate to satisfy their demanding employers. Cuisine here tends to rely more on spices than elsewhere in Vietnam, the royal purses could afford them. Techniques were developed to make the dishes look, as well as taste, perfect — take note of the unique way spring rolls are folded here.
Hue's cuisine was championed by affluent families, often scholars, poets or courtiers, and passed down the generations. These families lived in nha vuon (garden houses) on the outskirts of the city. Built with large terracotta-tiled roofs to keep the interior cool in the summer, these single-story homes were surrounded by bonsai trees, water features and, most importantly, all the fresh produce the family would need, from pineapples to peanuts.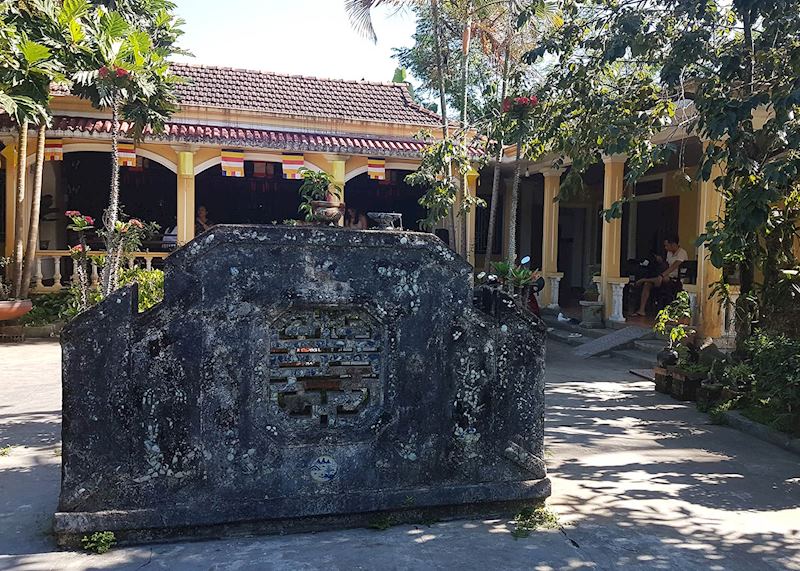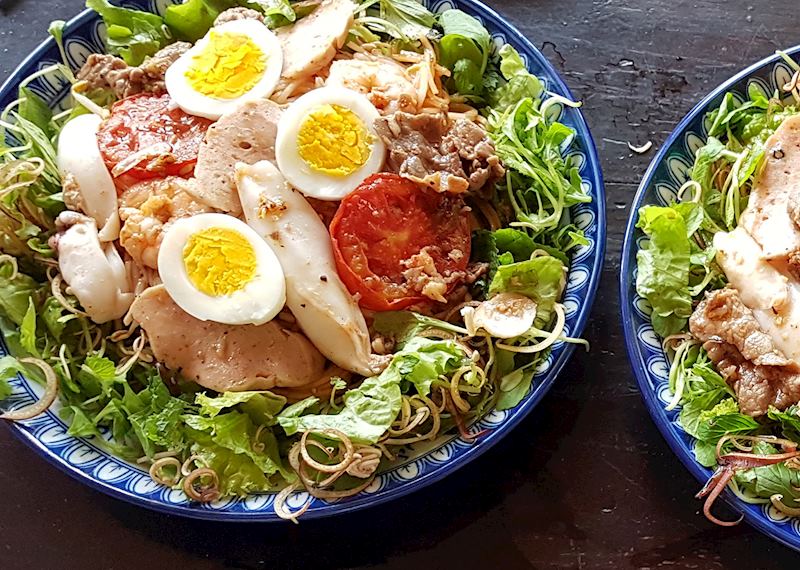 Many of these houses still exist. With my local guide, Phuong, I visited the garden house of Be Phan-Dinh. You can arrive by car, but we cycled through the garden house district, passing by neatly growing hedgerows and bamboo. Each home has a stone entrance gate, marked with the ancient Vietnamese symbol for longevity. As a welcome, Be showed us the family altar, where photographs of her ancestors met our gaze.
You start with a tour of the garden, which is a veritable Eden of jackfruit and plum trees, wild pineapple bushes and trailing pumpkin plants. Then, we donned aprons in the kitchen to make a fresh mango salad. I was tasked with finely grating green mango and guava, while Be showed me how to construct her signature dressing of chili, lime, fresh garlic, palm sugar and fish sauce. Almost every ingredient we'd freshly picked, including the thin, gently curling purple slithers of sliced banana flower.
We sat down to eat on the shaded veranda. A trio of other dishes, including bun thit nuong (a rice noodle dish topped with pork) and deep-fried spring rolls, appeared, which Be had casually prepared as I struggled to grate a mango. The mango salad is a flagship of Hue cuisine: it's a sweet-spicy-sour medley of the freshest ingredients.
You can stay the night with Be and her family, in a simple bedroom adjacent to the family temple. You're likely to wake early to the squawk of the family cockerel, but Be will greet you with freshly squeezed pineapple juice, warm bread and, of course, a few fresh eggs.
Art and culture in Hue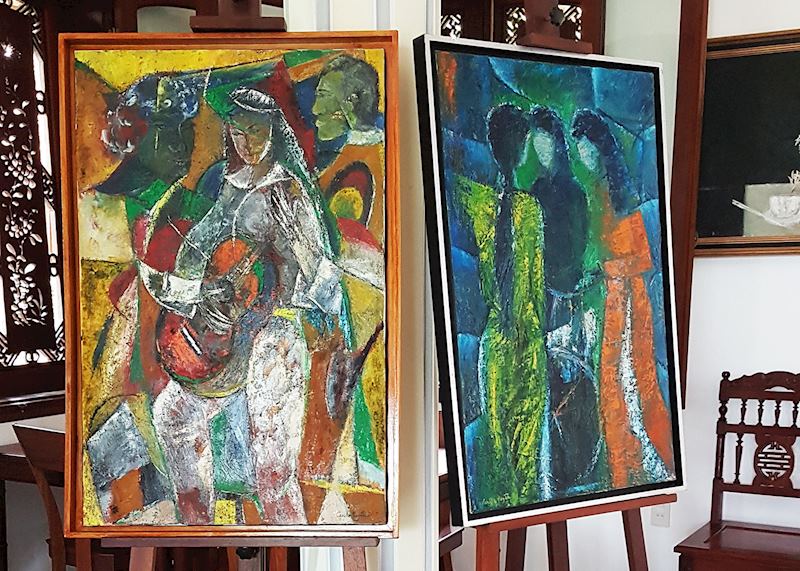 Under the patronage of the Nguyen Dynasty, artists, poets, musicians and craftspeople flourished. Despite the ravages of modern history, Hue is still Vietnam's hub of cultural and artistic activity, where age-old techniques are preserved and modern creativity encouraged.
A modern-day patron of the arts, Ngo Truong Dinh and his artist wife Camille Huyen have opened up their garden-house home on the northern banks of the Perfume River. You can visit for fresh lemonade and homemade pastries, and a tour of their home and gallery.
As soon as I arrived, Ngo took me across the garden to see his 'swimming pool', a calm section of the river that he swam across each morning.
The house isn't an original. It has been lovingly built using reclaimed materials to reflect the architecture of the former Imperial City. For me, it almost put the royal palaces to shame with a series of tiered roofs decorated with brightly painted ceramic tiles and mosaics.
Ngo will show you around the gallery, where a selection of Camille's work hangs. With a body of paintings spanning more than 30 years, her style ranges from Abstract Expressionist to Impressionist, with a focus on self-portraiture.
After your tour, you sit down for refreshments with Camille and Ngo, who are likely to be armed with questions. While they're eager to discuss the culture and art of Vietnam with their guests, for them this is also a cultural exchange and a chance to meet new people.
Hands-on creative experiences in Hue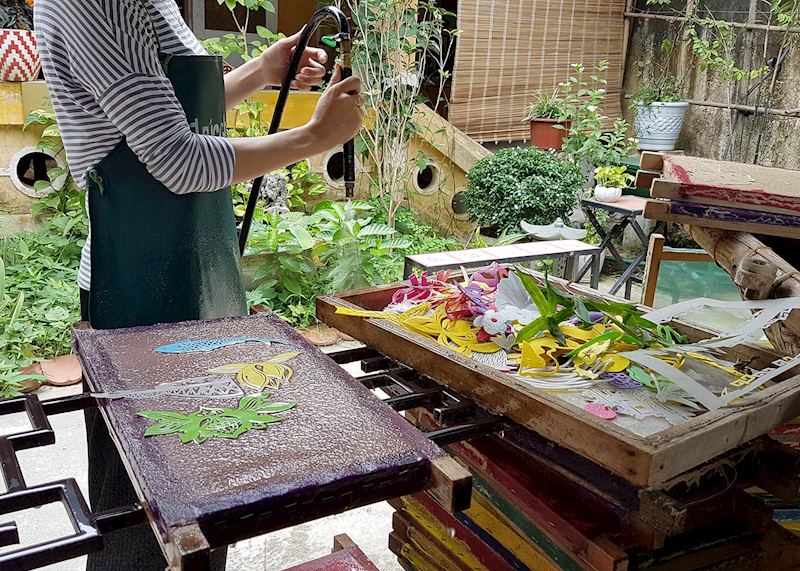 Lacquerware is a time-consuming 2,000-year-old practice that has been refined in the city — it's where the delicate technique of inlaying eggshells into the lacquered surface was invented.
Showrooms across the city will demonstrate the (often 100 plus) stages of the lacquering process, but we can arrange for you to visit a studio, where you can sit down with the artists and decorate a piece as a keepsake.
Modern techniques are also growing popular. Trucchi is a new paper art developed by artist Phan Hai Bang, and I visited his Trucchi Gallery to learn the basics.
We headed outside to a large water trough, where you can have a go at making your own trucchi. After dunking a sheet of mesh into the bamboo-pulp water to create a layer of damp paper, you lay pre-cut foam shapes on top. You then use a machine that looks like a mini jet washer to spray off some of the uncovered pulp, shaping the textured pattern. Your paper will be delivered to your hotel the next day, after it has dried.
One of his young assistants then took me back into the gallery, turning on a series of lights to illuminate sheets of professionally-made trucchi hung on the wall, the light shining through multiple layers of individually shaped fine paper pulp.
Read more about trips to Vietnam
Vietnam, Thailand, Laos and Cambodia
Start thinking about your experience. These itineraries are simply suggestions for how you could enjoy some of the same experiences as our specialists. They're just for inspiration, because your trip will be created around your particular tastes.
View All Tours in Vietnam