I can't say for sure that living in Florida for a year when I was an infant is the reason behind my interest in the US. But there was something about knowing I'd been there yet having no recollection of it that made me extremely curious about it. When I first went back to the States, I was lucky enough to explore the west coast, from the sloping streets of San Francisco to the bright lights of Las Vegas.
Tired and exhilarated, I left the country immediately wanting to return. My wish was granted last year when I had the opportunity to travel from New York to Georgia, taking in the scenery and meeting extraordinary people along the way.
Travel has always been something that I have loved to do and I'm excited to share my knowledge and experience to help others have similarly unforgettable experiences.
Speak to Jonathan

Start planning your trip to the USA with Jonathan
Q&A with Jonathan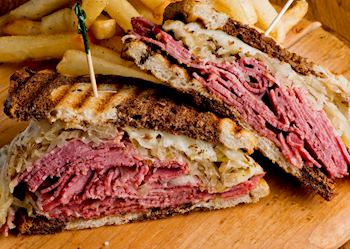 What's the best local dish you've tasted?
Whether it was invented in Omaha, Nebraska or New York City is up for debate. What isn't, however, is that The Reuben is a classic American sandwich which, although not particularly healthy, will never disappoint. My first encounter with The Reuben was at a place called Eisenberg's, a traditional sandwich shop opened in 1929 which is located right in the heart of New York's Flat Iron District. The two types of pastrami, Swiss and American cheese, sauerkraut and Thousand Island dressing pieced together between two slices of toasted rye completely stole my heart.
What's your most vivid travel moment?
The first time I visited New York City I stayed in a hotel right on Times Square. I'll never forget stepping out of the taxi and immediately being overwhelmed by the noise, the people and the atmosphere. It was like stepping into a movie set and like nothing I had experienced before, seeing the bright lights pulsating above street performers and people gathered from all corners of the Earth, the same astounded expression on their faces. Although I'd visited the country before, no other place felt more American to me than New York.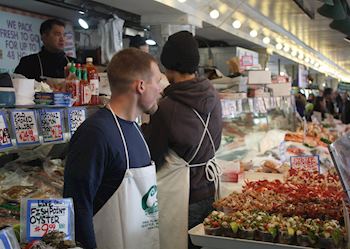 Your best piece of travel advice?
My top tip is one that applies to travel in general and not just in the US: talk to the locals. I've found that this is the best way to make the most out of any trip. Not only is it a great way to help you understand the culture of the places you are visiting, but you are guaranteed to hear a unique perspective with every conversation you have. On top of this, you'll no doubt acquire some interesting travel tips of your own along the way and maybe even make a friend in the process.