My urge to travel started at a young age, flying overseas for our family holidays. As I grew up, any spare income I had would be set aside toward my next trip, whether that be a beach holiday, ski trip or city break. Most of my travel centred around Europe and taught me to fully appreciate the wonders on my very own doorstep.
In 2008, on booking my next adventure, I also stumbled on my first work experience in travel. From speaking to the person who was booking my trip, I was captivated by the opportunity of living abroad, absorbing the different cultures and as a result, I decided to pursue a career as an overseas representative.
Following my time living abroad and after a few years outside the industry, I realised I needed to be back in travel and became cabin crew for British Airways, which allowed me to explore the globe extensively. I ensured that wherever I visited I would get out and make the most of the opportunities the role gave me — even if it was only for a few hours. After the pandemic, driven by my desire to share my experiences with a wider audience and also to be closer to my family, I started with Audley in the Europe team as an Italy Specialist.
From my first visit to Italy, I became encapsulated by the history, architecture and food and this has driven my desire to keep returning so I can discover more.
Speak to Michael
Start planning your trip to Italy with Michael
01993 838 900
Q&A with Michael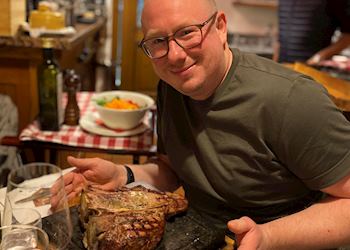 What's the best local dish you've tasted?
When most people think of Italian food, steak isn't at the top of their list, however, being a meat lover, whenever I'm there I try to find the best Braceria's and on a recent trip to Bologna I tried Bistecca alla Fiorentina, a huge T-Bone steak from Chianina, one of the largest breeds of cattle. I enjoyed the steak rare and although it could be a little too fatty for some people's taste, this only added to its flavour for me.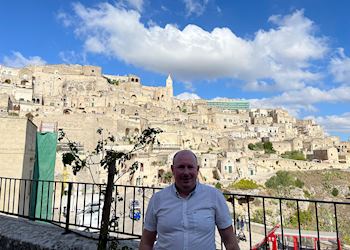 What's your most vivid travel moment?
I was lucky enough to be watching the opening credits of James Bond's 'No Time to Die', knowing that I would be in the filming location of Matera less than a week later. Walking from the main town square, a square as non-descript as you could get, my guide took me through a small opening to a vista overlooking the valley of Sasso Barisano, one of the two Sassi's or 'stone cities' that make up the cave dwellings of Matera. The views were like nothing I have ever seen before and will remain with me forever.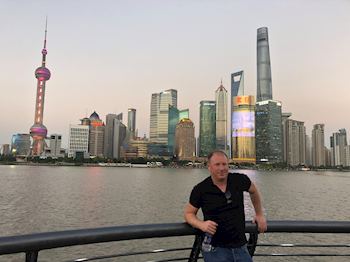 Your best piece of travel advice?
My best piece of travel advice is to plan time in, which isn't planned. Leaving you opportunity to aimlessly wander and soak in your destination. You may find yourself discovering more than expected.