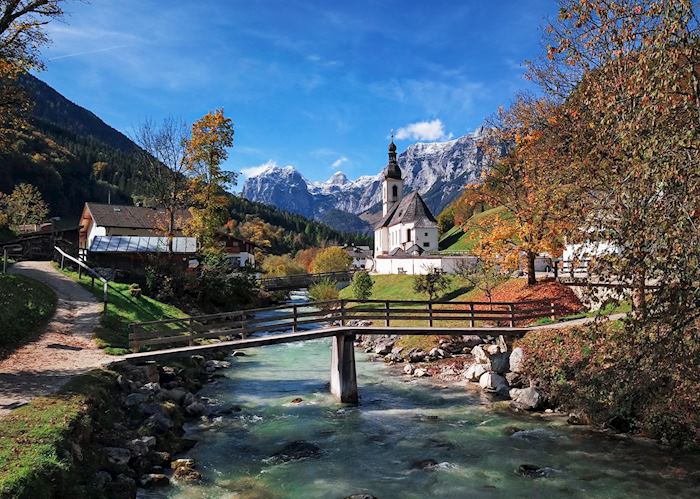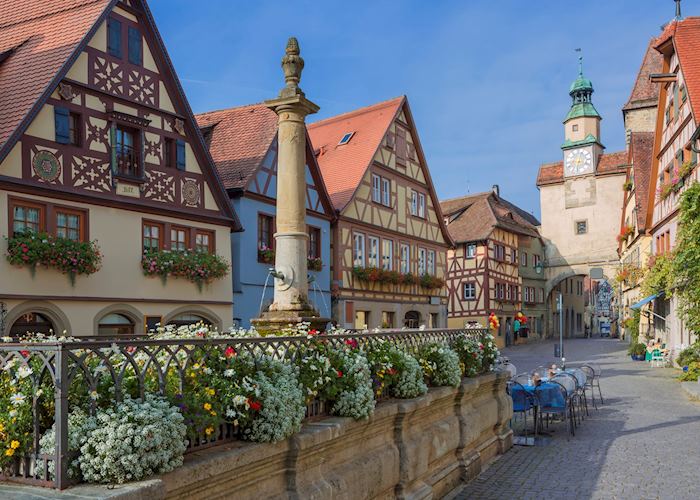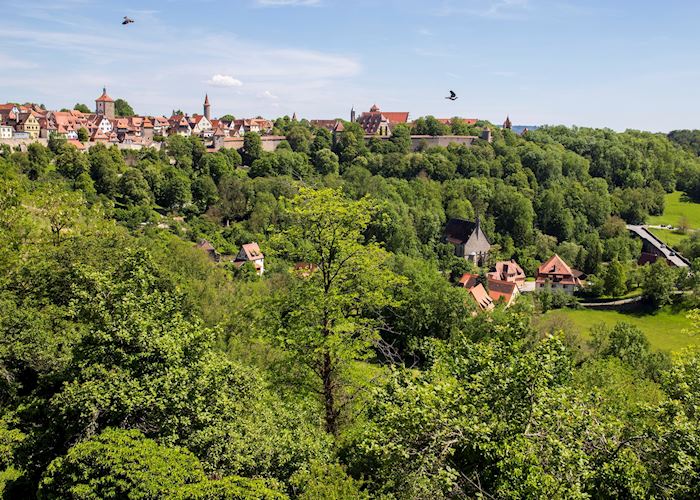 The Romantic Road
The Romantic Road, Germany
Spend a morning exploring the storybook Bavarian villages along the Romantic Road, a long and winding route through southern Germany. Your driver-guide will pick you up from your hotel and escort you through the German countryside to some of the best sights on the route.
Along the way, you'll see the terracotta-tiled roof of Harburg Castle, home to one of the region's few completely preserved ring walls. You can look out from the corridor on top of the wall and take in the gentle green slopes of the German countryside.
You'll also explore Nördlingen, a walled city that dates back to 898 and was built in an impact crater. Stroll by the pastel buildings with steep Bavarian-style roofs as you head to Saint George's Church. Or you might wander the neatly cobblestoned streets of Dinkelsbühl, lined with shops, restaurants and cafes all in different shades of orange, red and yellow.
Your driver-guide will pick you up at your hotel before heading out along the Romantic Road. You'll spend half a day riding the route, stopping at Harburg Castle, Nördlingen and Dinkelsbühl. The tour is about the journey as you watch Bavarian mountains, forests and timbered villages go by.
Harburg Castle was built in the 11th century and boasts all the features of a true medieval castle. It's one of the few remaining castles with a fully preserved ring wall, the terracotta tiled roof popping against the soft grey sandstone building. Built on a hill, the castle overlooks a countryside valley with grassy green hills, dotted with trees and shrubbery. You can explore the interior of the castle, as well as wander through the manicured gardens.
You'll then head to Nördlingen, one of just three German towns that still has a fully intact city wall. The wall completely encircles the old town, which was built in an impact crater. Walk the scalloped cobblestone streets, lined with steep-roofed pastel buildings full of shops and restaurants, and head to see Saint George's Church. The steeple, named Daniel, soars 90 m (295 ft) into the sky and is made of suevite breccia, a stone containing shocked quartz and only found in meteorite craters.
The last stop is the town of Dinkelsbühl. A quintessential Bavarian town, Dinkelsbühl boasts neatly cobblestoned streets full of shops, restaurants and cafes inside buildings of varying shades of orange, yellow and red. The dark shutters pop against the brightly painted buildings, and the flower boxes in the windows overflow with greenery and blossoms. The Wonderful World of the Brothers Grimm was filmed in Dinkelsbühl to take advantage of its storybook charm.
When you're finished exploring, your driver-guide will bring you back to your hotel.
Speak to someone
who's been there
Start planning your tailor-made trip by contacting one of our Germany specialists
Photos of the Romantic Road