The forts of Rajasthan have always played a crucial role in the region's history. Cities such as Jodhpur, Jaipur and Jaisalmer are defined by their great stone strongholds. These are now impressive icons of a bygone age, with large sections preserved as museums and galleries.
However, across Rajasthan, there's a collection of smaller forts with a much more personal backstory. I've picked out four of the best. They're all places where you can stay overnight and experience a slice of regal hospitality.
These rural forts make ideal stops (and welcome breathers) between India's larger cities, and can be incorporated into a classic route across Rajasthan.
Fort Barli: a warrior family stronghold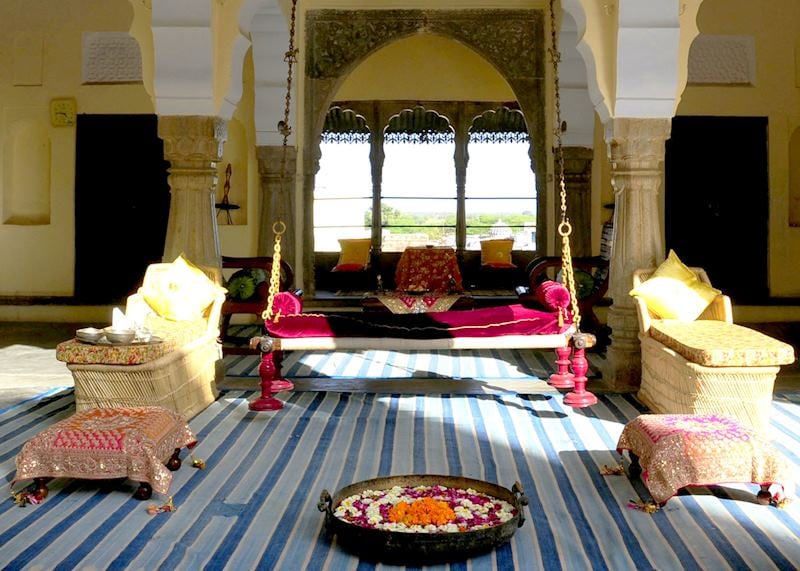 The adventures of Darbar Sahib Lal Singh ji, a legendary Rajput warrior, still echo in Rajasthani folklore today. Although my host Mr Karni Singh might be biased, this being his great, great grandad.
Fort Barli was built in 1675 and has stayed in the family despite a long list of battles fought beneath its high stone walls. On arrival Mr Singh likes to take you on a tour of the fort, which has been lovingly refurnished with Rajasthani antiques and handloom fabrics.
Compared with India's grand palaces and luxurious modern hotels, this isn't quite as lavish. But, this is because the fort has been authentically restored (albeit with modern bathroom suites and electricity) rather than refurbished. The rooms here feel like a local Maharaja or Rajput warrior might have checked out just before you.
What is there to do at Fort Barli?
With a pool, rooftop yoga and an ayurvedic massage menu, there's a lot of opportunities to relax. Although, for me, the best thing about the fort is its location right in the middle of Barli.
This busy town has grown up around the fort and you can explore from its front door — it's hard to get lost because you can see the fort wherever you are. Each morning the staff take it in turns to lead walking tours, or you can take a bullock cart ride into the surrounding countryside.
Where is Fort Barli?
A three-hour drive southwest of Jaipur, Fort Barli is a convenient stop on the way to Jodhpur, which is four hours away. Or, you could head south through the Aravalli Hills to Udaipur, a five-hour drive away.
Alila Fort Bishangarh: a ruin luxuriously restored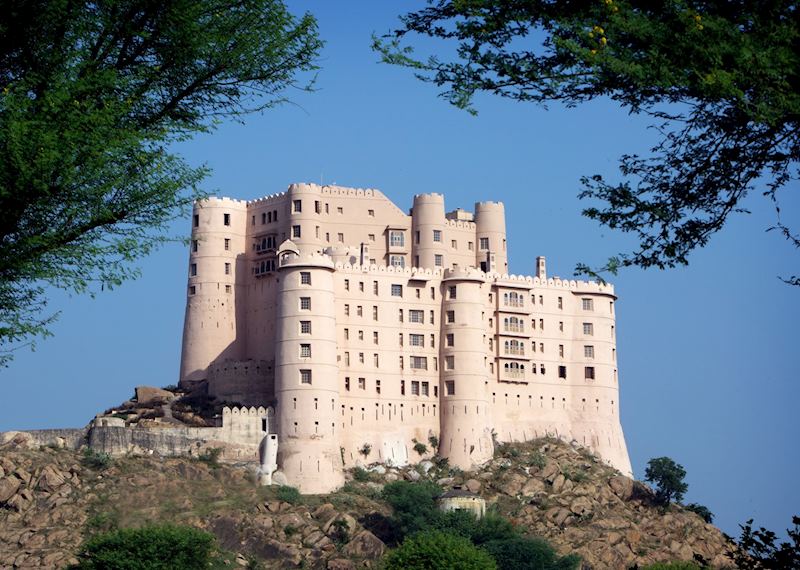 On the drive from Delhi to Jaipur, when the ruined turrets and watchtowers of Fort Bishangarh come into view, you know that Jaipur is only an hour away. And 230 years ago, that was exactly why the fort was built: Jaipur royals wanted an early line of defence and clear views across the surrounding plains.
Long since abandoned, its 2 m (6.5 ft) wide walls attracted the attention of a local businessman who worked with royal descendants to restore the fort. The original towers, tulip-shaped windows and stone walls remain intact, with a series of new arches, columns and jaali screens (latticed window covers) designed to blend with the traditional design.
The result is a fusion of traditional Rajasthani architecture with the modern, more minimal finish of a luxurious hotel. It doesn't feel as homely as some of the smaller forts, but it definitely nods to its palatial heritage, with service, food and facilities to please the most particular guest.
Choose this fort if you're looking for luxury and don't like the idea of finding a wobbly fixture or imperfect bathroom fitting — every detail has been attended to.
What is there to do at Alila Fort Bishangarh?
Relaxation is a focus here, with a spa, pool and lots of courtyards dressed with sofas and day beds. Due to its location right atop a granite hill you do feel like you should relax and survey your kingdom below, but if you want to explore, there's a tour of the small town of Bishangarh, horse riding or cooking lessons.
Where is Bishangarh?
Just an hour outside Jaipur. I find it works well if you'd like to visit the city but want to stay in a more peaceful location.
Chanoud: a hosted stay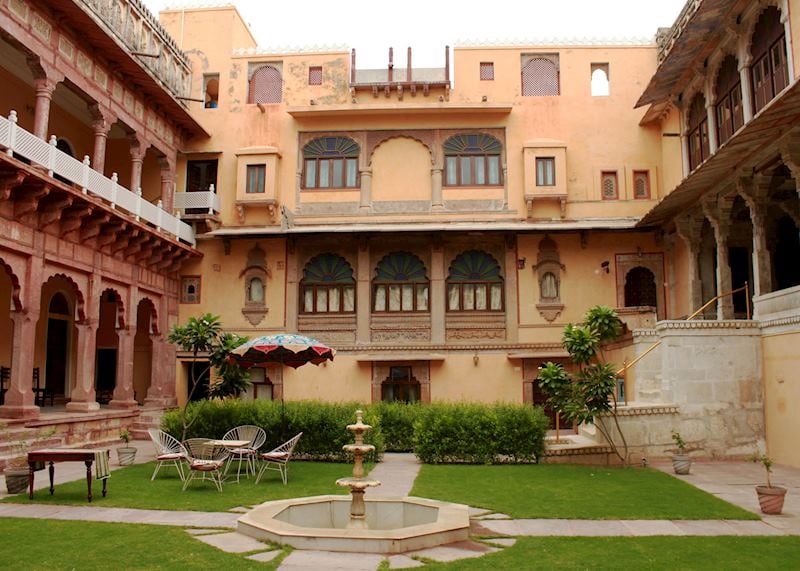 This is the smallest fort on the list, but therein lies its draw. From the moment I walked under its scallop-arched entranceway, I felt like a member of the family. I was welcomed with a flower garland and a cup of chai, before being shown to my room — which was filled with hand-carved furniture, a rainbow of handmade textiles and the biggest marble bathroom I'd ever seen.
This 300-year-old fort has been lovingly refurbished by the Singh family, who still live in part of the structure. They're a continuous presence around the property, welcoming you, running village tours and holding court with guests around the fire in the evening. I was invited to join their evening worship at their private temple, and they arrange celebrations on Holi and Diwali.
What is there to do at Chanoud Garh?
While there's no pool or spa, there's enough here to make you want to stay for two nights. In fact, people usually complain to me that they didn't stay long enough. I took a 4x4 safari into the surrounding countryside, where salt pans glimmer under the desert sun, and on my return was greeted with a traditional ginger drink to clear your throat of desert dust.
The head of the family, Thakur Ajeet Singh ji, runs regular historical tours of the property, which includes a small museum and durbar (hall) decorated with an array of old weapons, paintings and animal skins. You can also take a guided walk through the surrounding village or a 4x4 wildlife safari to seek out leopards.
Where is Chanoud?
Chanoud is three hours from Jodhpur and about four hours from Udaipur through the winding roads of the Aravalli Hills.
Ramathra Fort: a remote rural experience
The parapets of Ramathra Fort stand proudly above the Daang Plateau and the inky waters of Kalisil Lake. Like other forts it does protect a settlement, but Ramathra village is such a tiny hamlet that the great stone structure feels like it's in the middle of nowhere.
Built in 1645 by the Maharaja of Karauli, the fort has stayed within the family, who have supported the surrounding communities for hundreds of years. I'd say that the key draw here is this surrounding countryside, which includes Keoladeo Ghana Bird Sanctuary and Kailadevi National Park.
The rooms are relatively small and simple compared to other forts, but choose a suite and you'll have a private terrace with views across the surrounding wilderness and lake.
What is there to do at Ramathra Fort?
There's a long list of activities to help you make the most of your environment, and birdwatching, village tours and a sunset boat ride are included in the cost of your stay. You can also take lakeside picnics, wilderness drives and night drives into the buffer zones of Kailadevi National Park.
The lake is a rich feeding ground for kingfishers, herons and cranes, as well as a litany of ducks, storks and cormorants that visit in winter. As well as birds you're likely to see deer and wild boar. Blue bulls, sloth bears, hyenas and wolves roam the region, though are seen less often.
Where is Ramathra Fort?
Ramathra is around six hours' drive from Agra, via a number of villages and farms along the way. If wildlife is a focus of your trip, you could travel on to Ranthambhore National Park, a three-hour drive.
Itineraries

Start thinking about your experience. These itineraries are simply suggestions for how you could enjoy some of the same experiences as our specialists. They're just for inspiration, because your trip will be created around your particular tastes.
View All Tours in India