My first taste of India was trekking in the Himalayas when I was sixteen years old. This single trip sparked what would become a lifelong love of India.
After graduating, I returned and worked in Mumbai for the British Council. It was during this time that I travelled to south India where I fell in love with the tropical state of Kerala and so much so, that I made it my home for six years. During this time, I walked with temple elephants in Tamil Nadu, waved to the Dalai Lama in Dharamsala, biked the highest motorable road in the world in Ladakh, visited the Dharavi slums of Mumbai, dived in the cooling blue waters of the Andaman Islands, and tried and tasted every curry you could ever imagine.
This is just a taste of the many experiences to be had in this Incredible country.
Speak to Ella

Start planning your trip to India with Ella
01993 838 300
Q&A with Ella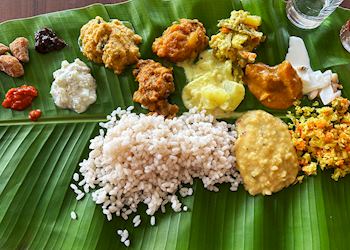 What's the best local dish you've tasted?
My favourite dish in India is a traditional Sadhya lunch. It's a feast of over twenty delicious vegetarian curries presented on a banana leaf. It's traditionally served at special occasions such as weddings, Hindu celebrations, and Kerala's state festival of Onam. The preparation of Sadhya takes days, and each family member is expected to be involved. From grinding the raw coconut, to collecting the banana leaves, to choosing the freshest ingredients from the local roadside vegetable wallah.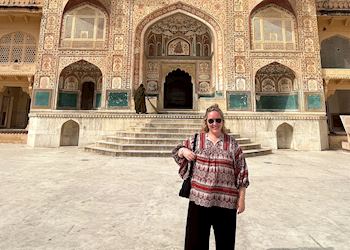 What's the one thing you always pack?
A Journal. India can be a sensory overload with so many exciting and unexpected scenarios happening around you on a daily basis. It's hard to capture and appreciate it all at the time. While I love photography, I believe there is nothing better than going back to basics with a pen and paper to express how something or someone truly made you feel.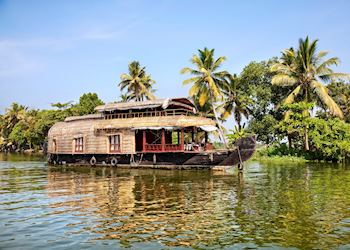 Which book, film or artwork captures India the most?
The documentary 'Monsoon' reminds me of the feelings I experienced when living in Kerala during the month of July. It brought joy, elation and excitement and officially welcomed the start of the tropical monsoon season. After three months of intense humidity and sweltering heat, the rains are a welcome relief. The documentary is also filmed in Kerala, my home away from home. As quoted in the documentary, 'The monsoon brings not only water, but life to India. The monsoon is the soul of the country.'