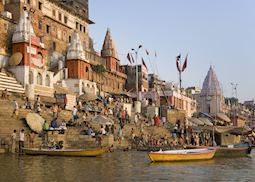 Varanasi encapsulates everything I love about India: the colours, sights, smells and humanity. Situated on the river Ganges, it is well known as the holiest city for Hindus. Taking a walk along the length of the ghats, I never fail to find something of interest, despite having visited many times.
From a rowing boat at dawn, you'll see the morning yoga sessions, worshippers welcoming the rising sun and the family priests setting out their paraphernalia. In the backstreets you may encounter a herd of water buffalo being taken to bathe in the river, a funeral procession or just an inquisitive chai stall owner keen for a chat.
Have a bowl of lassi at the famous Blue Lassi stall, before diving back into the action at Dashashwamedh Ghat to watch the nightly river blessing ceremony.