Here at Audley, we are passionate about providing our customers with an authentic cultural experience. Gastronomy and dining on local cuisines is an important part of any exploration. Through the use of UK Google search data, we have analysed the most popular cuisines in the UK, as well as a separate focus on the top cities in the UK and their top 10 most popular cuisines.
The UK's most popular cuisine
Audley's promise to you is to provide original and enriching escapes, this includes providing you with the most authentic culinary experiences. Our cuisine study reveals the popularity of the Chinese, Indian and Mexican cuisines. China is a clear culinary favourite with a rich gastronomic history and culture. Whether this is experiencing authentic sweet and sour sauce from its origin in southern China to locally sourced Peking Duck from Beijing.
The second most popular cuisine searched for in the UK is Indian. For those looking to visit India we suggest paying a visit to the food markets in Mumbai. Known for its flare and fragrance, Mexican cuisine is treasured by many and comes third on our list. The gourmet food market of Mercado de San Juan is an authentic and scintillating way to experience Mexican culinary excellence.
Along with great flavour and aromas, the list of top UK most popular cuisines doesn't end there. With Japanese, Italian and Greek revealed as firm favourites, as well as Thai, French, and Spanish rounding up the top ten.
It is no surprise that the adoption of worldwide and world-renowned dishes has inspired the UK over the years. That's why at Audley we are passionate about providing our travellers with authentic culinary tastes when they travel with us.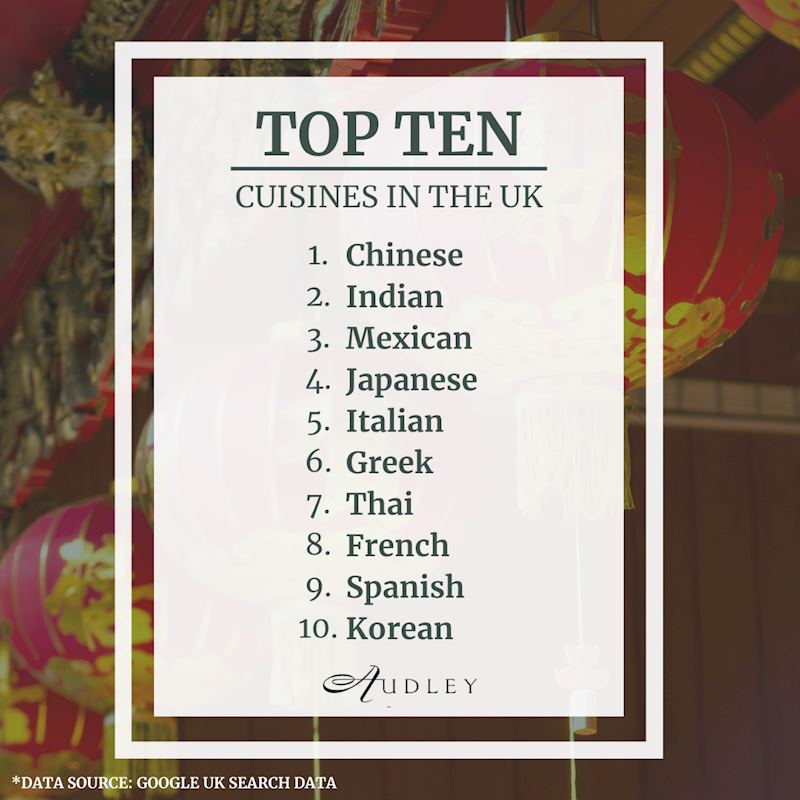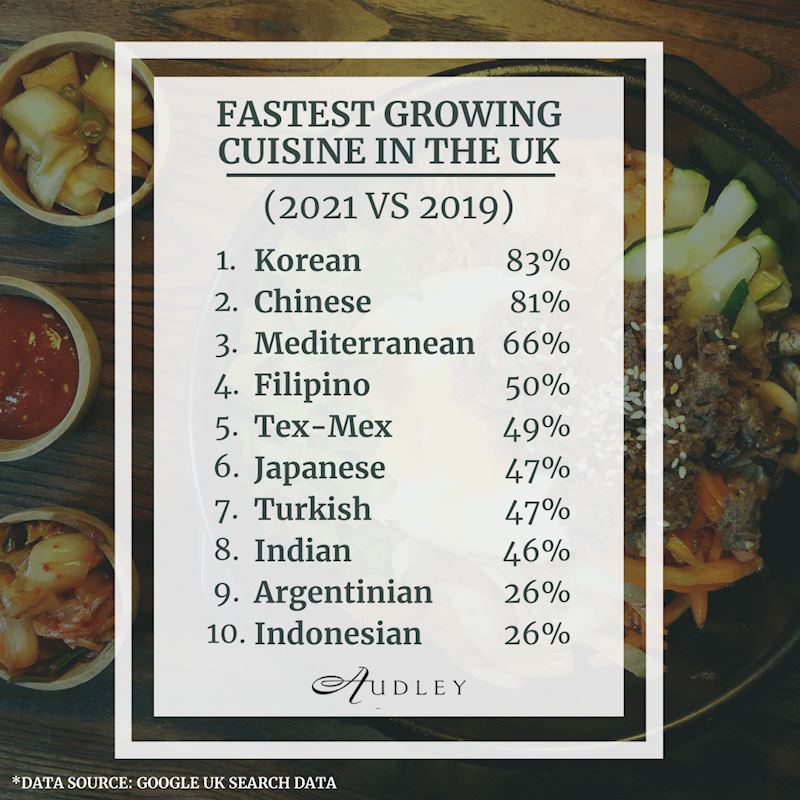 Top trending UK cuisine
By comparing 2019 cuisine data with 2021 data, we have not only identified the most popular cuisines in the UK, but also the cuisine types that are of growing in popularity. Our data shows that Korean cuisine is the fastest growing in popularity in the UK. Mediterranean cuisine is also en vogue taking up the final spot in the top 3.
Additionally, Filipino cuisine, known for its delicious taste, and unique flavour, stands in fourth place of growing popularity within the UK. Taking up position five is Tex-Mex, a branch of Mexican cuisine, but created in Texas. Tex-Mex has all the flavour and flair of Mexican food, however, different ingredients are used, one of the authentic marks of Tex-Mex cuisine is their use of yellow cheese.
Differences between the four UK nations
Enclosed in the data we have uncovered various interesting comparisons between all cuisines throughout the whole of the UK. The flare and flavour of Mexican cuisine appears to be a favourite in England and Wales, sitting in the top three most popular cuisines. However, does not appear within the top three most popular cuisines for Scotland or Northern Ireland. This place is held for Japanese food in Scotland and French cuisine in N. Ireland. Interestingly, three UK nations seem to be inspired by our neighbours across the sea, with France sitting in the top 5 among all nations, except England.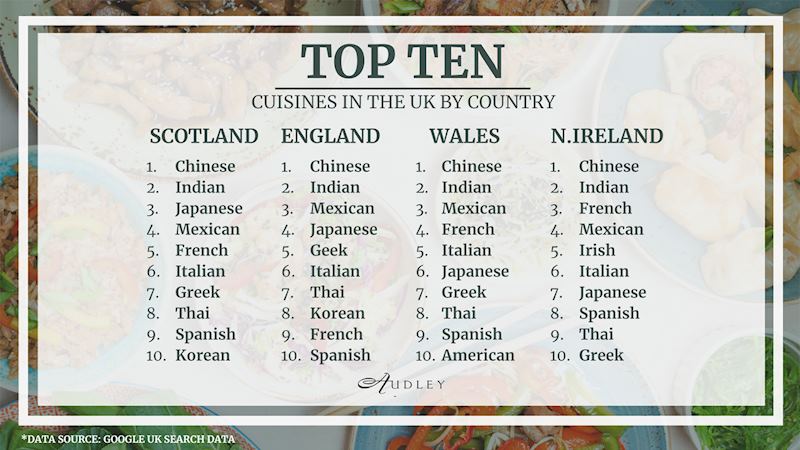 The most popular cuisine in top UK cities
Experiencing great adventures and edible excursions are at the heart of what we do at Audley. Through analysing search data, we have defined the top ten most popular cuisines in a number of UK cities. There were 5 cities in total from our findings, that stood out the most. Those are Glasgow, London, Birmingham, Belfast and Cardiff. All of these cities had Chinese and Indian cuisines as their top two, followed by a mix of French, Japanese, Mexican and Korean in third place.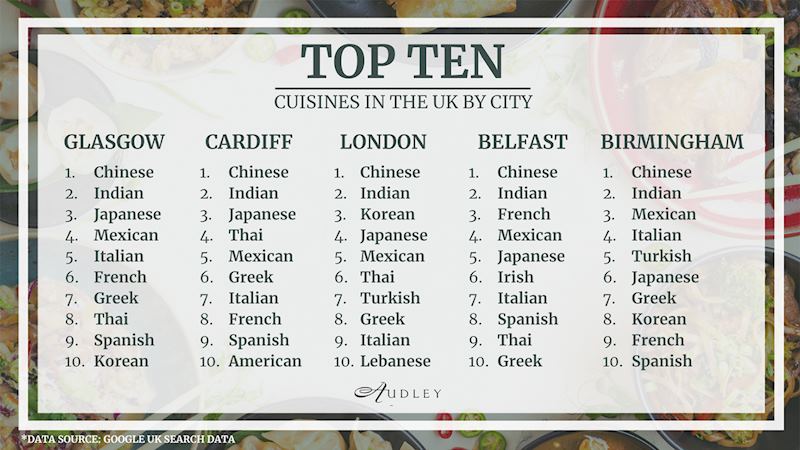 If you have been inspired by our study and are looking to experience a culture through taste, view our full list of available destinations. Our experts can help craft a culinary journey bespoke to you through their extensive expertise and knowledge.