How to break up your trip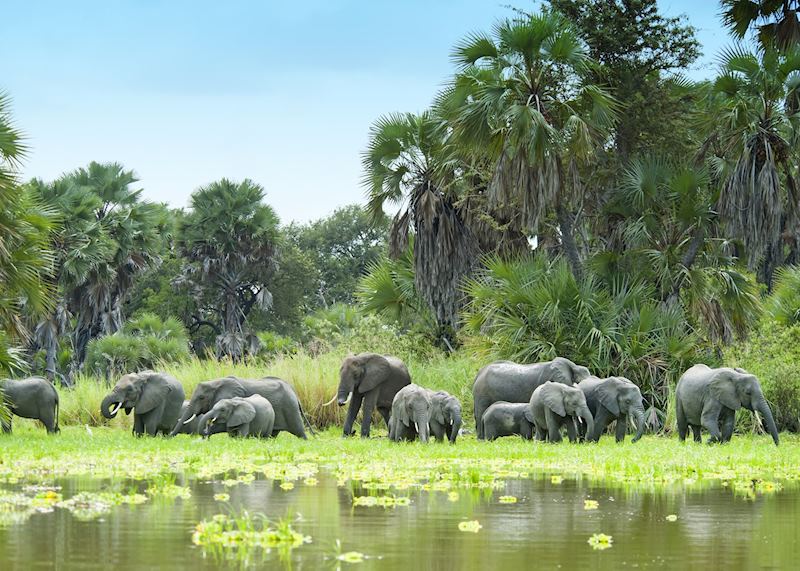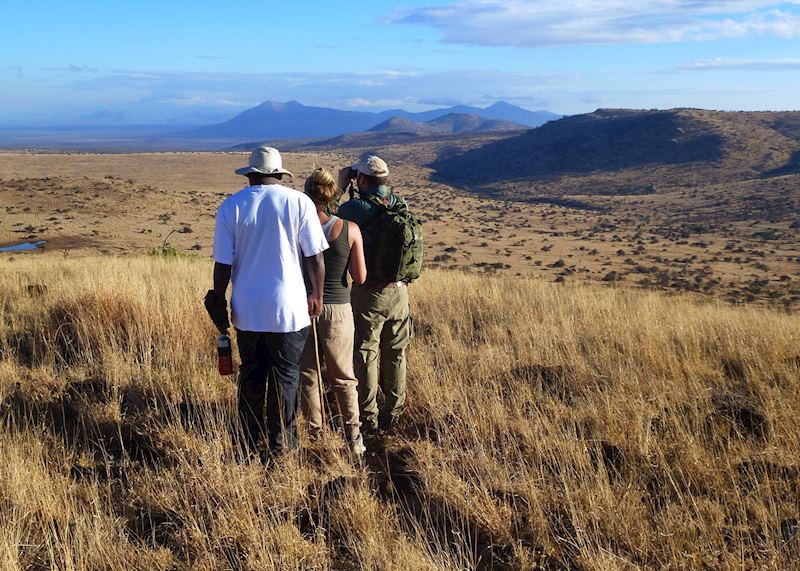 We recommend spending between three and five days on safari, so you have enough time to sample all of the activities, from game drives to bush walks and boat trips. It also lends you time to relax in camp and ease into the safari lifestyle.
How long you spend on the beach is also entirely down to you, but we find that five to seven nights is a nice amount of time to unwind.
South Luangwa National Park, Zambia and Lake Malawi
Chosen by Harriet
Combine walking safaris in South Luangwa with water sports, culture and beach time on Lake Malawi.
South Luangwa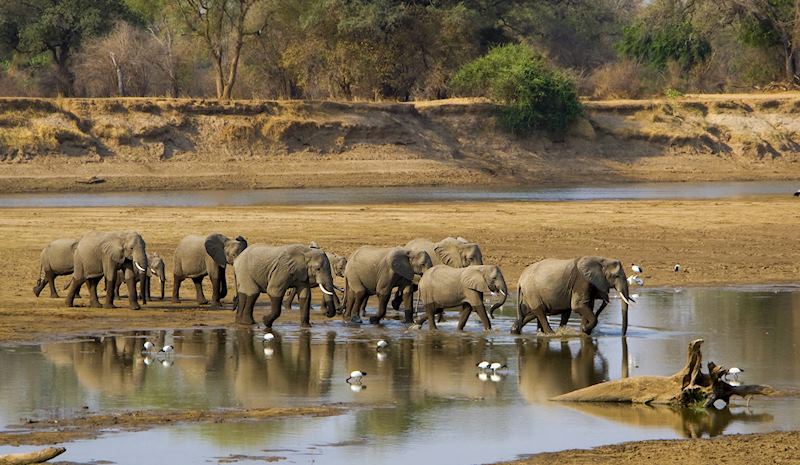 Nowhere I've been compares with South Luangwa when it comes to volume of wildlife. Known for its healthy leopard population, the park's also home to lion, elephant, giraffe, buffalo, spotted hyena, hippo, a variety of plains game and more than 400 bird species.
While game drives give you a chance to see all of these animals and more (including nocturnal wildlife during night drives), it's the bush walks I enjoy most when heading out in South Luangwa. The guides here are walking safari specialists, and can open your eyes to the plant life, insects, animal tracks and birds that you might otherwise miss from a vehicle.
You can also experience a mobile camping safari in the park, walking during the day and setting up camp in a remote area of the bush.
Where to stay: Having worked as a camp manager in South Luangwa, I've high standards when it comes to hospitality, but Nsefu Camp meets these. Set right on the river bend, it's one of the park's oldest camps, and has retained its original authenticity with its six thatched rondavels.
Lake Malawi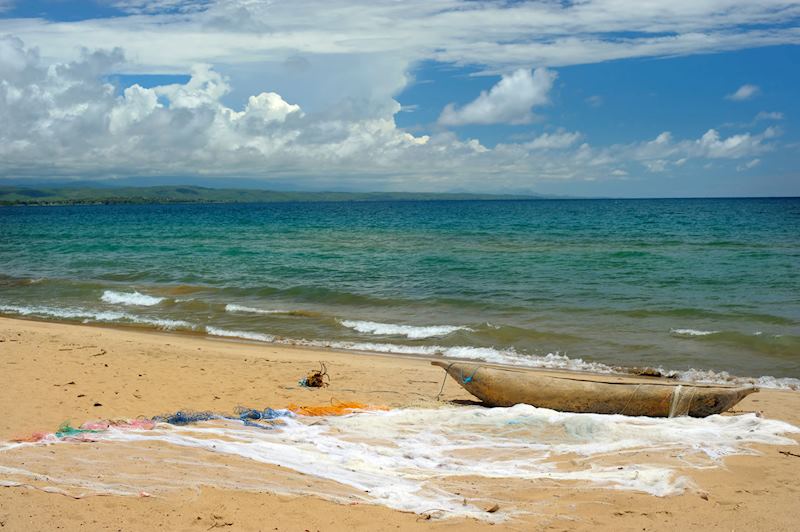 A lake might not be your first thought for a beach break, but Lake Malawi is so vast you can barely tell you're not at the coast. And, because it's freshwater, you can snorkel or dive among fish that you wouldn't find at sea, as well as the occasional otter. When I got out of a boat to snorkel in the bathwater-warm water, I was immediately surrounded by tiny cichlids, which followed me like bright fragments of rainbow.
As well as relaxing on the lake's golden-sand beaches, you can go paddleboarding and kayaking, or visit towns and villages nearby.
Where to stay: Most hotels are on the lake's southern shore or nearby islands. Pumulani Lodge directly overlooks the lake from its clifftop position. The ten spacious rooms are spread out among the rocks, and from the large deck you can gaze over the water at night, lit by the star-like lanterns of fishing boats.
How to combine: One-hour direct flight from Mfuwe in Zambia to Lilongwe in Malawi, followed by a short light-aircraft flight or four-hour drive to the lake's southern shore.
Best time to combine: July to September, when the weather is warm enough for sunbathing and wildlife sightings peak.
Masai Mara National Reserve and Diani Beach, Kenya
Chosen by Izzy
Witness the Great Migration in the Masai Mara before flying over to Kenya's long stretch of coastline, staying at Diani Beach.
Masai Mara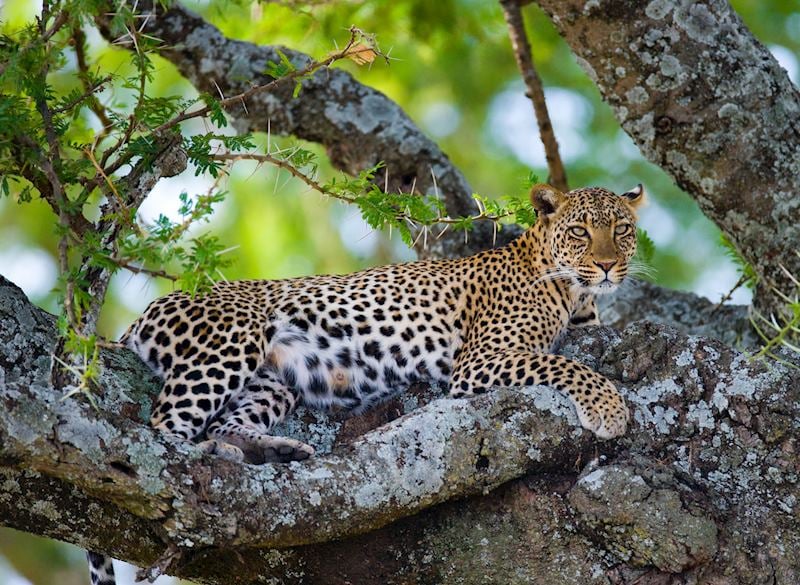 One of Africa's foremost wildlife areas, the Masai Mara's wide-open plains and pockets of woodland are home to all of the Big Five (though rhino are increasingly hard to spot).
Between July and September, you can also witness the Great Migration. Ask your guide to park your vehicle on the banks of the Mara River for a chance to watch wildebeest attempting to cross the crocodile-infested water (but bear in mind that crossings are never guaranteed).
Unlike in the main reserve, you're able to drive off-road for closer wildlife encounters. Your day is also more varied — you can opt to go on a bush walk, and vehicles can stay out later to spot nocturnal animals.
Where to stay: I'm a big fan of Ol Seki Hemingways Camp, in the Naboisho Conservancy. Its large, circular tents are raised slightly on a ridge with views over the plains, and most of the staff are from the local area.
Diani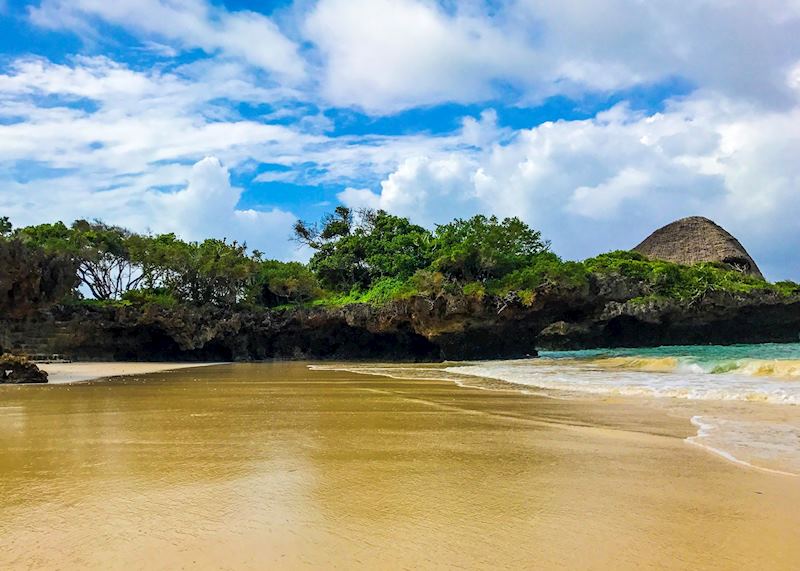 Close your eyes and picture a long tract of soft, dazzling-white sand. Palms provide the only shade from the eight hours of daily sunshine. And, the clear waters turn increasingly blue the farther out you look. Diani Beach, on the south of Kenya's coastline, has won awards for a reason.
Staying here, you can take full advantage of both the beach and the ocean. While at times the tide can recede quite far, you can take a dhow (traditional wooden sailing ship) out to coral reefs for an afternoon of diving or snorkelling. And, you can catch the ocean breeze while kite or windsurfing.
Inland, you can stroll through rainforest, looking and listening out for rare black-and-white colobuses.
Where to stay: Waterlovers Beach Resort is an eco-friendly boutique property set on the beach. The thatched, whitewashed cottages where you stay have their own veranda facing the ocean.
How to combine: Two-hour direct flight from the Masai Mara to Ukunda, on the coast.
Best time to combine: Any time except March to May, when heavy rain is likely. For the Great Migration, July to September is best.
Selous Game Reserve and Zanzibar, Tanzania
Chosen by Erin
After a boat safari and other activities in Selous Game Reserve, fly over to Zanzibar for a beach stay with a spot of culture.
Selous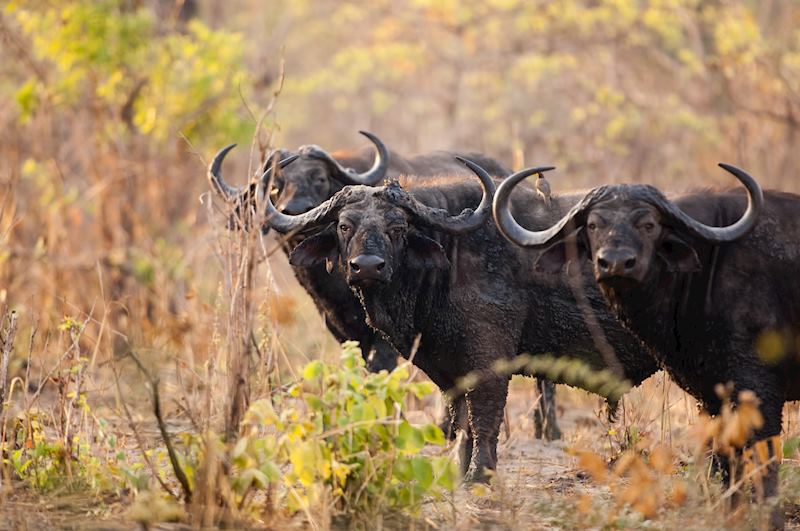 Selous, in the south of Tanzania, sees far fewer visitors than the Serengeti, so you can enjoy wildlife sightings all to yourself — on one outing I had a full 45 minutes alone with a pride of lion.
The reserve is known for its lion and buffalo populations, but you can also see elephant, giraffe, many types of antelope and the occasional wild dog pack or solitary leopard. And, it's a haven for birds, thanks to the rivers that criss-cross the landscape.
This glut of water makes Selous the only place in Tanzania where you can go on boat safaris as well as game drives and bush walks. You'll see animals at their eye level, and, with little to no engine noise, you can hear hippo snorts, screeching fish eagles and the chirping of reed birds.
As I looked around, I watched my bird book come to life in front of me — a malachite kingfisher there, a heron over here. Buffalo came down to drink, undisturbed by our presence. And, as we sipped drinks at sunset, the water caught the day's dying light, awash with pinks and oranges.
Where to stay: Lake Manze Camp is a rustic option, offering canvas tents with open-air bathrooms and kerosene lamps in place of electricity. You're so close to nature here that elephant regularly wander through camp.
Zanzibar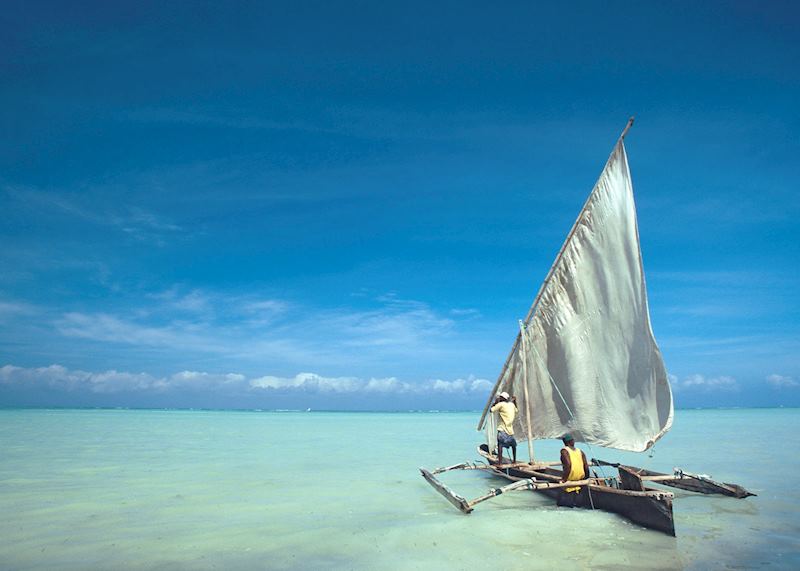 If you choose Zanzibar for its pristine white-sand beaches alone, your decision will be more than justified. Strolling along them is like walking on talc, and the teal horizon invites you in for a swim or snorkel. The tide can go out quite a way, so you need to catch a boat for snorkelling. But, the receding water exposes patches of coral along the shoreline, which you can explore.
You might also choose Zanzibar for its culture. In Stone Town, markets trade in spices and freshly caught fish, and alleys wind their way to old sultans' residences. I recommend taking a guided tour of the city or a spice farm to appreciate the island's history as a colonial trading post.
At sunset, sit with a drink in one of the waterfront restaurants and watch hundreds of dhows silhouetted against the sky — or head out on one yourself.
Where to stay: I like Pongwe Beach Hotel, whose stone-and-thatch bungalows occupy a quiet stretch of beach. Swings, hammocks and benches provide peaceful spaces for relaxing.
How to combine: 45-minute light-aircraft flight from Selous to Dar es Salaam, where you have a one-hour wait before your 20-minute flight to Zanzibar.
Best time to combine: July to October sees the best weather and wildlife opportunities, though January and February are best for birdwatching.
Kruger National Park, South Africa and Mozambique
Chosen by Anna
Spot the Big Five in the Kruger then fly northeast to Mozambique's white-sand shores.
Kruger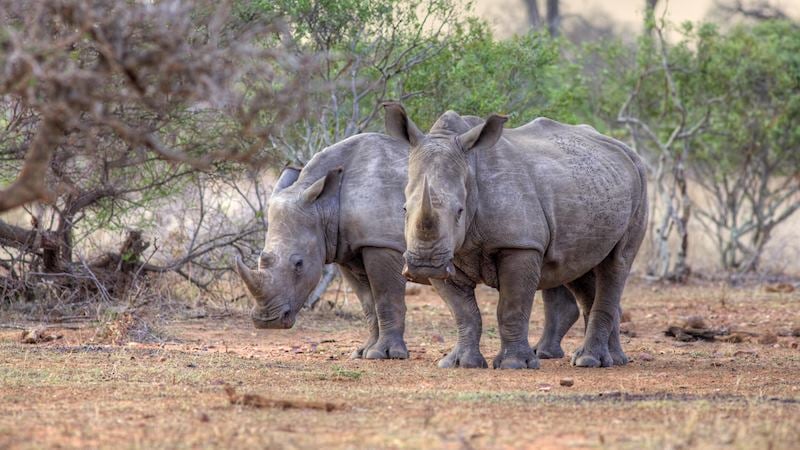 Roughly the size of Belgium, the Kruger was one of Africa's first safari destinations. Here, you can see the Big Five on twice-daily game drives, along with giraffe, zebra, cheetah, antelope and, if you're lucky, wild dog.
You can experience a classic safari in one of the private game reserves bordering Kruger. Or, a more adventurous option is to drive yourself, staying in simple rest camps within the park, where you can come and go as you please.
Alternatively, stay in a camp that solely focuses on walking safaris. You can head out for up to five hours, covering more ground than the shorter bush walks that most properties offer. Your guide will help you to uncover the intricacies of the bush. The focus isn't on big game, though three giraffes approached us on one of my walks, bending their necks for a closer look.
Where to stay: Dulini Leadwood Lodge, in Sabi Sands Game Reserve private reserve, has three large suites that come with their own butler. If you're driving, you'll stay in rest camps dotted throughout the park, such as Satara. For walking safaris, stay at Africa on Foot.
Mozambique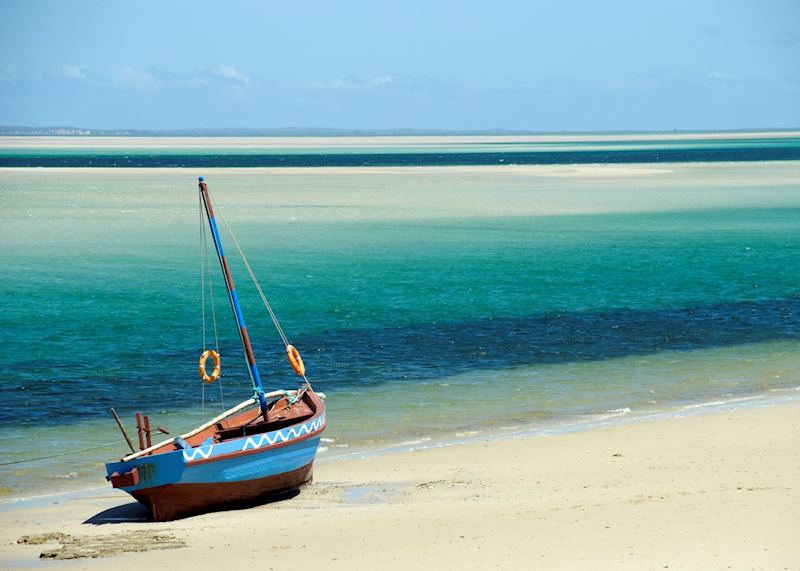 My definition of paradise, Mozambique's coastline is a long stretch of barely touched white sand lapped by warm turquoise shores. While it's possible to stay on the more remote and exclusive Bazaruto and Quirimbas archipelagos, the country's mainland offers the same quality of beaches but for much better value.
You'll measure time by snorkelling and diving among coral reefs and shipwrecks, paddleboarding, kayaking and taking sunset dhow cruises. On land, go horse riding, visit local villages or walk among baobabs, sand dunes or wooded areas.
Where to stay: Santorini Mozambique is just half an hour's drive north of Vilanculos, where you'll fly into. Its suites and villas have private pools and views over Kingfisher Bay, whose white-sand beach is just a few steps away. I also like Machangulo Beach Lodge on the Santa Maria Peninsula. This is a more laid-back option with safari-style tented rooms, each with a private deck.
How to combine: One-and-a-half-hour direct flight from Kruger Mpumalanga Airport to Vilanculos, on Mozambique's coast. Alternatively, take a four-hour road transfer from Kruger Mpumalanga International Airport (including border crossing) to Maputo Harbour, then a one-and-a-half hour boat transfer to Machangulo Beach Lodge.
Best time to combine: As long as you avoid the rainy season (November to March), you'll experience warm temperatures and barely any rain. This time also coincides with the best wildlife viewing in the Kruger.