My passion for travel began when I travelled to Sri Lanka with my family when I was younger. I was captivated by the stunning landscapes and colourful way of life. Since then I have visited more than 35 countries.
I furthered my interest in different cultures while studying at university, where I graduated with a degree in anthropology from UCL. Following my graduation I explored Latin America for seven months, hiking the Inca Trail in Peru, taking salsa classes in Colombia, and watching the sunset from an ancient Mayan pyramid in Guatemala. I find this part of the world and all it has to offer incredibly fascinating and exciting.
My love of travel and appreciation of cultures manifests in my kitchen at home where I love attempting to recreate dishes from destinations I've been to, with tacos al pastor being a firm favourite — of course, accompanied by a margarita cocktail.
Speak to Anna

Start planning your trip to South America with Anna
Q&A with Anna
What's the best local dish you've tasted?
In the quirky port city of Valparaiso, Chile, I went on a local cooking class where I learnt to cook authentic empanadas. To begin, I was taken to a local food market where we shopped for ingredients; there are so many smells, sounds and colours to observe, coming together in a perfect chaotic assault on the senses. Empanadas are baked or fried pastries which are a staple across many Latin American countries, with different countries having their own traditions and fillings. These particular empanadas were filled with a delicious mixture of minced beef, peppers, onion, and seasoned with cumin, paprika, and cayenne pepper, before being baked in the oven. These were washed down with a classic pisco sour.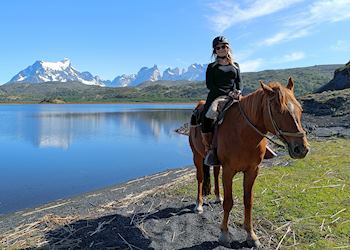 What's your most vivid travel moment?
Most most vivid travel memory was horse riding in Chile's Torres del Paine National Park in Patagonia. Having climbed onto my gorgeous horse, Bufon, I was led by a gaucho (a skilled horseman) across grassy hills and under tree branches, before climbing a steep incline and emerging into a clearing where the Linda Lagoon Lake spread out in front of me with views of the three Towers del Paine. The striking difference between the blue skies and the dark, snow-capped mountains left me almost breathless. Experiencing this phenomenal landscape on horseback was truly something special.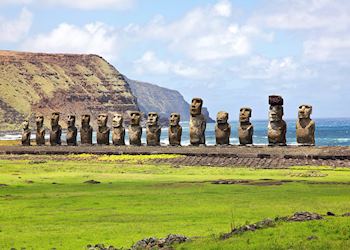 Where would you love to travel next?
I would love to visit Easter Island, off the coast of Chile. I am intrigued by the mysteries surrounding, the carved stone moais and their history. The island is steeped in archaeology, history and culture, all subjects I have a keen interest in and would love to expand my knowledge on.